Baptism is a wonderful occasion filled with faith, love, family (both physical and spiritual) and joyous celebration. When that relative or special person in your life follows the Lord in believer's baptism, it's an excellent opportunity to give them some thoughtful and meaningful baptism gifts. Customary even!
But what do you give for baptism gifts? Whether it's a small token of faith, or a great big, lovely surprise — it's totally up to you!
What you choose largely depends on the individual who will be receiving it, so keep that in mind. We've rounded up a variety of wonderful gifts, big and small, that are sure to make them feel loved and celebrated. Let's take a look!
Best Baptism Gifts
Our website is supported by our users. We sometimes earn a commission when you click through the affiliate links on our website. See our privacy policy & disclosures for more information.
1. Classic All White Flower Bouquet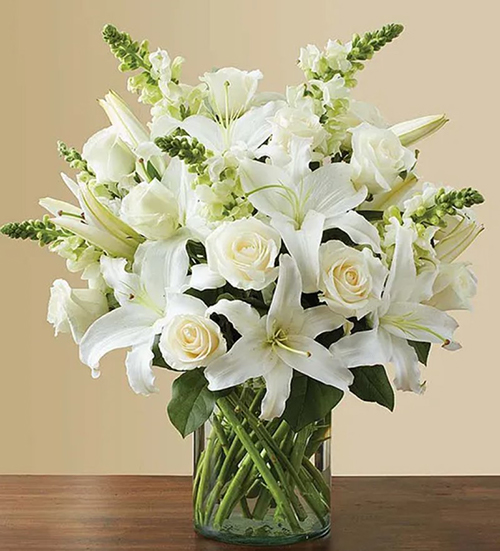 This gorgeous bouquet of white is the perfect way to say "Congratulations!" to the one getting baptized. White flowers — especially lilies — have long represented rebirth and newness of life, so this pretty arrangement is well-suited to the occasion.
2. Baptism Date Necklace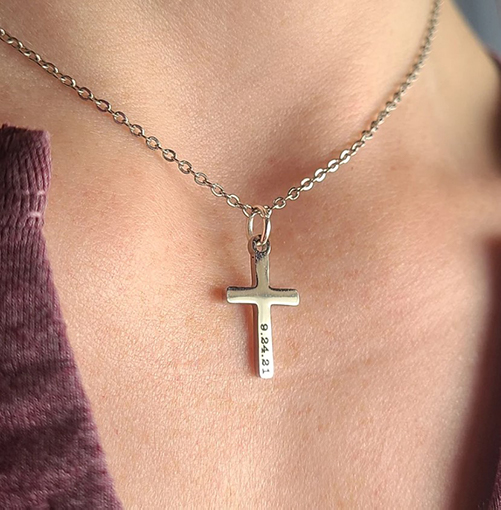 Such stunning little necklaces for such a memorable occasion. Engrave these pretty crosses with their baptism dates, and they'll have a gift to treasure for a lifetime. And you can choose from stainless, sterling silver, rose gold, or yellow gold.
3. Baptism Ornament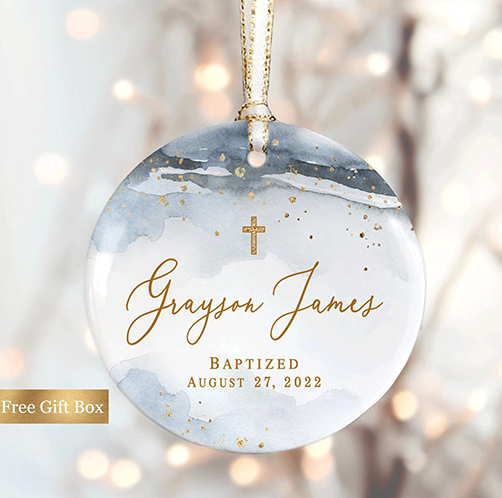 This ornament is a lovely keepsake to commemorate their commitment to the faith. The beautiful porcelain surface is inscribed with their name and the date of their baptism. Arrives in a pretty presentation box, ready for gifting.
4. Engraved Decorative KJV Bible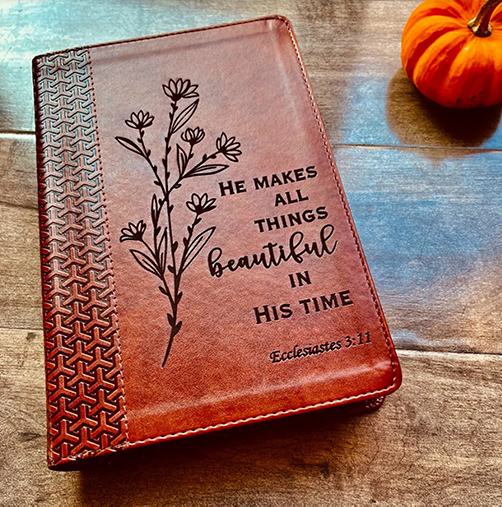 We can't think of a more suitable gift for Baptism than a brand-new Bible. Except maybe one that's engraved! Have it inscribed with their name or maybe their most favorite verse, and they have a cherished keepsake to use each and every day.
5. Lord Bless You Cross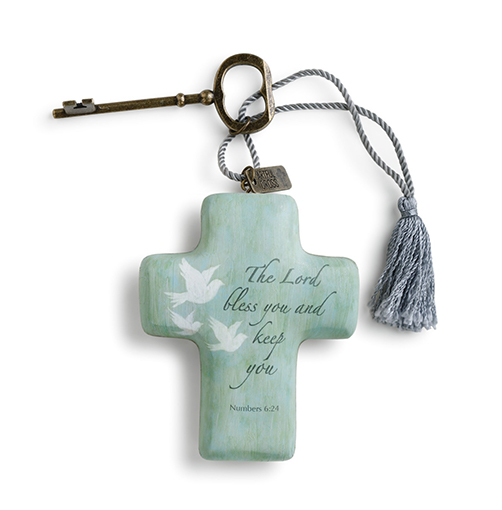 This lovely, artful cross makes such a sweet reminder of their special day. Crafted from resin, inscribed, and presented with a pretty tassel and key, it can be either hung for display or free stand.
6. Silver Cross Frame with Photo From Baptism
A picture is worth a thousand words, so they say! Certainly they will take some commemorative photos to document this wonderful occasion, so one of them can find its home in this pretty silver cross frame.
They can place it on their nightstand or in the bookcase for a constant reminder.
7. Journey Bracelet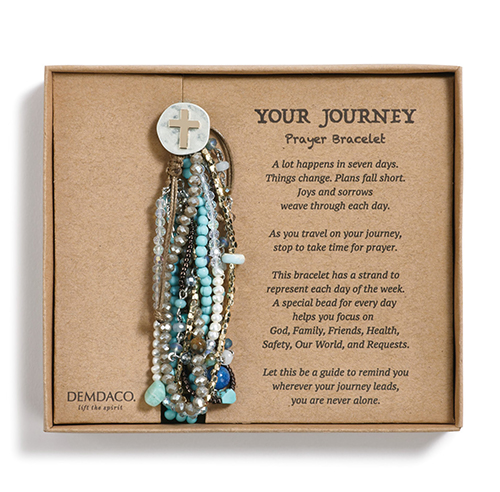 Such a beautiful gift, well-suited to a beautiful occasion. This turquoise, prayer journey bracelet will accompany her as she embarks on the remainder of her path of faith. The seven strands represent the pillars of God, family, friends, health, safety, the world, and special requests.
8. Baptism Blessings Card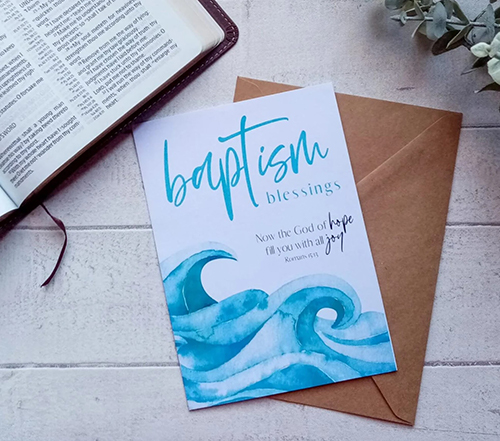 This neat baptism card is available as a printable, digital download for your convenience. Simply print it out and fill it with all the love, wisdom and prayers you wish for them on this important occasion.
9. Christian Books for Kids
The Biggest Story is a must for any Christian child. It beautifully retells the Gospel story from beginning to end, and is illustrated to help teach important spiritual concepts through visual representations. An excellent gift for any young Baptism candidate.
More book ideas:
10. Personalized Church Journal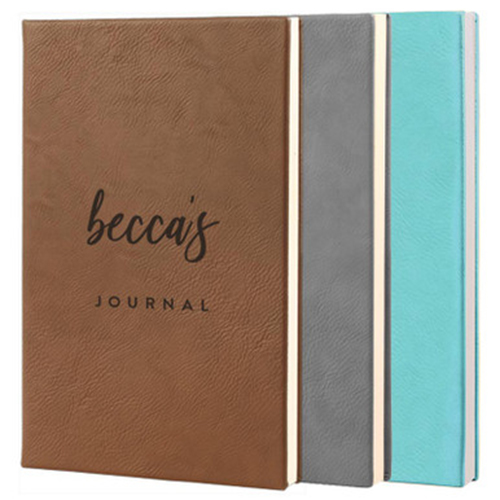 A personalized church journal will be readily welcomed and appreciated. Now they will have a designated place to keep their sermon notes, as well as make study references to passages in their personal, daily devotions.
Baptism Gifts for Boys
11. Blue Personalized Bible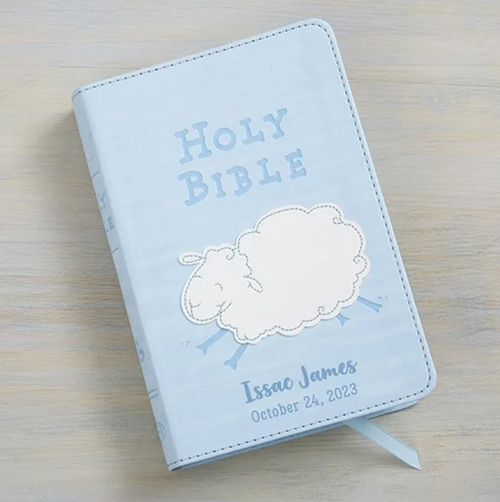 This little blue Bible makes a perfect gift for a little boy's baptism. The Woolly Lamb Bible is both Old and New Testaments, and is not a storybook bible or a paraphrase. The International Children's Bible translation, compiled by Bible Scholars and historical text translators, is a legitimate and direct translation from the original manuscripts.
You can have this sweet version inscribed with their name right on the front, too.
12. Personalized Baptism Canvas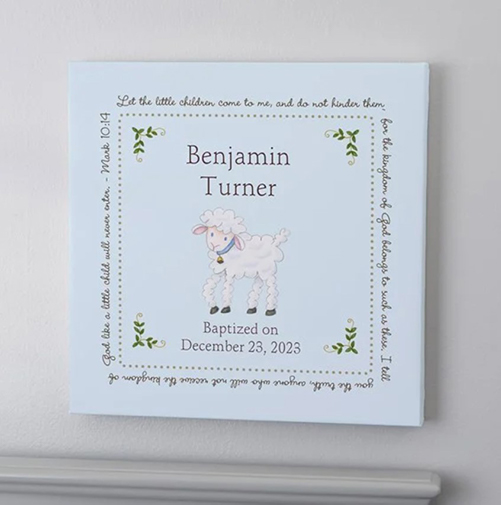 This sweet, personalized canvas is perfect for the newly baptized boy! Its cute little lamb illustration and scripture border are presented on canvas, and artfully wrapped over a sturdy, wooden frame. A beautiful keepsake to cherish.
13. Engraved Cross Necklace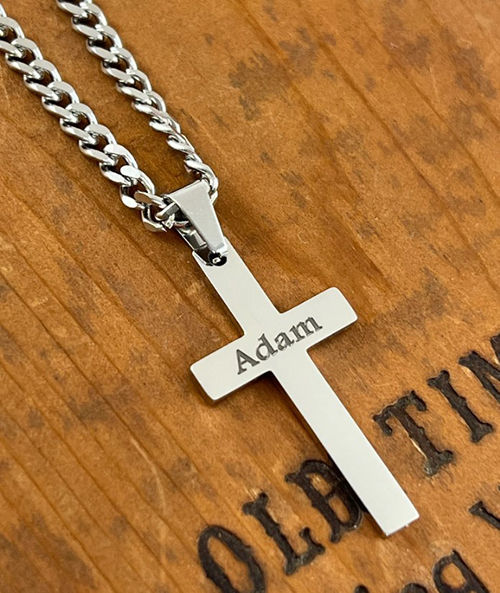 These neat, engravable crosses are wonderfully crafted and yet still masculine. The sturdy chain will be able to withstand all the rough and tumble events he may put it through, while still maintaining its integrity. Have it engraved with his name or date, or both!
14. Blessing Giving Bear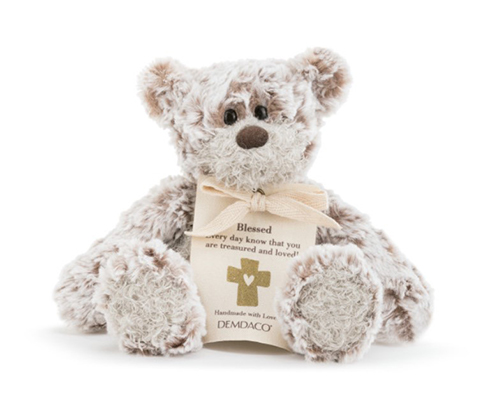 He'll love having this sweet, stuffed bear to snuggle, and it will remind him of the important event it represents. The classic bears from Demdaco are wonderfully crafted to provide a lifetime of super soft cuddles.
15. Engraved Modern Piggy Bank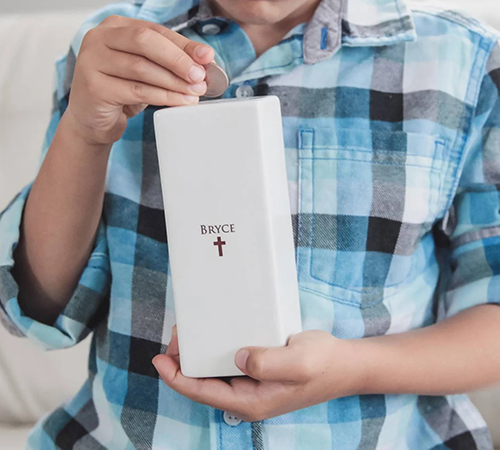 This lovely, custom bank is a wonderful way to teach him the importance of both saving and giving. Have this pretty porcelain gift customized with his name, a meaningful emblem, and a special message or Scripture to encourage him.
Baptism Gifts for Girls
16. Personalized Precious Moments Bible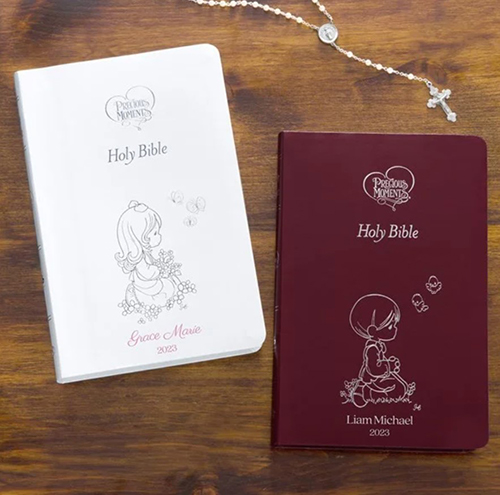 She will be delighted to have her very own Bible (with her name on it!), and the Precious Moments illustrations are so sweet.
This pretty Bible version features the Children's International Translation, and also includes an index to help with difficult to understand words and phrases. A wonderful choice for a first Bible.
17. Personalized Jewelry Dish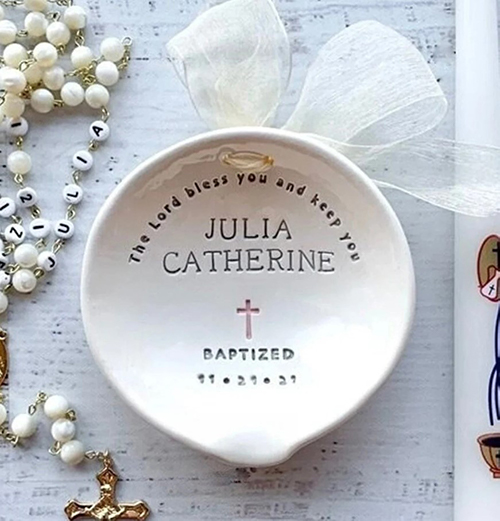 How lovely is this personalized jewelry dish? Sweetly inscribed with her name, baptism date, and a meaningful Scripture, she will cherish this special gift for years to come. You can also choose from nine colors for the center cross, so be sure to find out her favorite.
18. Willow Tree Soar Figurine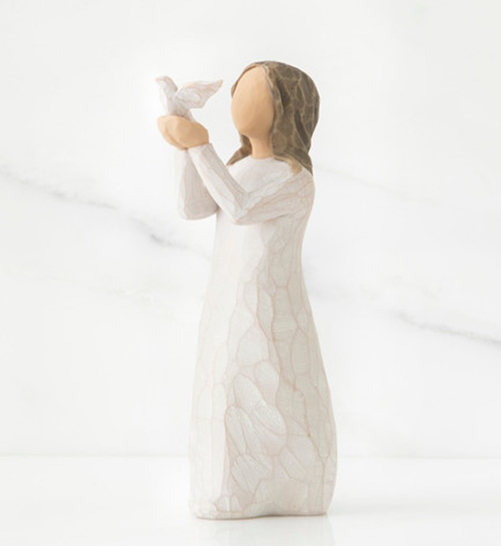 Such a beautiful gift to celebrate their decision to follow Christ's example. This lovely figurine from Willow acknowledges the strength, courage and importance of her decision, and will remind her of it each time she sees it.
19. Every Bunny Prays
This sweet, keepsake bunny and book set will be there to remind her of how important prayer is to her found faith. She'll love keeping it on her bed for night time prayers, or perhaps it will accompany her everywhere she goes!
20. Glow for Jesus Suncatcher Sticker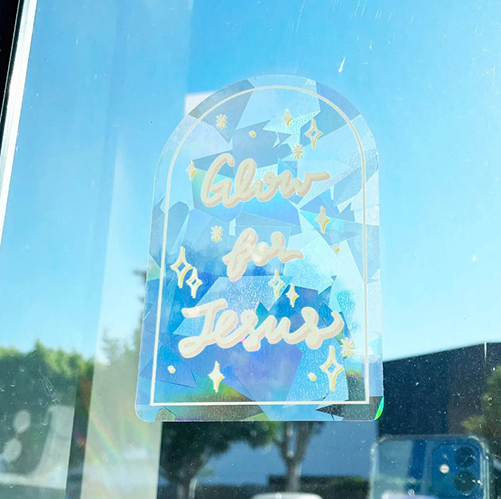 This sweet, holographic window suncatcher is a wonderful reminder for her to share the light she's been given. Its bright, pretty colors will sparkle in the sunlight, just as she sparkles from the new light within her.
Baptism Gifts for Teenagers
21. Personalized Scripture Bible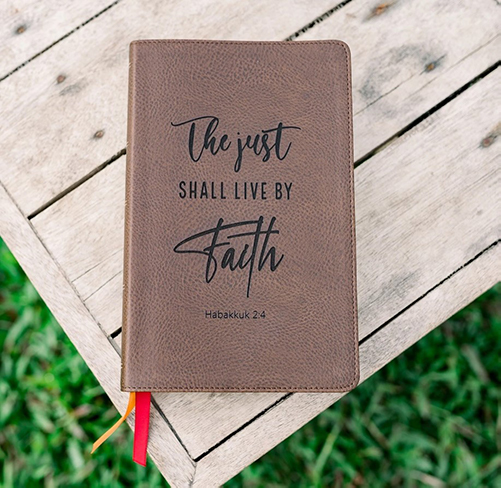 These beautiful, personalized Bibles are so special. Each is custom crafted to order, and can be specifically tailored to your design wishes. These Bibles are New King James translation, and are carefully made to last for years and years. They will love having such an excellent copy of God's Word.
22. Christian Hymn Pens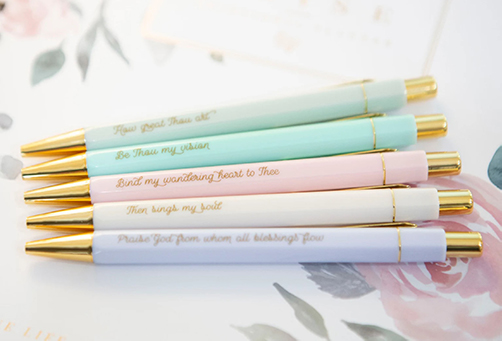 This lovely pen set would make an excellent gift for baptism. The pretty, soft pastel colors and delicate gold hymn lyrics will bring joy and reassuring truths to mind whenever they use them. They can keep one in their journal, Bible case, sermon notebook… anywhere they may have use for them.
23. The Action Bible
This neat, pictorial Bible is wonderful for teens or anyone who is a visual learner! Watch as Biblical stories and truths are brought to life by artist Sergio Cariello in a graphic novel style display. The Action Bible is a 832 page, hardback adventure for readers.
24. Bible Verse Room Art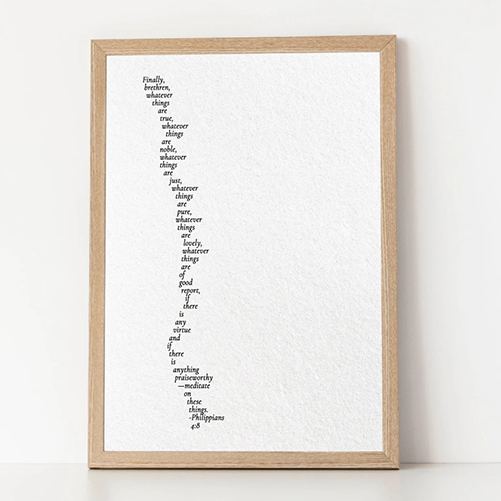 Help them display their faith at home, at school or at work with this downloadable Scripture wall art! You can easily print it to whichever size would be best for them, then have it framed or stretched on canvas.
25. Washed By Water Bookmark
This special bookmark will commemorate their important decision for years and years to come! Beautifully crafted of stainless steel, it is lightweight but not flimsy. The meaningful engraving is completed by the decorative chain and cross medallion.
Related: Traditional Christening Gifts
Baptism Gifts for Adults
26. Study Bible
A good study Bible is a must for any believer, and this ESV translation makes a perfect adult baptism gift. Equipped with full color charts, maps and illustrations, it also lends helpful visuals to important key events throughout both the Old and New Testament.
They will be so happy to receive such a copy of God's Word!
27. You Say, God Says Mug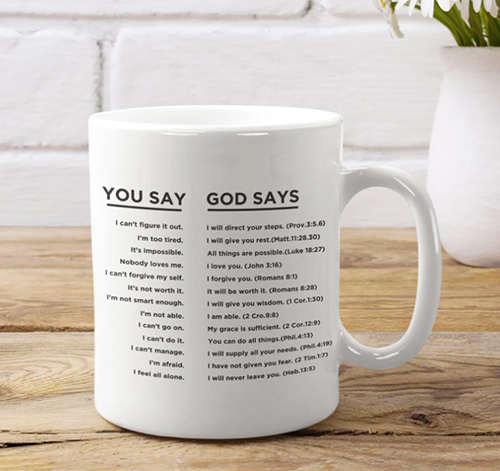 This inspirational mug is an excellent daily reminder that while our minds and our flesh are weak, God always provides a hopeful alternative to our negativity.
Whether it's while they sip their morning coffee, their afternoon tea, or their dessert cocoa in the evening, they'll certainly appreciate this thoughtful gift.
28. Left It In the Water Keychain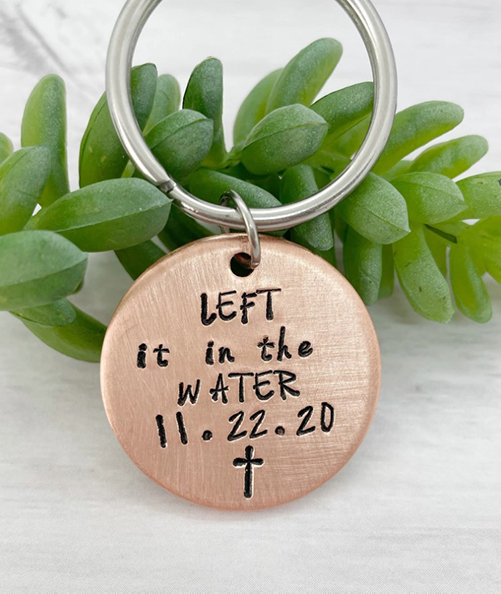 Such a great little reminder that the old self was "left in the water" and they have a new identity in Christ. Perfect to keep on their bag or keychain, this memento will quickly become a favorite treasure.
29. I Am With You Flower Pot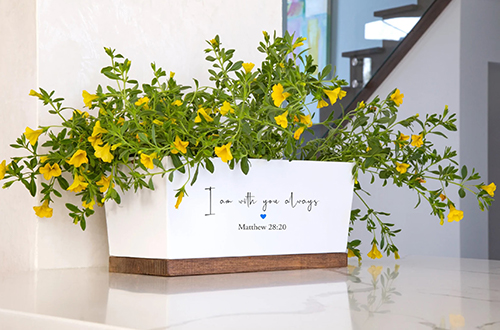 This sunny, custom planter box will bring a smile to their hearts and faces each time they see it! Choose from four unique planter options, and have it decorated with meaningful Scripture in one of six colors.
You could even fill it with flowers before you give it to them, to make it extra special!
Related: Meaningful Gifts for Friends
30. Personalized Angel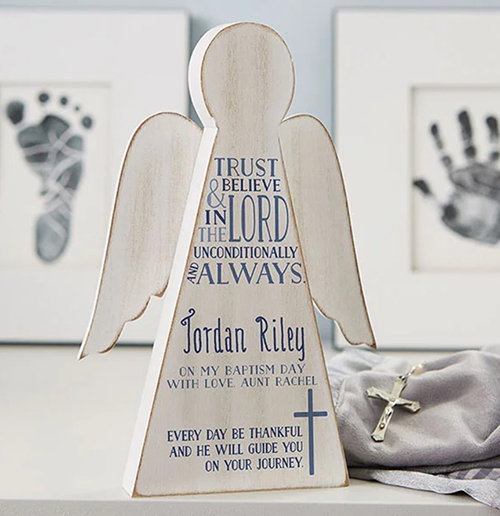 A special angel for a very special occasion. This custom wooden angel can have nearly everything about it personalized to commemorate their baptism. Perfect to place on their nightstand or in the bookcase where they can appreciate it daily.
Unique Baptism Gifts
31. Personalized Star Map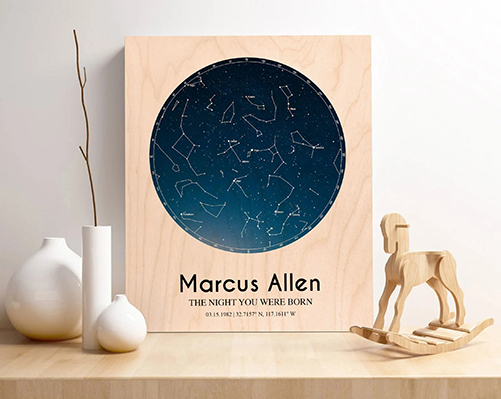 Provide the craftsmen at Wood Life Prints the specifics of their name, date and place of birth, and they will transform it into a meaningful, custom star map. Or, alternatively, you can use the date of their baptism! Such a lovely gift.
32. Custom Cross Light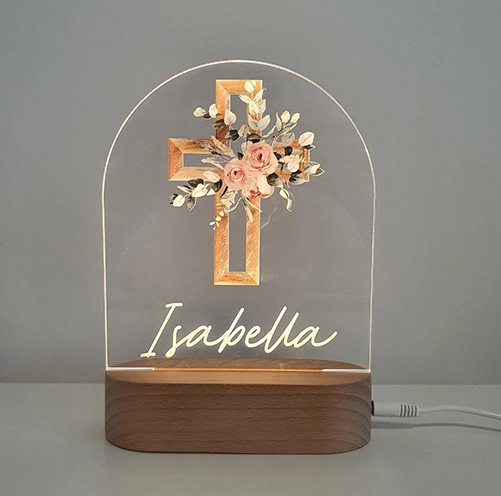 This floral cross light is so beautiful and can be customized with their name. The wooden base supports the prettily decorative resin display, and the nightlight can be powered by batteries or a wall adapter. A unique and sweet option for a baptism gift.
33. I Choose Jesus Sweater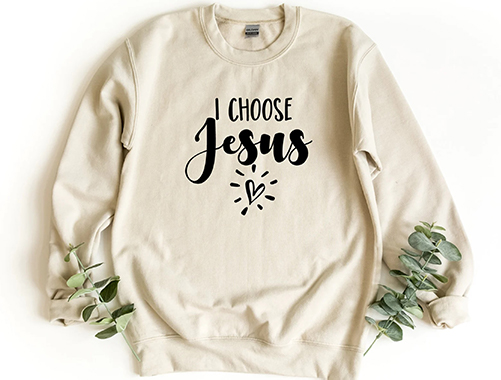 Help them wear their faith proudly with one of these cozy sweatshirts! Perfect for when they've just stepped out of the baptismal and need warm clothes — or any time at all, really! Available in eight beautiful colors and a wide array of sizes.
34. Personalized Lumbar Keepsake Pillow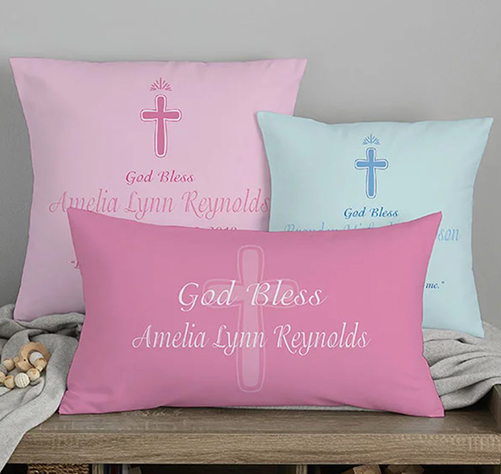 These sweet, personalized pillows are perfect for their bed or couch! Made of super soft and cozy velvet, they'll love having it to snuggle with. Available in either pink or blue, and customizable with up to two lines of text.
35. Bible Verse Candle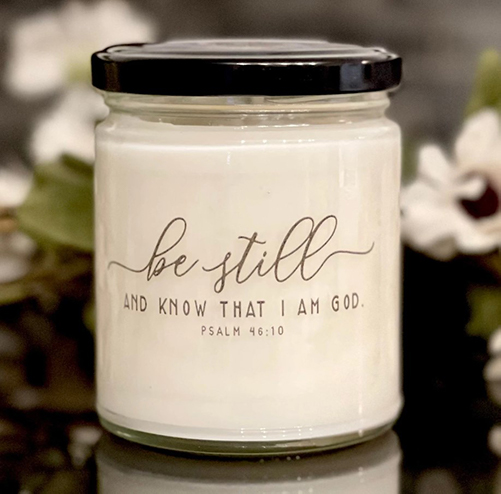 The light from this pretty candle will serve as a reminder of the light within! They'll love having this sweet-smelling gift to light on chilly afternoons, and you can choose from dozens of verses and scents to personalize it just for them.
Baptism Gifts from Grandparents
36. God's Promises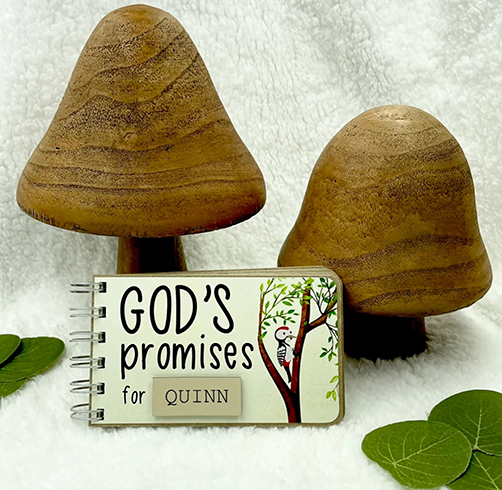 This little book of God's promises could not be any sweeter. Perfect for your grandchild, you can choose from several adorable styles and colors and have it personalized with their name. These will make wonderful keepsakes to be treasured.
37. You Are a Child of God Keepsake
How special and darling! These precious moments figurines are perfect to commemorate the day of their baptism. Available for girls and boys, these delicately crafted keepsakes will serve as a lifetime reminder of an important event.
38. Psalms Project Book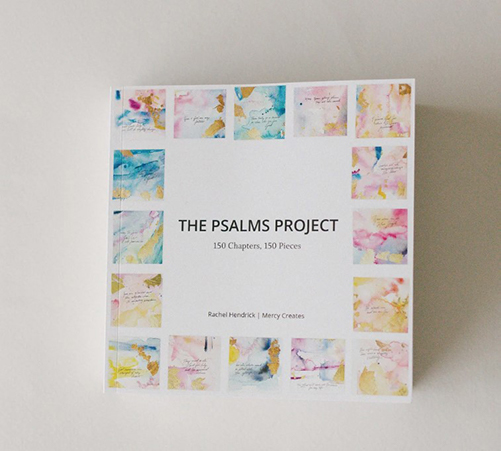 The Psalms Project is an incredible combination of Scripture and art. Each Psalm is thoughtfully represented by an abstract work of art and highlighted with gold and silver foiling.
The book also provides space to journal important thoughts or prayers as they read. Such a beautiful gift!
39. Keepsake Baptism Block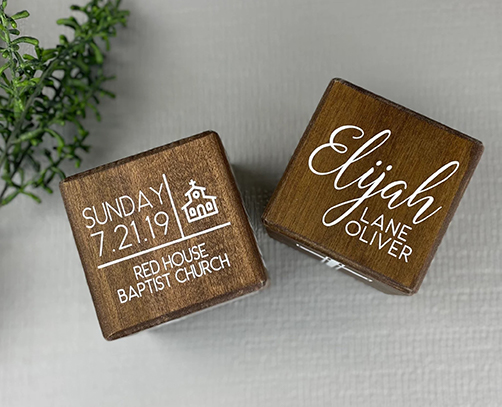 These keepsake baptism blocks are a unique way to commemorate their special day! Fully customizable, each side features important event information that has been beautifully inscribed to your specifications.
40. Bible Verses Glass Jar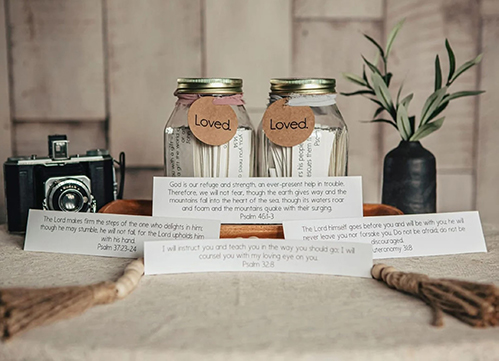 Such an innovative and encouraging gift for baptism! These lovely glass jars are filled with printed passages of Scripture for hope, comfort and blessing. They'll love having this to keep on the end table or on their dresser to reach for when they have a quiet moment.
Last Minute Baptism Gift Ideas
41. DIY Scripture Painting on Canvas
If you need a thoughtful gift for baptism but don't have much time or resources, these pretty DIY Scripture canvases are just the thing!
Follow this tutorial step by step and create a custom, unique artwork they will love.
42. Congratulations Experience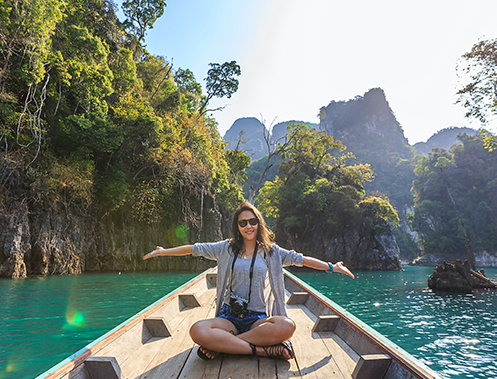 This is a huge event for them! Help them celebrate with a one-of-a kind experience from Tinggly. Whether it's a trip they've always wanted to take, or a getaway in nature to spend time alone with God, they'll appreciate such a thoughtful gesture. These adventure packages make unexpected, yet oh-so-wonderful baptism gifts.
43. DIY Gift Basket
Fill a gift basket full of all their favorite goodies, and pack it up nice 'n pretty! You can add anything you want; from favorite snacks, to chocolate, tea, candles, books… the list goes on and on.
Here are some more great ideas for basket fillers :
44. Tree Planted in Their Name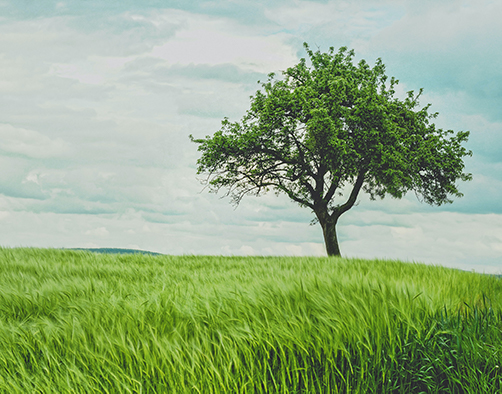 This is an extra special gift for an extra special occasion. Have a tree planted in their name and dedicated to them! Each tree helps the reforestation of national parks, and comes with a location tag and even progress photos! They'll definitely love this unique gift.
45. Take Them Out for Celebration Dinner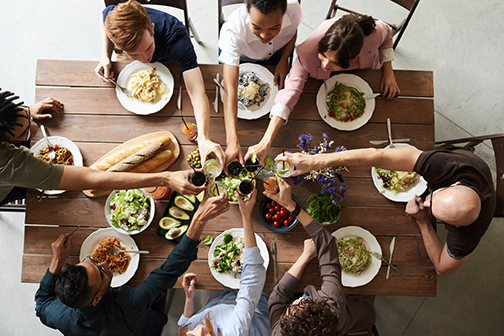 How better to celebrate than with feasting?! Treat them to a lovely dinner out as a way to show your excitement and support. Afterall, food is an important part of good, Christian fellowship!
Related: Acts of Kindness Ideas for Christians
Personalized Baptism Gifts
46. Engraved Heart Jewelry Keepsake Box
This engraved keepsake box is something they can treasure for years and years to come. So much more than just a trinket box, it represents a commitment to the faith they will follow for their whole life. These boxes make such meaningful baptism gifts and, perhaps one day, heirlooms.
47. Wooden Scripture Cross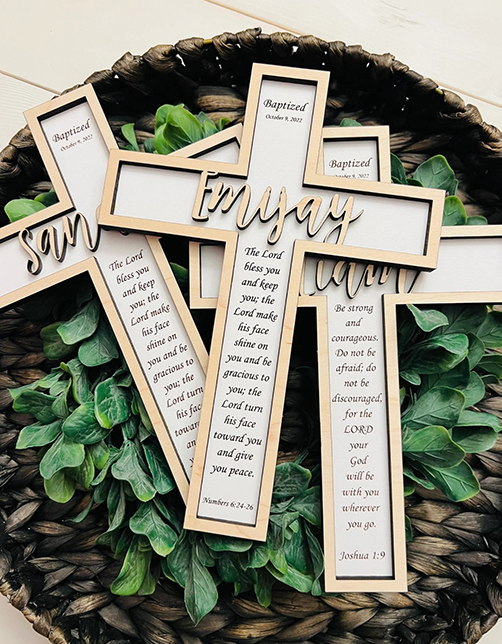 These beautiful, wooden crosses will look lovely hung in their room or living area. Personalized with their name, you can choose from several Scripture passages, or provide a passage of your choosing.
48. Personalized Baptism Blanket
Baptism blankets are such a sweet gift idea! These blankets are super soft for little ones to snuggle with, and are custom embroidered to create a keepsake that can be kept and cherished. Edged in a beautiful satin trim for an extra pretty finish.
49. Baptism Celebration Tumbler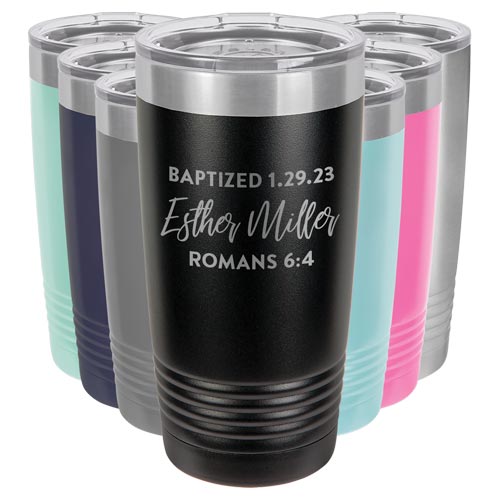 There isn't an occasion out there that doesn't deserve a great tumbler to commemorate, and that includes baptism! Have one of these great thermoses customized with their name, and they'll reach for it day after day for both hot and cold beverages.
50. Leather Bible Cover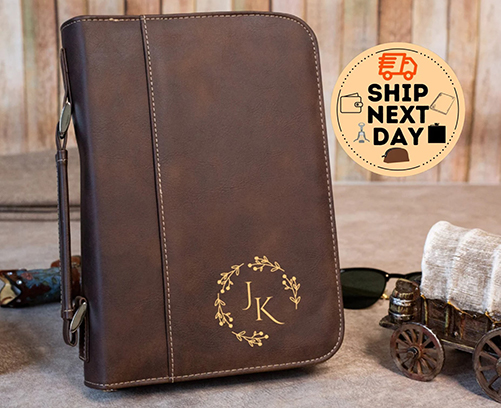 Just as a great sword requires a great sheath, their Bible deserves a great cover. Help them protect their copy of the Word with one of these excellent leather cases! You can have it engraved with their name, too, to make it extra special.
What to write in a baptism card
As with most cards, what you write in a baptismal card will vary greatly depending on the recipient.
For children, it's fine to keep it short and sweet, maybe with congratulations and a word of kind encouragement for them and even their parents.
For adults or teens, feel free to expound on their faith and let them know you are there for them when they need Christian fellowship or support. A favorite verse wouldn't be amiss, either.
Most importantly, let them know how excited you are! This is a joyous and beautiful occasion.
What should you wear to a baptism?
While most churches these days tend to be quite casual, it is always a good idea to check with the family for any denominational requirements.
Some churches require ladies to wear head coverings, for instance. If you are a guest of a baptismal service, it is usually best to maintain reverence and respect for traditions.
Do you give money for baptism?
This is also up to you! If you would prefer to give cash instead of a gift, that is seen as perfectly acceptable.
In fact, some parents prefer this, as they can put it in a special fund or account to help pay for the child's needs or education. The amount, again, is up to you; though close relatives tend to give a bit more than friends or acquaintances.
Do you get a gift for godparents?
Though gifts are not expected, it is often customary for godparents to receive gifts at a baptism as well. Though they most often are given by the parents of the child, they are sometimes given by attendees as well.
Read Next: As for Me & My House Signs