Whether you're preparing for the day when you get your coveted hole in one or you just got back from the links having accomplished the rare feat, here's what to do with a hole in one golf ball.
At the Hole
Here's what to do the moment after you realize you've made a hole in one.
Get a photo of yourself at the tee
If you have a laser, use it to measure the distance from your tee
If you don't, record the distance as listed by the golf course
Take a picture of the ball in the cup
Get a video and pictures of you pulling the ball out
Leave the flag in when you pull out the ball
Save the ball – don't play it again and lose it! (We'll talk more about this below)
Don't wash the ball (there are differing opinions about this one)
Take a photo of you holding the ball along with your playing partners at the flag
Hole in One Etiquette
Complete your round. The hole in one does not become official until you complete you round of nine or eighteen holes, so unless you aced the 18th hole you'll keep playing afterwards.
After the shot, keep your focus. You don't want to see an unsightly double bogey or a 7 on your scorecard after that nifty 1, so even though you'll probably be a little lightheaded with joy, be sure you tackle the next hole with everything you have and finish the round strong.
Get witness signatures. Have the scorecard signed by your playing partners(s), and save it. Bear in mind that a hole in one cannot be officially recognized unless it is witnessed. In other words, if you hit one while playing solo, you're out of luck (as far as official recognition is concerned).
Make a copy. When you get back to the clubhouse, if you want a pristine scorecard to save and display, copy your scores onto a new scorecard and have anyone you played with sign that copy as well.
Buy a round for your group. And (depending on how generous you're feeling) anyone in the clubhouse. This is probably golf's most sacred tradition surrounding a hole in one, so be sure to play your part. Some courses or country clubs will have policies about this, often including a sort of "hole in one insurance" in the membership fees, so feel free to ask an attendant about it.
Have a cigar. Here's something fun: A cigar holder shaped like a golf ball and tee. Have your own private celebration by smoking a cigar as you relax and reminisce about your amazing shot.
Keep the Ball
If you continue to play the ball, there's always the chance that you may lose it on the next hole. Some golfers claim that the hole in one ball is their lucky ball; others say all the luck has been used so you may as well toss it into the woods. Ultimately, it's up to you.
Most people keep the hole in one ball, simply because it is a great way to remember the shot. There are many ways to commemorate your hole in one, and some of the most popular hole in one trophies include a place to set and display the ball – see below.
Let the Golf Ball Manufacturer Know
Many golf ball manufacturers allow you to register your hole in one on their site, and sometimes they'll even send you special prizes.
Usually, you can google the brand name plus the term "hole in one" to find out what's available. Here are some links from some of the top golf ball brands:
Display the Ball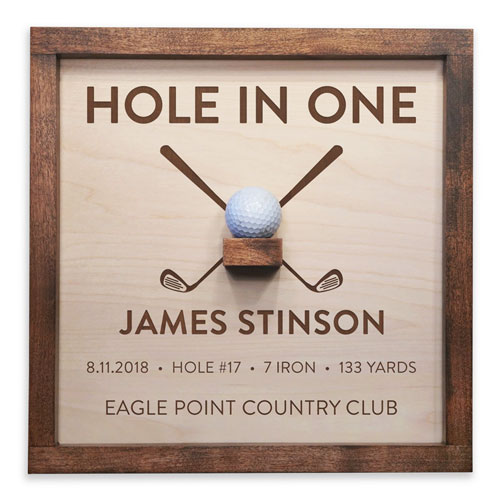 When displaying a hole in one golf ball, several pieces of information are also included such as the date, hole number, golf course, yardage, and/or club used. Often witnesses or any additional special information is added — on your birthday, first day of retirement, played course the day after the Masters, first time golfing, low round score, etc.
You can write the info on the ball in Sharpie, or just simply sign and date it then set the ball in a conspicuous place in hopes that someone will ask you about it: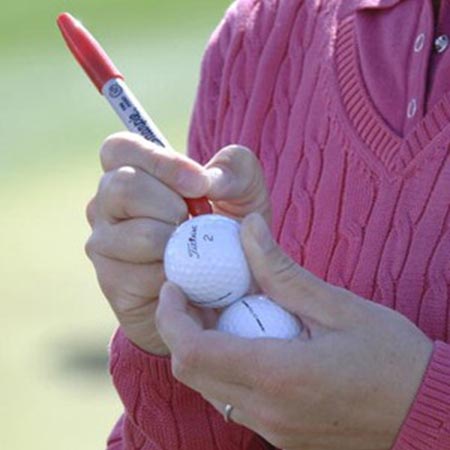 You can keep it simple with a little metal stand, using something you find around the house or this nifty little golf ball stand crafted out of an authentic piece from a Cessna airplane: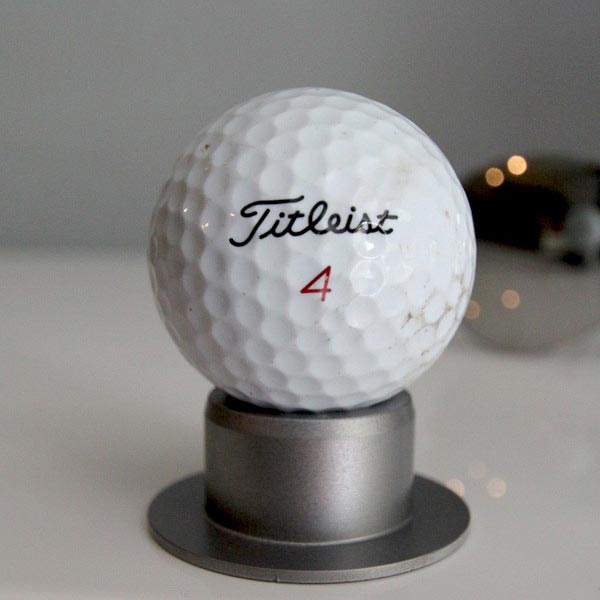 There are many more ways to showcase your hole in one golf ball, from simple cases, to all manner of plaques and displays. Here are some of our favorites, which often include custom engraving or embroidery: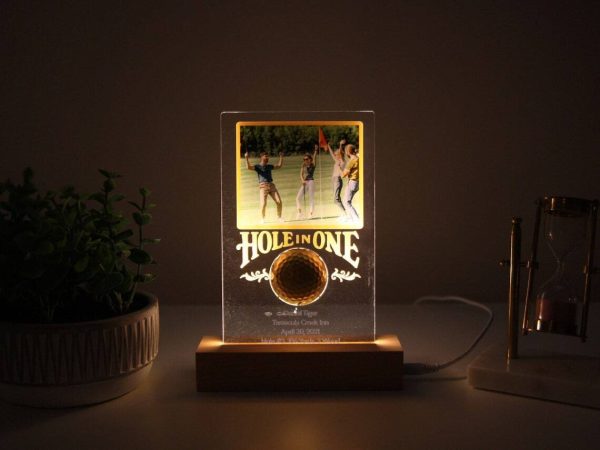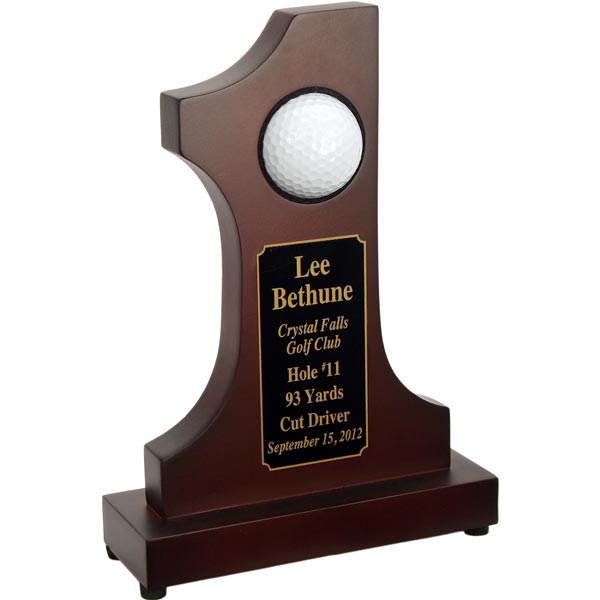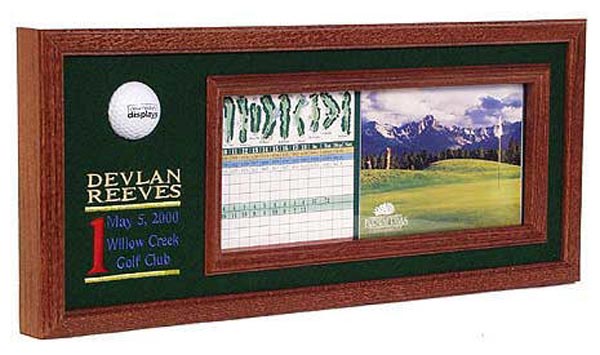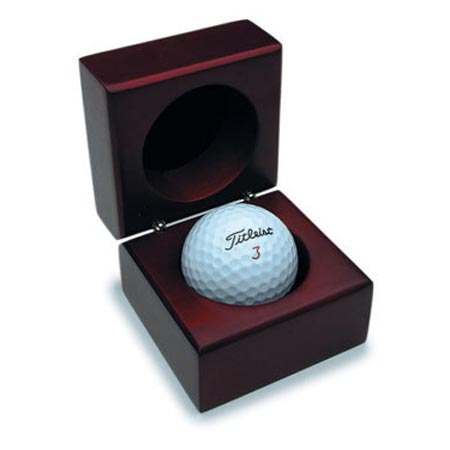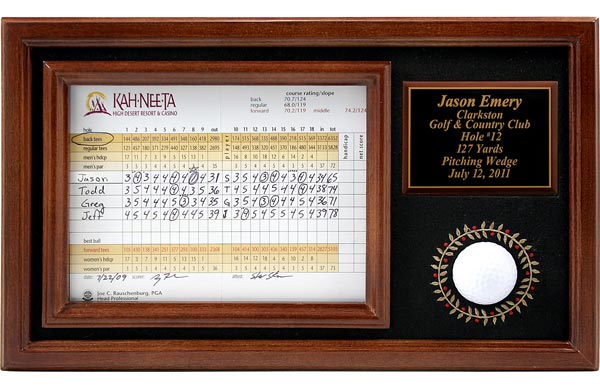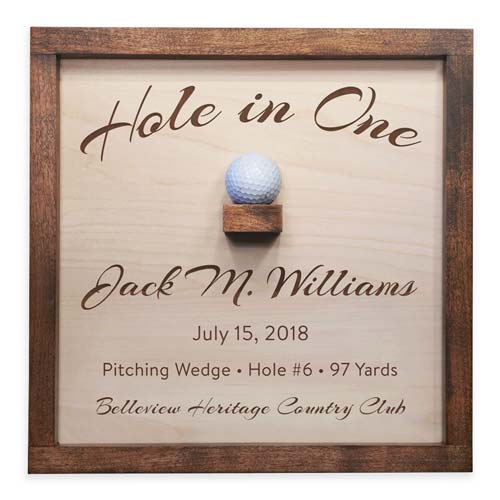 See a complete selection of customizable hole in one ball displays, plaques, and commemorative cases.
Other Fun Stuff
Read Next: 40 Hole in One Gifts to Celebrate an Amazing Shot