Sensory toys are an important tool for children with autism. These hands-on toys can allow them to focus their stress and anxiety on items that will allow them to function in an event more calmly.
Plus, they're super fun!
We have put together a list of sensory toy gifts and gadgets so that you can choose the best for a beloved child in your life.
Good luck choosing just one gift from this collection!
21 Best Sensory Toys for Children with Autism
Our website is supported by our users. We sometimes earn a commission when you click through the affiliate links on our website. See our privacy policy & disclosures for more information.
Having access to these sensory tools helps the child relax by focusing their stress and helps to engage the child in natural play.
In addition, these types of toys stimulate their neuro pathways and strengthen their sensory processing skills (to learn more, look into hyposensitive vs hypersensitive children).
And for the parents, these sensory toy gifts will provide something new for their autistic child to do, which is always a welcome change!
1. Box of Sensory Ideas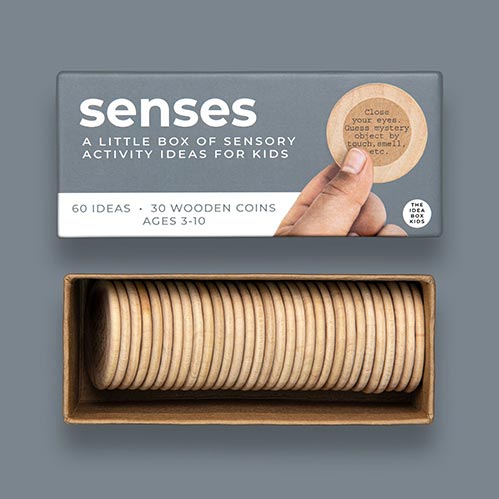 Sometimes using our senses can be lifesaving. The Senses Box of Activities is filled with simple, child-led games that focus on using our five main senses.
It will be fun for you to watch your child begin to recognize and put a name to what senses they are using.
The best part is that the 60 included activities never get old; kids can do them repeatedly and have a different yet amazing experience every time.
2. Sensory Mat
This hand-made activity fidget mat is fun and educational, a good pastime for children of all ages. There are plenty of interesting activities in this busy mat.
In addition, it can replace other large toys because of its compact size. This makes it easy to use on trips; your child can use this busy blanket during flights or long car rides.
This sensory blanket will help your child develop motor skills, memory, and logic; your child will be encouraged to think creatively.
3. Squish Panels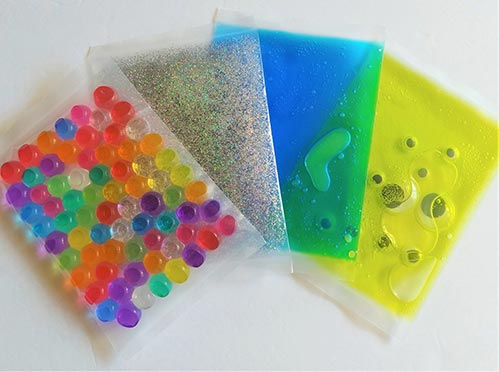 These fun squish panels are soft plastic pouches. They are filled with interesting and calming contents such as glitter, gel, water beads, and more.
Your kiddo will have hours of entertainment with these squishy, comforting, and colorful panels.
4. Stress Balls
A set of color-changing stress balls provides a great way to vent the more aggressive feelings. These spongy balls come in 3 different resistance levels, which help kids relax and focus in a safe, fun manner.
When your child squeezes these fidget toys, they will see them change colors from yellow to orange, blue to green, and pink to purple.
Combining tactile, squishy touch with bright, color-changing visuals, your sensory child is sure to enjoy this fascinating set of mini stress balls.
5. Popper
Here is a unique push-and-pop fidget toy that provides endless hours of physical fun. Having this push-pop toy is like having an endless supply of bubble wrap!
This sensory toy is available in five vivid colors and is small enough to carry anywhere. With one touch, your child won't be able to stop pushing, poking, and popping!
6. Mechanical Keyboard Fidget Cube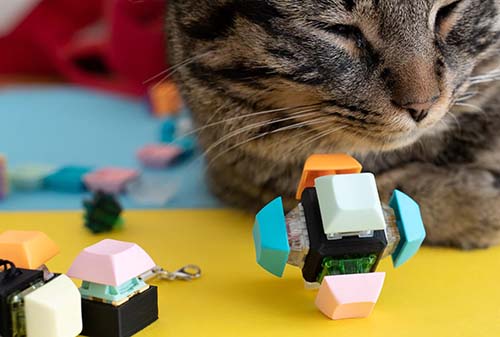 If you want to get an autistic child a gift that will prove beneficial to him or her, the mechanical keyboard fidget cube should be on the top of your mind. It is a custom-made MX switch tester that has a 3D printed case. As it does not have any keycaps, an autistic child should be able to enjoy it. 
With 6 different switches available, you should be able to order one that suits you best. Each option offers a unique feeling that is hard to beat. The fact is that the gift also helps keep autistic children at peace. Hence, it makes sense to get it.
7. Sensory Blocks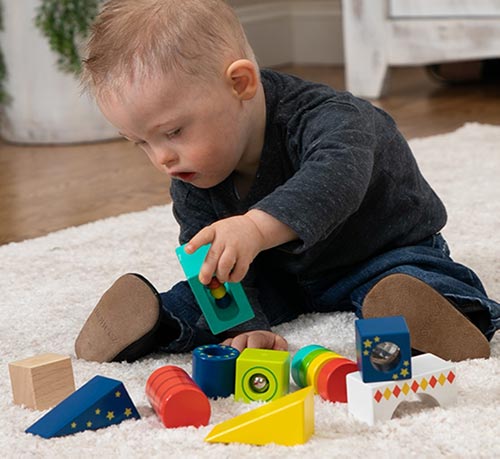 This is a set of 12 blocks designed to stimulate the senses, inspire curiosity, and encourage fine motor skills. In addition, the vibrant colors will help to develop hand-eye coordination.
There are six regular blocks: A half-cylinder, a full cylinder, an arch, two triangles, and a cube. Then there are six additional "special" blocks.
What makes them special?
Peek through a cylinder to see everything in yellow. Glance into a cube to see the world through a spider's eyes. There's another cube that jingles, a rectangle, and cylinder that clacks and clicks, and another rectangle with a built-in mirror.
Your little one's discoveries will never end.
8. Snap & Click
This fidget toy is a great addition to any sensory toy collection. The articulated chain can bend into countless shapes. You can create letters, numbers, symbols even a bracelet or necklace.
The Wacky Track Fidget Toy will help relieve stress and anxiety as it helps to build hand-eye coordination and develop creative skills.
9. Bristle Brush
The Shiggy Long Bristles brush helps to calm down repetitive behaviors like trichotillomania, skin picking, or compulsive nail-biting. 
Shiggy Long Bristles are small enough for you and your child to take them anywhere. Use them wherever you need a bit of help with your worries. Rub the silky brush on the arms, legs, torso, and face and achieve a calmer state of mind.
This brush is FDA approved and comes in four colors.
10. Infinity Cube
This pocket-sized cube is the ultimate fidgeting toy. Its durable construction can withstand constant flipping and folding. As a result, the cube is a good way to release stress from school and work.
Your child can improve his/her focus just by a quick flip of the wrist. In addition, the cube will provide hours of quiet playtime. Take it in the car, on the school bus, or vacation.
It helps relieve hyperactivity, restlessness, and agitation.
11. Rollers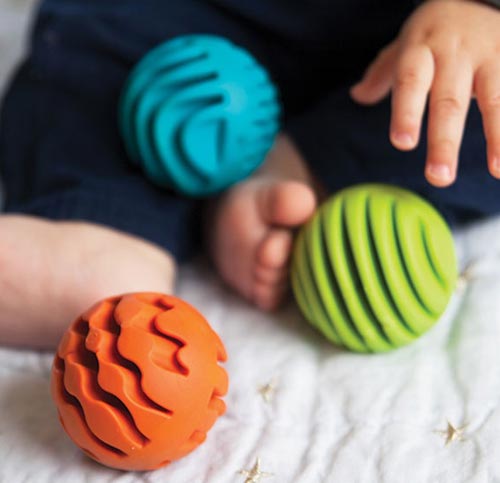 These three balls have a unique design that catches the eye and captures your child's imagination.
Six different textures will help your child explore with their fingers, mouth and eyes. In addition, each sphere has a chime inside that will ring with each movement.
Three bright colors are made of high-quality food-grade silicone and are safe for teething.
12. Pick n' Peel Stone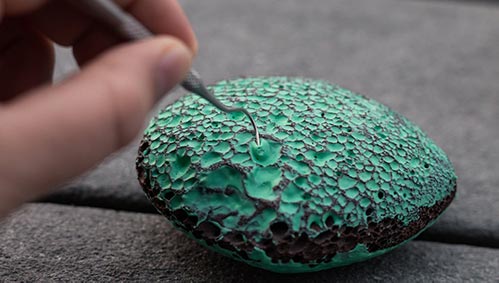 These hand-made Pick n' Peel Stones are designed to help you relax. This unique experience starts with natural lava rock. Then a latex-based glue is added to fill all the rock's nooks and crannies.
The goal? To pick away at all the color embedded into the rock.
This sensory toy gift stone has a calming effect, and you will feel the stress and tension melt away. It is instant gratification as you pick and peel the latex out of the rock.
13. Liquid Motion
The slow and rhythmic drops have a very calming effect and will help your stress and anxiety. This stress toy has two bright colored drops that rain down slowly when flipped; when it comes to an end, flip it again.
This sensory toy can help improve visual tracking skills. Your child will enjoy watching the soothing liquid motion.
The liquid timer can provide endless hours of calming entertainment. You and your child can take it anywhere.
14. Fidget Bracelet Bands
The Sensory Slap Bracelet is perfect for quiet fidgeting at school or home. It is sure to stimulate your child with five different textures, bumps, and curvy lines for tactile motor input.
The silicon fidget bracelet has been designed to provide several tactile sensations to the user.
15. Sensory Bin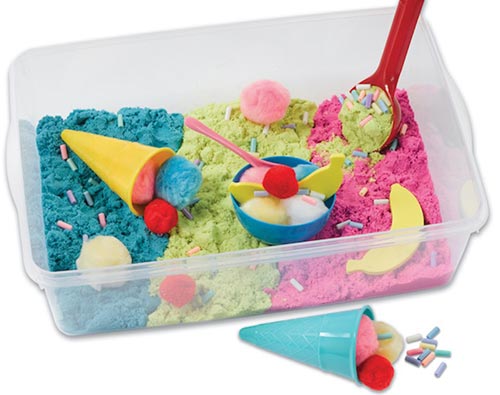 The plastic storage bin is filled with colorful sand and fun ice cream shop accessories. There are three colors of sand to scoop into the provided cones and dishes.
This little ice cream shop is sure to provide your child with hours of imaginative fun.
Related: Non-Toy Gifts for Kids: 100+ Imaginative Ideas
16. Weighted Blanket
A weighted blanket provides comfort and warmth. These blankets can help calm a restless body, reduce feelings of anxiety, and improve sleep troubles.
Weighted blankets act like a hug to make the user feel more secure. By using deep pressure stimulation, the blanket will relax the nervous system.
17. Narwhal Buckle Pillow Toy
This fun narwhal buckle pillow toy is an adorable narwhal toy that is made using soft fabric. It is a quiet toy that every autistic child would come to love, especially while traveling. Your little one should be able to take it everywhere they go.
It has been uniquely designed and features soothing colors that will appeal to the senses. In fact, the toy helps with developmental education. It is ideal for kids aged 3 to 8 and does an incredible job when it comes to improving their motor skills. It helps enhance hand to eye coordination.
Offering hands-on development, the Narwhal Buckle Pillow Toy encourages imaginative play, spatial awareness, logical thinking, and creativity. Besides, it makes for a great stroller toy.
18. Fish Motion Lamp
This lamp is a moving picture that creates the illusion of water and tropical fish in motion.
So relaxing to watch. The gentle movement of fish helps to create a setting for calming your child to fall asleep by reducing stress and anxiety.
It is also great for anyone who wants an aquarium but doesn't want to mess with cleaning one out.
19. Flippy Chain
This little toy is perfect for hours of non-distracting and silent fidgeting. The Flippy Chain helps to relieve tension and anxiety quietly.
Your child can take the chain anywhere due to its compact size, even to the classroom.
Made from stainless steel, it is sure to last for years and years.
20. Color Sorter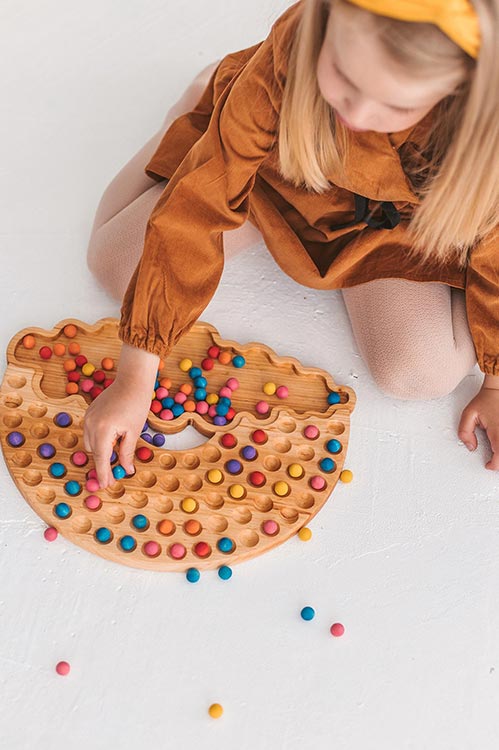 This hand-made, wooden rainbow color sorting tray is a great way to occupy little minds. Your child will learn to sort colors and count while playing. After all, a learning toy is still a toy in a child's eyes.
Make this surprise extra special by engraving a sweet message on the back of the tray.
21. Pop Tubes
These stretch toys are made for fun. Each one is designed to pop, stretch, and connect for lots of fun and entertainment. The tubes come in four vibrant colors and ensure hours of playtime.
Pop Tubes are designed to help those who struggle with sensory processing disorders. When the expandable tube is stretched or compressed, the noise tube makes a satisfying popping sound.
---
Now that you have looked over our extensive list of sensory toys for autistic children, the hard part begins. You need to choose which one your child will have the most fun playing with.
Our advice? Pick three!
Not-entirely-unrelated article: Annoy Parents By Giving Their Child One of These Super-Annoying Toys
Pin It