Are you searching for the best gifts for country music lovers?
Maybe you have a good friend or family member who is really into country music, and their birthday is coming up. Or maybe they'll be graduating soon or celebrating some other big occasion in their life.
Even if you're looking for a "just because" gift, naturally you want the best ideas – ones that are tailored specifically to your loved one's tastes:
Country music.
Well, you're in luck. Take a gander below. We've compiled 10 of the best gift ideas we could find for the country music lover in your life.
Whether they're young or old, enjoy classic honky tonk or modern country music, they are sure to appreciate any one of these thoughtful, all-American country gifts for country music lovers.
Let's get going!
Top 10 Gifts for Country Music Lovers
Our website is supported by our users. We sometimes earn a commission when you click through the affiliate links on our website. See our privacy policy & disclosures for more information.
1. Personalized Country Music Western Sign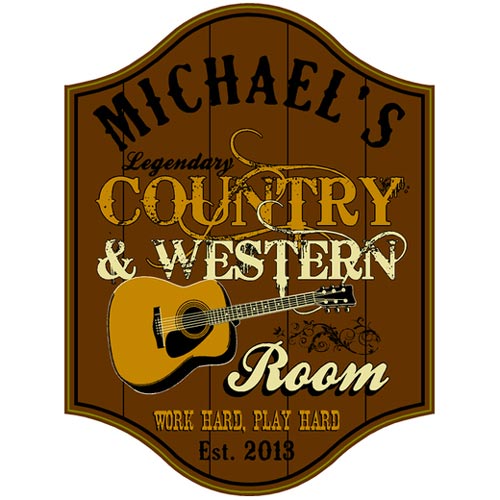 This vintage-style country & western sign would make a great addition to any country music lover's home, garage, pub or actual country music room.
Constructed of sturdy fiber wood right here in the USA, this sign is personalized by hand via silkscreen. It beautifully showcases your loved one's name and the establishment year of their music room. Get it here.
2. "Country Music Lover" Custom Engraved Tumbler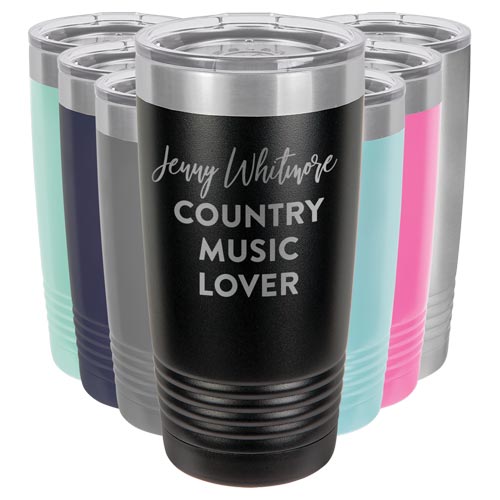 Looking to give your loved one something that they can use on a daily basis that also represents their love for country music? A personalized tumbler takes the cake for both practicality and charm.
Our stunning custom engraved tumblers are double-walled and vacuum-sealed. This provides supreme insulation comparable to the much more expensive and highly popular YETI brand.
Customization is included. Personalize it with your loved one's name, a fun quote like "COUNTRY MUSIC LOVER," or any other text you'd like.
With your choice of several different colors and size options plus complete customization, this is the perfect gift for country music lovers!
3. Country Music Car Decal
Help your friend show off their love of country music to the world with this cute car window decal.
If life truly is better with country music for them, they'll really appreciate this fun decal. It's made from high-quality die-cut vinyl and designed to last at least a good six years on their vehicle.
They can put it anywhere they want, of course.
4. Western Floral Personalized Guitar Strap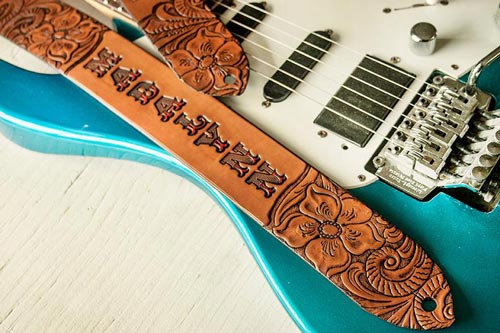 If your country-loving friend also happens to play guitar, what a wonderful surprise this western-style guitar strap would make!
Adorned with a gorgeous floral design along with the name of your loved one in saloon-style lettering, this tanned leather guitar strap will add a lovely touch to electric or acoustic guitars alike. You choose the stain finish as well as the color of the text.
5. Concert Tickets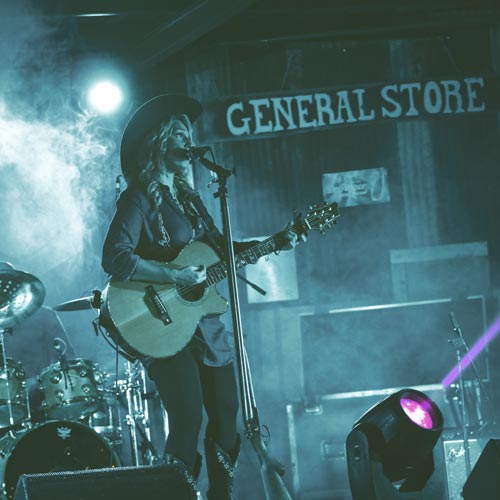 There's nothing that screams "America!" quite like a country music concert! So if you're in the market for more of an experience than a tangible gift for your loved one, you can't go wrong with a pair of concert tickets.
Using Ticket Master or your favorite event site, simply look up the city, date, and genre (in this case, country) and you'll be presented with a list of events from which to choose.
6. Country Music Belt Buckle
A belt buckle makes an all-around great gift for anyone who hails from the country scene – cowboys and cowgirls, rodeo hands, and yes, even country music connoisseurs.
This classic, western-style buckle features a sculpted fiddle and guitar, and is crafted from heavy zinc alloy and safe, lead-free plating. Most importantly, it shouts out an important truth: I love country music.
7. Country Legends T-Shirt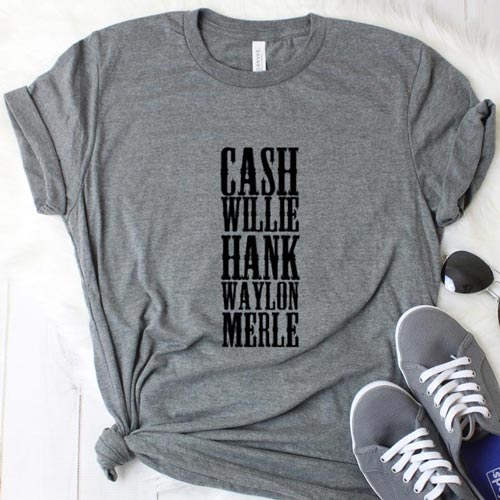 Classic country still reigns king in the country music scene. Your loved one knows this full well, and so will love this soft cotton t-shirt featuring the names of some of country music's all-time greats.
Shirt come already pre-shrunk and are available in several different sizes, colors, and styles.
8. Coffee and Country Music Mug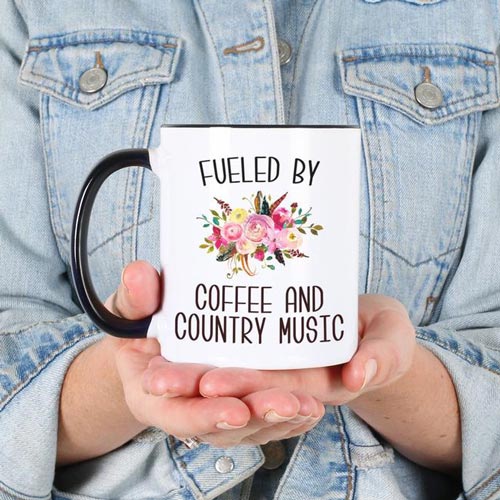 For a more elegant gift idea that still pays tribute to your loved one's great love for country music, choose this charming country music & coffee mug found on Etsy.
The decorative ceramic mug holds up to 11 ounces of either chilled or piping hot drinks. It is both dishwasher and microwave safe.
Fun idea: A mug is already a container; a mini gift basket, if you will. So add extra goodies before presenting it to your loved one! Think candies, ground coffee samplers, cinnamon sticks or hot chocolate mix.
9. Honky Tonk Embroidery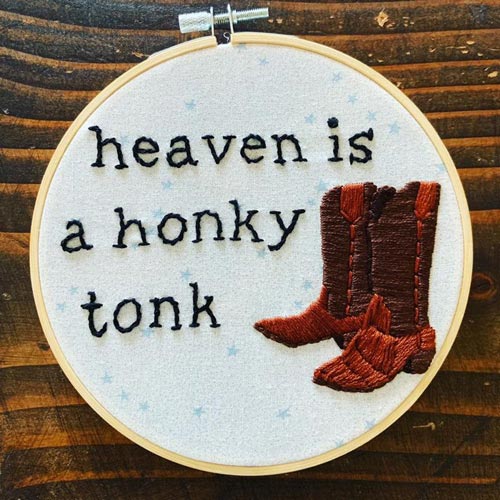 This delightful embroidery from Needle and Red Designs takes nostalgia to a whole new level.
Past days of honky tonk fun are captured in this homespun original art deco piece, which features a 6″ hoop, a song lyric from the band The Highwaywomen, and a pair of cowboy boots.
All we can say is, if they don't like this, they must not like country music.
10. Stirling Silver Guitar Pendant
When it comes to gifts for country music lovers (or anyone, for that matter), jewelry is always a great choice.
This stunning sterling silver necklace, in the shape of an electric guitar, will make the country music-loving gal in your life smile from ear to ear.
The pendant features the exquisite details of a real guitar, right down to the knobs and strings. Bonus, it comes with free gift packaging.
More Gift Ideas
How about that for a top 10 list of gift ideas for country music lovers? Not too shabby, eh?
For more inspiration, check out these brilliant gift listicles:
We sure hope that we were able to help you find a wonderful gift for the country music lover in your life! (That was the goal, after all!) If your search continues, we hope that we were at least able to provide you with a nudge in the right direction.