Whether sentimental and sweet, funny and cute, or perhaps practical but still charming — whichever direction you decide to go, we have some amazing 50th birthday gifts for mom!
Our gift experts have crafted a fantastic list to help you find your gift-giving inspiration.
For you young pups (or perhaps older, yet still clueless, pups) trying to figure out what mother dear might like on her special day, you'll find exactly what you need below.
Or maybe you're mom! Maybe you're about to turn fifty, but you can't seem to get your wish list together. In that case, just leave this out for your kids to see. I know I plan to.
Best 50th Birthday Gifts for Mom
Our website is supported by our users. We sometimes earn a commission when you click through the affiliate links on our website. See our privacy policy & disclosures for more information.
1. Personalized Floral Birthday Candle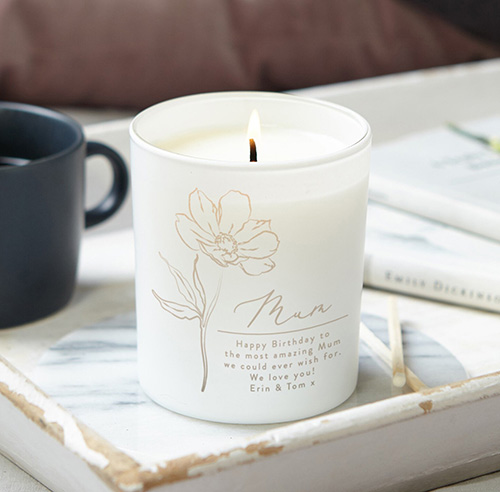 They had us at scents like Winter Forest, Black Velvet, and Spiced Orchid! These pretty candles will light up the room (literally), and light up Mom's face, too.
This special gift can be personalized with her birth flower, as well, to make it even more special and one-of-a-kind.
2. Love You Mom Vases
This set of three "Love You, Mom" vases are practically perfect in every way.
They will transform her table or desk, and she'll love putting fresh blooms in them each week. So adorable, she won't be able to resist!
3. Things I love About Mom
The fill-in-the-blanks make it so easy to put together a book for Mom that will totally make her teary eyed. And full of rib-squishing hugs, too!
So simple, yet so sweet and thoughtful. A unique gift that she will love reading over and over again, and sharing with her friends.
4. Sterling Silver Locket Necklace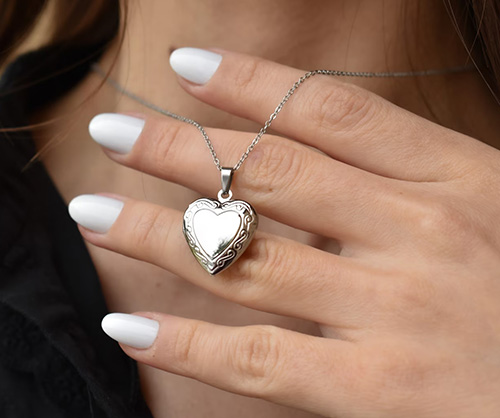 This sterling silver locket necklace is minimalist in style, but just oozes elegance and sophistication!
Gifts like these make such wonderful 50th birthday gifts for mom, because they are lasting treasures that she can pass down.
Put a favorite photo of the two of you inside, and watch her eyes light up with affection and memories as she opens it. She's sure to love and cherish this sweet and meaningful gift.
5. Surprise Breakfast in Bed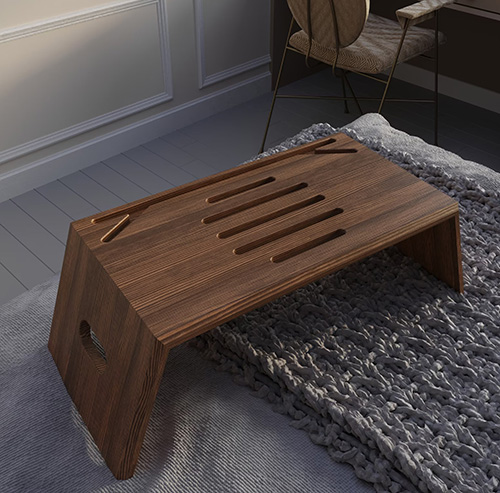 Breakfast in bed is such a fun tradition for your mom's birthday or Mother's Day. Make this long time favorite gift idea extra special with this pretty breakfast tray!
She can use it again and again for so many different occasions, too. It's also foldable and well made, so it will last for many years (and birthdays) to come. Add breakfast and a rose for a perfect present.
6. Birthstone Forever Rose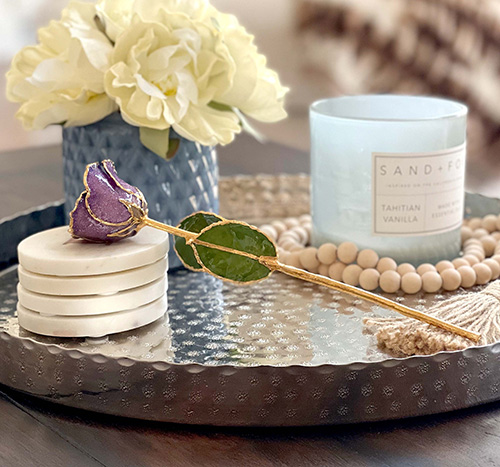 If she needs a little bling in her life (and what mom doesn't?), then this birthstone forever rose is the perfect 50th birthday gift!
Choose her birthstone color and watch her be wowed when she opens this personalized gift. Great for collectors, rose lovers, and those who appreciate the finer things in life.
7. Custom Engraved Floral Wine Glass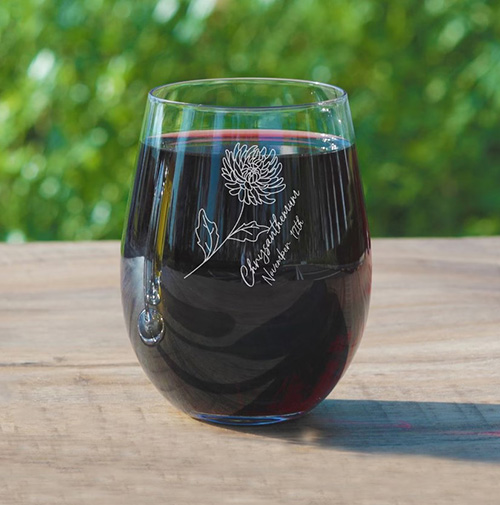 Pour her a glass of wine and serve it in this custom engraved, floral wine glass. Cheers to her on her milestone year, and let's toast the greatest mother you know!
And we love that it's stemless. So easy to wash, hold, and balance next to her favorite cheese and crackers.
8. Custom Music Box with Photo Frame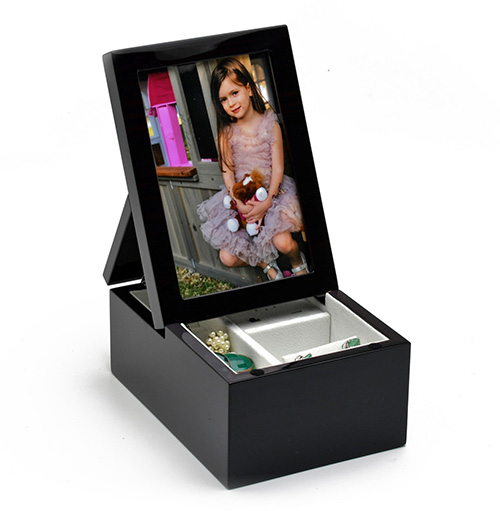 So modern, yet so timeless! This custom music box with an inset photo frame just needs your finishing touches: the perfect song and your favorite photograph.
What an ideal present for a lovely woman. This is one pick of 50th birthday gifts for mom that she'll cherish for years to come.
9. Flower Basket Gift Card Holder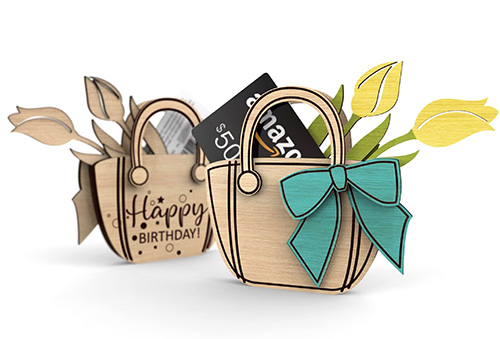 Not sure what to get? Or maybe shopping is her favorite activity, so you don't want to take away all of her fun?
Then get her a gift card to her favorite spot, and tuck it inside this adorable flower basket holder. This is also a good gift idea for the woman who seems to have everything she needs.
10. Natural Aromatherapy Bath Bombs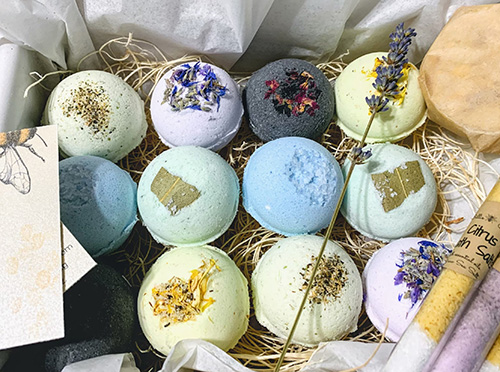 Pamper her a little bit (or a lot) with a set of natural, aromatherapy bath bombs like these!
They're made from high quality essential oils so you can feel good about your purchase, and the scent is fantastic. She'll love soaking in a tub full of luxury.
11. Wooden Frame with Hanging Charm
We just love this wooden picture frame and its precious hanging charm, don't you? It adds a great touch to an otherwise ordinary frame gift. Now, to pick out the best of the best of all those great shots of you two together!
Here's hoping you're up for the challenge, because it will put the icing on this creative 50th birthday gift idea.
12. Happy Birthday Mom Greeting Card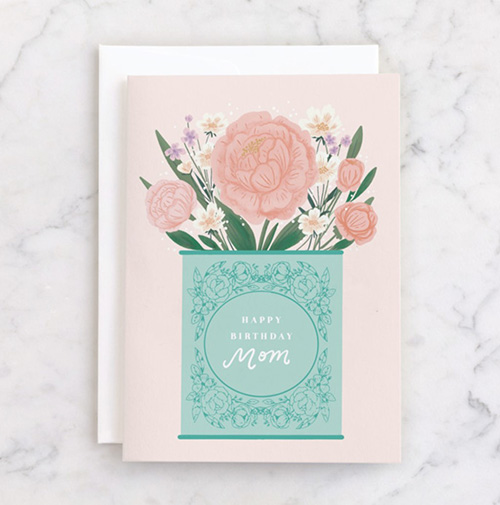 You know it's true: what she wants more than gifts is a handwritten card or letter from you! This one has all the right touches: from its pastel color palette to the perfectly picked font and sentiment.
Now to add the finishing touch — something heartfelt from her favorite kid.
Related: 50th Birthday Wishes for Everyone
13. Stainless Steel Self Heating Coffee Mug
This stainless steel, self heating coffee mug is perfect for the busy mom on the go! And when is she ever not on the go? Misplacing her coffee only to find it an hour later, cold and grody, is no fun.
Now she can come back to it while it's still hot, fresh, and comforting. A great option if you are looking for a practical yet still thoughtful gift.
14. Wireless Neck & Shoulder Massager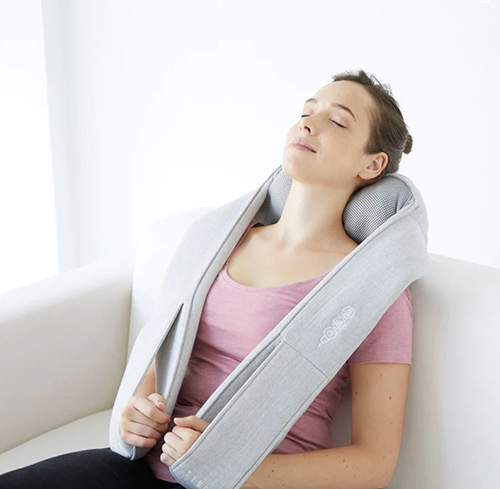 She's full of knots and stressed muscles! How can she not be, parenting you gremlins? Just kidding, of course.
But things as a mom can get tense, so she'll appreciate this perfect birthday gift idea.
This wireless neck and shoulder massager is a God-send for the busy mom who is always looking out for others, but forgetting to take care of herself.
Give her a bit of pampering, some luxury, and a touch of self-care.
15. Personalized Photo Blanket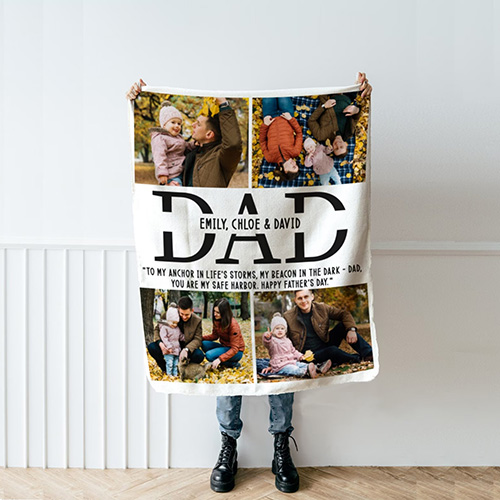 Whether you choose a silly photo or your very best glamor shot is up to you, oh supreme gift giver. But whichever way you go, this personalized photo blanket is going to be a big hit!
All her friends will want one, too. So cute and heartfelt, and perfectly suited for a mother's 50th birthday gift.
16. Family Names Heart Garden Stone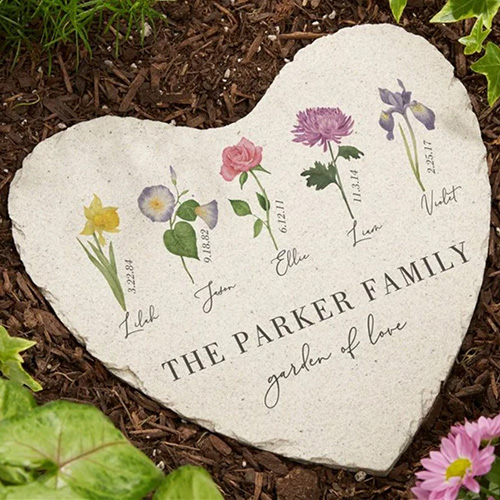 For the gardener or just the outdoor lover, these family name garden stones make great gift ideas!
Perfect for garden paths, her favorite flower bed, or even the patio, they bring some of her favorite things to nature: YOU.
17. Funny Favorite Child Pillow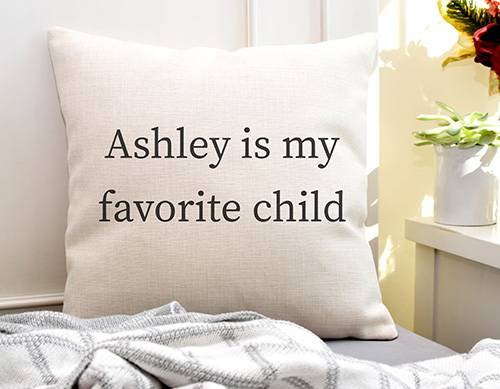 Just in case there was any doubt! There wasn't any doubt though, right?
This hilarious favorite child pillow will make her laugh and laugh (and your siblings glare and glare). So cute and clever, it is sure to earn a special place on the living room couch.
18. Candles Mom Will Love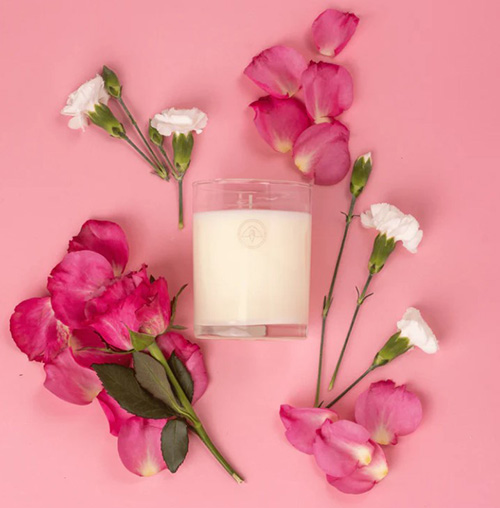 These candles by Paddywax are no-brainers and make the best gifts. A sure-fire way to please Mom on her birthday, all you have to do is peruse the fabulous collection for the perfect one.
Great smelling and beautifully designed, too!
19. Personalized Disc Bracelet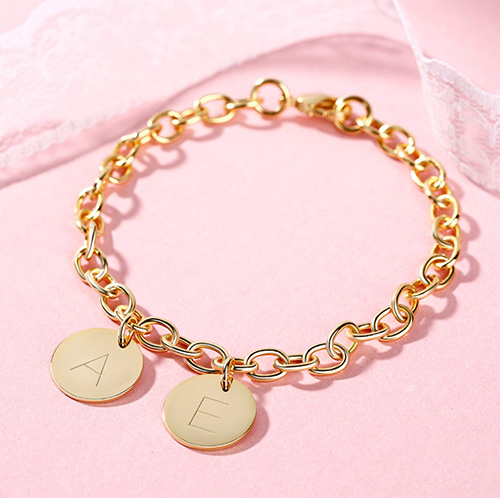 Made of sterling silver, this personalized disc bracelet is a minimalist's dream! It will go with anything from her tennis outfit, to her little black dress, to jeans and a t-shirt.
Dainty and sweet, it will never go out of style. A perfect gift for mom's 50th birthday, don't you think?
20. Mimosa Sugar Cube Trio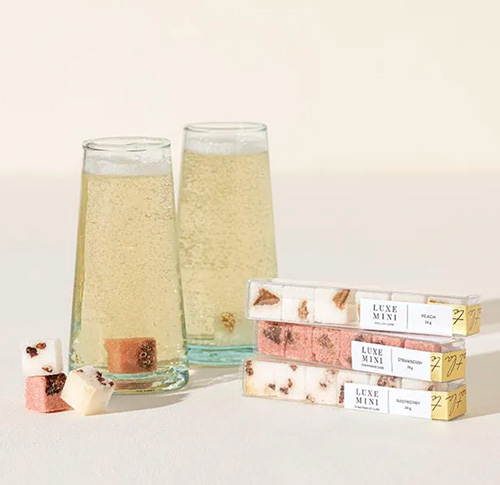 What a brilliant idea! These mimosa sugar cube trios are bringing brunch back! Well, not that it ever went away…
But Saturday mornings just got a whole lot sweeter with these delicious and delectable treats.
21. Weighted Flaxseed Neck Wrap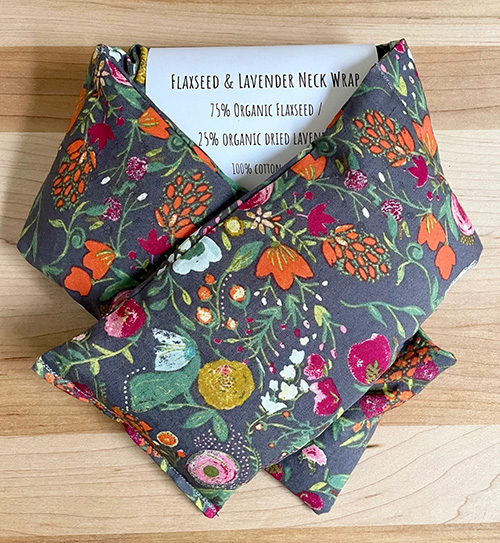 Made with organic lavender and flaxseed, these neck wraps are so great for sore and tired muscles. Plus, they just look so pretty with their floral prints.
A gift that is both luxurious and practical, she'll get so many uses out of these great weighted neck wraps.
22. Best Mom Ever Cedar Wood Bird Feeder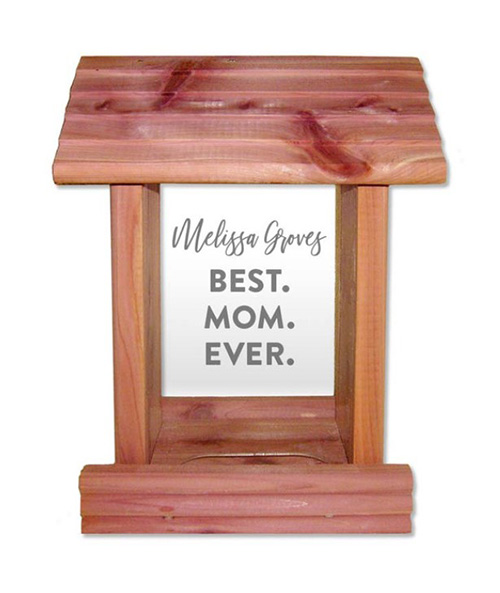 Personalize and customize this great cedar wood bird feeder until it's just right! She'll love watching her fine feathered friends (and maybe even a few furry squirrels) snack away on this amply sized feeder.
Wonderful for backyards, porches, or even hanging out on the apartment balcony.
23. Monthly Chocolate Subscription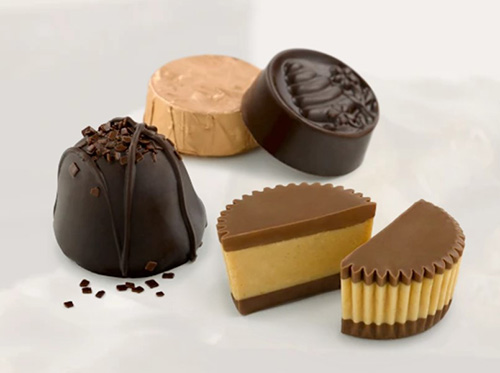 Get her what she really wants: some chocolate. And this isn't just a one time thing either, it's an entire chocolate subscription.
She'll be over the moon for this delightful and delicious treat that arrives each and every month. If you weren't the favorite child already, you will be now!
Related: Gifts for Women Who Want Nothing
24. Cooling Face Mask Set
It's important to have a self-care routine as a mom, but it's so hard to give yourself permission! Make it easy on her by supplying her with some wonderful cooling face masks like these.
She'll be feeling her best and practically like a new woman in no time at all with this ideal gift.
25. Live Edge Bath Caddy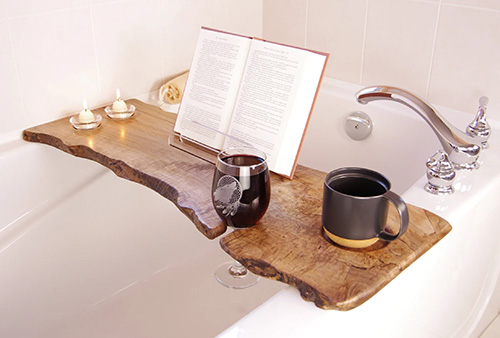 If baths are her jam and her personal self-care time, then she'll absolutely be swooning over this wonderful bath caddy.
For the luxury loving lady this is such a great 50th birthday gift idea. It can hold her book, her wine glass or cup, some tea lights — the sky's the limit! She'll be staying in until she gets all pruny, you can guarantee.
26. Engraved IPad Holder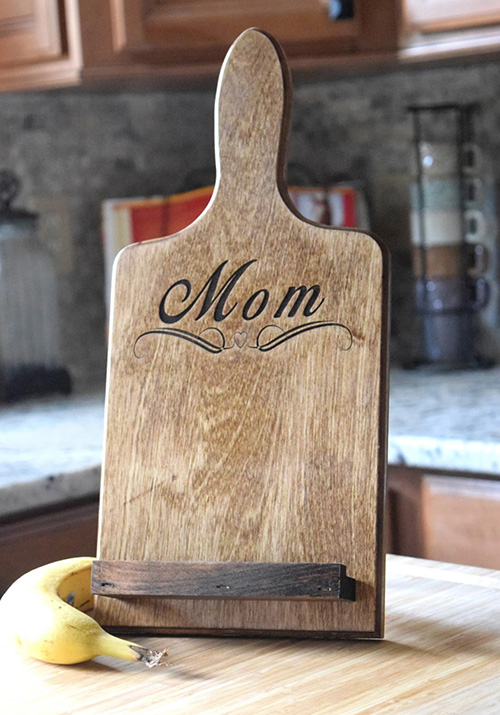 Have you ever caught her struggling to prop her iPad up while reading a recipe on Pinterest? Or when she's painting her nails but still wants to read her book?
This handy-dandy invention of an Ipad holder makes all of that so easy and simple, plus it's customized just for her!
27. Audible Membership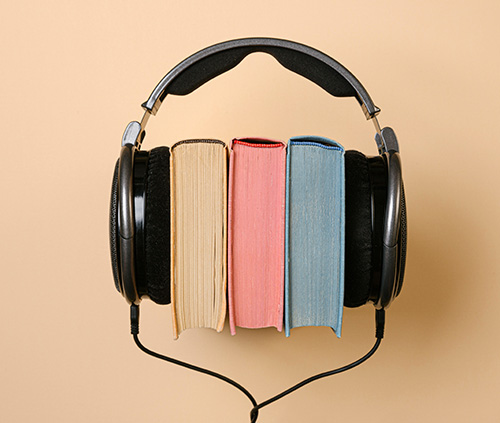 Does she love losing herself in a good book? Then an Audible membership makes the best present!
She can discover all sorts of new genres: classics, biographies, true crime, fiction and nonfiction, all instantly available at the touch of a fingertip. No more spending a fortune at the bookstore or waiting in line at the library for your favorite literary lady.
28. Portable Bluetooth Speaker
My husband got me this portable bluetooth speaker a few years ago, and I thought it was a silly present that I would never use. Well, color me wrong!
I'm now on my second one and I use it all the time. From listening to podcasts while cooking or cleaning, to blasting some classic rock and roll while lounging outside, this speaker gets five stars from me.
29. Personalized Flower Pot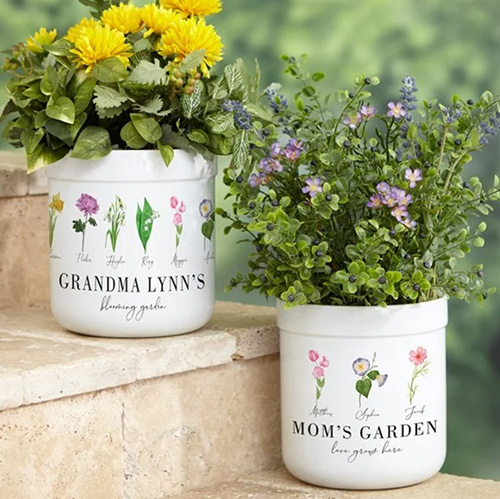 All you need to add to this adorable, personalized flower pot is her favorite flower/plant and a warm hug. And it's completely unique to her — from the wording, to the addition of her kids and grandkid's birth flowers and names.
So cute and a great idea as a milestone birthday gift!
30. Atlas Coffee Subscription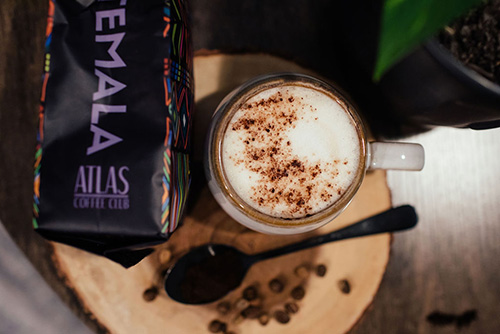 Looking for a subscription box that is just right for Mom? Well, if she is a coffee aficionado then she'll adore this selection from Atlas.
Curated, roasted, and selected just for her, each new roast will bring some luxury and adventure to her mornings. And her afternoon pick-me-ups. And her evenings… Hey, they have decaf, too!
31. Embroidery Needlecraft Kit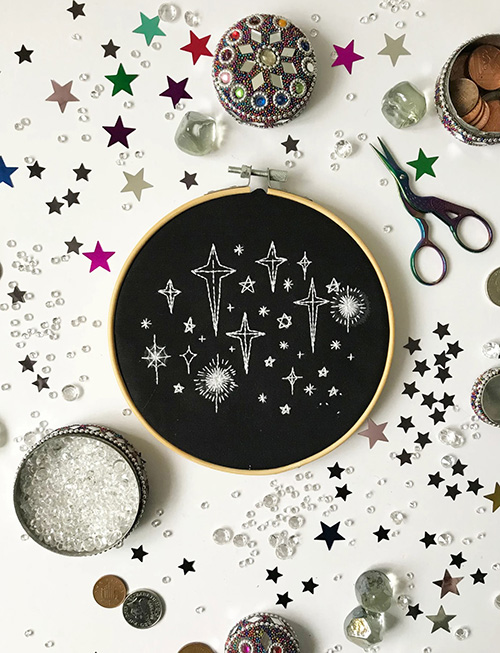 It's the old-fashioned hobby of embroidery brought into the modern age. If she is looking for a new hobby, or has always loved the art of embroidery, this fun needlecraft kit will be right up her alley.
32. Cute Photo Socks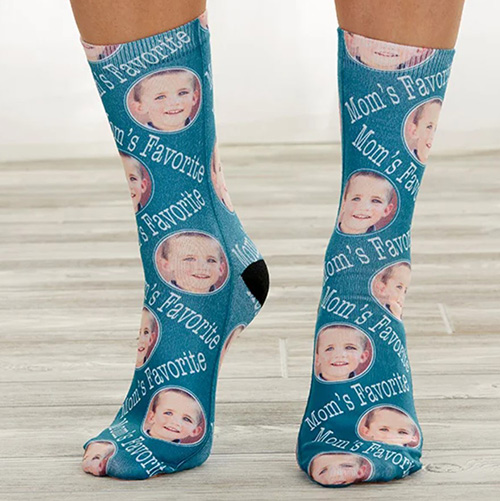 Does she love to laugh more than just about anything? Then give her the gift of a hearty belly laugh with these quirky and hilarious socks!
She'd better wear them loud and proud as often as possible, right? Make sure to use the funniest picture you can find, and she won't be able to keep from snickering every time she looks at her feet.
33. Classy Wine Chillers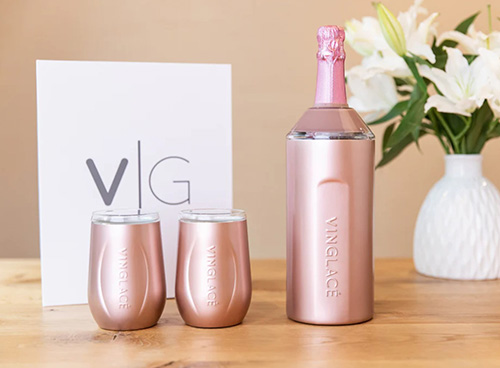 Keep her Pinot Grigio or Chardonnay chilled perfectly for hours on end! Great for camping, backyard BBQs, boating, or tail-gating, these great wine chillers look as fabulous as they work.
She'll wonder how she ever got along without it. Probably with warm wine, that's how.
34. Custom Photo Album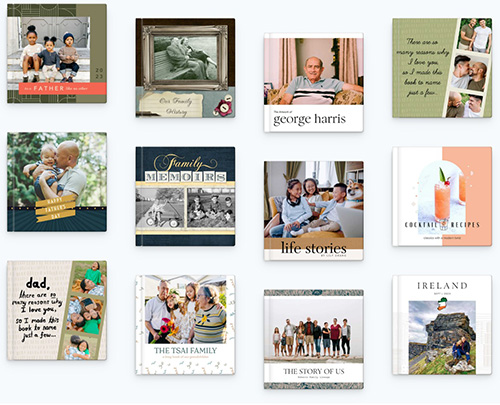 There's nothing she'll love more than rifling through a photo album full of precious memories. Unless, of course, it's a custom photo book that is organized perfectly and oh-so streamlined!
This personalized photo album is beautifully put together, and will bring happy tears to her eyes every time she opens it.
35. Birth Flower Necklaces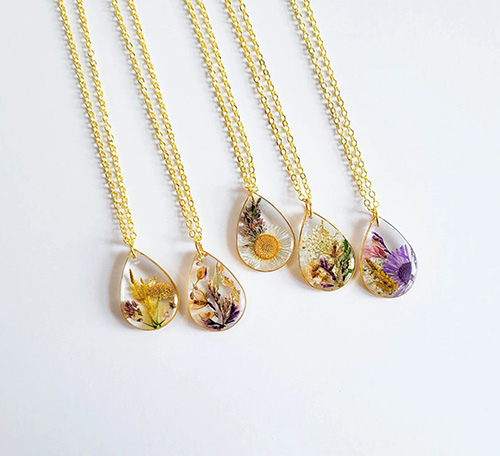 Made of pressed flowers, resin, and glass, this necklace is going to get Mom so many compliments! So unique and delicately pretty, the colors will go with just about any outfit she chooses.
A great choice and really thoughtful gift for the woman who loves jewelry and accessories.
36. Custom Stationary Set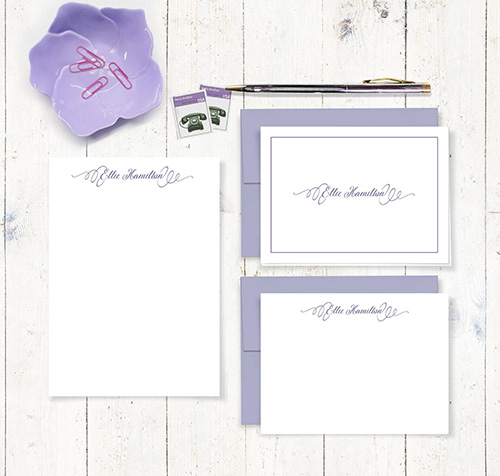 If she's infamous in her circles for writing the best letters and notes, she'll adore having a set of good quality, custom stationary!
Pair with a wonderful, free flowing pen or calligraphy set for a truly sophisticated birthday present for Mom.
37. You're My Bestea Spoon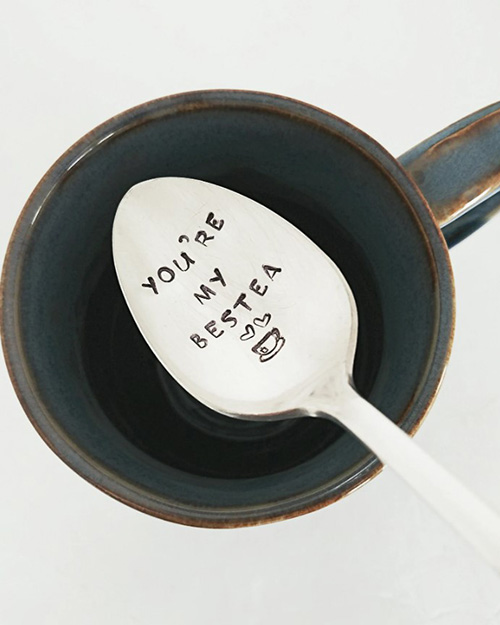 Remind her what she means to you with this cute little spoon! Tea parties and brunches will be extra delightful when she gets to use this sweet gift. So sentimental and so easy, what's not to love?
38. Metal Line Art Portrait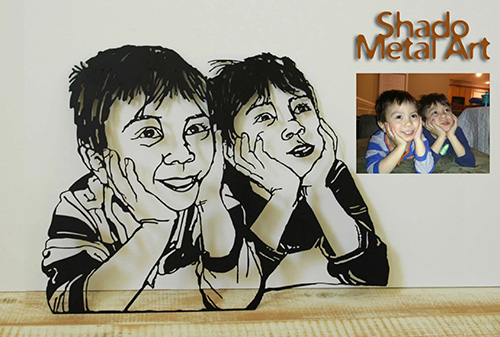 Has she been hinting around at needing new home decor? A little something to spruce up that empty accent wall?
Then this metal line art portrait is just the thing to make her melt. Simply choose a favorite photo of her and you, or maybe her grandkids (or even the pets), and the artists will do the rest. It's going to look amazing on her wall!
39. Organic Cotton Yoga Mat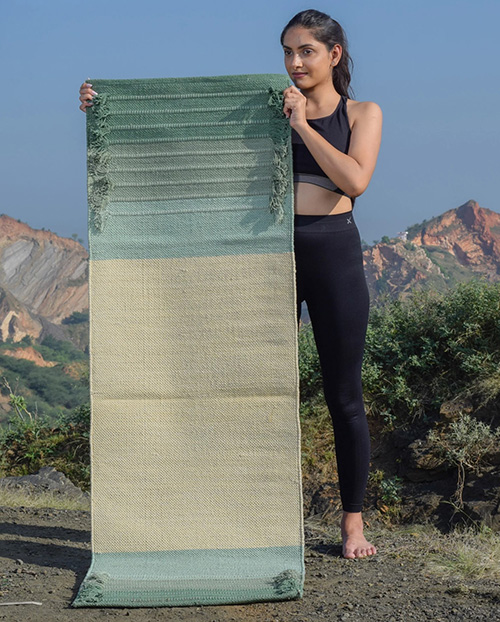 Health comes first! But a pretty organic cotton yoga mat fits that bill and looks good doing it. It's non-slip and so easy to roll up and take anywhere. Not just the gym, but to yoga class, the beach, or even the pool.
But we know she'll love not having to use the communal ones at the gym, for sure. Invest in her fitness on this milestone year with this great pick of 50th birthday gift ideas for mom.
40. Family Photo Mug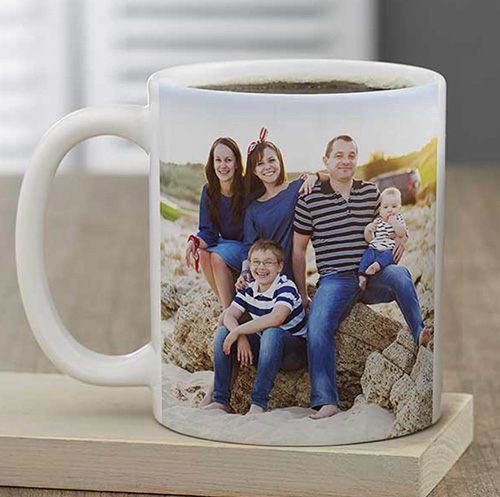 Take your favorite (or funniest) family photo and transform it into a mug that Mom will want to use every day!
She'll have a hard time deciding whether to keep it at home, or take it to work to show off. This would be such a cute gift from the grandkids to their grandma, as well!
41. Personalized Bookmark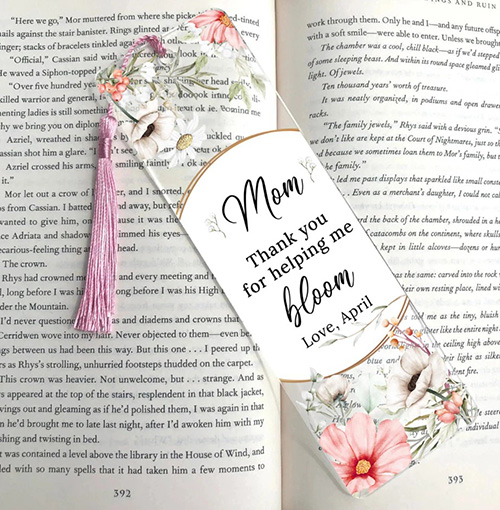 This pretty little bookmark will make her smile for sure. It's personalized just for her, and if you slip it inside that new novel she's been eyeing, it will make the sweetest present.
You can choose the tassel color, too! So thoughtful.
42. Slip Silk Pillowcase
Silk pillowcases are a must for women with curly hair, delicate skin, or for those eyeing their wrinkles with suspicion! These high-quality cases are just gorgeous and so very, very soft. A good night's beauty rest never felt so decadent.
43. Adorable Linen Tote Bags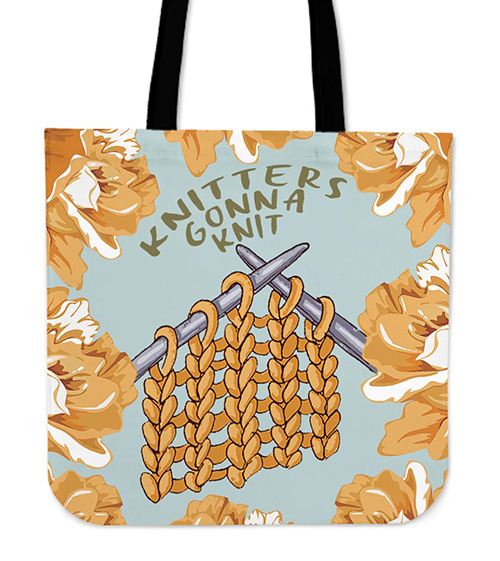 For the knitter in your life (that's Mom) this adorable linen tote bag is the perfect way to celebrate her big day.
With this she can keep all of her yarn (well, not all of her yarn, let's be realistic), needles, patterns, and half-finished projects in one convenient spot that goes with her when she's ready to hit the road. Such a good idea!
Click Here to check out more fun designs!
44. Ninja Hot & Cold Coffee Machine
Show her how special she is with a fabulous coffee machine like this one from Ninja! As far as practical 50th birthday gifts for mom go, this is a favorite.
With one of these she can brew all sorts of great drinks to her heart's content. From specialty lattes with frothed milk, to drip coffee and tea. Iced or hot? Well, that just depends on her mood.
45. Lismore essence Bud Vase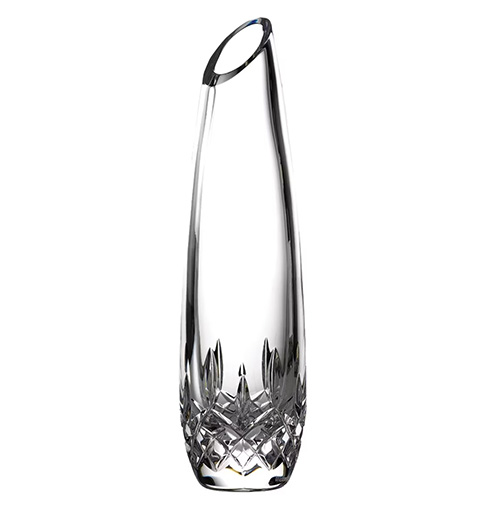 If she's classy, sophisticated, and timeless, she needs a gift that reflects those qualities! This beautifully cut Lismore essence bud vase fulfills all those requirements and more.
It will bring joy to her every time she uses it, and it's so precious we're sure she will pass it down to the next generation.
46. Stress Relief Relaxation Box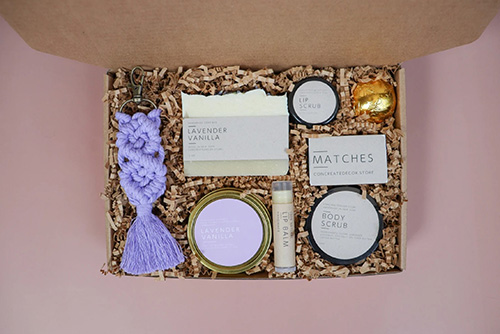 Pamper Mom with some much deserved self-care! With this great assortment, she can relax all day and unwind from the stresses of life.
From the lip balm to the bath bomb, she'll feel like a million bucks when she emerges from the bathroom! If you're looking for 50th birthday gifts for mom that will spoil her just a bit, this is a great choice.
Related: Self-Care Gifts for Her
47. Mama Bear Tumbler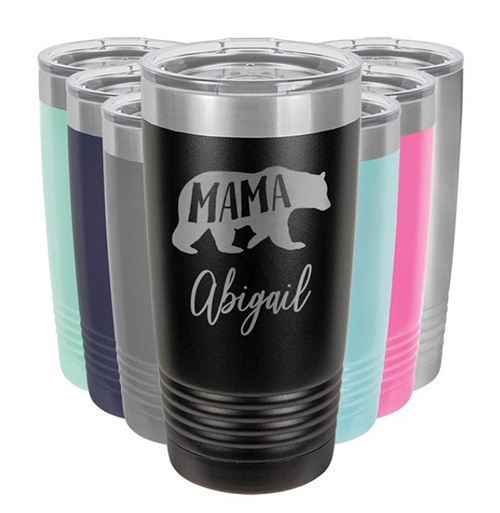 Get her a gift that is both functional and cute! These high-quality tumblers are vacuum sealed so her coffee or tea stays hot all day.
At the same time, she can use it for ice cold lemonade or water, too. Pick her favorite color to make this an extra special kind of gift.
48. Ultimate Ultra Plush Robe
Give her a gift that is as "extra" as she is! This gorgeous and fluffy plush robe will be so appreciated, and makes an excellent choice of thoughtful 50th birthday gifts for mom. 
Great for mornings on the balcony, evening baths, and even just lazy weekends at home. Available in four beautiful colors.
49. Personalized Family Tree Keyring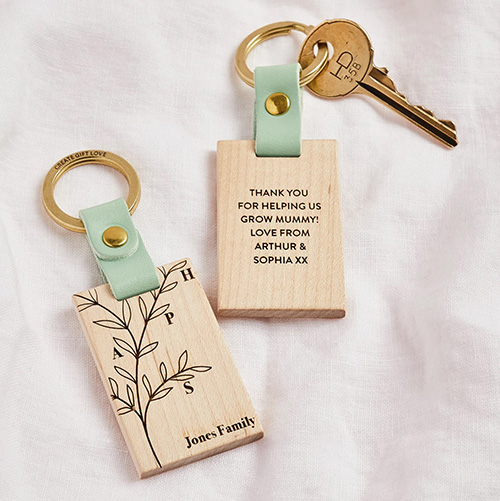 We've never seen such a pretty keychain! It's personalized, too, making it extra special. Mom will love the detailing and the look of this lovely charm. Choose from maple or cherry wood.
50. Keepsake Floral Sun Catcher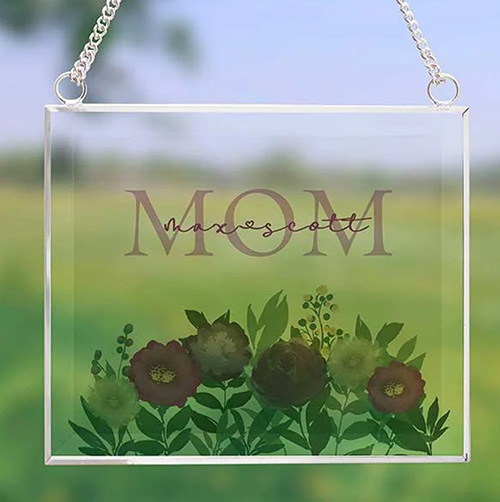 If she has a favorite window to watch the sunrise/sunset, or to watch the birds, then this charming, keepsake floral sun catcher will be perfect!
It will brighten up her window space and make her think of you each time she walks by it. A perfect pick of 50th birthday gifts for mom.
Read Next: Best 50th Birthday Gift Ideas