A half a century?! Why, you're better than two 25 year olds put together!
We love birthdays, and one is a huge milestone that deserves an epic party, some rad gifts, and some really thoughtful wishes. Help your friends or loved ones celebrate their golden year with a sweet sentiment or a funny message.
Whichever route you take, here are 100 of our best 50th birthday wishes to get your creative juices flowing! Steal one or two of your favorites, or combine them to make one that is uniquely yours!
What to Write in a 50th Birthday Card
You've already picked out the perfect card for them, but now what to say inside?
It's rather anticlimactic to just sign your name (even if you do dot your I's with hearts), but that blank space staring back at you can be daunting. We're here to help you alleviate that writer's block with these wishes and witticisms. Here's a few ideas to get you started:
Let them know the best years are yet to come
A word of advice from you to them
Tease them (c'mon, you know you want to)
Tell them how great they look
Thank them for the years of friendship, companionship, etc.
Wishes for their continued health and happiness
A favorite quote of yours or theirs
10 Best Ways to Say Happy Birthday (that aren't "Happy Birthday")
1. It's YOUR day! Relax and put your feet up, because you've earned it!
2. Happy anniversary of that time you turned 29!
3. We've been looking for a reason to party — so, thanks!
4. Nothing's better than cake and ice cream — bring it on!
5. On this momentous day, stop and smell the roses!
6. You made it! It's all downhill from here!
7. Let's grow old together… You go first.
8. You make 50 look good! What happened to me?
9. Congrats on a life full of happiness and success thus far! Here's to many more years!
10. You can't see me, but I'm toasting a long life of love to you! Cheers!
50th Birthday Messages for Everyone
Our website is supported by our users. We sometimes earn a commission when you click through the affiliate links on our website. See our privacy policy & disclosures for more information.
50th Birthday Wishes for Son
11. You can't possibly be 50… That makes me how old?
12. Happy birthday, son. You have always made me proud.
13. Happy birthday, old man. From, your old man.
14. 50 years on this planet! Earth never had it so good.
15. With each passing year, I've loved you more. Happy birthday!
16. Happy birthday to the guy who made me a mom/dad.
17. What a wonderful day to celebrate YOU.
18. The happiest of birthdays to the son who lights up my life.
19. It seems like only yesterday that you were snuggled in my arms.
20. Happy birthday to the man I love the most.
50th Birthday Wishes for Daughter
21. 50 years ago was the happiest day of my life. Cheers to you!
22. Happy birthday to my favorite daughter (don't tell your sisters).
23. I never thought I could love you more than I did the day you were born, but just look at us now!
24. Happiest of birthdays to the best of daughters!
25. I hope today is as special and as wonderful as you are.
26. I've loved every minute of the last 50 years with you.
27. Happy birthday to my sunshine!
28. No one deserves a happier day than you do! Happy birthday, dear daughter!
29. Happy birthday to a gorgeous person, a shining star, and an inspiring human.
30. All my love, from now until eternity.
50th Birthday Messages for a Friend
31. Now that you're 50, it's probably time to mature… Or nah.
32. You're like a fine wine — better with age!
33. Happy birthday to my favorite friend and fellow mischief maker!
34. Happiest of days to the most wonderful of friends.
35. So glad to spend another year with you in it!
36. My life is better with you in it. Thanks for sharing so many years with me!
37. Happy birthday and cheers to many, many more!
38. It's your birthday?! Well, color me excited!
39. You know me better than anyone… I never pass up a good cake.
40. Happy birthday, and don't alert the fire department trying to blow out all those candles.
50th Birthday Wishes for Boyfriend
41. Happy birthday, to my studliest of studs!
42. Hot diggity-darn, you look good on my arm. Today as much as ever!
43. You look even better today than the day I met you (and you looked dang fine then).
44. Happy birthday to my main squeeze from your little lemon!
45. A whole day to celebrate you? Yes, please!
46. You make everything better. Happy birthday!
47. When it comes to birthdays, you take the cake and eat it too!
48. You're the hottest thing in this room (besides all those birthday candles).
49. To my better half — happy birthday!
50. I'm so glad to be with you on this happy day.
50th Birthday Wishes for Girlfriend
51. You are the most gorgeous thing in my life, and always will be.
52. So happy to spend more time celebrating with you!
53. I never thought I'd be rocking it as the world's most beautiful woman's boyfriend, yet here I am!
54. You make me smile, laugh, and give me all the feels.
55. Happy birthday to the world's best snuggler.
56. For your birthday, I'm here at your command!
57. There's nowhere else I'd rather be than by your side on your special day!
58. How lucky am I to be with such a special birthday girl?
59. I can't wait to celebrate YOU all day long!
60. Happy birthday to the most beautiful creature in the world.
50th Birthday Wishes for Husband
61. Happy birthday to the man who makes 50 look incredible!
62. Raising a toast to my friend, my confidant, and my partner for life. Happy Birthday, dear.
63. Happy birthday to the most wonderful husband ever.
64. So happy to have a part of your first 50 years. Here's to 50 more!
65. You're just getting started, baby!
66. Happiest of birthdays to the sexiest of men!
67. A day to celebrate my man? Heck yeah!
68. Cheers and toasts to you, my sweet!
69. Happy birthday, my silver haired stud!
70. It's your day and your wish is my command!
50th Birthday Wishes for Wife
71. I never thought we'd be so good looking at these ages… Go, us!
72. Happy birthday to the most beautiful of women. How'd I get so lucky?
73. You age even better than a fine wine!
74. I thought I couldn't love you more than the day we met, but here we are! Still going strong!
75. Happy birthday to my wifey. I love being married to you.
76. So glad and proud to be your husband. Happy birthday, honey!
77. You're even more beautiful than the day we met, and that's saying something!
78. Happy birthday, sweets. You're the peanut butter to my jelly!
79. I can't imagine a life without you. Trust me, I tried and just got really depressed.
80. Happy birthday to the woman who makes me look good!
Funny 50th Birthday Quotes
81. Welcome to middle age! You may now begin your midlife crisis.
82. Welcome to 50! Hope you like Ibuprofen.
83. Happy 50th birthday. For everyone's safety, please skip the candles this year.
84. If you haven't grown up by now…you don't have to.
85. Looking 50 is great! If you're 60. — Joan Rivers.
86. So many candles, so little cake.
87. Turning 50 isn't so bad. It's admitting it that sucks.
88. You're in mint condition for such a vintage model!
89. You're only 7 in dog years!
90. Fifty, the ultimate F word.
50th Birthday Wishes for Anyone
91. 50 and fabulous! I don't know anyone who's done it better!
92. Welcome to the golden years! Keep shining the way you always have!
93. You're not 50, you're 1972 limited edition!
94. Recently updated to version 50.0.
95. Don't try to count your candles, just enjoy the glow.
96. 50 is only 14 (in Scrabble)!
97. You are 5 perfect 10s for a grand total of 50! Happy Birthday!
98. A sparkling personality that gets brighter every year! Happy Golden Birthday!
99. 50 is the youngest you'll be for the next 50 years. Enjoy the second half of your youth!
100. 21 with 29 years of experience. Happy 50th!
Related: 30 Excellent Gift Ideas for 50th Birthday
Best 50th Birthday Cards
50th Birthday Captions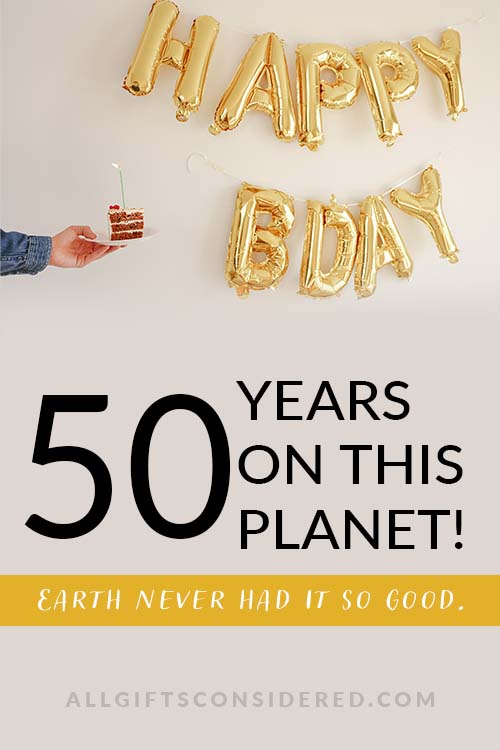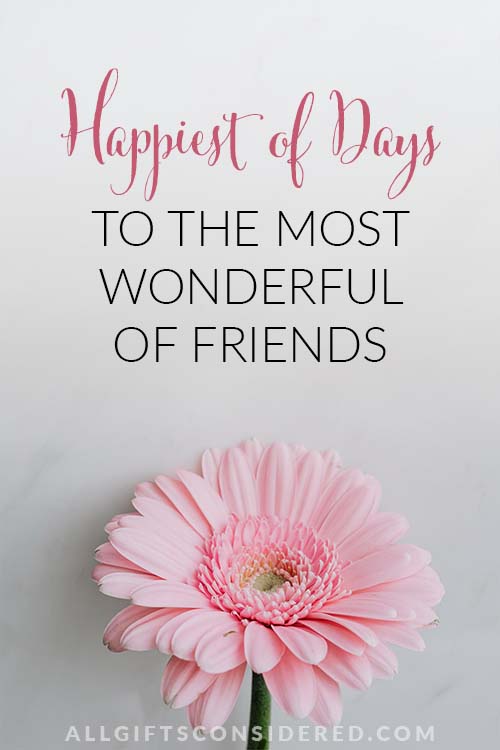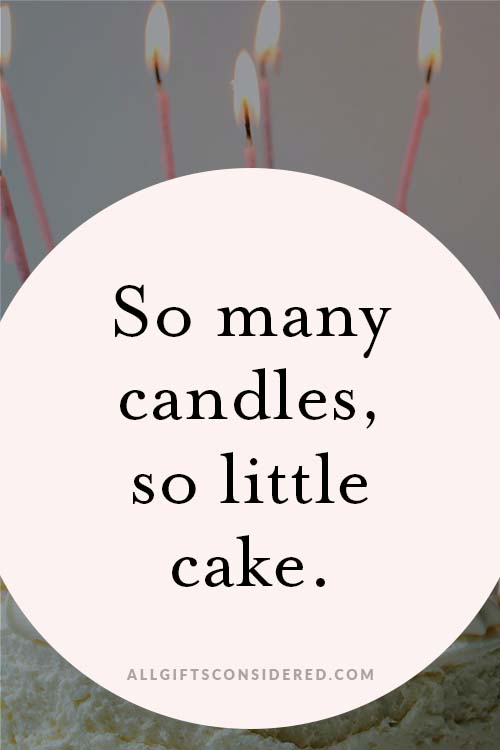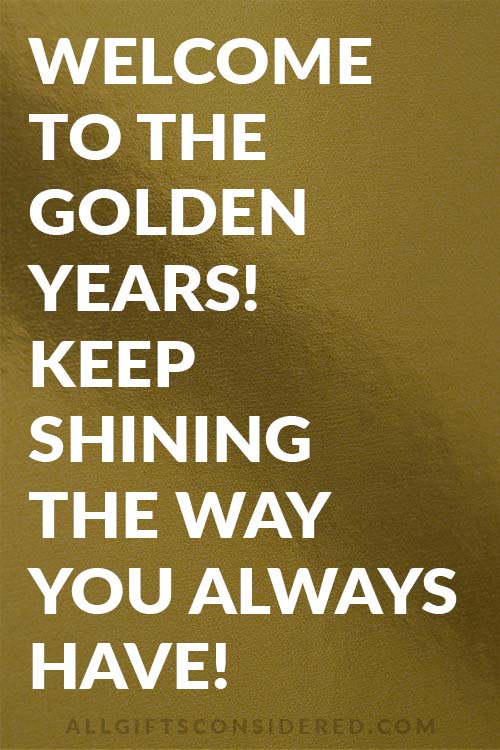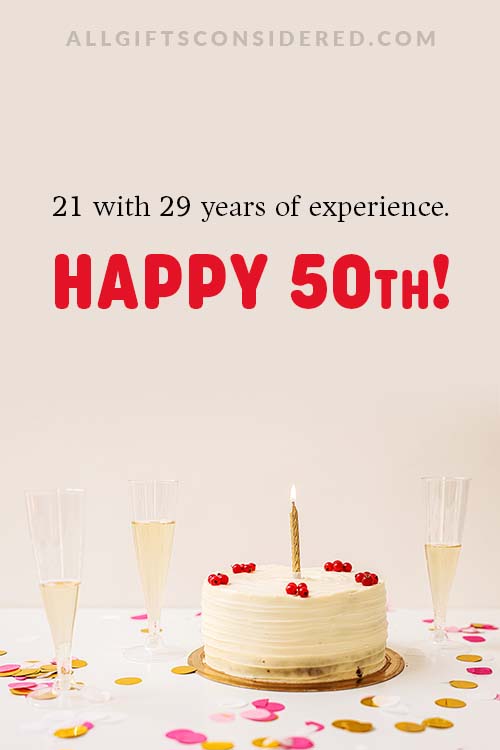 Need some fresh gift ideas? Head over to 50th Birthday Gifts for Men & Women (+Party Ideas)! We've got you.