Looking for the best Happy 60th Birthday wishes for a dear friend or family member? Well, then you've come to the right place! 
The internet is flooded with plenty of source material for witty, snarky, 50th birthday wishes. After all, that is marketed as the official over-the-hill milestone age. But add another decade and suddenly you're drawing a blank.
A sixtieth birthday may not be an occasion your friend or loved one is particularly looking forward to or even wanting to really celebrate, but still, a heartfelt note or grin-worthy quip can go a long way toward helping them feel vibrant, celebratory, and appreciated.
The bottom line? A 60th birthday is a special occasion that shouldn't be overlooked.
There's a reason the 60th birthday is known as the "Diamond Jubilee Birthday" — it's because the years of love, hard work, family, and good friends have made it all priceless.
Here to help you find that perfect 60th birthday message is a compilation of our 100 best 60th birthday wishes and quotes to celebrate their wonderful selves.
To make navigation a little easier, here's a helpful map to get you where you need to go!
Table of Contents:
What to Write in a 60th Birthday Card
They've had sixty wonderful years of good times and memories with friends and family. They've also had sixty years of lessons learned, wisdom gained, grey hairs earned, and life experienced.
And don't forget the sixty years of laughs and smiles! If you ask me, that is definitely something to celebrate.
So why not remind them of all those things? Some ideas to consider including alongside your "warmest wishes" might be:
A memory you share together
A quote from their favorite movie, book, or role model
A passage of Scripture or poem that you know is close to their heart
An inside joke between you
Your favorite picture together
Card-sized momentos like bookmarks, pressed flowers, or a certificate to their favorite restaurant or coffee shop
Take the time to make it personal and meaningful. Use the 60th birthday messages below for inspiration, and make it your own!
10 Best Ways to Say Happy Birthday (that aren't "Happy Birthday")
1. Happy Diamond Jubilee to you! May you enjoy all the sparkle life has to offer today and everyday.
2. Today is a day we celebrate YOU! I can't believe the world has been graced with 60 years of your awesome presence.
3. 60? My, my how time flies. The years have been wonderful to you, and I have to say I'm a little jealous.
4. Sixty is a huge milestone to celebrate, so let the party begin! 'Cheers' to your special day.
5. Many heartfelt wishes of happiness and continued health to you.
6. So glad to be celebrating with you today! I see many, many more exciting years ahead.
7. Another lap around the sun, and another amazing year filled with dreams and accomplishments.
8. You've earned a day entirely for yourself! Kick back and let those kiddos (and grandkiddos) appreciate you to the fullest.
9. Did you know this is your "diamond year?" Get out there and keep shining as brightly as you always have!
10. Celebrating the one-and-only, inspiring you! 60 years of fabulous, and I don't see you stopping anytime soon.
60th Birthday Wishes & Quotes
Alrighty, now we're going to break into more specified categories of fantastic 60th birthday wishes.
Whether it's for your wonderful friend, spouse, parent, girlfriend, etc., we've got the right words to express your sentiments.
60th Birthday Wishes for Dad
You want to say "Happy 60th Birthday, Dad" without saying…well, just that.
So, here are some fresh and inspired ways to tell the old man how much you love and appreciate him and wish for his best.
11. Another year has passed, but you will always be my daddy! I love and respect you now more than ever. Thanks for being such a great father.
12. 60 years watching you be the incredible man you are has influenced me so much. I am so proud to call you my Dad.
13. Having a father like you is something worth celebrating not just today, but always.
14. You can't possibly be 60, because that would make me… Well, let's not go there.
15. You've accomplished so much, Dad. Be proud of yourself and the legacy you've created.
16. Happy, happier, and happiest of days to you, Pops! We love you.
17. I could not have asked for a better father than you. A world of love and well-wishes on your birthday.
18. No matter how old I get, I'll always be my daddy's girl. Happy birthday to the best father of all time!
19. There is a special bond between fathers and sons, and I am so blessed to have enjoyed that bond for 60 years. Here's to many, many more.
20. Happy birthday to the bestest, charming-est, most wonderful-est Dad out there!
Related: 100 Hilarious Quotes for Birthday Cards
60th Birthday Wishes for Mom
Moms are so special and, as such, they deserve special birthday messages on this significant milestone year.
Here are a few lovely ways to wish her a very happy 60th birthday.
21. Moms are such special gifts, and I've been blessed to call you mine for so many joy-filled years. Happy Birthday!
22. Talented, beautiful and charming as ever… I am always so proud of you!
23. As we celebrate your 60th birthday, I can only echo what Abraham Lincoln said: "All that I am or ever hope to be, I owe to my angel mother."
24. Today, dearest mother, you've completed another beautiful year! Wishing you a blessed life now and always.
25. The years go by so quickly, but our love for you never changes. Happy Birthday, Mama.
26. 60 and still so incredibly fabulous! I'm glad I got your genes!
27. They say mothers and daughters are friends of the heart, and I couldn't agree more. Here's all the birthdays and memories I've shared with my best friend, my mother!
28. Mom, you are such a delight to everyone in your life, me included. Celebrating you today!
29. We may have had our differences (remember the hot dog incident when I was 13?!?) but as I've grown and matured I've come to realize that you truly are the most incredible woman in my life. Happy Birthday, Mom!
30. Happiest of celebrations to you on this beautiful day! Blessings and prayers of love and health to you.
60th Birthday Wishes for a Friend
Looking for the perfect way to wish a very happy birthday to a great friend? Perhaps you've been besties for two decades.
Or maybe you just met last month, but it feels like you've known each other your whole lives!
Whatever the case, here are some wonderful birthday messages for a friend.
31. They say diamonds are a girl's best friend, and I believe it because you look fabulous on your diamond jubilee!
32. Not old, just a classic. That's you, through and through.
33. Apparently these are our "Autumn Years," so let's enjoy the serenity and the scenery.
34. A good thing to remember at 60 is you'll probably forget.
35. I can't imagine life without you! Celebrating you today and always.
36. Thanks for the reminder that I'm old too. Woot woot.
37. Like a fine wine, our friendship has aged wonderfully (and so have you)!
38. The mountain of 60 really brings you up to speed. Don't wait for me. I'll take it easy.
39. More pills, but more thrills… Here's to our golden years!
40. You've earned a day just for yourself. Kick it back and enjoy every second of it!
60th Birthday Wishes for Husband
It's your husband's 60th birthday, and he's just as wonderful, studly, and sweet as he was when you tied the knot.
Doesn't matter if that was four years ago or forty, he's brought you so much happiness and deserves the very best happy 60th birthday messages.
41. To the most humble, kind-hearted man, Happy Birthday.
42. Who is the world's luckiest wife? Me. That's who.
43. A caring husband and loving father; I couldn't have asked for one better than you!
44. A day all about you. Just say the word, and the kids are at your service. You thought I was going to say me, didn't you?
45. A meaty rack of ribs, a fresh ribeye, a filet mignon… Or how 'bout just a big, juicy kiss?
46. You're the best companion and adventure buddy I could have hoped for, Darling.
47. To the most incredible man in my life, Happy Birthday. You amaze me every day.
48. Friend, companion, confidant, partner in crime. Just to name a few. Grateful for everything you are to me.
49. I'm that lucky girl that found a husband and a best friend in the same person. Love always.
50. Happy birthday from the only woman in the world that could sleep through your snoring. A true match made in heaven.
60th Birthday Wishes for Wife
She may have a little more gray hair than when you first met, but she's still the youngest 60-year-old in your life and heart.
If you need inspiration for the the best way to wish her a fabulous 60th birthday, stay tuned!
51. To my darling wife and the mother of my children, Happy Birthday. I cherish you.
52. I could list as many reasons I love you as there are years of your beautiful life, but I don't have enough room. Just know I really, really, really love you.
53. No need to light the candles on the cake, my wife is already too hot to handle!
54. Happy birthday to the one person I don't need a Facebook reminder for.
55. You are the most extraordinary woman I've ever known. Beauty, grace, and strength are just a few of your best attributes. I am so, so lucky.
56. A daily inspiration to me, you are a wonder my dear.
57. God knew what he was doing when He gave you to me. I wouldn't have made it this far without you.
58. Is it officially time to start building our matching rocking chairs?
59. Happiest of birthdays to the brightest light in my life! I love you.
60. I should treat you like a queen today, as you get to be a princess the rest of the year.
60th Birthday Wishes for Boyfriend
It's a big day for your favorite guy! Here's ten great ways to wish him many happy returns of the day.
61. I wouldn't want any other man on my arm, now or ever! Happy birthday, Handsome.
62. Hugs and kisses and all the best wishes to my prince charming from your princess!
63. My 60, sexy, silver-haired stud — I'm so proud to be by your side. Happy Birthday, Babe.
64. My life journey is so much better because I'm sharing it with you. Have a wonderful day, Sweetheart.
65. I'll love you even when you're old and… oh, wait. Well, I guess it's true! I still love you!
66. 60 never looked better on anyone. Except maybe me. I look pretty darn good, too.
67. We were crazy and out of our minds for each other, now we're just crazy and out of our minds… Happy Birthday, Paul. Er, Jerry? What was your name again?
68. To the sly, silver fox who stole my heart, Happy Birthday! Now, my turn to steal some kisses.
69. Now and always you are my number one dude. Happy Birthday, Stud-muffin.
70. You've made 60 look too sweet, Honey Buns!
60th Birthday Wishes for Girlfriend
Her sweetness and love and just the work of art that she is, mean that you need the best birthday wishes to celebrate her!
Here are some top 60th birthday messages to make her day.
71. It took me far too long to find such a gem, but I am so proud to call you mine! Happy Birthday, Sweetheart.
72. On your special day, I just wanted to tell you that you are the best thing that has ever happened to me.
73. How did I ever get so lucky? You are the loveliest, most charming birthday girl around!
74. Happy Birthday, my dear! You sparkle now more than ever on your diamond jubilee.
75. Beautiful as ever, you are the epitome of "graceful aging" and one year changes nothing. Happy Birthday, Queen.
76. I don't want to rush you, but if you keep this up people will start thinking I robbed the cradle. Then again, take all the time you want, young thing.
77. 60 never looked more gorgeous than you do today, Birthday Girl.
78. Today is your day, Girlie! Your wish is my command.
79. Who needs cake when I have the sweetest of sweets right next to me?
80. Okay, you've kept the secret long enough. Where's the fountain of youth?
Funny 60th Birthday Wishes
If they love nothing more than a good laugh, then these funny messages are just the thing to to give them a great day!
81. Even our birthday suits require a little more ironing at 60.
82. Don't let turning 60 get you down. Because we both know that getting back up may prove too difficult.
83. You turned 30 twice! Congrats!
84. At 60, your broad mind and narrow waist may have traded places.
85. Sixty year olds rock! Get it? Rocking chairs? Rock…?
86. Being 60 means you remember all the words to the 70's songs, but can't remember why you went in the next room.
87. Congratulations on turning 16 today (in Celsius)!
88. I regret to inform you that your 50s have expired…
89. Sixty. One year closer to needing a handrail in the shower.
90. I'm not saying you're old, but if you were whiskey you'd be really expensive.
Related: Best Old Age Jokes for Birthday Cards
60th Birthday Quotes
From clever witticisms to hilarious quips, these are some of our favorite quotes for a wonderful 60th birthday. 
91. "Old age is like anything else. To make a success of it, you've got to start young." — Teddy Roosevelt
92. "After a man passes sixty, his mischief remains mostly in his head." — Washington Irving
93. "Age is a matter of mind over matter. If you don't mind, it doesn't matter." — Mark Twain
94. "Youth would be an ideal state if it came a little later in life." — Herbert Asquith
95. "There are 364 days when you might receive unbirthday presents and only one for birthday presents, you know." — Lewis Caroll
96. "Just remember once you're over the hill you begin to pick up speed." — Charles Schultz
97. "I'm pushing sixty years of age. That's enough exercise for me." — Mark Twain
98. "Please don't retouch my wrinkles. It took me so many birthdays to earn them." — Anna Magnani
99. "Time flies like an arrow, fruit flies like a banana." — Groucho Marx
100. "You know you're getting old when the candles cost more than the cake." — Bob Hope
Our website is supported by our users. We sometimes earn a commission when you click through the affiliate links on our website. See our privacy policy & disclosures for more information.
Best 60th Birthday Cards
So now you know exactly what to write in a 60th birthday card.
Congrats! It's been our pleasure to give you the inspiration you were looking for. But now you need the actual card to write it in!
If you're unhappy with your prospects at the local grocery store, take a look at some of the great cards we have for you below.
Luxe Engraved Card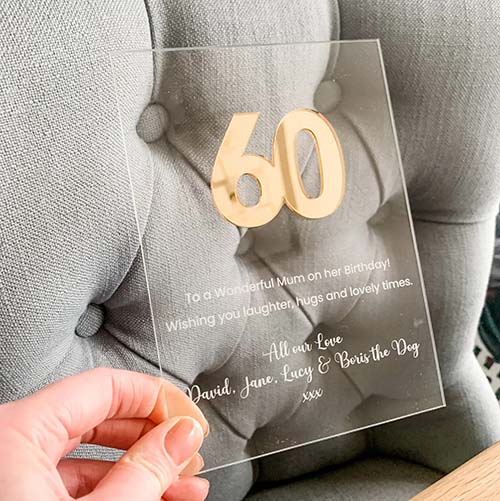 Turntable Card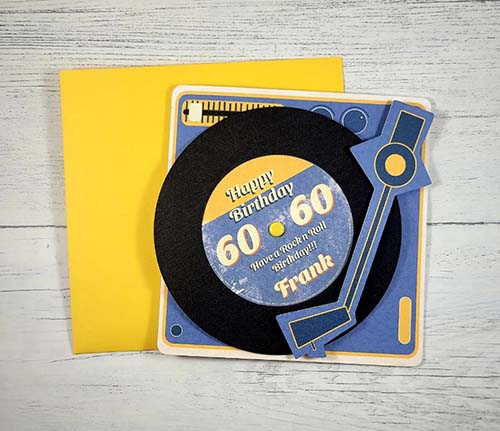 Cheers to 60 Years
Experience…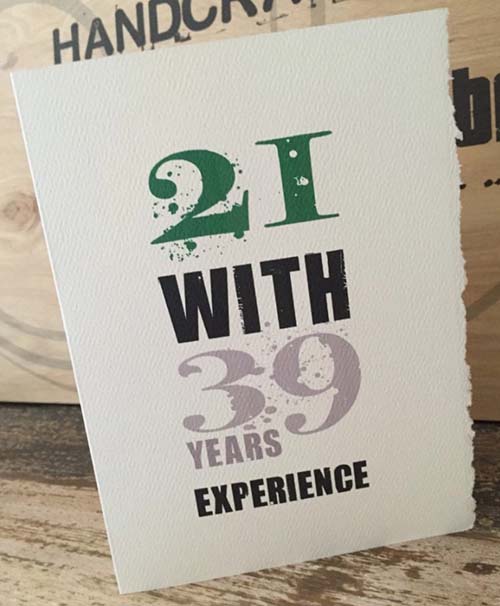 Happy Birthday Balloons
Pop-Up Birthday Wishes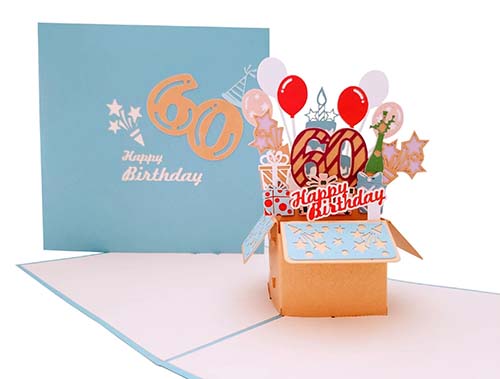 Too Old, Too Young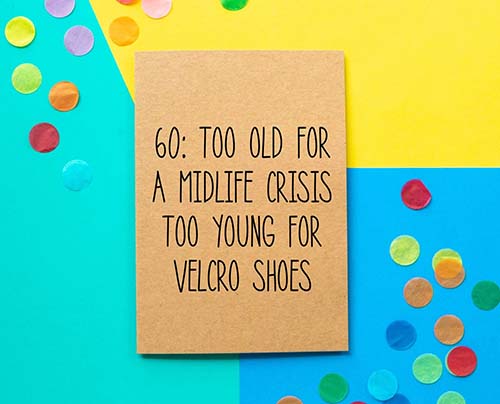 The First 60 Years
Cheers!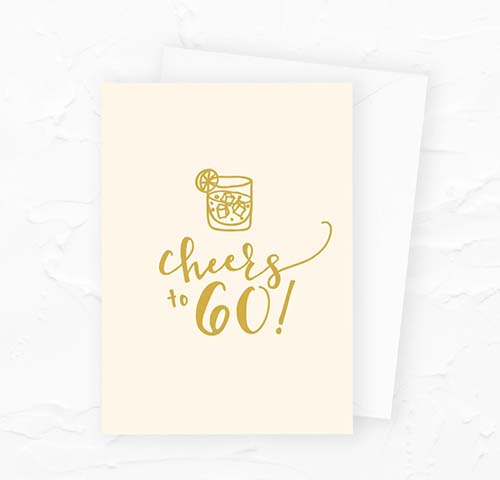 More: Printable Birthday Cards
60th Birthday Captions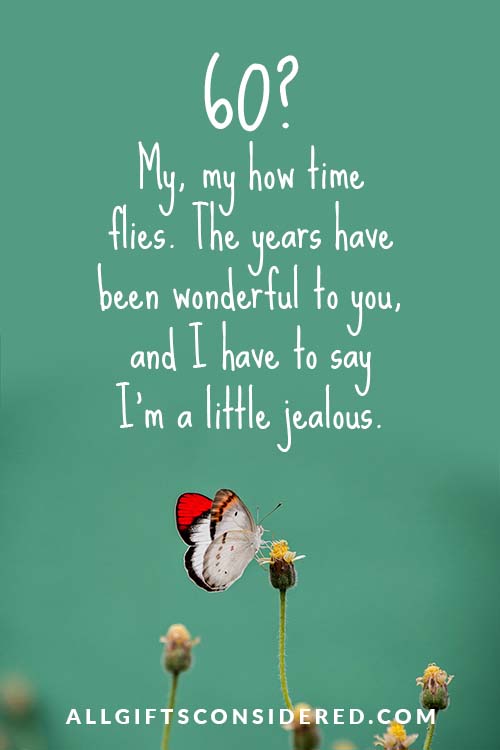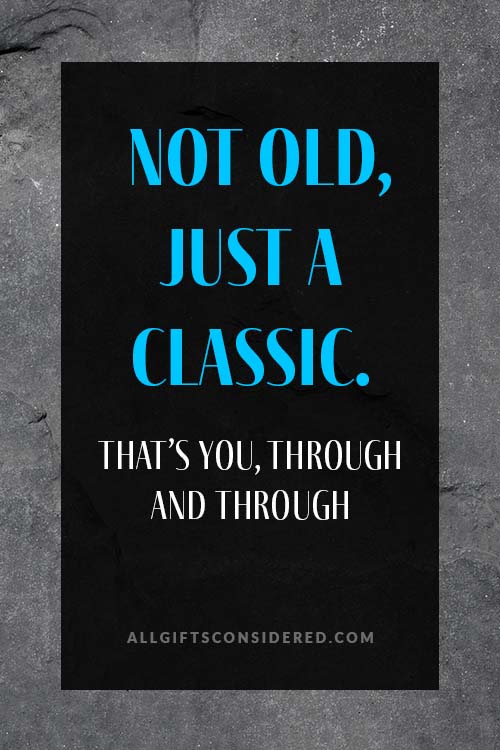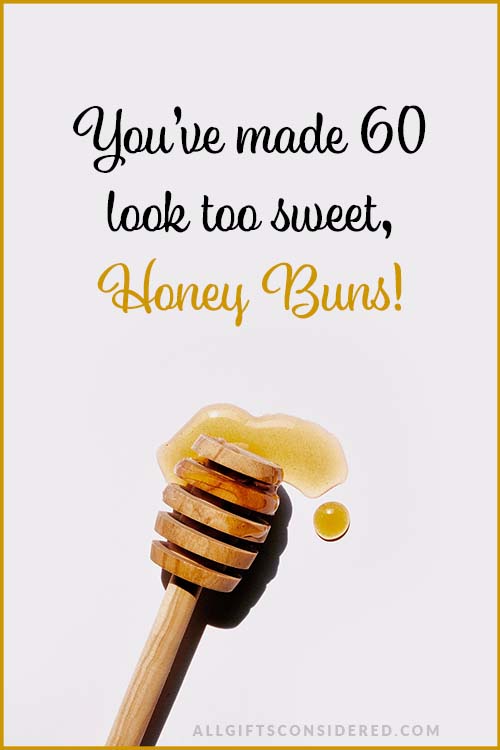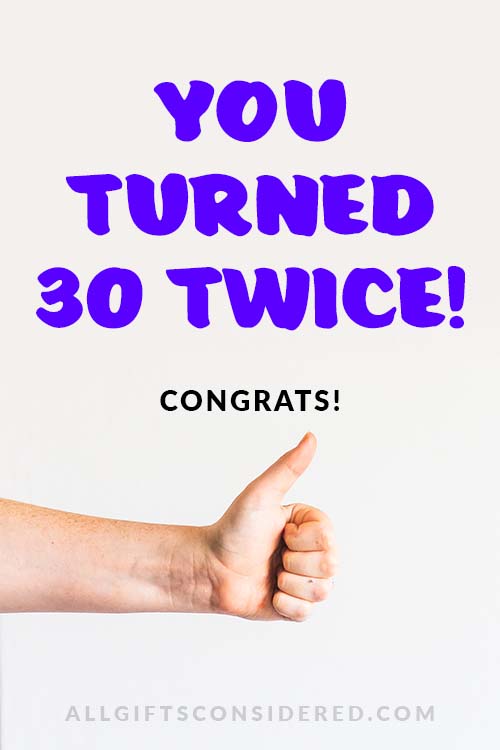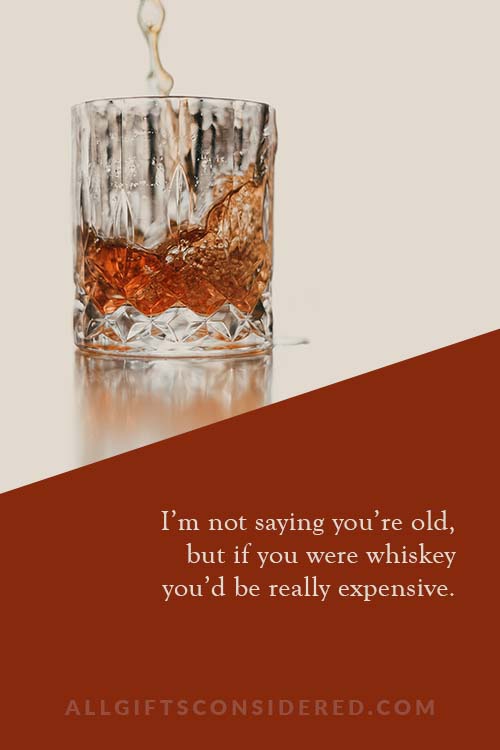 Read Next: 60th Birthday Gift Ideas for Women & Men