Whether you or someone you know enjoy riding motorcycles, are part of a biker club, or even own a motorcycle shop, here is a list of fun motorcycle gifts for bikers.
Next to riding free with the wind in their hair (or a new bike), this list is your guide to the best motorcycle gifts around.
21 Motorcycle Gift Ideas for Bikers
Our website is supported by our users. We sometimes earn a commission when you click through the affiliate links on our website. See our privacy policy & disclosures for more information.
1. Classic Leather Biker Jacket
Who doesn't love a good leather jacket? From John Cusack to Joe Schmoe, this jacket is the bee's knees.
2. Custom Biker Plaque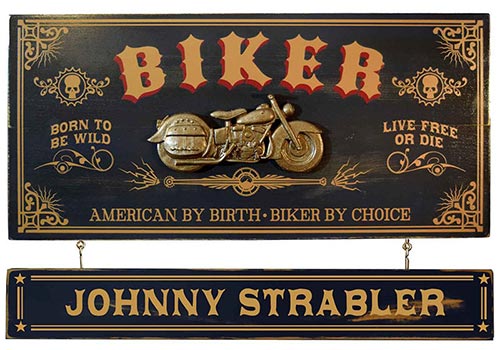 This sweet vintage style sign has a hanging name board that can be customized, and will add a beautiful touch to any room. Made in the USA. Personalized. Real wood. Distressed by hand. 3-dimensional biker relief carving. Ready to hang. Pure farkle for your garage.
3. Personalized Motorcycle Garage Bottle Opener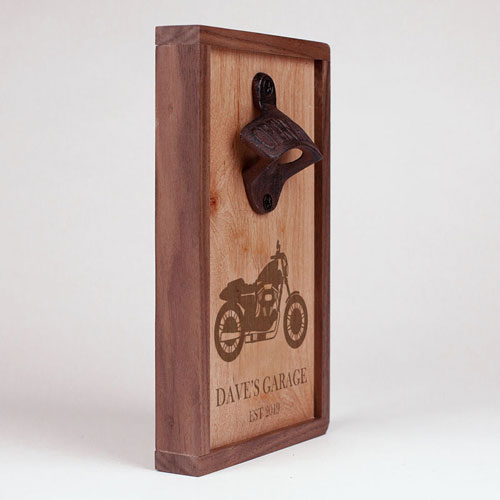 Here's a great accent for the biker's garage. This handy, attractive motorcycle bottle opener mounts on the wall and includes custom laser engraved personalization.
More custom bottle opener gift ideas can be found here.
4. Motorcycle Racing Jacket
This is the jacket for those with the need for speed. Full-body under jersey coverage, comprehensive protection, plastic chest plate, articulated back, high-impact shoulder and elbow coverage, plus a healthy dose of sexy.
Gasoline soul, baby! One of the greatest motorcycle gifts ever.
5. Motorcycle Shop Plaque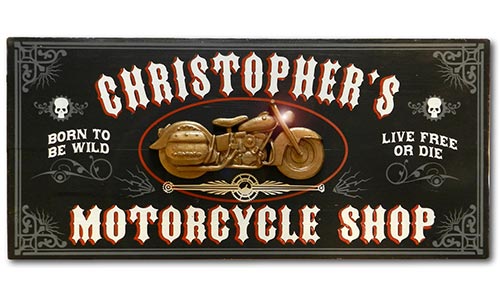 This wooden sign can be personalized across the top. It will bring an added touch of flair to your motorcycle shop… Live free or die!
6. Harley Davidson Hand Warmer
Well, this thing is pretty awesome!! No more cold hands when you're riding fast on the coldest of cold days. The perfect stocking stuffer for a Harley Davidson devotee.
7. Personalized Metal Chopper Plaque (2-Sided)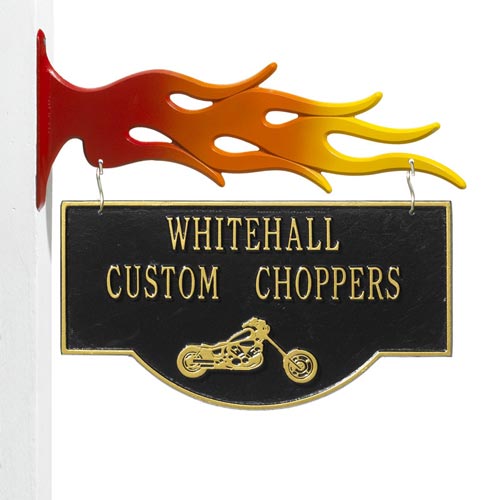 Perfect for the motorcycle garage or shop, this custom metal chopper sign is two sided and has an optional – and pretty dope – "flames" hanging bracket.
8. Motorcycle Shaped Beer Cap Map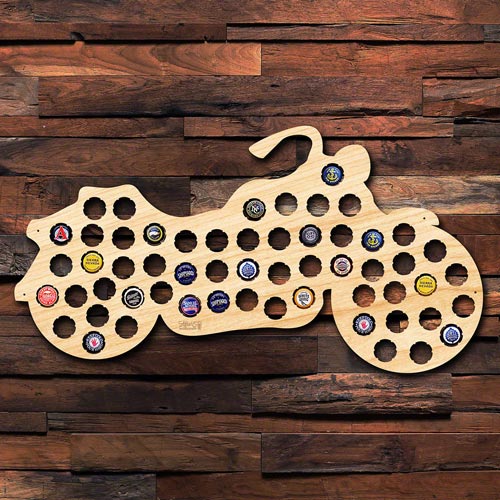 For those beer cap collectors/bikers this is the perfect gift! Hang it up and collect those cool caps. More cap collectors here.
9. This Guy Loves Motorcycles T-Shirt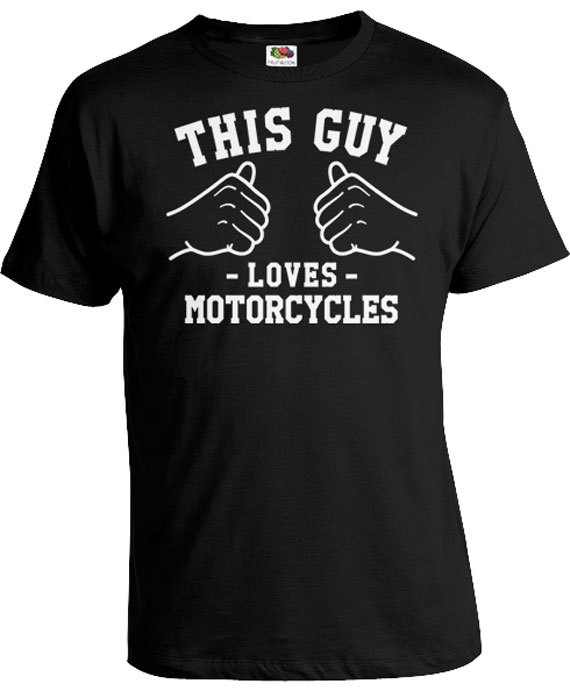 I mean, really, what more can you say about this? You do or you don't. You do. #dadshirt
10. Legit Whiskey Aging Barrel – Personalized!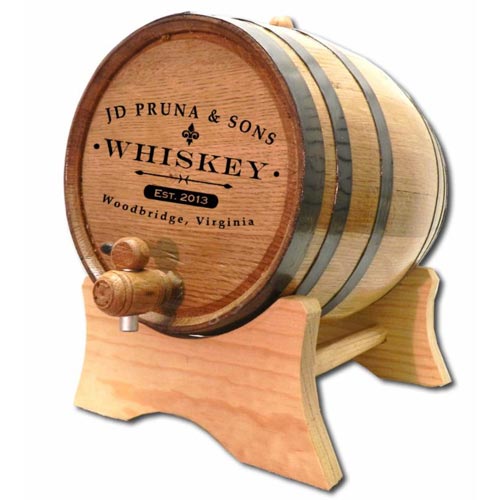 Bikers lover their spirits. The more authentic, the better. And what could be better than home-aged whiskey?
These barrels are made from American White Oak wood with a medium char interior to perfectly flavor and age the biker's favorite beverage. Keep it in the home bar, shop, or man cave. Oh, and it's also personalized.
11. Custom Biker Chick Necklace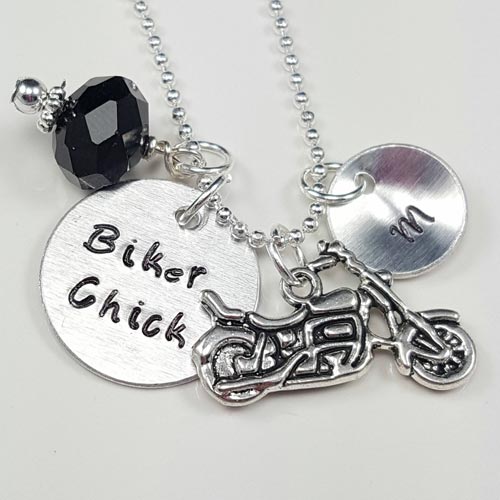 For that biker gal in your life, this is a perfect gift. Can be customized with her initials.
12. Motorcycle Gloves
You already know that good quality motorcycle gloves are a must. But here's something new…. the manufacturer's description of these biker gloves is a little bit mind blowing:
An extension of your body, the Pursuit glove melts away from conscious thought and lets you become the surgeon of the urban street. With supple sheepskin leather conforming to your hand and hidden plastic knuckle armor for protection, subtlety and control never felt and looked so good. Combine extensive perforation for all day comfort with reinforced goatskin palm to combat those precarious encounters with the asphalt and you find yourself with a glove that transcends all others.
Haha! But seriously… Protect those digits, and look cool while doing it!
13. Custom Vintage Garage Clock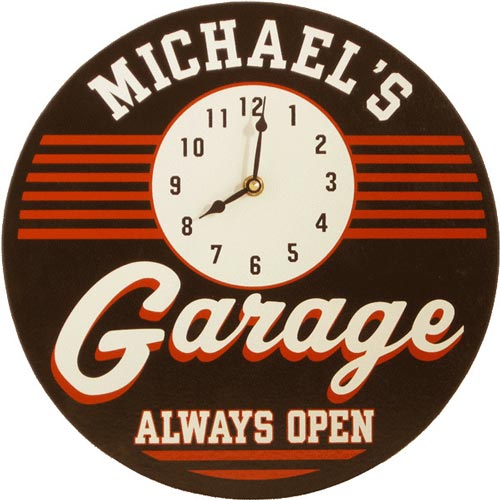 A biker needs to know when it's time to work in the garage and when it's time to ride. This made-in-the-USA vintage style wooden garage clock is just the thing. Includes free personalization.
14. Motorcycle Care Kit
This is a super-practical gift, but for anyone who wants to take good care of their bike, it's a must. Includes care for all surfaces including paint, plastic, leather, vinyl, and metal
15. Motorcycle Cell Phone Holder
Hands free option for carrying your cell phone while riding!
16. Personalized Motorcycle Tumbler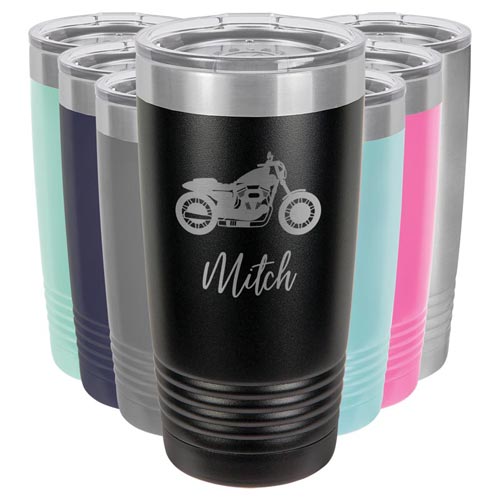 For a useful and creative gift that your motorcycle enthusiast will never put down, give a personalized tumbler!
These mugs include laser etching of a motorcycle image plus the recipient's name in your choice of Script font (as shown above) or Block font. You can add as much text as you like, and you can even get bulk discounts when ordering more than one.
It's the perfect way to keep a biker hydrated. Or caffeinated. Or both.
17. Motorcycle Circuits Poster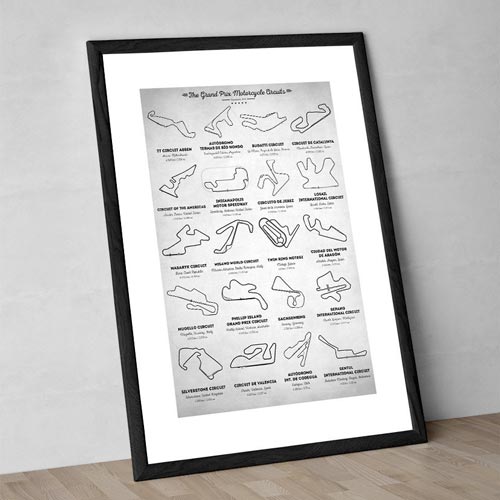 This is pretty woke! Course circuit maps for the motorcycle Grand Prix races. You can order the art print with or without the frame.
18. I Don't Snore I Dream I'm a Motorcycle T-Shirt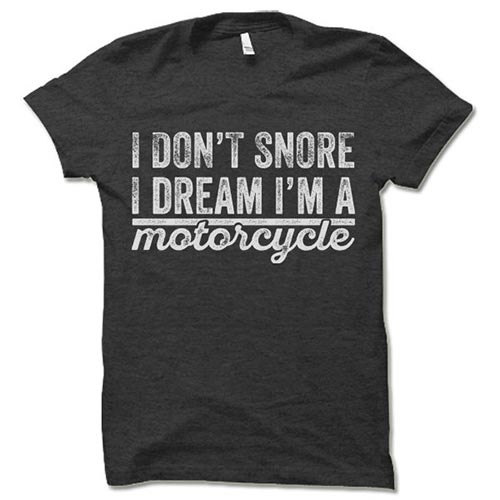 Because that is what is really going on at night. This short-sleeve crewneck t-shirt comes in unisex fit, and is printed with eco-friendly water-based inks. Oh, to dream! One of my personal favorites from this list of motorcycle gift ideas.
19. Biker Boy Cedar Scented Soap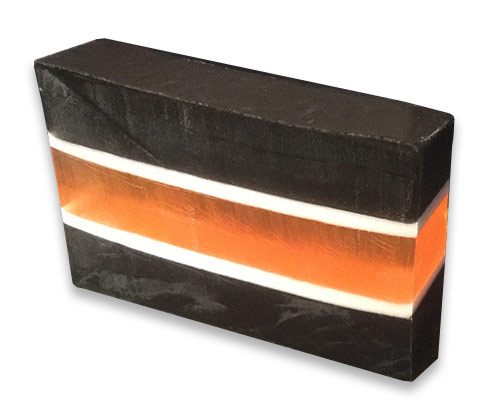 Hey, even a biker needs to get clean sometimes. This glycerin soap is handcrafted for the manly bike lover. Scented with a memorable cedar leather fragrance, the woody and amber men's soap presents an evocative musky and tonka bean base note. A classic yet stimulating aroma.
20. Harley Motorcycle Patent Posters Set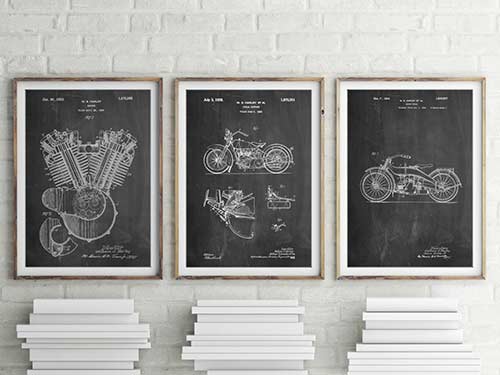 A poster set featuring some of the patent designs for old-school Harley motorcycles. Includes the engine and exterior design elements. For the true collector and enthusiast.
21. A Motorcycle! (Model)
The biker who enjoys memorabilia will love to get a mini Harley. Arrives fully constructed. This little guy stands at about 8″ long and 4-1/4″ tall.
---
Thanks for reading our motorcycle gifts guide! We hope you found the perfect gift idea for the biker or motorcyclist in your life.
But if you're still looking for more creative gift ideas… Try these 35 Awesome Man Cave Signs and our Personalized Oak Barrel Gift Guide.
PIN IT