Last Updated on July 31, 2020
Custom oak barrels are all the rage these days. A personalized oak barrel, a custom barrel head sign, or an old barrel repurposed into home bar funiture and accessories: One of these will be the perfect gift idea for the home bar of the wine, whiskey, or craft beer enthusiast in your life.
But how do you find the perfect personalized oak barrel gift? Let's take a look at some of the many options to help you find the right direction. Welcome to the All Gifts Considered Personalized Oak Barrel Gift Guide!
Personalized Oak Barrel Gift Guide
AUTHENTIC OAK AGING BARRELS
Oak aging barrels work because the wine, whiskey, or other spirits used interact with the charred oak wood interior. This interplay works to "age" the drink and impart flavor, change its structure, and slow down the decay process. It works in different ways and at different rates for different beverages, but overall barrel aging is know to enhance the flavor.
With an authentic oak aging barrel and a little knowledge, you can take a bottom-shelf whiskey and turn it into something you would be proud to serve alongside some of the top-shelf brands.
We've detailed how to prepare, cure, use, and care for an oak barrel here. Every barrel will come with intructions for use. To begin, you must "cure" the barrel. Oak wood barrels arrive dry and non-watertight. The barrel must be cured by soaking in water until the staves swell and create enough pressure against the outer steel bands to make it watertight.
The gist of this process is:
Rinse out the barrel
Soak it in water for 2-5 days
Test it with water; if there are leaks, cure it some more, if not, then:
Fill it with your favorite adult beverage!
In other words, it's pretty easy to start using a barrel. Instructions are included, and the "fine art" side of it can be slowly learned over time by reading and researching specifics, if the recipient is so inclined. So a personalized oak barrel is a great gift idea for just about anyone!
1. Classic Whiskey Barrel with Personalized Label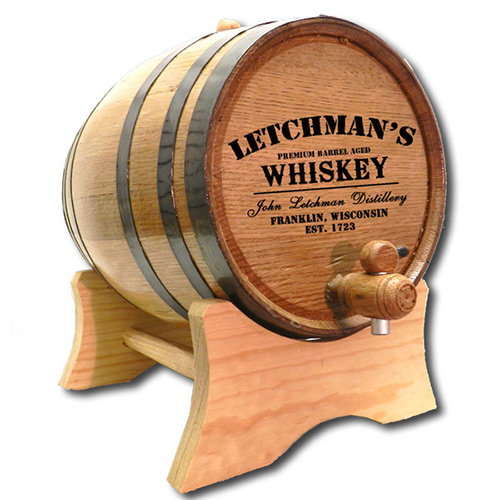 Available here – See all custom barrels
These are the real deal. Each tabletop-sized oak barrel features a charred interior, which gives the raw whiskey you put in it that special, subtle flavor that only barrel aging can produce.
The barrel comes with a stand and the basic accessories to get you started. (You'll need to provide the whiskey.) It includes custom personalized engraving on the barrel head. The Whiskey Distillery Barrel Personalized, pictured above, is the most popular of our many designs. Just enter your name and other details, and we'll have it etched in rustic style onto the front. It's a one-of-a-kind gift for the whiskey enthusiast.
2. Personalized Oak Barrel for Aging Wine, Bourbon, Scotch, Etc.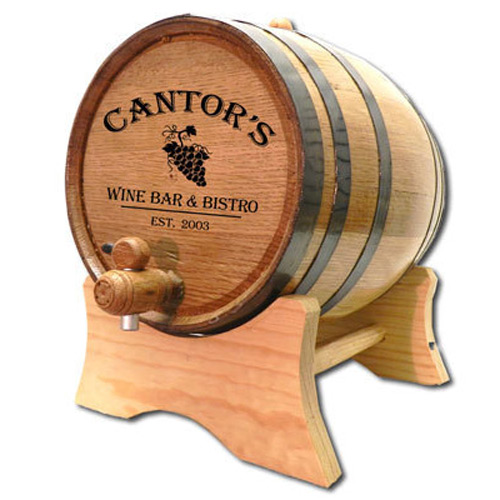 Available here – See all custom barrels
Whiskey is one of the more popular drinks to age in oak barrels, but it's not the only one. Whiskey variants such as bourbon and scotch can be used. Wine is of course another choice fancied by connoisseurs across the globe. You can also age beer, brandy, sherry, and many other spirits.
And, of course, there is a personalized oak barrel to match your favorite beverage. Here are a few options:
3. Personalized Oak Barrel Wine Making Kit
Age your own wine at home with our Personalized XL™ Barrel Wine Making Kit! This wine kit includes a personalized oak barrel plus everything else you need to make 1 gallon of wine, aged to perfection in an authentic American White Oak wine barrel. Includes custom laser engraving of your very own wine label on the barrel head.
3(B). Barrel Connoisseur Kits
These oak barrel spirit aging kits aren't personalized, so we couldn't give them their own digit in our list. But they make such great gifts we couldn't pass up mentioning them.
Each oak barrel comes with a classy iron stand and all necessary accessories. The kit also includes everything you need (except the alcohol) for three rounds of aging your own scotch, Irish whiskey, rum, bourbon, or classic whiskey.
Since they're not customized, these ship out right away and are popular as a last-minute barrel gift idea.
OTHER USES FOR BARRELS
There are many ways a barrel can be repurposed. From serving boxed wine to holding wedding gift cards, from aging cigars to hot sauce or even pickles, let's take a look at some "outside the box" barrel gift ideas.
4. Serving Barrel for Boxed Wine
Here's a nifty barrel for boxed wine lovers. Pull the bag of wine out the box and place it into the barrel through the lift & slide barrel head. Presto! You're ready to serve boxed wine in a fun and classy way.
Designed as a wedding or anniversary gift, this layout gives you space for two first names, a larger last name, and wedding date. You can also put anything else you like in place of each line, for instance:
The Langston's
WINE BAR
Welcome!
5. Personalized Wedding Gift Card Holder
Use a modified oak barrel to hold the gift cards at a wedding or special birthday bash. The barrel includes free personalization, a slot for cards, and an easy-opening back panel to remove cards when full.
A larger barrel engraved on the barrel head is available here. This version features several personalized designs, more space in the barrel, and a larger wooden crossbar stand.
6. Cigar Humidor Oak Barrel
Alcohol isn't the only thing you can age in a personalized oak barrel. Infuse your cigars with the precious essence of Honey Scotch, Orange Brandy, Spiced Rum, or one of several dozen additional flavors. Plus you can have the front of the barrel personalized so everyone will know it's just for you.
7. Barrel Aged Hot Sauce Making Kit
Now things start to get a bit crazy! This premium oak wood Pepper Barrel is perfect for spicy connoisseur of hot sauce and all things peppery. Flavor your own peppers for barrel-aged hot sauce and more with this barrel aging kit, which is delivered in a lovely gift-ready box and includes a mini recipe book to get the recipient started on their next flaming adventure. Optional custom engraving.
8. Barrel Aged Pickle Making Kit
The people who nurture a deep, abiding love for pickles are truly… uh… special. Yeah, we'll say special. If you've ever known one, you know what I mean. Get them this pickling barrel and they'll be pickled pink about it.
PERSONALIZED OAK BARREL DECOR
9. Quarter Barrel Head Bar Decor Signs
The rustic look of the top "quarter" of an oak barrel can add a special touch to your home bar decor. The "Neighborhood Tavern" plaque above is one of our most popular designs. Browse the complete collection of personalized quarter barrel plaques here.
10. Quarter Barrel Head Decorative Signs
Barrel decor isn't just for home bars! We also have quite the selection of home decor themes, including the "Home Theater" one shown above as well as themes like Garage, BBQ Joint, Coffee House, Ice Cream Parlor, Pizzaria, and more. See them here.
11. Personalized Oak Barrel Serving Tray
Barrel heads have plenty of alternate uses. Like as a sturdy, vintage-style serving tray. See all barrel head serving trays here.
12. Personalized Oak Barrel Head Plaque
The walls of a home bar will never feel complete until there is some sort of barrel decor element. Thick, hearty, and spacious at 21″ in diameter, a personalized barrel head sign will add the perfect touch to any home. The "Brewery" design above is just one of many themes. Check out the complete collection here.
13. Quarter Barrel Bar Clock
A gorgeous barrel head engraved with a whiskey bar theme and an elegant old-fashioned clock face. Includes working clock so you'll always know it's whiskey time. Just one of several designs. See all our personalized clocks here.
14. Personalized Oak Barrel Lazy Susan
Here is the classic barrel head bar decor piece turned into a working lazy susan. Serve up your wine and charcuterie in style with a personalized barrel head lazy susan.
15. Custom Oak Barrel Stave Tap Handle
Here is a barrel gift that is personalized in two ways, and can be used to take your home bar beer tap to the ultimate level of excellence. Made from a real oak barrel stave, the handle includes custom metal work and also laser etching on the top.
16. Personalized Bourbon Barrel Shelf
Now we have a personalized barrel shelf, repurposed from a genuine oak barrel into a home decor piece. This makes a great end or side table, has a shelf and interior under-cabinet light, and includes custom engraving on the top surface.
17. Oak Barrel Stave Cheese Board
Crafted with three staves from an upcycled cross-section of a barrel, this custom barrel cheese serving board is the perfect gift for the home bar that has everything.
18. Custom Oak Barrel Stave Bottle Opener
This fun personalized bottle opener is made from a real oak barrel stave. A nifty barrel-themed gift idea for groomsmen, 21st birthday, stocking stuffers, and more.
19. Customized Barrel Stave
This handmade decorative accent is made using a thick barrel stave and personalized vinyl lettering. Complete with a colorful grapes image, this half-stave sign is perfect for the wine enthusiast in your life.
Pin it to your Gift Board!