Last Updated on July 31, 2020
Vintage coffee signs create an aura of trendy timelessness in your coffee shop, kitchen or breakfast nook. If you're in the hunt for a coffee-theme kitchen gift for a caffeine junkie, you've come to the right place. Here is our roundup of twelve fun, funny, colorful, and classy vintage coffee signs. Grab a cup o' joe and enjoy!
1. Personalized Vintage Art "Coffee Shop" Sign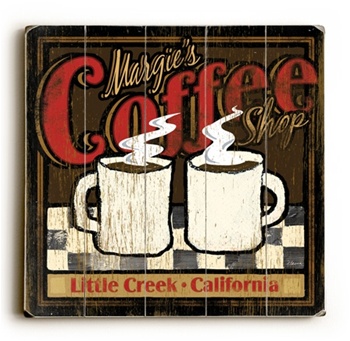 This nifty vintage-style coffee shop sign includes your name (on the top) and a custom line ("Little Creek – California") across the bottom.
2. Vintage Espresso Sign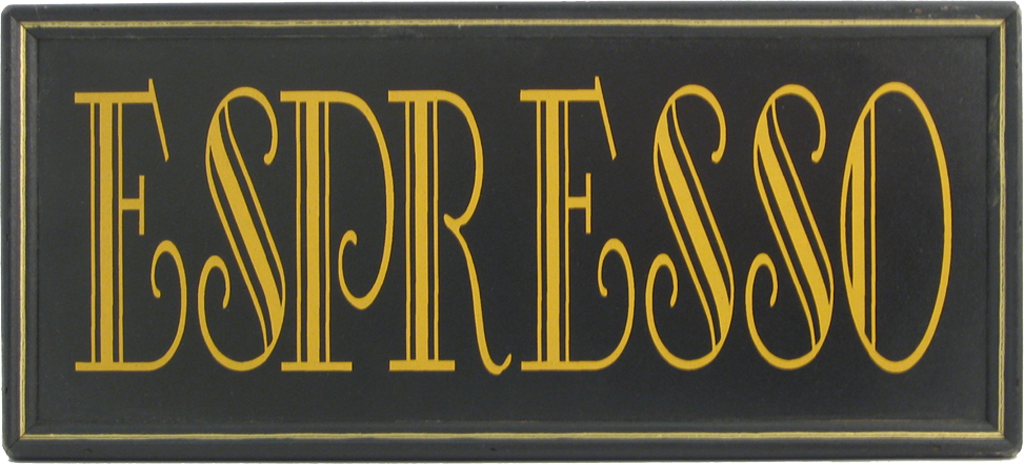 Available with or without a frame, this 16-inch vintage coffee sign reads "Espresso" in classy lettering. Ideal as a gift for the true espresso connoisseur.
3. Vintage Coffee Sign: You Can Sleep When You're Dead Distressed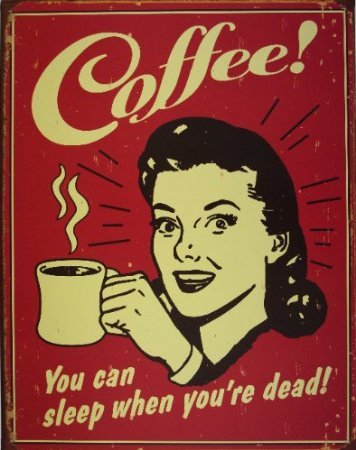 "Coffee! You can sleep when you're dead!" We all know it, but it's good to hear the reminder now and again. The overly-perky, already-caffeinated, steaming-coffee-cup-wielding 1950's-retro gal helps reinforce the idea.

Do you like vintage coffee signs? Share the love:
4. Best Hot Coffee In Town Vintage Sign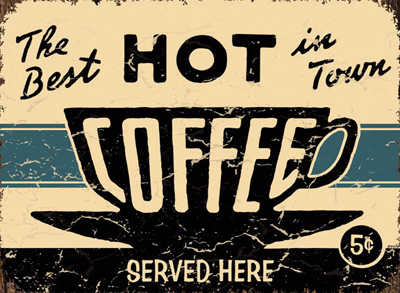 "The Best HOT COFFEE in Town Served Here" – and only 5 cents! What a deal! This reproduction has the distressed look and feel of the truly authentic vintage coffee signs, made from tin and ready to hang.
5. Vintage Coffee Signs: I Love You More Than Coffee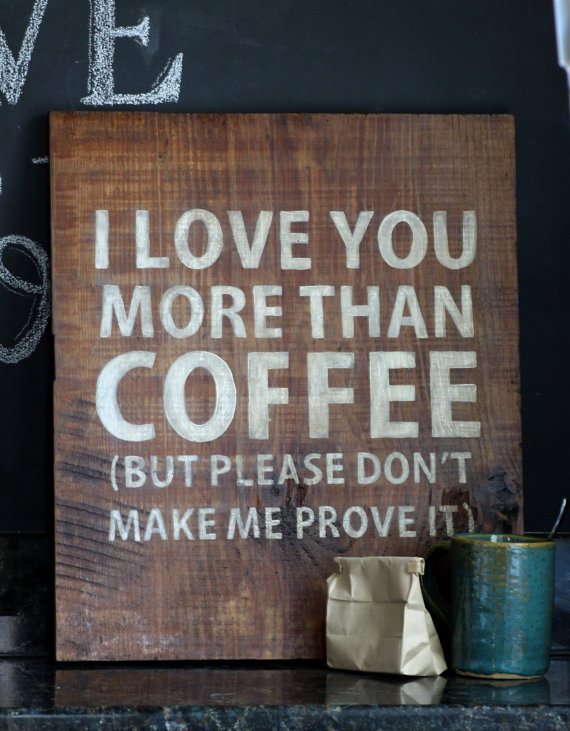 "I love you more than coffee (but please don't make me prove it)." These vintage coffee signs are hand-painted on reclaimed wood. A light-hearted gift for a couple who loves coffee.
6. Instant Human: Just Add Coffee Sign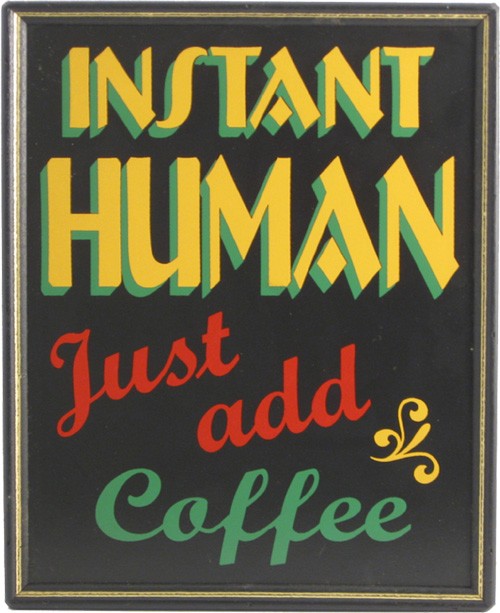 Ever feel this way? Always feel this way? Ever not feel this way?
7. Vintage Coffee Signs: Open 24 Hours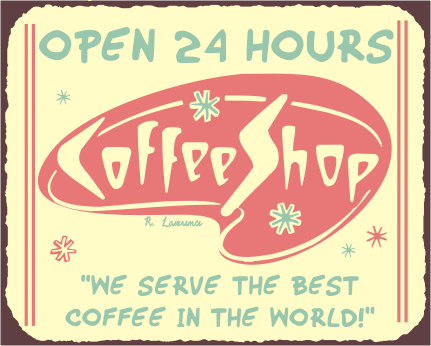 "Open 24 Hours: *Coffee Shop* We serve the best coffee in the world!" Cool colors and retro sci-fi fonts make this coffee shop sign a winner.
8. Vintage Coffee Shop Metal Sign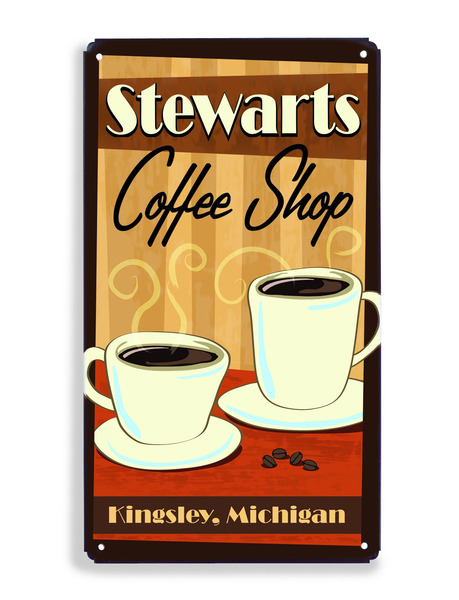 Personalized vintage-style coffee shop sign, includes your name and location along with two steaming cups of java.
9. Coffee Roaster Sign Personalized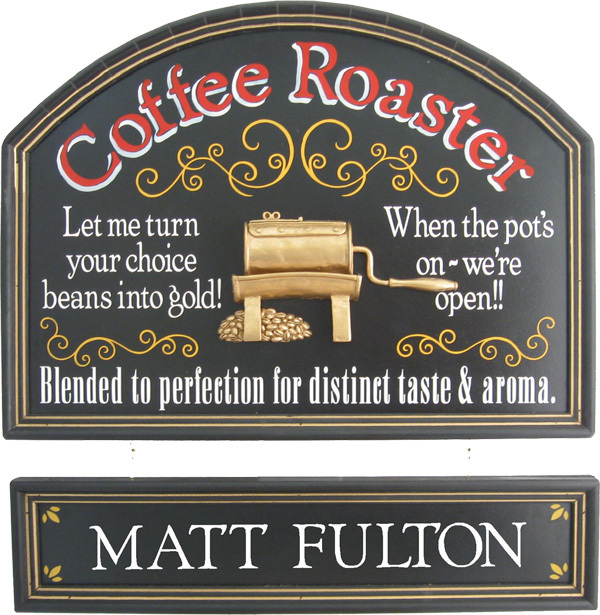 Antique-style vintage coffee signs, personalized for your Coffee Roaster friend or family member with a custom hanging name board. "Let me turn your choice beans into gold!" – "When the pot's on – we're open!!" – "Blended to perfection for distinct taste & aroma."
10. Bottomless Coffee Cup Vintage Sign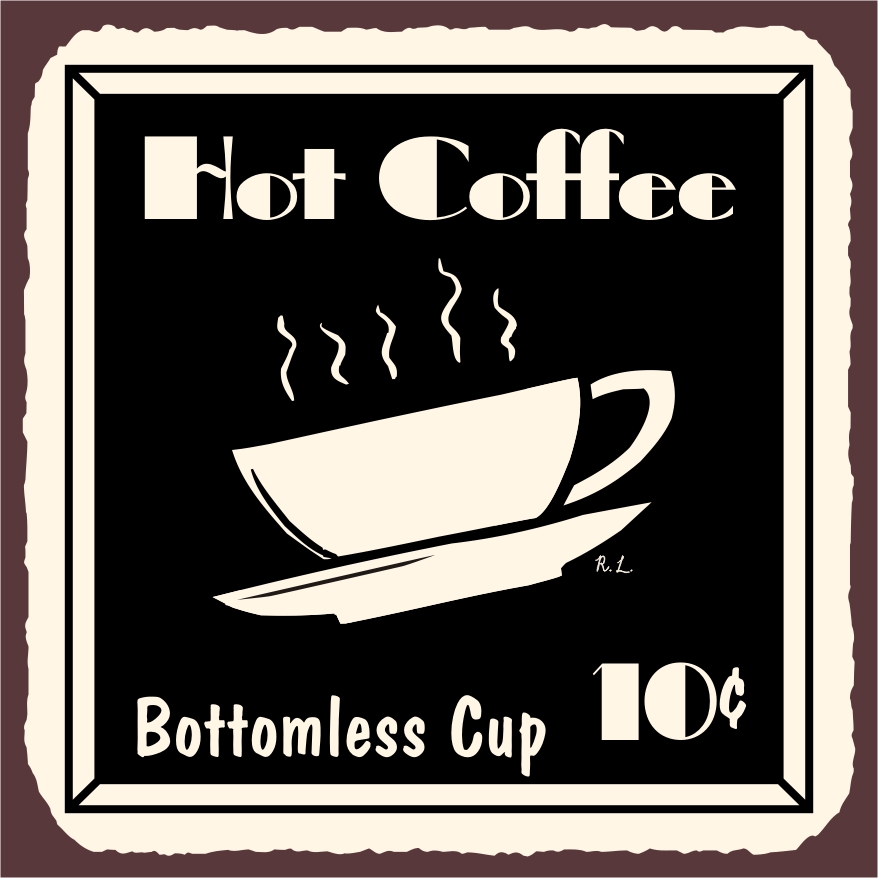 "Hot Coffee – Bottomless Cup: 10c" Great little coffee cup vintage style sign. Not quite as affordable as the 5 cent cup above, which is why this sign is ranked a bit lower on our *totally official* and **completely exhaustive** list.
*This list is actually not totally official.
**This list is actually not completely exhaustive.
11. Caffeine Problem Vintage Coffee Sign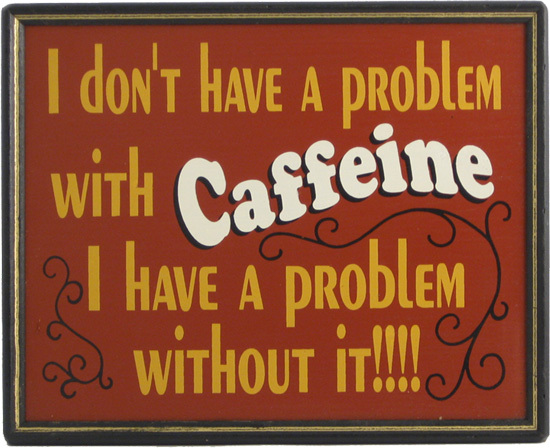 "I don't have a problem with caffeine, I have a problem without it!!!" A little caffeine humor about your addiction never hurt anybody.
12. Hot Coffee Vintage Sign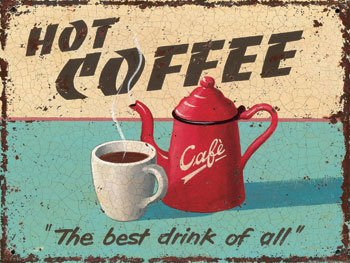 "Hot coffee – The Best Drink of All" Amen!
Which is your favorite of these vintage coffee signs?