So you have ranchers, bull riders, or cattlemen in your life. Maybe more than one! Probably cowboys and cowgirls, too. And now you need gifts for them, perhaps for Christmas, a birthday, a competition, or for another special event.
Whatever the case, we're confident our curated list of gifts for ranchers will serve as a one-stop shop for all your ranching gift needs.
Below, we're sharing with you 21 (yes, 21!) amazing gift ideas perfect for cowboys, ranch hands, rodeo kings and queens, and everyone in between.
We've got home decor items, lots of personalized gems, gifts that are both practical and sentimental, and a few other ideas scattered throughout that you probably haven't thought of yet.
On the flip side, if you're looking for gift ideas that you don't necessarily have to purchase but that are just as thoughtful, be sure to read to the end – we have some great DIY gift options, too.
Top 21 Gifts for Ranchers, Bull Riders, and Cattlemen
Our website is supported by our users. We sometimes earn a commission when you click through the affiliate links on our website. See our privacy policy & disclosures for more information.
1. Personalized Ranch Sign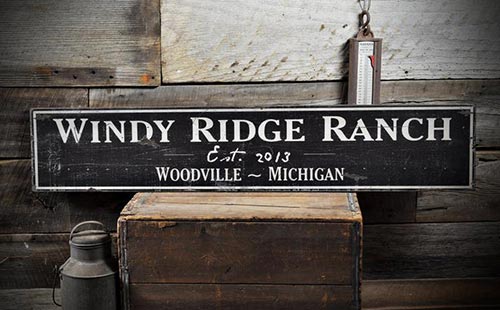 Anyone who owns a ranch is extremely proud of their property and all the hard work they've put into it. This custom wood sign will showcase that pride by featuring the name of your loved one's ranch, its establishment date, and location.
With a rustic design and hand-distressed finishing, this old-school ranch sign will be the perfect addition to your loved one's home, porch, or barn.
2. Custom Engraved Cowboy Tumbler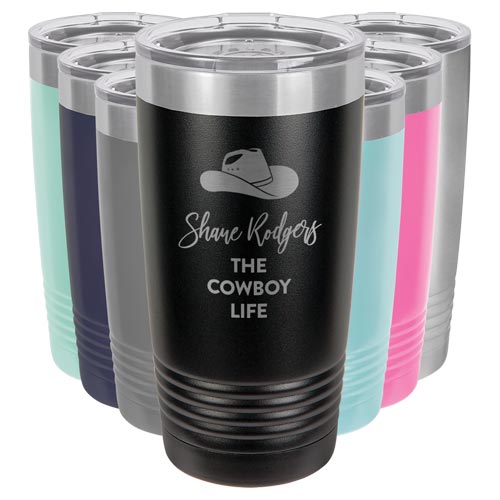 If you're leaning toward practical gifts for cattlemen, it doesn't get much more practical than a portable drink holder. Tumblers are all-around great gifts to give, no matter the occasion. But throw in some personalization, and you have a gift to remember.
Our popular custom laser-engraved tumbler (shown above) features a cowboy/cowgirl hat plus the name and slogan of your choice. It can say "The Cowboy Life," but you can order it to say any text you'd like.
This stainless steel tumbler mug comes double-walled and vacuum-sealed, and performs similarly when compared to the popular name brand tumblers. Available in seven different colors and four different sizes, and of course it includes personalization.
3. Cowboy Rope Name Sign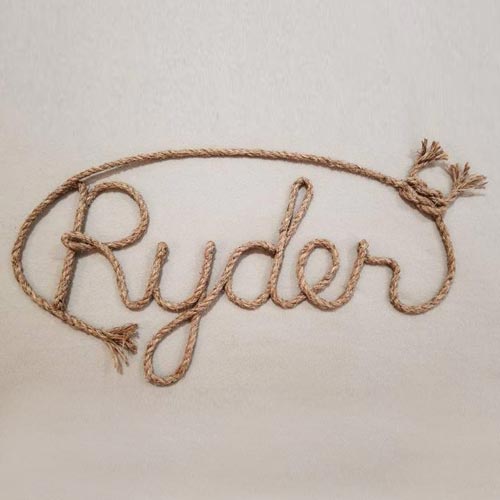 Nothing says "western" or "cowboy" like some good old fashioned braided twine. And rope can be customized in almost any way to create a one-of-a-kind gift that will last for years, if not a lifetime.
Take this cowboy rope name sign, for example. The creator, Lasso Lettering on Etsy, will take your loved one's name and turn it into a unique piece of western house decor they are sure to adore.
4. Custom Engraved House Portrait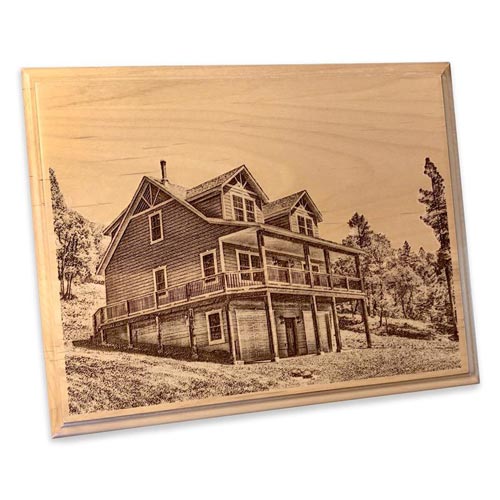 The rancher or cattleman in your life loves their home and works hard to take care of it. So when you surprise them with this custom-engraved house portrait from Northwest Gifts, you can easily imagine the way their face will light up.
This beautiful plaque is crafted from sturdy alder wood and is available in four different sizes. Optional engraving on the back is available, and beveled edging is included.
5. Belt Buckle Display Case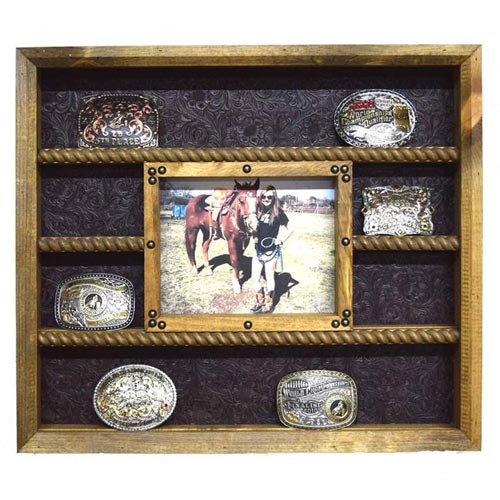 Chances are, if you have a bull rider in your life, you know they have quite a collection of belt buckles. Belt buckles are historically a source of pride, and even status, to cowboys and the like.
When a belt buckle is treated with respect and properly cared for, it can last years and years. But where is your loved one to keep their priceless buckle collection?
Maybe the better question is, where can they display these treasures for all to see and enjoy?
Enter the belt buckle display case! This high-quality, handmade case will hold 14 belt buckles up to 5″ in height. It includes gorgeous decorative wood work as well as embossed backing. Also included is a place to display an 8″ x 10″ photo.
6. Wall-Mounted Bottle Opener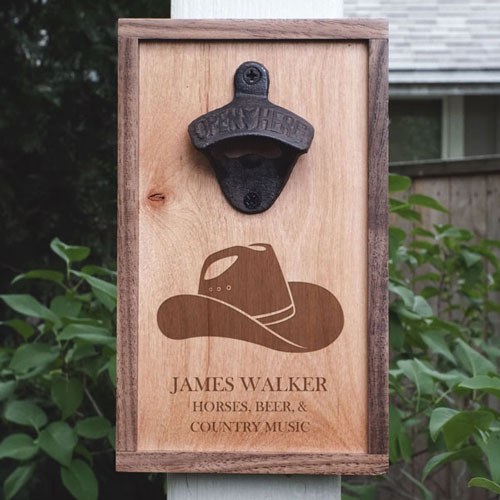 Does the cowpuncher in your life like to kick up their feet with a cold one after a long, hard day on the job? If so, they will love this personalized wall-mounted bottle opener from Northwest Gifts.
Made in the USA from solid wood and featuring a cast iron opener, this bottle opener will come custom-engraved with your loved one's name and other text you'd like it to feature. A longer screw is included for easy wall-mounting.
It's one of our favorite gifts for cattlemen, like, ever.
7. Cowboy at the Cross Bolo Tie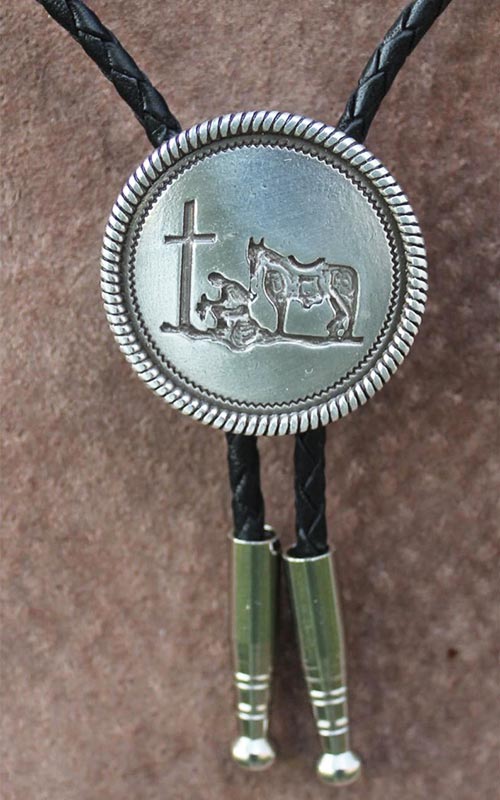 Next to cowboy boots and hats, perhaps one of the more iconic symbols of western ware is the bolo tie. This particular bolo tie features the peaceful "cowboy at the cross" design, an emblem for believing horsemen and women everywhere.
The chord itself is braided leather measuring 36″. The concho is sterling plated and features a locking slide. A gift box is included in your order.
8. Gift Basket Filled with Nutritious Goodies
When it comes to deciding on gifts for ranchers, bull riders, and cattlemen, you can't go wrong with feeding them!
With a gift basket you put together yourself, you're ensuring that they're getting the nutrition they need to continue to work hard at their job or hobby.
Here are some yummy snack ideas for your gift basket:
Homemade turkey jerky
Trail mix
Water bottles (or a personalized tumbler; see below)
Baked chips
Hand-picked fruits and veggies
Homemade protein muffins
9. Western-Style Embroidered Shirt
As a bull rider, style is everything. From how you ride to how you dress, your style a part of your persona, no matter if you're a professional or an amateur.
Whether your favorite bull rider is just starting out, or has years of experience under their belt, they can always use a nice getup.
This embroidered western-style shirt fits that bill. Wrinkle-resistant and boasting a classic slim fit with turned-down collar, this cotton shirt will be a lovely addition to your loved one's attire. Choose from twelve different colors and designs.
10. Rodeo Rummy
For a lighthearted gift that will bring your loved one hours of enjoyment with family and friends, choose the fast-moving Rodeo Rummy game from Square Shooters. This award-winning edition is similar to traditional rummy except that – you guessed it – it's rodeo themed!
The game comes with a dice cup, 9 Square Shooter dice, score pad and pencil, and game spinner.
11. Arena Legacy: The Heritage of American Rodeo
Maybe your loved one is not necessarily a rancher, bull rider, or cattleman by trade, but they still love the culture of it all nonetheless.
If so, and if they're an avid reader, consider giving them Arena Legacy: The Heritage of American Rodeo. This fascinating historical picture book chronicles the story of rodeos in the USA, starting with the 1800s.
12. Personalized Quarter Barrel Clock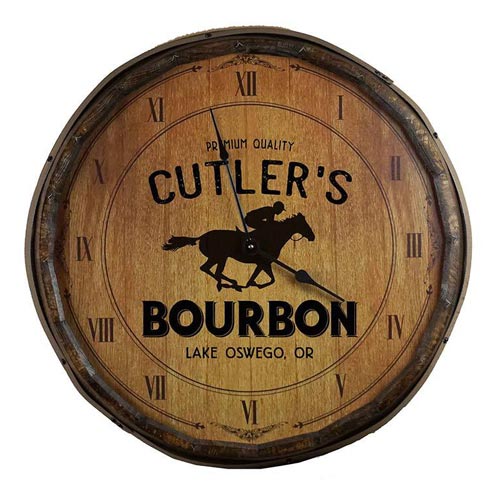 Now here's a gift idea that would make anyone smile… whether they're a bull rider, ranch owner, cowboy, or just love all things western.
This Kentucky bourbon quarter barrel clock, constructed from solid oak, features a horse and rider and comes customized with your loved one's name, favorite spirit (it doesn't have to be bourbon!) and city.
Measuring 24″ in diameter, it would make a noticeably rustic addition to any home bar, man cave, she shed, or…well, the possibilities are endless.
13. Boot Brush with Scraper
Every cowboy or cowgirl has that one favorite pair of boots that they wear everywhere…and that inevitably get muddy or dirty from time to time. Help them keep their boots in tip-top shape with this boot brush and scraper.
Perfect for everyday outdoor use, this weather-proof boot scraper comes with a set of screws so that your loved one can fix it into a permanent place. It's one of those things every rancher needs.
14. Tickets to an Upcoming PBR Event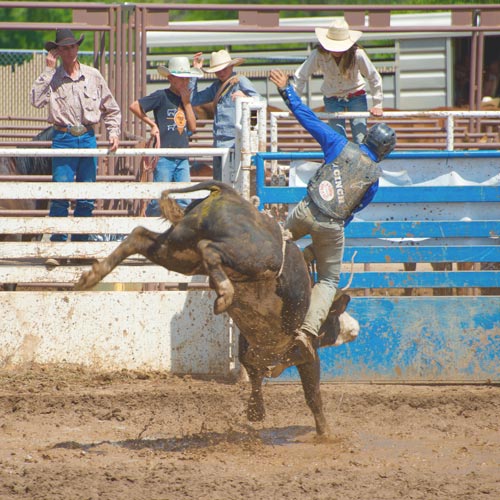 It was never so easy to find the perfect gift for the devoted bull rider or rodeo fan in your life!
Professional Bull Riders (PBR) hosts countless rodeo events throughout the year in cities and towns all across the country.
Using their website, simply find your town and the date that works for you, buy your tickets and surprise your loved one with a good time they'll always remember.
15. Old Fashioned Pocket Knife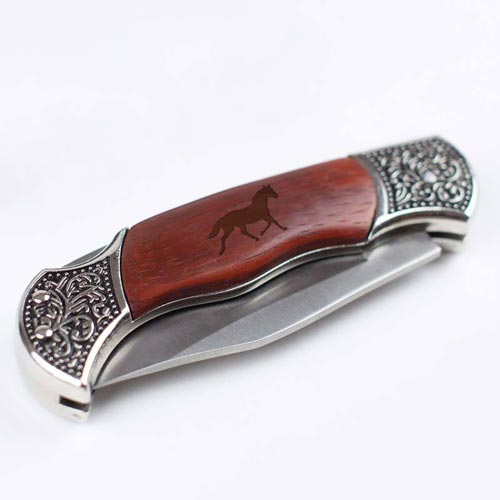 Rancher, cowboy, farmer or not – a pocket knife is a tool that anyone will find valuable to have on hand.
This classic-style pocket knife features a laser-engraving of a horse on the smooth rosewood handle which houses the stainless steel blade with locking mechanism. Personalization on the handle's opposite side is also available.
16. Full Grain Leather Crossbody Bag
Crossbody sling bags are the new fanny packs, and we are so here for them. Convenient, compact, practical, and good looking — who could ask for more.
This prime example is made of full-grain leather and crafted to last. Perfect size for day trips to the city, hiking, or just everyday adventures.
17. The Pioneer Woman Cookbook (+ a Home-Cooked Meal!)
Throw in a little creativity when looking for gifts for ranchers, and you may just think to give them a cookbook! Seriously, though… Ree Drummond, aka "The Pioneer Woman," has a herd of ranchers and ranch hands to feed, and she's thought of it all when it comes to cooking up nutritious meals for hard workers.
In this cookbook, she shares several of her favorite down-home comfort foods that her whole family enjoys. Truth be told: I personally own this cookbook and can vouch for its delicious, Southwestern-style recipes!
While a cookbook makes a great gift on its own, why not take it a step further and cook your loved one one of the meals or desserts featured in it? Now that would be special.
18. Horse Shoe Mug Tree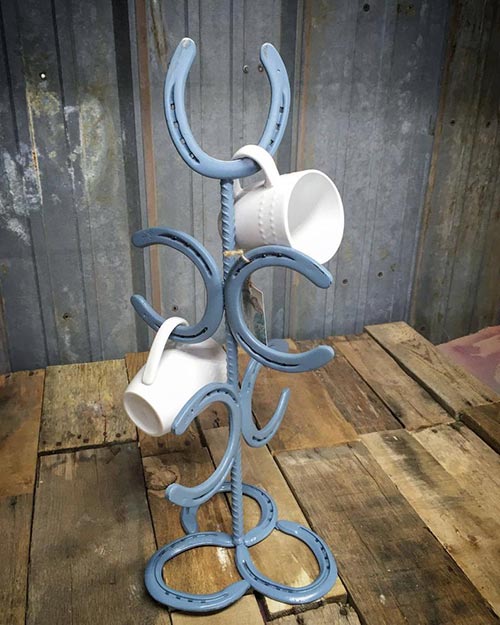 Cowboys and ranchers love their morning coffee just like the rest of us, if not more so. In fact, they may be known to sip on a cup o' joe all day long, just to help them keep up that energy for all the work they have to do.
When the day is done and the coffee pot has gone cold, they'll need a place to let dry their mug til the next morning. Don't let them just stick it in the cupboard – surprise your ranching cowboy with this dandy horseshoe mug tree.
The mug tree is made from repurposed rebar and old horse shoes that have been welded and painted to perfection. It holds up to six coffee mugs and stands 22 inches high.
19. Rodeo Key Rack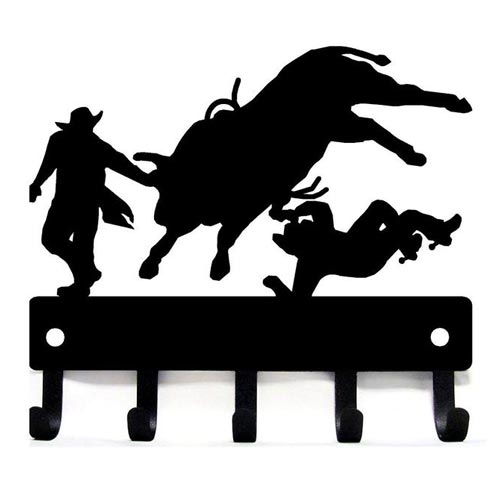 Your loved one will never lose their keys again with a fancy rodeo key rack!
Featuring the silhouettes of a bull, rider, and rodeo clown, this metal key rack measures 6 inches across and comes with five hooks. It's the perfect utility for your rancher to keep track of not only keys, but belts, jewelry, leashes, hats, rodeo ribbons and more.
20. Bath Soak for Sore Muscles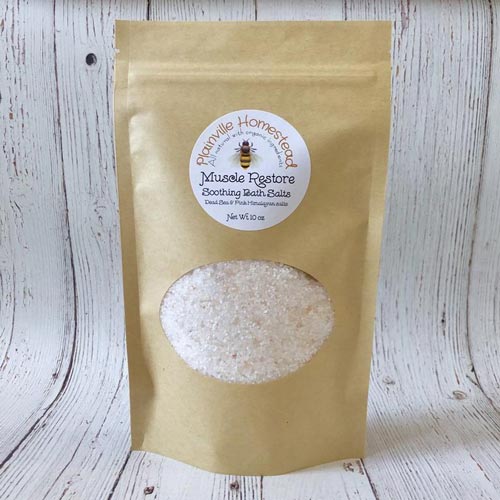 Bull riders have one of the most intense jobs on the planet. They can easily suffer from broken bones, torn ligaments, and in the very least, super-sore muscles. Similarly, anyone who works outside all day long, including ranchers and cattlemen, are bound to get sore muscles from time to time.
Help your loved one ease their pain (and relax a little too!) with this bath soak pack from Plainville Homestead. The soothing organic blend of sea salt and pink Himalayan salt promises to ease sore muscles, relieve dryness, and provide the skin with much-needed replenishment.
21. Personalized Leather Belt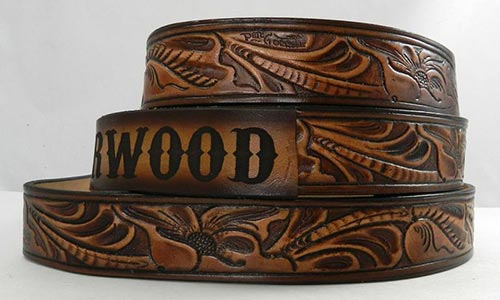 Kinda like the belt buckles mentioned above, belts themselves are symbolic to the cowboy lifestyle. And if your rancher doesn't already have one, they're is going to treasure this brand new cowhide belt featuring their name and western-style carving.
The shop that creates these custom belts, Gavere Leather, has been in business for over 45 years. They include with each order a leather keeper, standard buckle and snaps for changing out buckles.
DIY Gifts for Ranchers, Etc
Now that we've shared all the 21 gift ideas above that are available for you to purchase, let's take a look together at some fun DIY options.
These are great gift ideas whether you're on a budget, enjoy creating things by hand, or if you have come to realize that homemade gifts really do add that extra-special touch.
Here are our top 10 DIY gifts for ranchers, bull riders, and cattlemen:
Put together a playlist featuring all of your loved one's favorite upbeat songs. They can jam out while practicing in the arena or while out working.
Do you quilt or crochet? A shawl, some boot warmers, gloves, a hat or scarf to help them keep warm in cold weather would surely be appreciated.
Make them "dessert" in a Mason jar. This one's really simple! Add all the ingredients needed and tie it with a bow.
Make them a batch of all-natural boot polish.
Build a bird house made to look like their ranch house or barn. Here's some free blueprints to get you started.
Make them a scrapbook featuring photos, ribbons, and other trinkets from past bull-riding competitions.
Many ranchers have a favorite horse or other animal that they love just as they do a member of their family. A handmade gift for their favorite animal – like its own stable blanket, hoof or bit warmers, etc. – would be just as welcome (if not more) by your loved one.
Do you enjoy painting or drawing? Create a portrait of this favorite animal that they will cherish forever.
Put together a homemade coupon book that they can use whenever they need your help around the ranch.
Make a donation in their name to the EQUUS Foundation or another charity.
Thank you for reading! We hope you found the gift you were looking for for the rancher, bull rider, or cowboy in your life (or at least some good ol' inspiration).
But in the case that your search for the best gift continues, we recommend taking a look here and here for even more great ideas.
Pin It