I think everybody has at least one person in their life that is impossible to buy for.
Their birthday comes up, and suddenly you find yourself bashing your ever lovin' head against the wall, trying to come up with anything you could possibly get them!
You consider adopting some religion that doesn't believe in giving gifts. You even consider giving them your only child.
This challenging, yet oh-so-common problem is made even worse when this hard to buy for person is your mother.
Your mamasita, mommykins, mother dearest.
This woman gave you the breath of life, and you can't even think of a Mother's Day gift to get them. Of all the horrors.
Hopefully this gift guide for the hard-to-buy-for mom will give you some good ideas, save your poor head many hard bashes to the wall, and result in your mother feeling loved and adored on her special day.
Without further adieu, here are 8 unique gift ideas I think your hard to buy for mama just might love.
8 Mother's Day Gift Ideas for Hard-To-Buy-For Mamas
Our website is supported by our users. We sometimes earn a commission when you click through the affiliate links on our website. See our privacy policy & disclosures for more information.
1. Succulent & Candle Set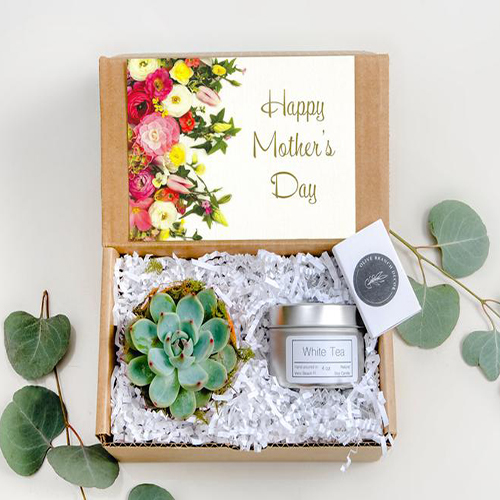 This succulent and candle set is adorable! The succulent comes in a sweet little terra cotta pot, all mossy and sweet.
You get to choose the scent of your soy candle, and it looks like they have some pretty delicious-sounding scents like coconut verbena.
The whole thing comes in a pretty gift box, and allows for a personal Mother's Day message. You can also add extras, like bath bombs or chocolate. Winner winner chicken dinner.
I believe that you can't go wrong with succulents as a gift. If your mama doesn't like them then you've got bigger problems than finding a gift. 😉
2. Raw Honey Gift Basket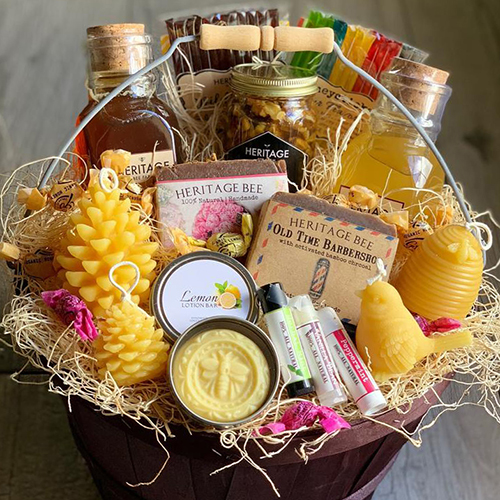 Ooh! Call me mama, and get this for me now, please! This raw honey gift basket is so cool!
The basket comes with an assortment of items made with raw honey, and packaged oh-so-perfectly. It comes with candles, little jars of raw honey, lip balms and more!
It even includes some of those little honey sticks. Anyone else have the best memories of eating those as a child?
This gift will probably give your mother those same sweet memories, and what a way to spoil her on Mother's Day.
There is also the option to include a personalized card with your order, and customizing the basket with other items from their shop.
All in all, I think this basket is sure to bee a sweet gift for your honey of a mom. (See what I did there?)
3. Sunshine Spa Gift Set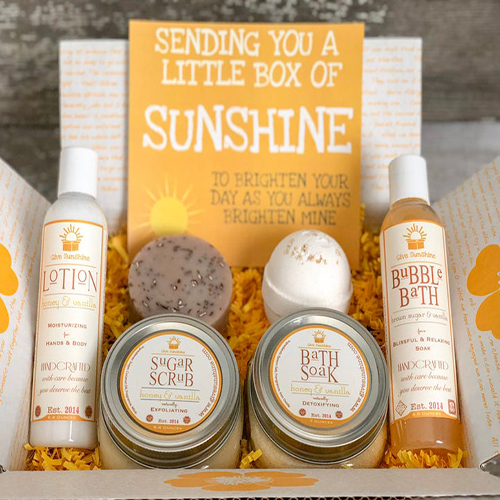 This is the ultimate spa gift basket set. After all, who doesn't like to be pampered?!
But the packaging was what really caught my eye. It says, "Sending you a little box of sunshine to brighten your day as you always brighten mine." That is just such a sweet sentiment for a Mother's Day gift.
The set includes sugar scrub, bath bombs, bath soak, lotion, and gives you the option to add an essential oil roller bottle with the essential oil blend of your choice.
If you want your mom to put her feet up, soak and de-stress and enjoy Mama's Day I think she would love this "basket of sunshine" as a gift.
4. Agate Wine Coaster Gift Set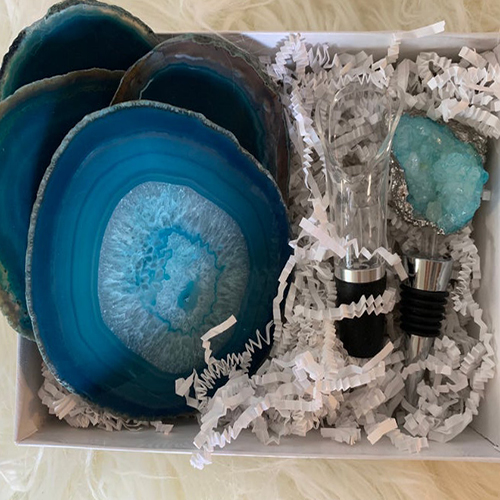 Dis perrrrty. Perrrrrrtttyyy.
Whoops… Sorry about that.
This agate wine coaster set is so lovely it made me forget all the words. I just keep looking at it.
The coasters are made from gorgeous blue agate, and it has a crystal handled wine cork and an aerator. I'll be honest, I can't tell the difference between aerated and non aerated wine, but with something as pretty as this I would use it all the time, and I'll bet your mom would too.
If your mom is hard to buy for, but likes her wine, this is sure to wow her! What a pretty set.
So perrrrrrrrtyyyy…..
5. Lace Teardrop Necklace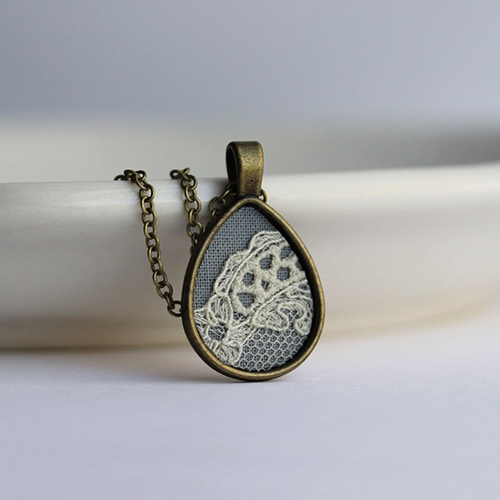 Oh, the whimsy! This lace pendant necklace is perfectly old-fashioned, and sure to make your mama feel dainty and loved on Mother's Day.
It is rustic bluish gray fabric with a vintage white lace overlay, and set in a rustic teardrop pendant.
I'm getting major Little Women vibes, which makes me think of Marmie in the book, and what a good mother she was. I think that is why this necklace immediately makes me feel like it would be a perfect gift for Mom.
If these colors are not your mom's favorite there are other beautiful colors and styles in this Etsy shop.
6. Tea Gift Set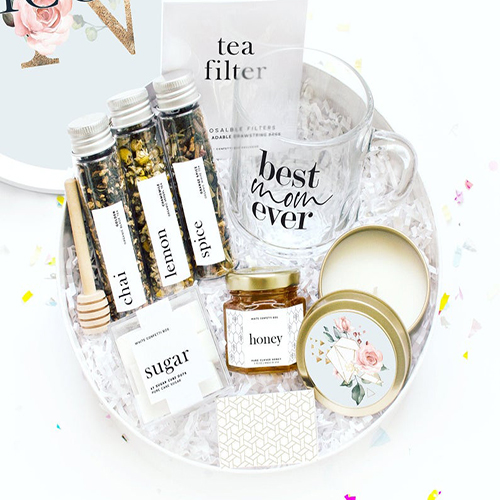 Is your mama fond of a cuppa? Then this tea gift set might just be her cuppa tea.
Really, this little tea box is super cute. It comes beautifully packaged, and contains a mug with your choice of words, little containers with loose leaf teas, honey and sweet little wooden honey dipper, a candle, sugar cubes and more!
This shop gives you the choice of your style of labels as well, so whether your mom is more floral or edgy they can make this gift set to suit.
It's truly a lovely gift for a mother!
7. Custom Family Recipe Cutting Board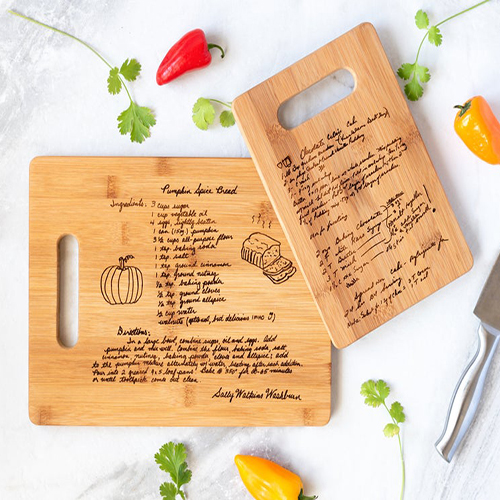 This is super cool! You write out a recipe, or use a family recipe, say from a grandmother, and have it engraved on a wooden cutting board.
It may just be too cool to actually cut on. While she can use the back and save the front for display, she may prefer to simply hang it on the wall in the kitchen. Because it's gorgeous!
With this lovely idea, you can preserve your mama's family recipes and have a nice heirloom type gift to present her with for Mother's Day.
You can choose the shape and layout of the board to fit whatever style you need. This is sure to be a special and memorable gift.
Click here for every holiday you can give your mom a gift.
8. Personalized Cheese Board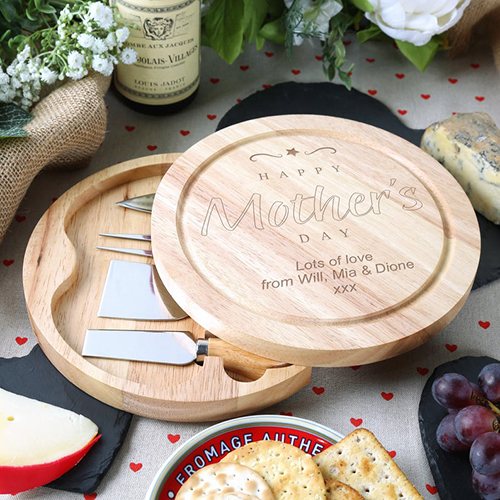 There is something about a spread of cheeses and meats and snacks on a wooden cheese board that just make everything taste better. Am I right? (I am, of course!)
This charcuterie board can be personalized as a Mother's Day gift. I love the round shape, with the compartment beneath holding all of the spreaders.
You can also order this charcuterie board in a perfect little gift box, for the ultimate presentation.
More Mother's Day Gift Inspiration
I hope this post has given you some inspiration as you search for that perfect gift for Mother's Day.
If you're still looking for something creative and unique for your special mama, check out these additional gift guides:
May visions of cheese boards and spa sets dance in your head. And may you discover the perfect Mother's Day gift idea for your hard-to-buy-for mama!
View our Mother's Day shop for thoughtful cards and fun activities!