We've found the very best cardinal gifts just for that special someone in your life.
Whether you're celebrating the memory of a loved one or looking for the perfect bird-themed gift for a cardinal lover, you're in the right place.
Our website is supported by our users. We sometimes earn a commission when you click through the affiliate links on our website. See our privacy policy & disclosures for more information.
Cardinal Symbolism & Significance
"When a cardinal appears in your yard, it's a visitor from heaven." Thus goes a popular saying about the symbolism and significance of cardinals.
Cardinals are thought to be a messenger from heaven – either an angel, an appearance of your loved one, or a reminder from God about your departed loved one.
This makes the cardinal a popular subject for memorials and sympathy gifts.
Cardinals also symbolize loyalty and faithfulness. When you give a cardinal gift to a dear friend, you are expressing your loyalty and devotion while also celebrating that of your friend.
The cardinal is a monogamous bird, and the male and female sing beautiful duets. Because of this, some Native American lore holds that cardinals are symbolic of romantic relationships.
When a cardinal crosses your path, it is believed that you may develop a new romance (if you're single) or that you may experience a renewed passion together with your spouse (if you're in a relationship).
Taken together, these various traditions all celebrate a similar idea: the cardinal is a bird that represents treasured relationships.
Friends, lovers, and departed loved ones – the cardinal symbolizes the love we hold for those closest to us.
17 Best Cardinal Gifts for Someone Special
Here are the best cardinal gifts that celebrate a special relationship in your life. Below we have gifts for cardinal lovers, remembrances and memorials, friendship, romance, and more.
1. Personalized Cardinal Bird Feeder Sympathy Gift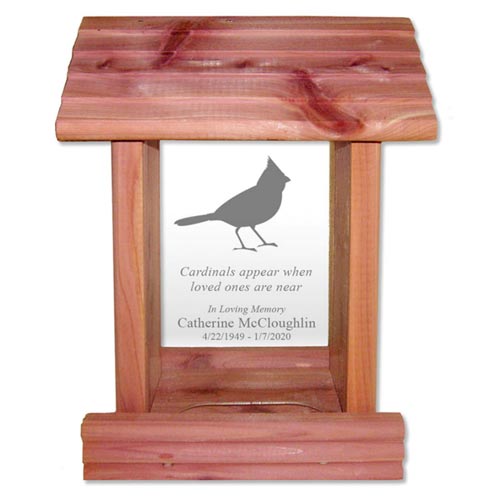 This is one of our favorite sympathy gifts. It's made in the USA from genuine aromatic cedar wood, and includes a custom engraved front panel featuring a cardinal, a famous cardinal quote (several variations available), and your loved one's name and dates.
What makes this cardinal bird feeder gift so special because it serves as a tribute that will also feed the birds and perhaps even draw in some cardinals.
While a more traditional gift of sympathy flowers will last for a week or two, this memorial will last for years. Plus it goes outside, and won't clutter up the house like many other baubles.
More personalized bird feeders here.
2. Stained Glass Cardinal Suncatcher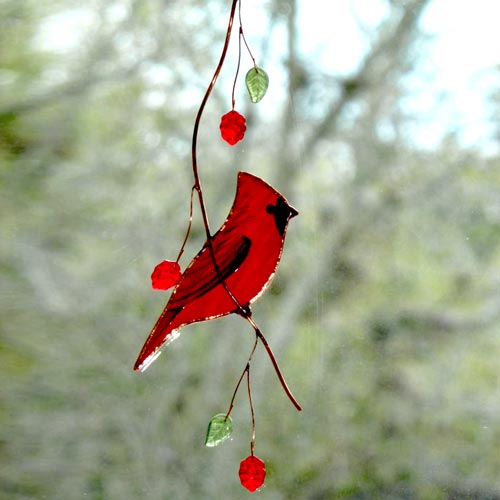 Suncatchers are delightful gifts that add beauty and elegance to any home's decor.
This cardinal suncatcher stained glass art piece is handmade in Canada from glass and copper. It can be affordably shipped to the USA or anywhere else, so you can send it as a gift or receive it to wrap up and present it yourself.
Stained glass is a timeless medium, delicate in design and breathtaking in beauty. The cardinal lover in your life would surely appreciate this glass art depiction of their favorite bird.
3. When You Believe Farmhouse Sign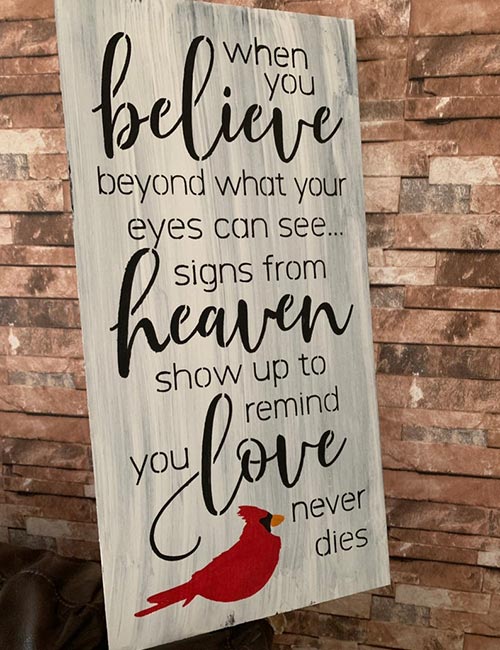 Here's another gorgeous cardinal-themed sympathy gift idea for someone who has recently lost a loved one. Whether you're sending it as a sympathy gift instead of flowers, as a memorial anniversary gift, or just to express your love during a time of grief, this memorial plaque is a lovely idea.
Handcrafted in the USA in that popular "farmhouse" style, the sign reads,
When you believe beyond what your eyes can see…
Signs from heaven show up to remind you
Love never dies
4. Cardinal Bangle Bracelet
This is such a cute bracelet! Some cardinal gifts tend to go overboard on tackiness. Not this one – it's a charming gift for the cardinal lover in your life.
The Cardinal Bangle Bracelet from Luca + Danni comes in your choice of brass or silver. The simple minimalism is perfect for anyone, young or old, who can't get enough cardinals in their life.
5. Personalized Memorial Lantern with Cardinal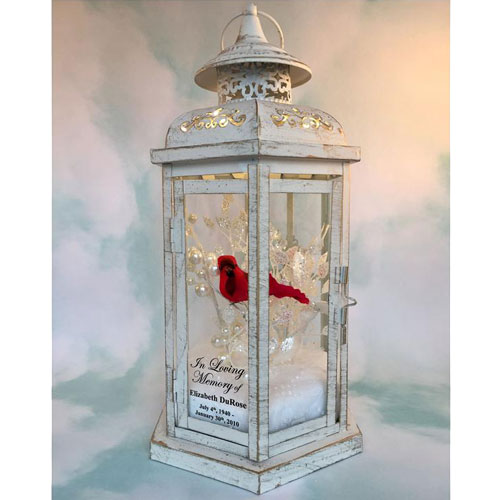 Here's a sympathy gift for the "light of your life" who loved cardinals.
The Cardinal Memorial Sympathy Gift Lantern has a rustic chic farmhouse vibe which is very popular these days. It includes a personalized inscription in honor of your loved one's memory, along with the signature cardinal bird sitting on a decorative white branch.
And perhaps best of all, it includes fairy lights so that the lantern will literally glow – just like their memory does inside your heart.
6. Cardinal Wind Chimes
Wind chimes are always a great choice for nature lovers. And when it's adorned with cardinals, well… the choice is clear.
The Cardinal Wind Chime from Spoontiques is one of the most popular and affordable wind chimes for cardinal lovers.
Other great wind chimes with cardinal themes include this one, which features four perching cardinals and lots of tinkling bells, and this one, which is copper-toned and boasts many chimes, bells, and birds.
7. Fused Glass Cardinal Suncatcher Celebration Tree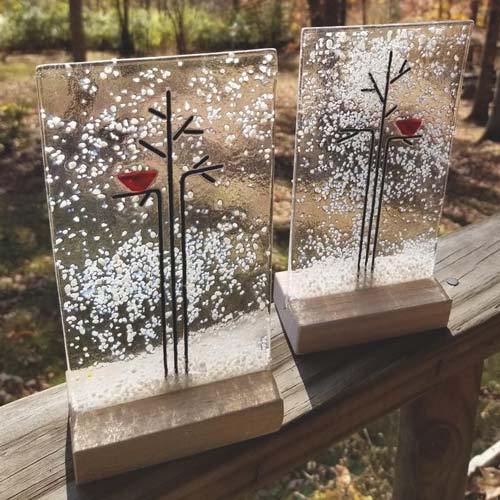 Here's a spectacular free-standing handcrafted art piece that puts the cardinal in a glass tree surrounded by flurries of snowflakes.
The Winter Celebration Cardinal Suncatcher Tree is a great gift for someone you love who decorates with cardinals.
It's minimalist, modern, rustic, and one-of-a-kind. They'll love it.
8. Personalized Cardinal Coffee Mug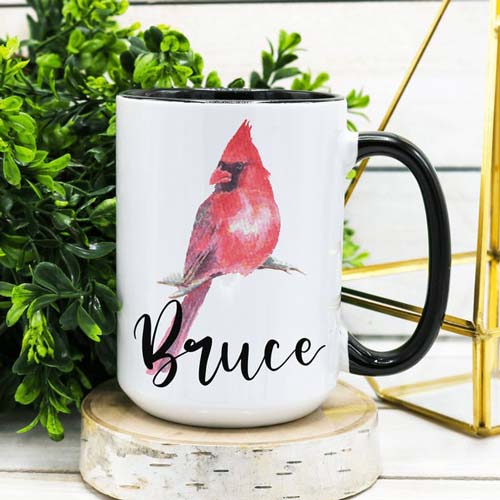 Here's a great mug for that special person in your life who enjoys watching the cardinals in their backyard along with a steaming mug of coffee, cocoa, or tea.
The Personalized Cardinal Coffee Mug is ceramic, available in 11 or 15 oz sizes, and includes personalization of the recipient's name over painted cardinal bird art. Oh, and you can choose from several handle colors as well.
9. Personalized Cardinal Travel Mug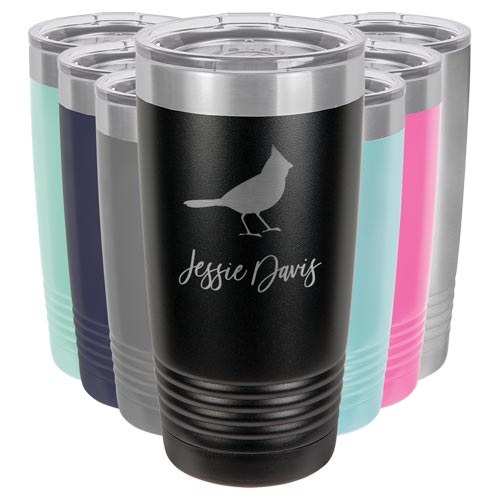 Here's a lovely cardinal gift for the recipient to take to work, to the gym, shopping, or anywhere else they go.
The Personalized Cardinal Tumbler Mug boasts a cute minimalist cardinal etching, plus the cardinal lover's name and any other additional text you may like.
This one is also great for a sympathy gift with the classic quote and an "In Loving Memory" inscription: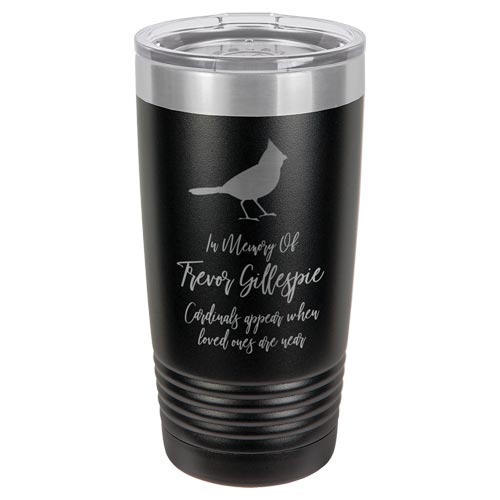 Come in your choice of size and color, along with any personalization you like.
10. Handcrafted Cardinal Art Mug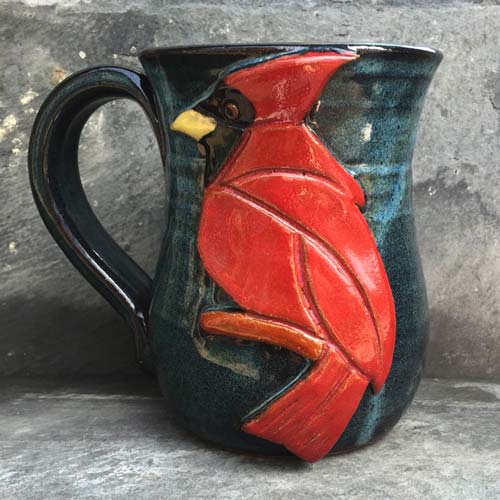 Ok, one more cardinal mug and then we'll move on. This one is simply brilliant!
Handcrafted, artistic, and beautiful. So beautiful. Everything you might want in a gift for cardinal lovers.
11. Cardinal Weighted Lap Pad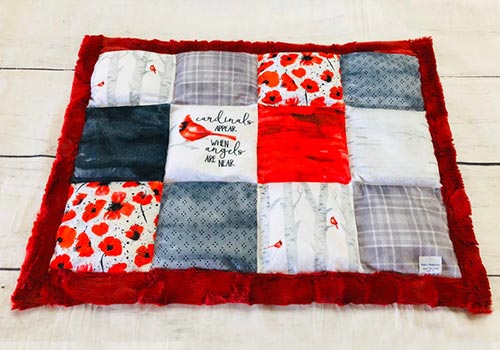 Weighted lap pads provide mild, constant pressure that simulates deep touch. This "deep pressure simulation" – like the physicality of a hug or a massage – can help reduce anxiety and stress, promote relaxation, and may even help with grief.
So if you're looking for a cardinal sympathy gift, consider this Cardinals Appear Weighted Lap Blanket Quilt.
The encompassing warmth and pressure from the weighted lap blanket (choose from 1.5-6 lbs) provides a soothing impact on the senses. And the colorful handcrafted quilting – complete with cardinal and sympathy quote – is a delight to the eyes.
A thoughtful, original, useful, and heartwarming gift.
12. Cardinal Garden Flag
Anyone who loves cardinals will appreciate this all-American garden flag with cardinal and 4th of July theme.
If you want something that is better for year-round use, or if red, white, and blue isn't your friend's decor style, browse more cardinal garden flag designs here.
13. Cardinal Welcome Sign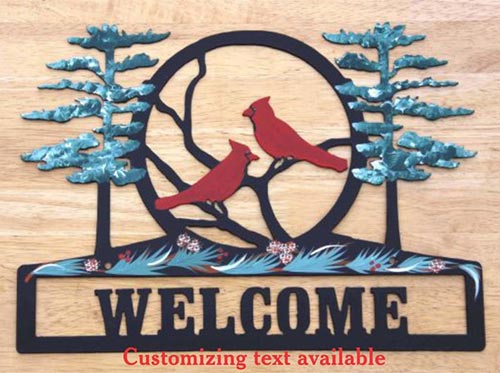 Outdoor gifts are always a good choice. This is because, A) people often already have too much junk and clutter inside, and B) everyone likes to feel natural, outdoorsy, and welcoming.
So succeed on all counts with this metal Cardinal Welcome Sign! It can say "welcome" as shown or be personalized with the text of your choice.
Perfect for their family name or home address, the sign is available in two sizes going up to 17″ wide.
14. Personalized Cardinal Coasters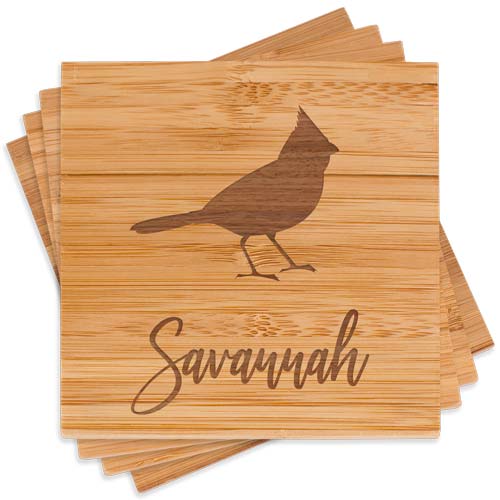 Sometimes, simplicity is best. Customize this set of bamboo coasters for someone special in your life.
The set includes four bamboo wood coasters, a matching bamboo coaster holder, laser etched cardinal art, and the text of your choice.
Personalize it with their name, full name, an "In Loving Memory" inscription, or anything else you like. The engraving cuts into the wood for contrast and reveals warm brown tones.
15. Decorative Cardinal Figurine
There's about a million cardinal figurines out there, but this one is our favorite.
Any cardinal lover will appreciate the gift of an elegant little statue. Whether for decor or collecting – or both! – the Cardinal Bird on Snowy Branch Figurine is the perfect gift.
16. Personalized Cardinal Cutting Board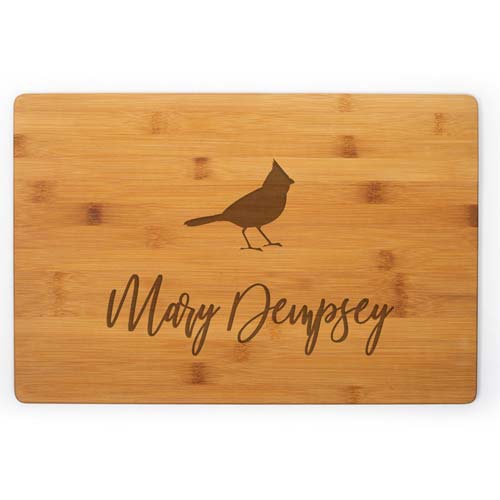 Every kitchen needs a cutting board. But you can take it to the next level by gifting a personalized cutting board to someone you love.
This is an heirloom-style gift that is also actually useful. And when the cardinal-loving recipient uses it, they'll be reminded of you and your unwavering love for them.
17. Rustic Cardinal Keepsake Box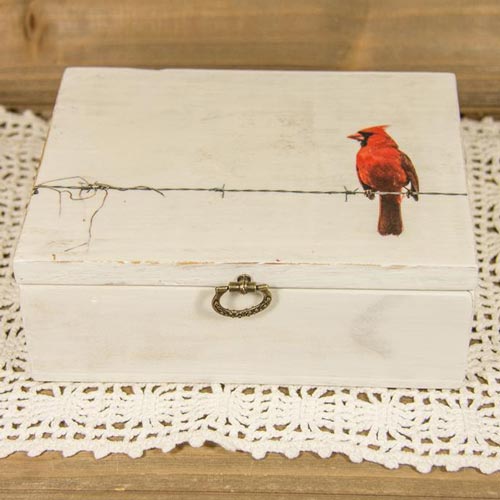 Finally, here we have a farmhouse-style wooden keepsake box with cardinal photo art transferred (not decoupaged) onto the lid.
With its timeless style and whimsical bird on a wire imagery, this simple white memory box is the perfect gift for a cardinal lover in your life.
Read Next: 21 In Memory of Mom Gift Ideas
Pin It