If anyone ever needed a good gift, it's a breast cancer patient. They are, after all, superheroes.
And we want to acknowledge their fight for a cure, be there when they need someone to talk to, and give them a gift that says, 'You're special, you're loved, and you've got this!'
But it's hard to know what they would like and/or need, and who wants to bother them by asking? They'll likely demure that they don't need a gift (but we know better).
So we've done some shopping for you; all you need to do is scroll, click, and maybe giftwrap.
Our website is supported by our users. We sometimes earn a commission when you click through the affiliate links on our website. See our privacy policy & disclosures for more information.
What makes a good gift for a breast cancer patient?
No matter what gift you ultimately come up with, the wrapped box or gift bag or comfort basket you bring won't mean nearly as much as giving yourself.
Yep, we're talking about your friendship, love, and support. How you treat your friend or loved one who has breast cancer is so very important. That's the starting place for a good gift:
Act normally. People with cancer already feel weird; don't make it worse by treating them with kid gloves.
Don't offer your cure-alls. If your Aunt Patrice went through it and found that essential oils helped, good for her. Your friend's body and experience will be different. Plus, she'll have like 30 people already suggesting that same essential oil or electroshock or apple cider vinegar cure.
Find ways to help. Don't just say, "Let me know if you need anything." They won't. No one does. Instead, learn about their needs and help meet them. Ask, of course, but ask if you jump in and help out with childcare, or laundry, or grocery runs or whatever.
Avoid platitudes. It's tempting to pull out a cheesy quote, tell them it's going to be ok or that they're a "warrior" or something, but… don't. Unless you normally see them as being a warrior or a total boss, don't inject it now. Instead…
Affirm them in who they are. Some breast cancer patients really are warriors, and others are gentle spirits with genuinely sweet hearts. Some are a combination of the two, and others are something else entirely. Look at your friend (not some generic blog post like this one!) and see them for who they are, and compliment that, which is their own special, unique type of inner strength. Don't try to put your loved one into some stereotypical box – they're dealing with enough right now and don't need to conform to more expectations.
Bring a gift. We have an amazing array of the very best gifts for breast cancer patents below. Let those inspire you, but also consider bringing a simple handwritten card or ask what they are able (and actually would like) to eat or drink.
10 Best Gifts for Breast Cancer Patients
When you've given of yourself first of all, then it might be time to actually purchase something for them. Gifts can really cheer up a dreary hospital room, and give them something to do or look forward to when they get to leave.
1. Here for You Care Package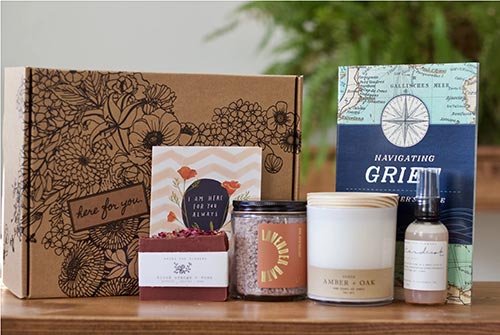 From Here for You, these "compassion packages" are specifically designed for those who are going through a rough time.
Full of gorgeously scented items to help them relax (such as soaps, bath salts, and candles), this gorgeously packaged gift set has a little bit of everything lovely. She'll be looking forward to using them all up in record time.
2. RevitaLash Cosmetics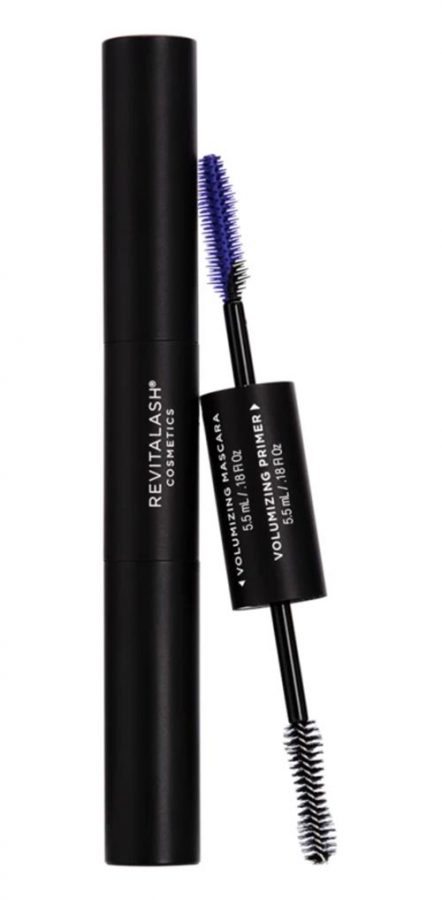 This line of beauty products was founded by a woman who went through breast cancer, so we think she knows a little about what she's doing! It's important to still feel beautiful and feminine during cancer treatments, and losing your hair can really be a blow to any woman.
This best-selling eyelash serum mascara is a favorite around the world for women going through treatments. It's gentle and effective.
3. Massage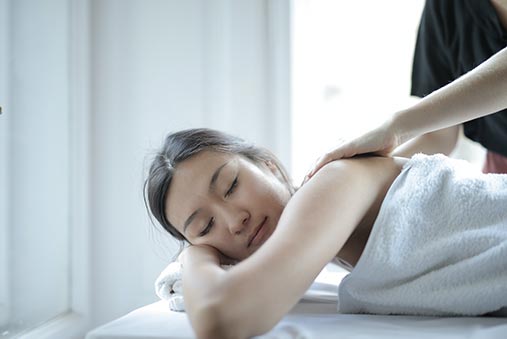 The body aches are relentless for cancer patients. If you've ever had the flu with the full-body aches, then you know a little bit about what they're living with day to day.
Give your breast cancer patient friend some relief and a chance to relax all at once with a pampering body massage (or any other pampering experience they want! See the link for more info).
They'll be sure to thank you… after they wake up.
4. Very Big Hug Blanket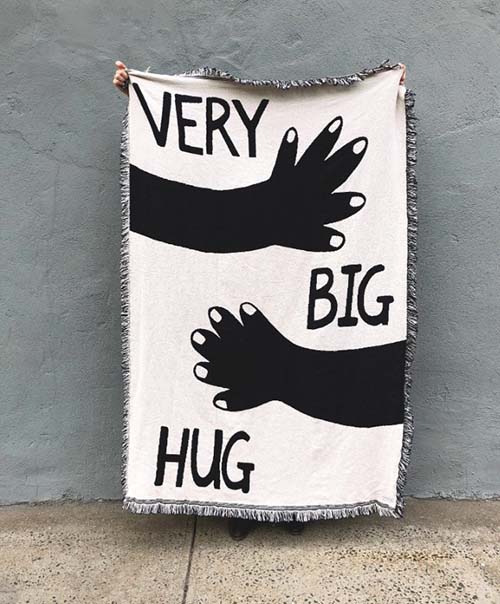 What's better than a cozy, soft blanket when you just can't seem to get warm? A hug-in-a-blanket! This sweet "long distance relationship" is just the thing for her trips to the cold, sterile hospital, or to keep at the foot of her couch. It'll make her smile and think of you each time she uses it!
5. Warrior Tumbler
Keeping icy beverages cold, and/or steaming coffee or tea nice and hot, this engraved "Warrior" tumbler will fit perfectly in her overnight bag for treatments, hospital stays, or for running errands when she's in remission. Take it to yoga, for a gentle walk, or simply to keep on her nightstand for a quick midnight sip of water.
Or, for something less on-the-nose and more personalized, go with this one: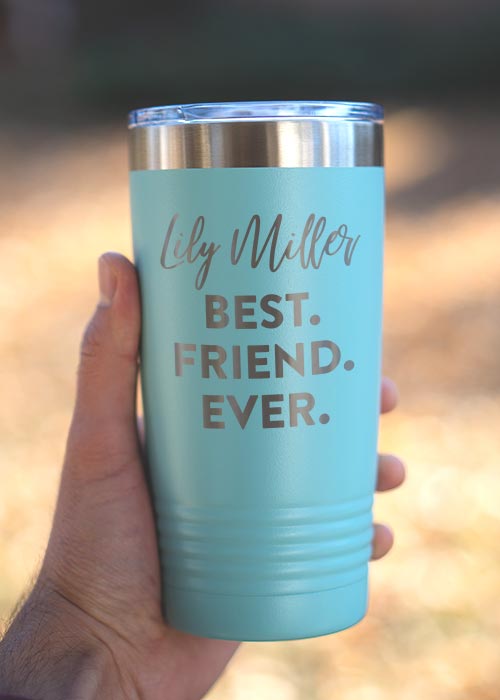 You can have it custom engraved with any name and any text you like, so it will be a truly personal message just for her.
6. You're Not the Boss of Me!
Remind her who is really in charge here! (It's her.)
This cute sign will make her smile and laugh, and she'll love referring to it on a daily basis. It's like the positive affirmation she maybe didn't know she needed.
7. Mastectomy Pillow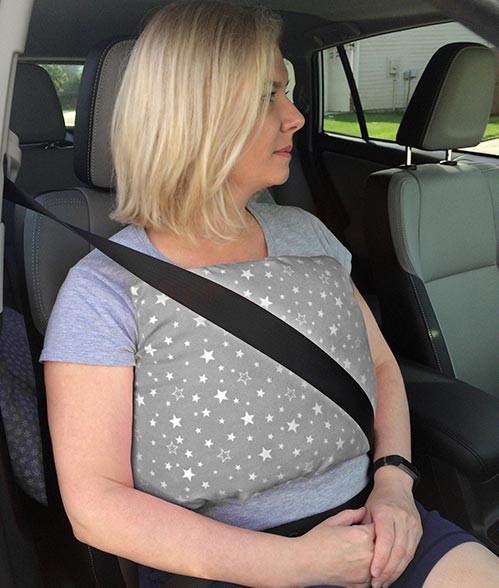 The pain that comes with breast cancer is no joke, and just navigating simple things (such as getting home from the hospital after a mastectomy) is a chore.
Help alleviate some of the soreness and take one thing off her plate by purchasing this amazing pillow. It will gently cushion her chest area while in the passenger seat, and the seatbelt comfortably fits right over so she can stay safe as well.
8. You Got This Encouragement Box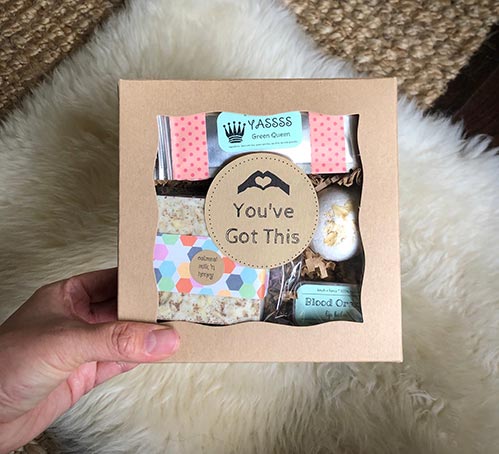 Perfectly hand-chosen, this sweet little gift box is a nice way to show you care. And it's not too big that it will take up too much space in her hospital room, or even her purse!
Filled with yummy delights like lip balm and bath salts, it aims to please even the pickiest of patients.
9. Hot/Cold Stress Relief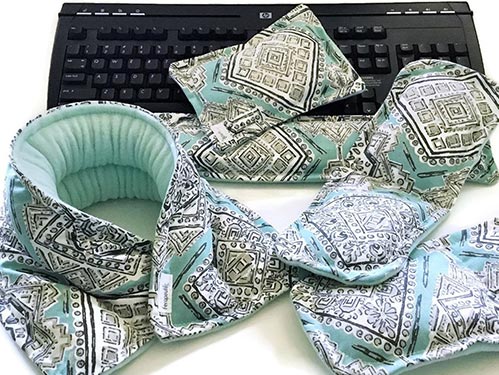 Sometimes she needs to ice a sore spot, sometimes she needs some heat therapy!
Give her the gift of both with this pretty hot and cold stress relief package. With different sizes depending on where it hurts, she'll be using these frequently and wonder how she ever got along without them.
10. Wonder Woman Shirt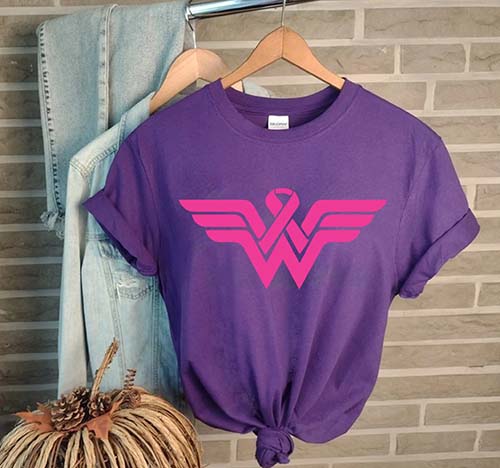 Every woman with breast cancer is a wonder woman! Tell her you believe just that with this cute and totally soft tee.
She can wear it with jeans, joggers, skirts, or even pajama pants, and voila! Her outfit totally rocks.
Thoughtful Breast Cancer Gifts for Him
It's not quite as common, or as publicized, but men get breast cancer too. And no matter how much he might deny it, the special guy in your life would love to receive a gift. Here are some good ones.
Chemo Care Journal
Treatment is a long and difficult journey. And he just might not want those pink beribboned candles/hats/socks! Give him instead one of these chemo care journals.
Because when his treatment is over and he's won the battle, he's going to have such a story to tell!
Oncologist Does My Hair Funny Breast Cancer Shirt
Sometimes you have to laugh, and this funny breast cancer t-shirt is just perfect for that occasion. Reassure him that bald is beautiful, and laughter really is the best medicine.
DIY Gift Basket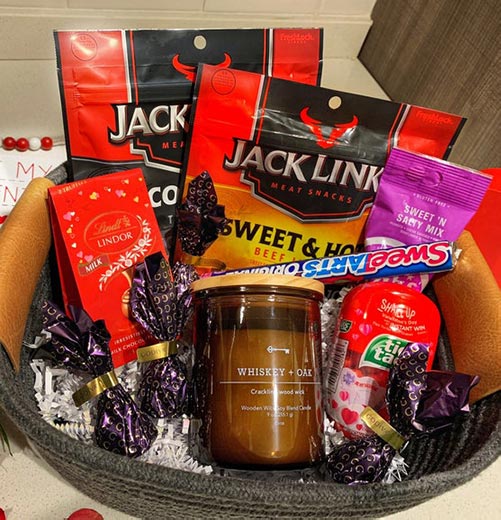 You know what they say about hospital food… shudder. Set him up in style with a delicious basket of his favorite treats!
We recommend things that have a long shelf life, since taste-buds can change during chemo, and he won't always be hungry. But when he is, he's going to reach for something you lovingly put together and think fondly of you as he munches!
Here's some inspiration: 100+ Ideas on What to Put in a Gift Basket for Him.
Lightweight Chemo Hat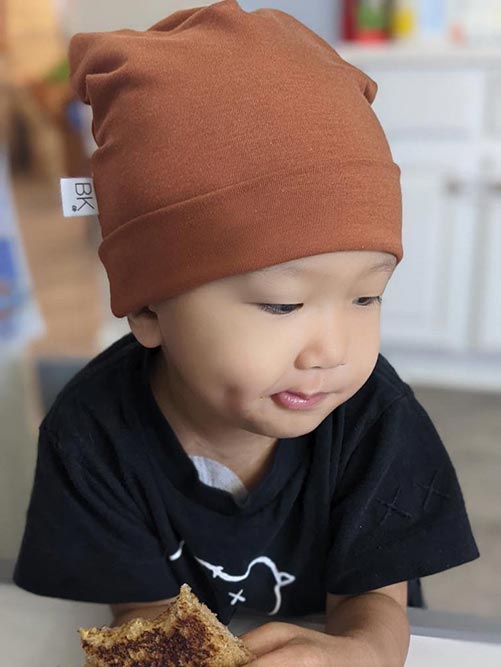 The last thing any cancer patient needs is a scratchy, itchy, heavy hat. But without their hair to keep them warm and regulated, hats are a must-have! Enter in this soft and breathable and lightweight hat just for him (ok not just for him, the ladies love these too). He's bound to love it!
Tough Cookie Socks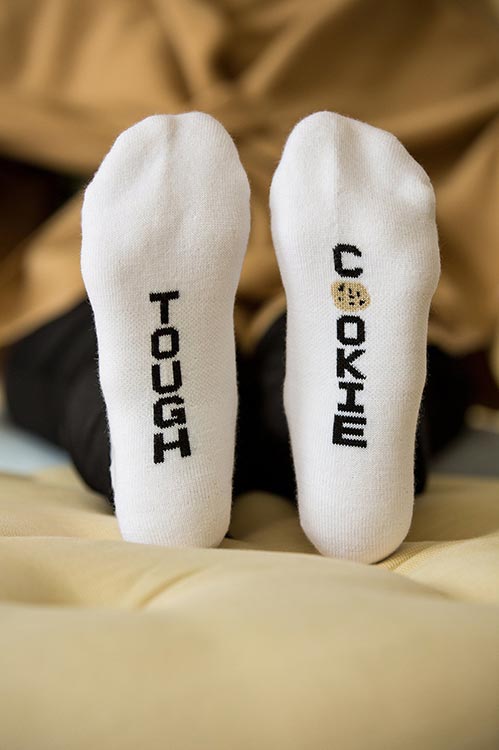 Feet are among the first of our body parts to get cold (ask any husband whose wife uses his thighs as a panini press at night). He'll love the sentiment AND the warmness of these clever socks.
Meaningful Breast Cancer Gifts for Her
Here are some meaningful gift ideas especially for the woman who is fighting the good fight. Let her know you love and support her with one of these thoughtful ideas, and be sure to stay and visit!
Fork Cancer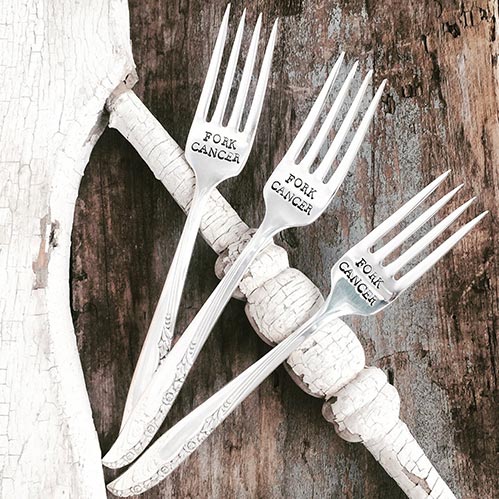 Make her giggle with these witty forks. They'll be something she'll treasure and laugh about for years to come!
Beautiful Flowers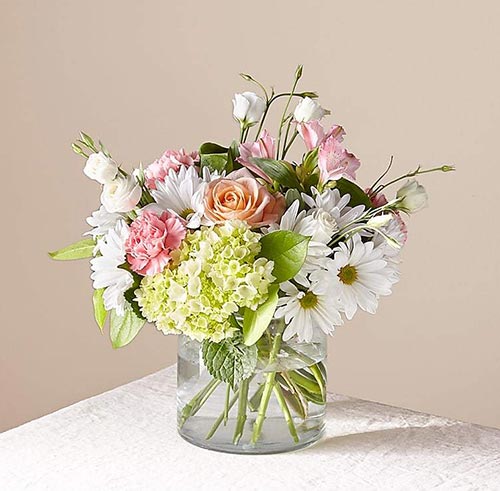 As far as classic, meaningful gifts for breast cancer patients go, flowers are always a good choice.
They light up her room (especially if she's in the hospital), they smell divine, and when you include a lovely vase to arrange them in, she'll have something from you that really lasts.
Warm Embrace Willow Tree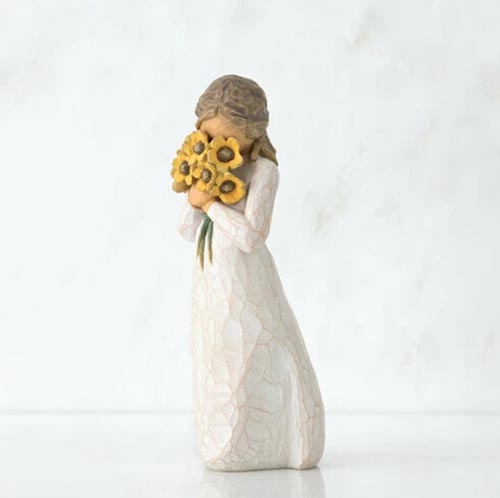 This sweet little Willow Tree figurine will be a family heirloom for sure. It's darling with being obnoxiously sugar-sweet, and will match any décor. Whether she keeps it on her nightstand, her desk, or front and center on her kitchen table, she'll love looking at this over and over again.
Dear Cancer, You Picked the Wrong…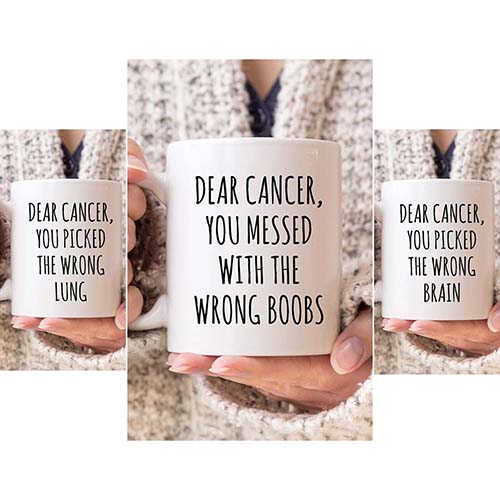 Say it with a coffee mug, and at the same time show your confidence that she will overcome! These mugs come with a variety of phrases for any and every type of friend who is battling cancer.
Post-Mastectomy Robe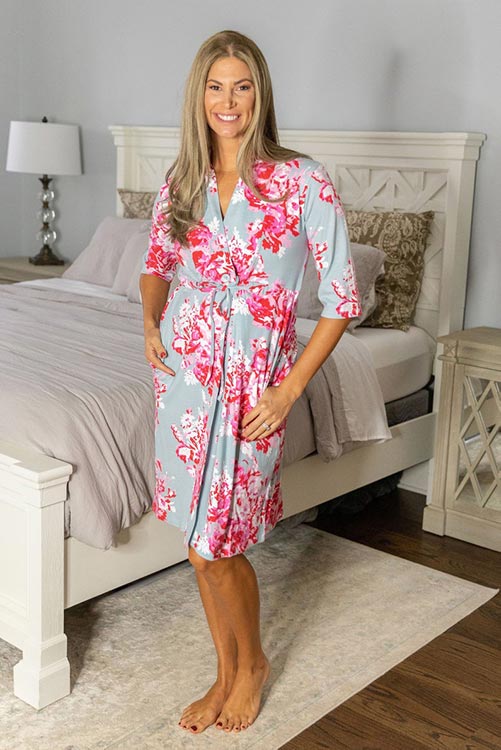 This specially-designed mastectomy robe has inside pockets to hold the drainage pouches. It makes walking around her home/hospital easier, and she'll look gorgeous at the same time!
Top 3 Inspirational Gifts for Breast Cancer Patients
Now let's look at some gifts that have that positive, uplifting, inspirational vibe. Your presence will encourage her, and the words from these gifts will continue to do so long after it's time to part.
Tiny Book of Strength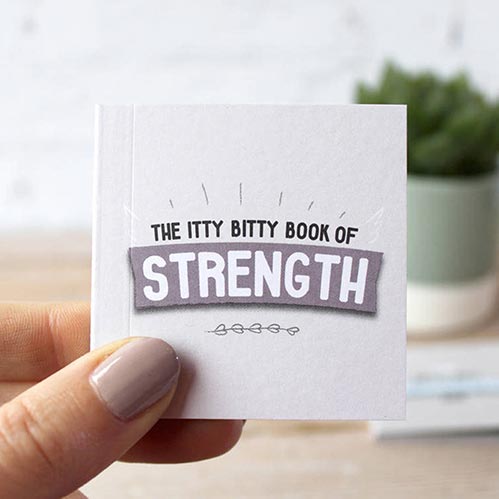 Tiny enough to slip inside her pocket or her purse when she needs a bit of encouragement, this wee book holds a lot of strength! Good things come in small packages.
Prayer Bracelet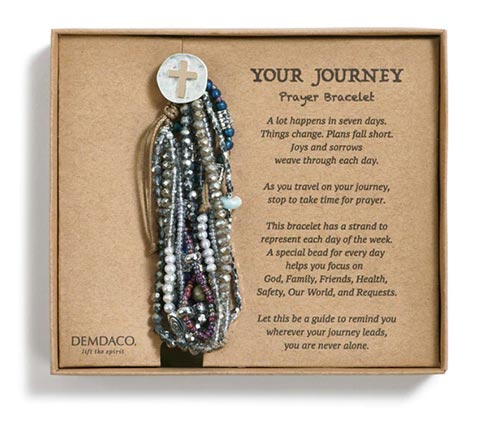 Lightweight enough to wear on even sore days, this pretty bracelet will look good with every outfit and will remind her to stop and take some time to pray. There's a special bead for each day, and a strand for each week.
Dear Friend: Letters of Encouragement
Solidarity is something to be treasured! Read affirmative letters from women who have been down the road she's currently traveling. With humor, creativity, and a lot of love, this collection of inspiring letters is sure to be read again and again.
Read Next: 15 Inexpensive Gifts for the Woman Who Has Everything
Pin It