There ain't no party like a Cinco de Mayo party, and that's the fun and festive truth! Well, at least we think so.
When it's your turn to throw a memorable Math 5th bash that will live on in infamy, you want to be organized, prepared, and of course, the host with the most!
None of that "less is more" baloney. When it comes to Cinco, more is more. More food, more decorations, more games, more of all of it! We're here for it. Scroll on for some ideas to make your Cinco de Mayo party one for the books.
Our website is supported by our users. We sometimes earn a commission when you click through the affiliate links on our website. See our privacy policy & disclosures for more information.
Cinco de Mayo Party Ideas
1. Mexican Flowers Everywhere
Celebrate Cinco de Mayo in a floral fashion! Nothing says party like festive bouquets, blooms, and petals. The brighter, the better, so look for the color hues that really POP.
Use paper flowers, artwork, floral tea, cakes, invites or traditional embroidered items, such as dresses, napkins, tablecloths. Your house will smell as good as it looks when you throw in plenty of real flowers as well.
2. Margarita Hour!
It's happy hour somewhere. Specifically, here, at your house! Celebrate your Cinco de Mayo with the best drink there is – Margaritas!
Check out this guide to learn how to throw the perfect margarita party. For a fun way to remember this bash all year, have your guests take home their margarita glass as a memento. Don't forget plenty of flavor options beyond the classic lime: mango, pineapple, strawberry, jalapeno, just to name a few. And those yummy salt rims!
3. Pinata Time is Fun Time
Piñata-themed Cinco de Mayo party – piñata cake, piñata crafts, piñata candy!! It's no holding back with this one, which is just as much for the adults as it is for the kids.
In fact, having a couple of adult piñatas to take a swing at would be fun, too! Instead of candy, fill with gift cards, snack foods, and anything else (that isn't breakable, of course).
4. Taco Tuesday
Make a fun sign that signals to friends and family that yep, they are in the right place and ready for the world's best food: TACOS. Whether you supply all the fixings or you plan it more potluck style, this is one belly-filling, happy way to celebrate Cinco.
And it doesn't even matter if May 5th falls on a Tuesday. Tacos are THAT good.
5. Nacho Average Cinco de Mayo Party
Go all out with your nacho bar and cheesy puns this Cinco!
Chips and salsa are only the beginning for this fun party: set out meats, olives, jalapenos, onions, beans, sour cream, guac, and of course, a collection of hot sauces.
Have a competition for your cheesiest jokes, with the kids being the judging panel!
6. Holy Guacamole!
Just like the nacho bar idea… but with guacamole. The restaurants upcharge for the green goodness, but not you! For a more authentic flair, make it "table-side," with a molcajete (a stone mortar and pestle). Keep all your decor green to really celebrate the avocado!
7. Mariachi Time
Mariachi themed Cinco? Why not!? Play music (see here for a great playlist), wear mariachi outfits, hire a professional band, decorate in mariachi stuff (don't skip on the glitter and glitz). Pass out sombreros and clear the dance floor! This party may go all night!
8. Cinco de Mayo Siesta
Did you know in some towns in Mexico, at 2pm, everyone in the town stops working in order to take a nap? Usually, they take this time to enjoy a nice drink and some bread during the hottest time of the day.
Take a laid back approach to Cinco de Mayo and follow this relaxing siesta tradition! Provide hammocks and comfy patio furniture at your ultra-laid-back afternoon Cinco de Mayo party.
Cinco de Mayo Office Party Ideas
This wonderful holiday is the perfect excuse to throw a party at the office. Here are our favorite ideas!
9. Fiesta Photo Booth!
If there aren't any photos, then did it really even happen?! We don't think so, so set up a fun fiesta inspired photo booth for your coworkers. You'll end up with hilarious and nostalgic photos for everyone to keep on their desk all year around.
10. Cinco de Mayo Potluck
Hosting a party is fun, but being stuck in the kitchen for hours beforehand? Not so much! Divide and conquer the menu by having friends and family bring their favorite Mexican dishes to share.
Stock up on Tupperware containers (or have them bring their own) so everyone can take home some yummy leftovers as well.
11. Cubical Decorating Contest
With prizes naturally! Give them plenty of time to plan out their over-the-top decorating ideas and show off their skills.
12. Cactus Costume Contest
See who can make the best cactus costume and walk the runway! Bonus points awarded for best model walk, of course.
Cinco de Mayo Party Games
No fiesta is complete without some fun activities and games. These ones are sure and certain crowd pleasers.
13. Lotería (Mexican Bingo)
There's a reason why Bingo is beloved, and this traditional Mexican version of the classic makes it even better! Have prizes for the winners, whether silly or legit.
14. Hot Sauce Challenge
Not for the faint of heart, having a hot sauce challenge is a hilarious and memorable way to add some spice into your party! Have glasses of milk on hand for the brave contestants.
15. Break the Pinata!
String up a classic piñata and see who can break it first! Everybody wins once it's busted open and the yummy fillings show themselves. Don't stop at just one though: hang a few! Don't forget blindfolds and bats.
16. Cinco de Mayo "Drink If" Game
With 24 different donkey shaped challenges, this is a fun way to really get to know your guests!
After all, you don't really know someone until you see them mildly sloshed and running their mouth – or taking a siesta (see #8, above). Anyways….
Keep this cute game at the liquor cabinet where different people can play at their leisure.
17. Candy Dice Game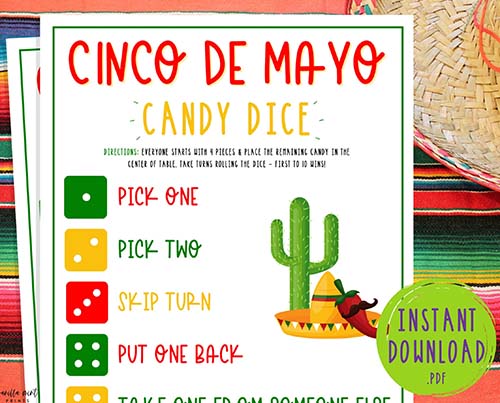 A creative little dice game that is excellent and easy for adults and children, too! Everyone is motivated by some yummy candy, don't you think?
18. Human Cactus Contest
One person stands like a cactus while the other party-goers wrap them up and decorate them! Set the timer and see which group can design the best cactus in a limited time.
This Cinco de Mayo party game is kind of like the popular wedding-dress-out-of-toilet-paper game at bridal showers, but… much more prickly!
19. Pin the Tail on the Donkey
It's a classic for a reason – it's so fun! Remember to provide a blindfold and don't forget to spin your contestant around and around for extra laughs. Kids love playing this, but don't rule out the adults jumping in and "showing them how it's done."
20. Toma Todo
This traditional spinning top game is so nostalgic! Kids will love learning this fun game, and adults can easily turn it into a drinking game as well.
21. Friendly Soccer Game
Split family and friends up into teams for a friendly game of fútbol… or if friendly doesn't sound as much fun as WILDLY COMPETITIVE, then feel free to go that route! All you need is a big backyard and a ball.
22. Inflatable Cactus Ring Toss
Fun for all ages, this inflatable cactus ring toss will keep the kiddos and their parents entertained for hours! Great for an all-day party in the yard while the grill is heating up and the beers are chilling.
Click Here for more fun party games!
Cinco de Mayo Activities for Kids
Don't forget the kids! Make it a memorable time for all by hosting some child-friendly activities.
23. 14 Free Printable Cinco de mayo Coloring Pages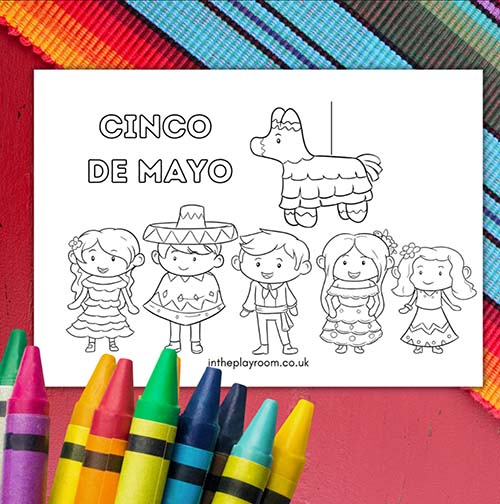 What's easier than some free printable coloring pages with a Cinco theme? Watch the little ones color away when they need a break from playing in the sun. Provide washable markers and crayons, and decorate your fridge afterwards with their priceless works of art.
24. DIY Mini Maracas
Set up a DIY mini maracas station in your house! Guests will have fun making these and getting to take them home.
25. Fiesta Tattoos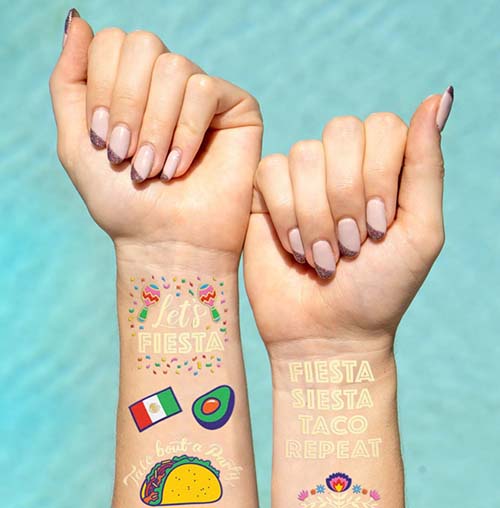 Host a tattoo parlor right in your own home! The kids will love picking out their designs and wearing them for several days.
26. Fiesta Scavenger Hunt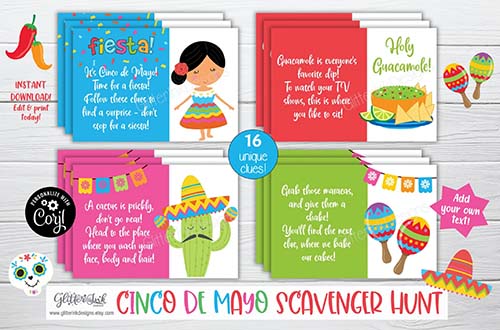 Have the kids pair up with their older siblings or an adult if they need help, and keep them busy with a fun scavenger hunt throughout the house and yard! Provide a fun prize for whoever completes the list first.
27. Mexican Teresita Flower Crown
These gorgeous flower crowns are a cinch to make and so lovely to wear the rest of the holiday!
28. DIY Mini Tissue Paper Flowers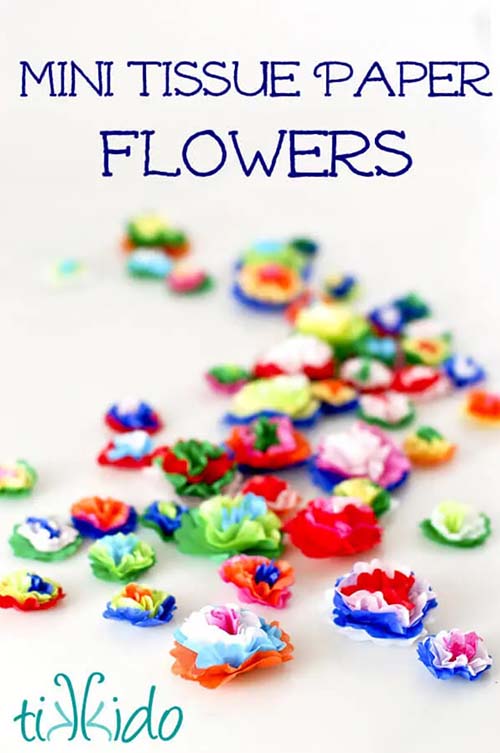 Have fun making these tissue paper flowers! Keep tape nearby to decorate your cup or straws with them, tuck some behind your ear, and pass some out to your neighbors.
29. Fun & Printable Cinco de Mayo Worksheets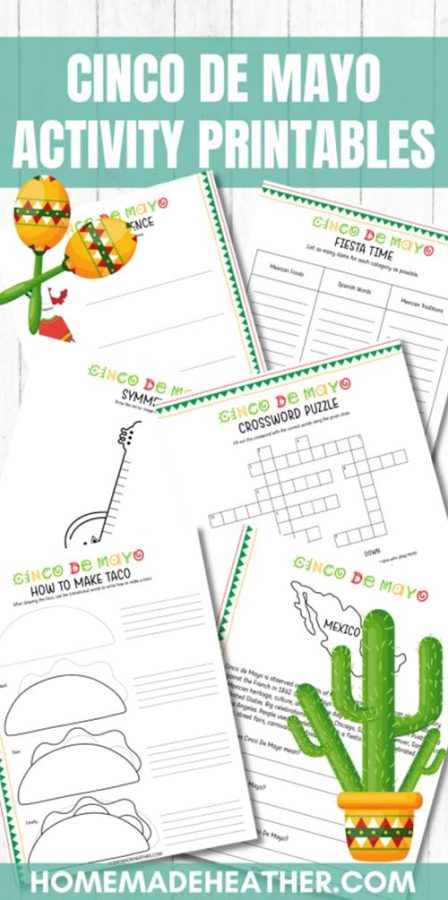 Keep the kiddos busy and interested with these Cinco worksheets that you print out for free ahead of time! They'll love solving the puzzles and putting their brains to the test.
30. Papel Picado Crafts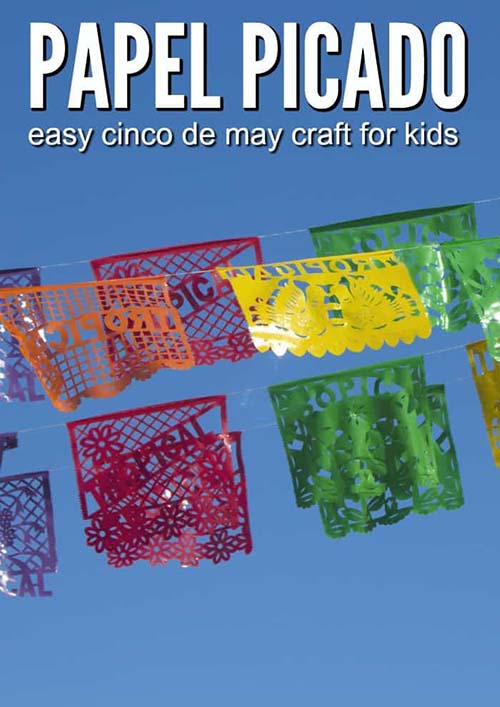 Papel picado is Mexican paper folding! If you've never tried it, Cinco is a great day to start! It's a fascinating craft for kids and adults alike.
31. Make Your Own Ponchos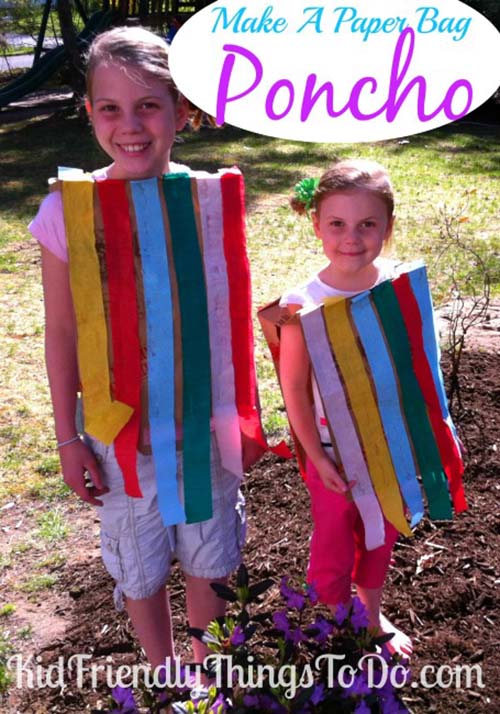 Because, why not? Everyone wants a good poncho! With this tutorial, it's easy and fun. And they have something to take home after the party!
32. Decorate Cookies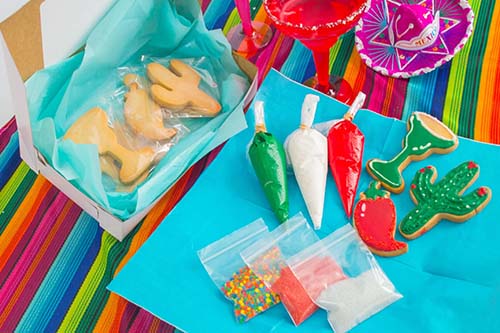 Everything tastes better when it's homemade and decorated by you in a one-of-a-kind fashion! All you provide are these supplies – they provide the skills and creativity.
Decorations for Cinco de Mayo
It ain't a party if it don't look like a party. These festive party décor ideas will add some pizzazz to your day!
33. Fiesta Centerpieces
When it comes to Cinco, shrinking violet decorations just won't do! Keep things bright and sunny and cheerful with these fiesta centerpieces.
34. Let's Avocado! Fiesta Party Balloons
You just can't have the happiest of parties with balloons and we adore these fun avocado ones! They'll provide the perfect atmosphere for your epic bash.
35. Serape Mexican Table Runners
The serape is a colorful shawl, very popular in Latin American countries and cultures. Before your table is laden down with all the yummy snacks and foods you'll be providing, make sure it looks its best with this pretty serape table runner.
36. Cinco de Mayo Party Printables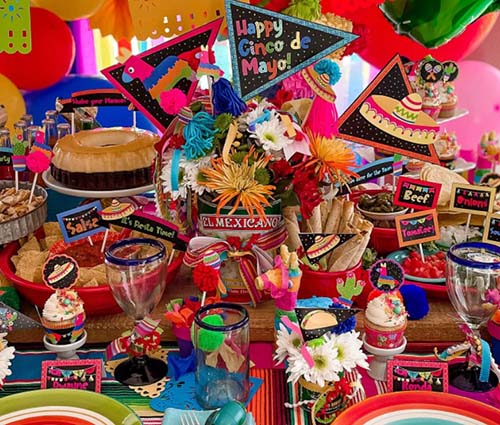 No need to sketch them out by hand, or see what's left at the Dollar Tree, when you have these cute Cinco party printables at your fingertips!
37. Fiesta Paper Fan Decorations
Cute and lively, these fiesta paper fan decorations will really make the living room pop with a cheerful, pretty party vibe!
38. Mini Pinata Decorations
These cute little burros make great centerpieces on your table, or pass them out as souvenirs.
39. Taco Bar Decor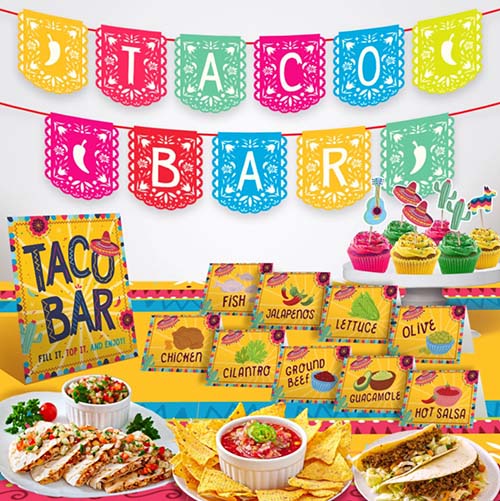 Because naturally there will be a taco bar, right? Of course right! Make it extra special with these fun decorations.
40. Fiesta Hanging Swirl Decor
With 20 different pieces, this decor will leave no doubt where the party is!
41. Cinco de Mayo Blow Up Yard Decor
Cinco is NOT the holiday for wallflowers or subtlety! So go all out, and decorate with these fun yard decors to blow up and set outside.
42. Mexican Party Banners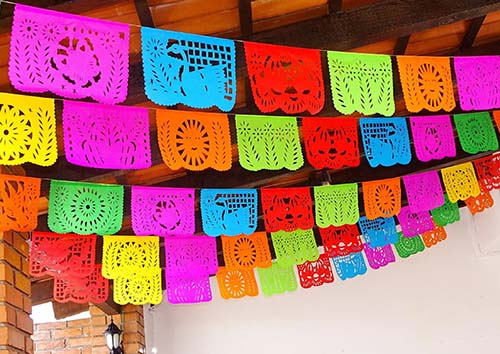 Announce to the whole neighborhood where this year's best Cinco party is being held! At your house, of course! These traditional and colorful banners will attract the eyes of everyone that passes by.
43. Cinco de Mayo Party Supplies
Keep it simple and get all of your supplies for your party in one stop! You'll be glad you did!
DIY Cinco de Mayo Decorations
If you're the crafty type, you'll love these DIY ideas.
44. DIY Pinatas!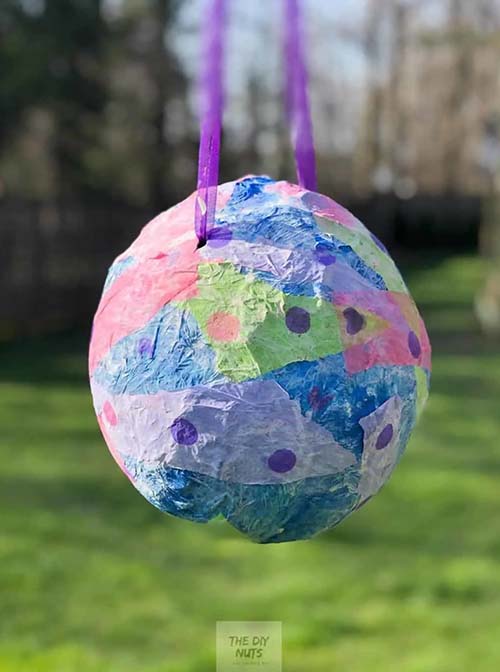 Sure, you can buy a piñata ready made, but when you DIY it, it's even more special, plus you can make any shape or theme you like! (Or at least attempt to… Ever seen any Pinterest fails?)
Whether you craft up a couple before the party, or create a piñata making station for your guests, they are sure to be a hit. (Get it? A HIT?)
45. Cup Sombreros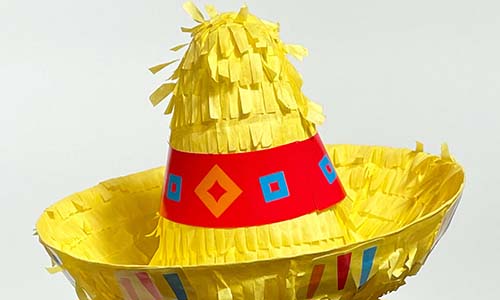 Use these fun Sombrero dish covers to keep the flies from swimming in your guac and to make your appetizer table look adorable all at once. It's a win-win.
46. Easy Cactus Cupcake Topper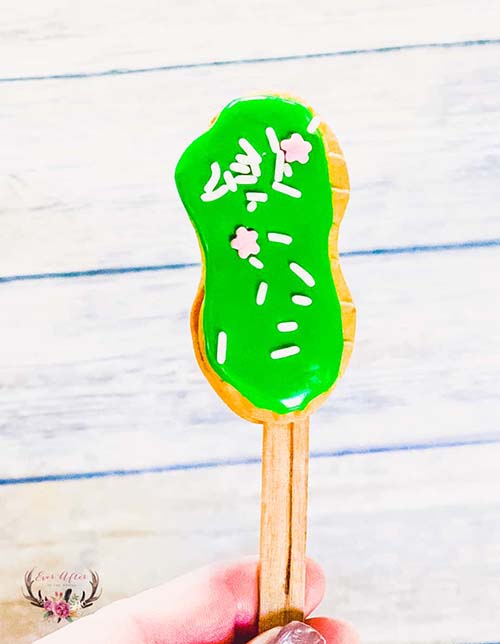 Cupcakes are a less messy way to pass around the cake! And these adorable cactus toppers are just the thing to make them Cinco-friendly.
47. Cinco de Mayo Banner Decor
Hang outside or in, this Cinco de Mayo party banner is great for instantly creating a fiesta-type atmosphere!
48. Flower Wall Art Kit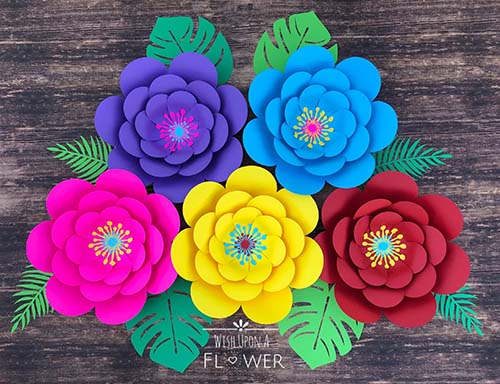 As cheerful and bright as a sunny flower garden, these pretty paper blooms just need assembly by you and the party will be started!
49. Cactus Centerpiece Decor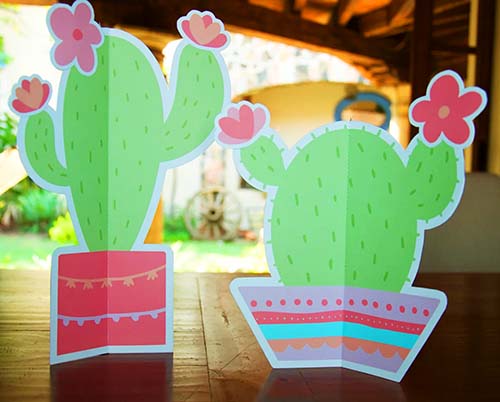 These printable cactus centerpieces will look oh-so festive whether front and center on your table or posted by your front door to let your guests know they've arrived at the right place!
50. Hand-Painted Wooden Sombreros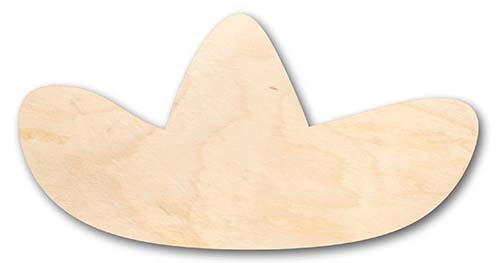 Decorate these wooden sombreros for wall art, door decor, or even table decor! Provide plenty for guests to decorate as well, and take home at the end of the night as a keepsake.
51. Tissue Paper Lanterns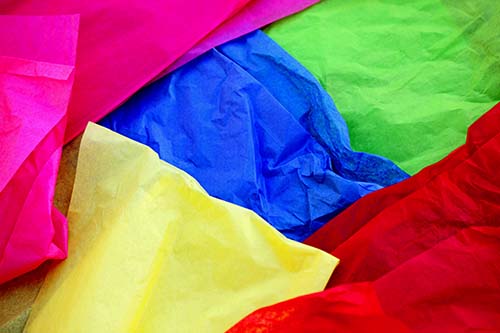 These paper lanterns are a fun variation of the traditional luminaria or farolito, and will light up the room with festive colors! Figuratively speaking, of course – this tutorial is for decor only, not for any candles or flames.
52. Mini Sombrero Headbands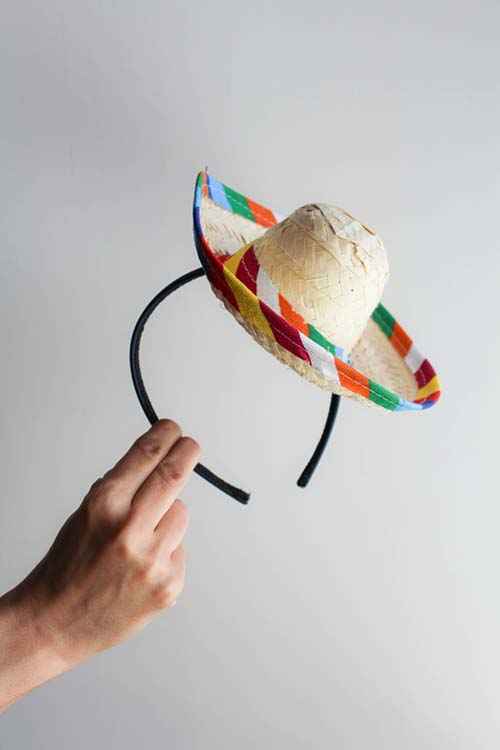 Such a fun way to decorate yourself, these mini sombrero headbands are a cute addition to any party! Pass one out to each guest to foster festive fun with an adorable touch of silliness.
53. Cinco de Mayo Wreath
Wreaths aren't just for Christmas! This fun wreath is all fiesta-inspired for your party goer's delight! It's a great way to decorate for your Cinco de Mayo party.
Food for Cinco de Mayo
Now on to the best part of the day – the food! Here are some of our favorite recipes that are easy to make and always please a crowd.
54. Crockpot Carne Asada Tacos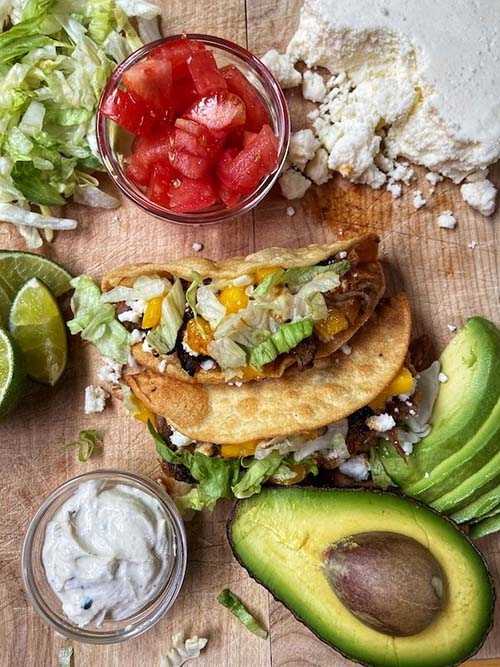 Make a delicious taco bar for your Cinco de Mayo party! These easy Crockpot carne asada tacos make the perfect main course. Guests can add their own toppings or make a burrito bowl! And the best part is, it all stays fresh and hot in the crockpot, meaning seconds and thirds an hour or two or three later!
More Delicious Taco Dishes:
55. Easy Chicken Fajitas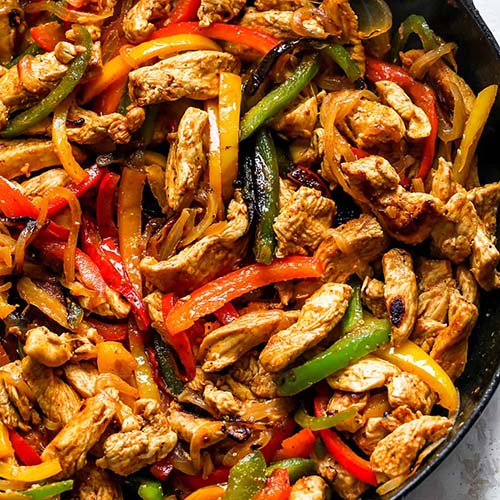 When tacos seem too ho-hum, go for fajitas!
More Delicious Fajita Recipes:
56. Mexican Corn Recipe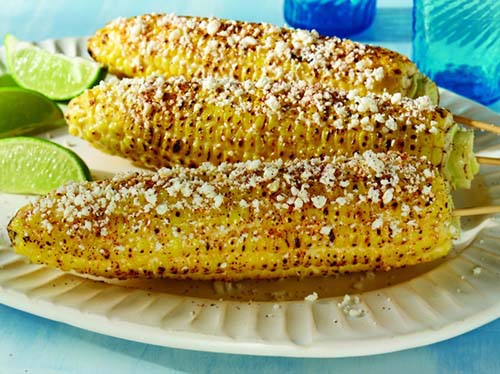 Sweet and spicy, Mexican corn is a must-have at your table!
57. Easy On the Border Queso Dip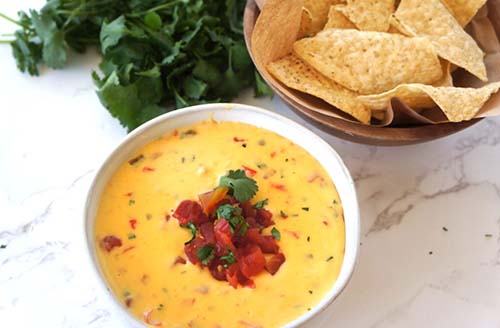 It's not Cinco De Mayo without queso dip! Make this delicious and easy Crockpot queso dip for a crowd pleasing appetizer.
More Delicious Dip Recipes:
58. Pico de Gallo Recipe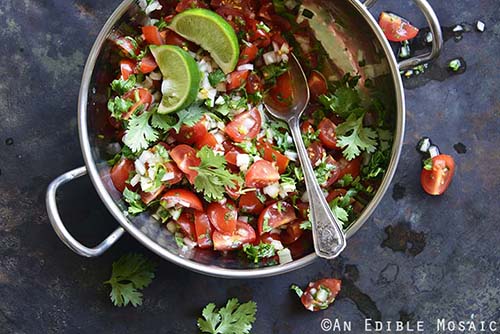 Pico de Gallo takes just 10 minutes to create using a few ordinary ingredients. This Cinco de Mayo recipe results in a bright-flavored fresh salsa that you can pair with everything from tacos to tortilla chips… or just eat with a spoon.
More Delicious Pico de Gallo Recipes:
59. Fiesta Chicken Stuffed Poblano Peppers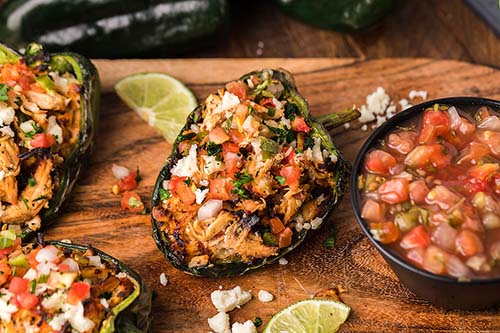 Doesn't everything taste better stuffed inside a poblano pepper? This recipe is just perfect for your Cinco de Mayo spread!
60. Mexican Shrimp Cocktail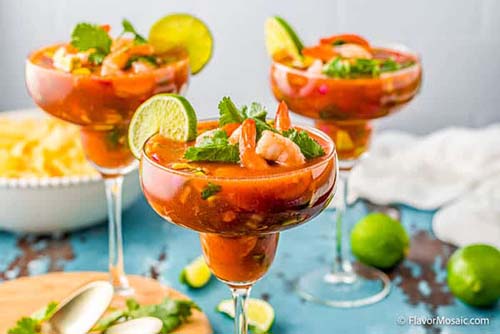 This Shrimp Cocktail is a zesty Mexican appetizer with shrimp, Clamato, jalapeño, tomatoes, and vegetables, that makes a perfect start to your party.
61. Pozole Rojo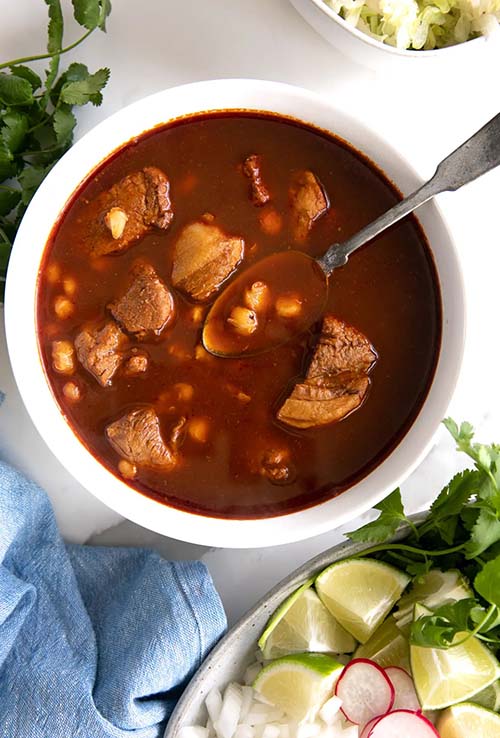 Pozole Rojo is a classic dish brimming with comfort yet not without that pop of spice that is distinctive of Central American cuisine. Serve it with garnishes like shredded lettuce, onions, lime, cilantro, and radishes.
Vegan variation: This slow cooker creamy vegan fiesta soup is like a party in a bowl. The thick, rich, creamy, and flavorful dish is a warm and wonderful treat filled with beans, veggies, and flavor. The perfect addition to any Cinco De Mayo celebration!
62. Classic Ground Beef Taquitos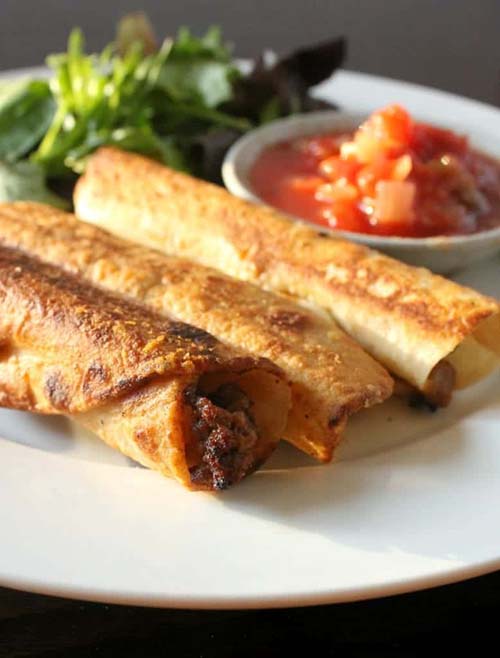 Yummy, spicy, melt in your mouth goodness! Top these ground beef taquitos with sour cream and more cheese, or just eat as a finger food as you mingle!
63. Palmito Ceviche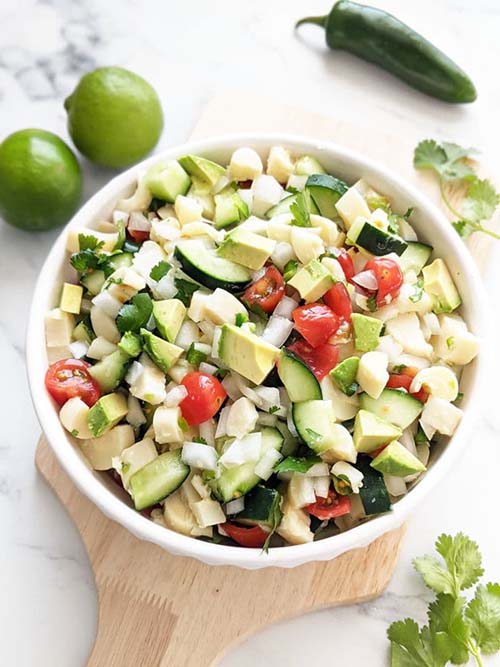 This vegetarian ceviche is made using hearts of palm—the perfect seafood substitute. Tossed with fresh lime juice, this dish is both refreshing and zesty. Serve it as an appetizer or main dish served with tortilla chips, tostadas or rice for your next Cinco de Mayo party!
Cinco de Mayo Drinks
Beverages can make or break your Cinco party. You might take our word for it, that these are the best drink recipes, but then again, you might want to taste-test these first to make a truly informed decision. We'll leave that up to you 😉
64. At Home Margarita Flight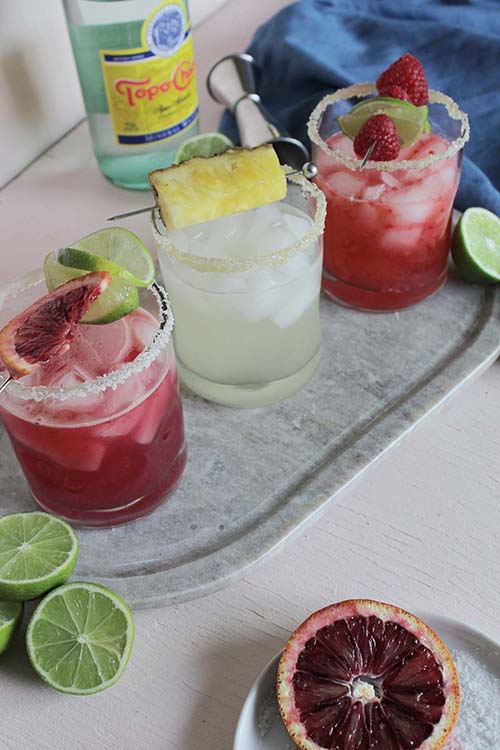 Bring your favorite Mexican restaurant home with a fun and delicious margarita flight for you and your friends!
More Delicious Margarita Recipes:
65. Fresh Paloma Cocktail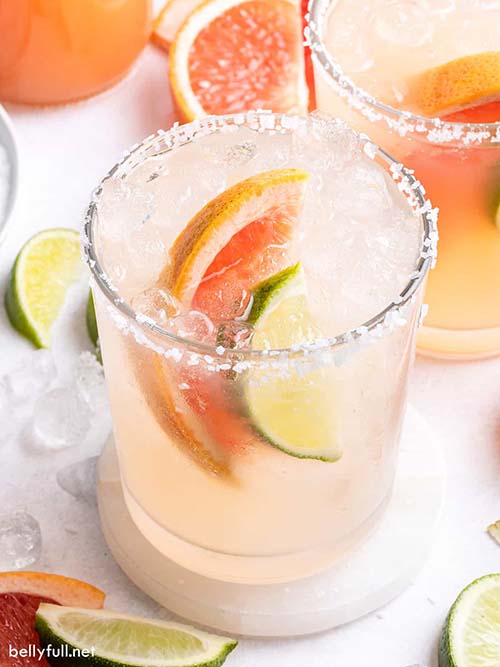 This one is as pretty to look at as it is yummy to drink!
66. Sandia Burro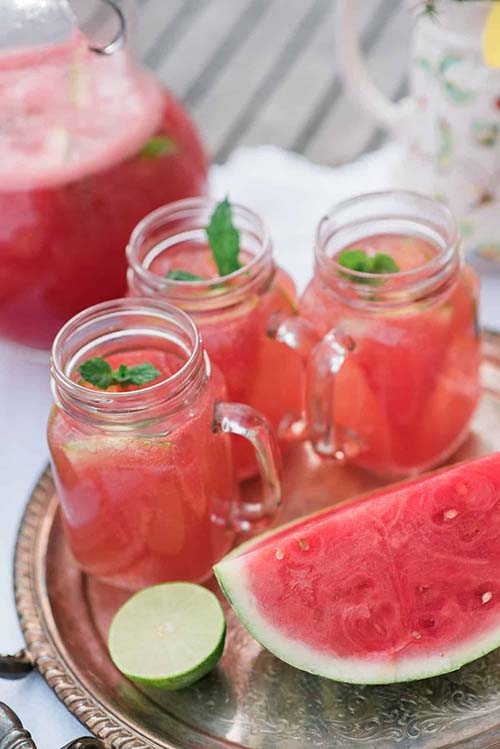 So vibrant and bright and cheerful! Sandia Burros are a party in a glass!
67. Sangria Swirled Frozen Margaritas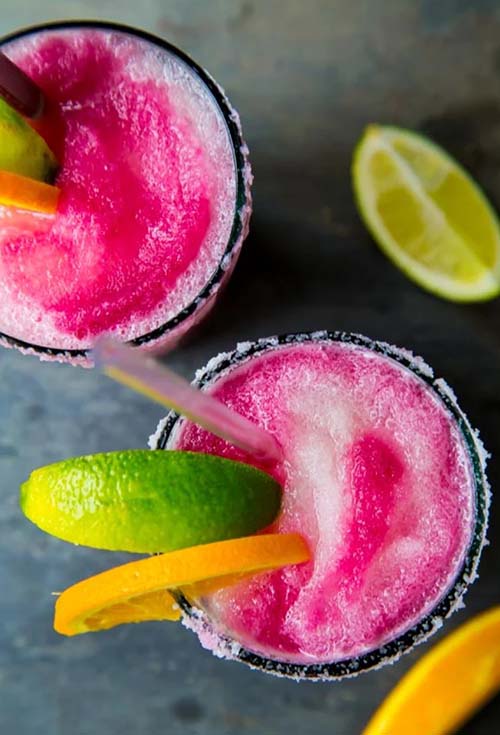 The best of both worlds (sangria and margaritas) just came together in this luscious drink!
More Delicious Sangria Recipes:
68. Easy Homemade Horchata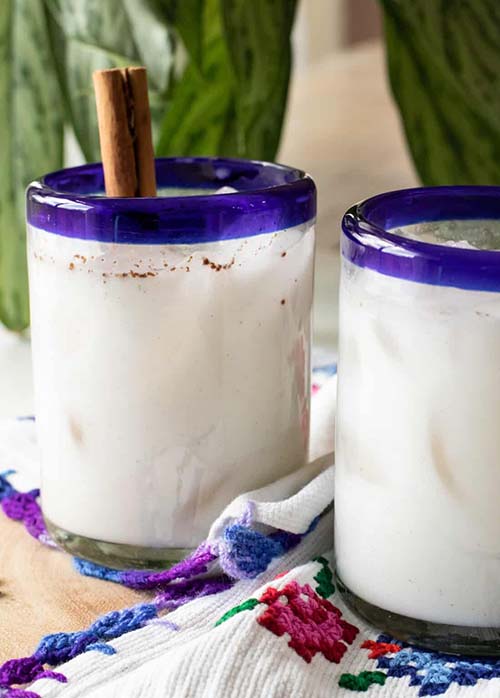 Horchata is a type of Aqua Fresca but it's made from rice water. It's an excellent non-alcoholic summer drink for an afternoon party!
For a delicious strawberry flavor, check out this recipe.
69. Raspberry & Citrus Mezcal Cocktail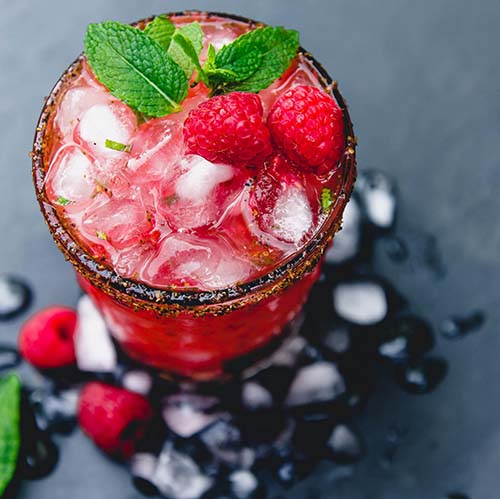 This one is too pretty to drink! Well … almost. We'll drink it in a heartbeat.
70. Easy Spicy Michelada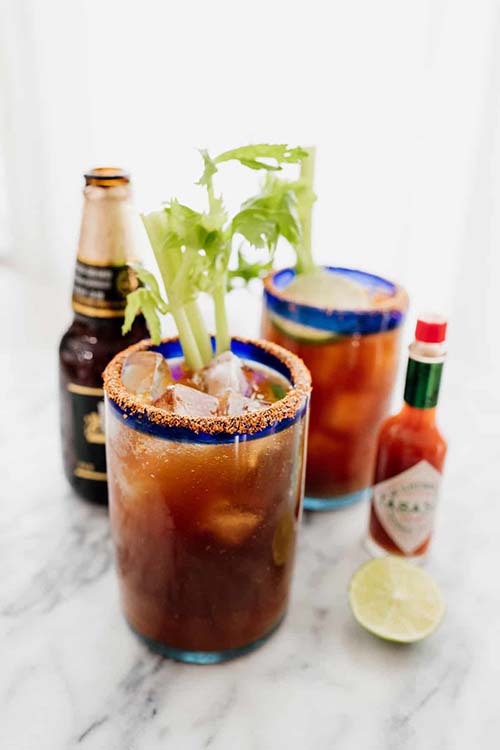 A spicy option for the bold!
71. Mexican Hot Chocolate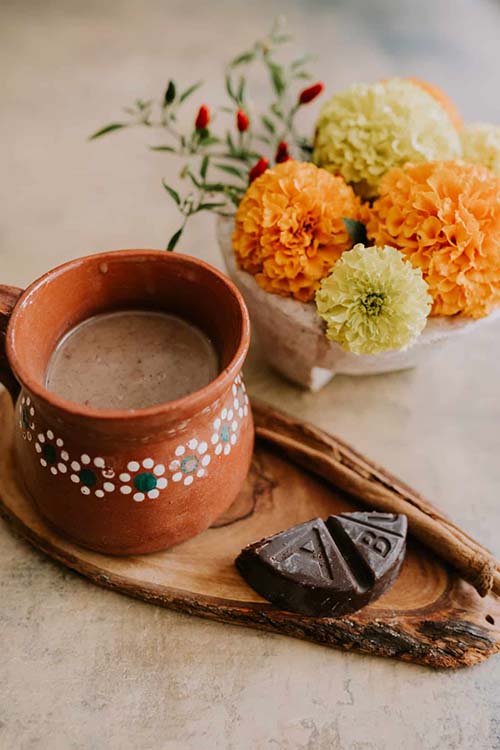 This recipe has so much more flavorful than your normal hot cocoa!
For those that love a thicker drink, we recommend you try this Champurrado recipe!
72. Authentic Homemade Mojito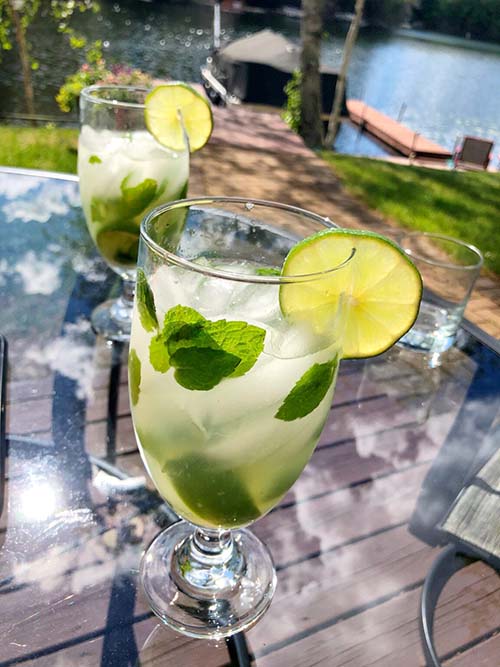 This cocktail is a perfect balance of fresh mint, lime, and rum. Easy and refreshing for any gathering.
73. Chia Lime Aqua Frescas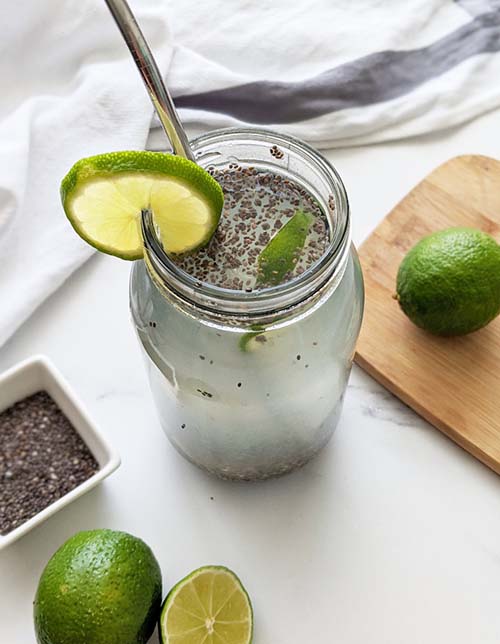 Chia Lime Aqua Frescas are great, non-alcoholic summer drinks made with fresh fruits. Refreshing and delightful!
More Delicious Fresca Recipes:
Cinco de Mayo Desserts
Balance out your spread of spicy dishes and refreshing beverages by adding the perfect finishing touch: A sweet dessert!
74. Pastel de Tres Leches Cake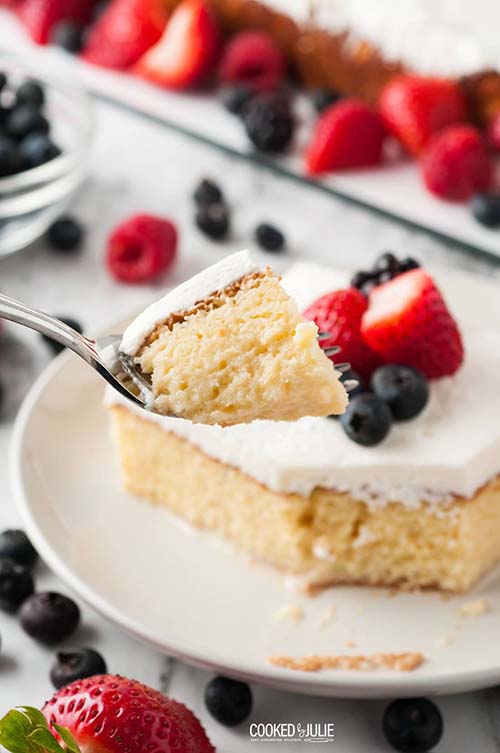 So moist and delicious! Be sure to make plenty of this Tres Leches cake as all your guests will line up for seconds.
Vegan variation: Here's a recipe for vegan tres leches cake that consists of a light fluffy sponge soaked in sweet dairy-free milk syrup, topped with coconut whipped cream and fresh berries.
75. Mexican Sprinkle Sugar Cookies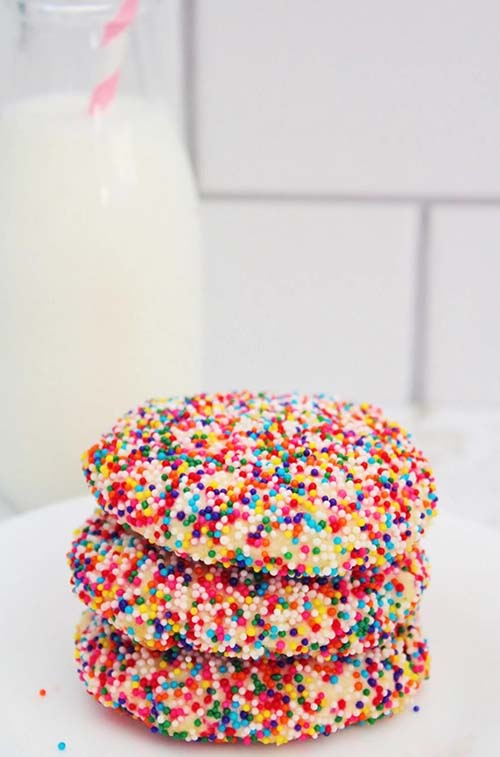 Can you have a party without cookies? Is that even legal?!? To spare yourself from potential legal battles on this issue, whip up a batch of these Mexican Sprinkle Sugar Cookies!
76. Margarita Cupcakes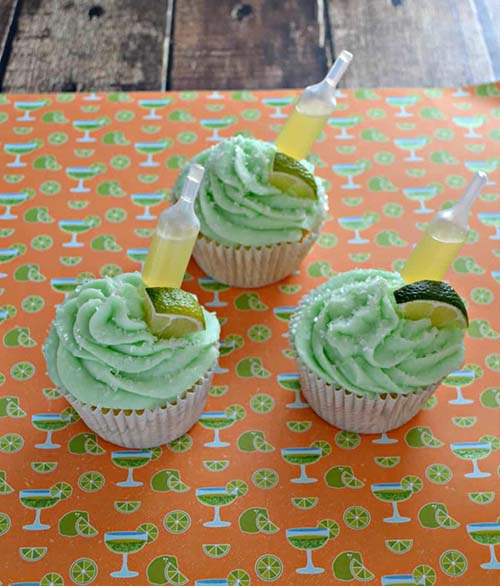 Margarita lime flavored cupcakes topped with a fresh margarita buttercream with a margarita shooter stuck on top. Delicious.
77. Conchas (Mexican Sweet Bread)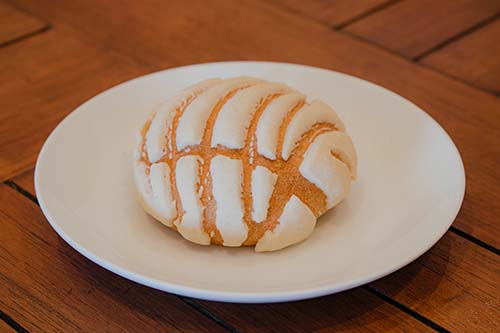 These breads are really popular to dip into coffee and for good reason! They soak up all the flavors of Cinco in one bite.
78. Icebox Margarita Cheesecake Bars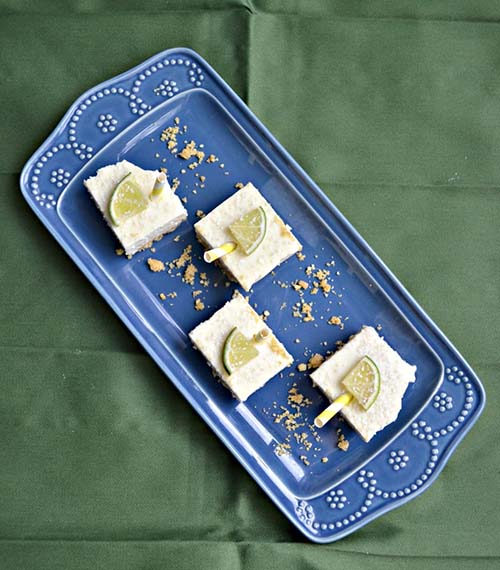 Don't turn on the oven this summer: make these rich and creamy Icebox Margarita Cheesecake Bars with a cornbread crust and fresh lime and orange juice in the batter.
79. Piñata Cupcakes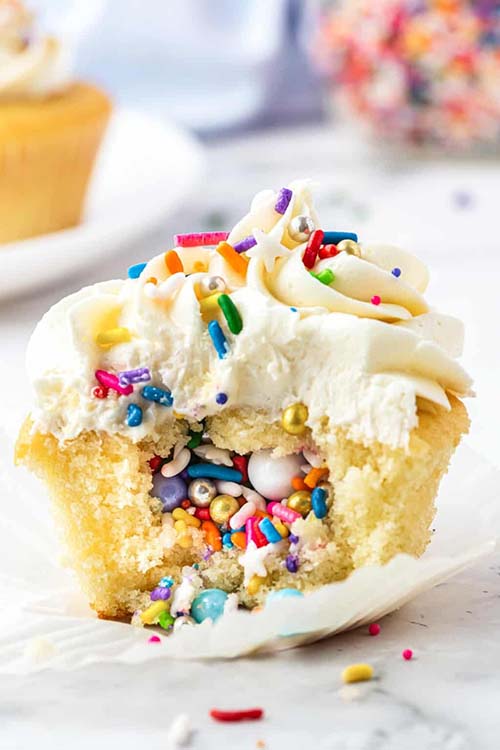 Combine the kid's favorite parts of Cinco all in one with these adorable piñata cupcakes.
80. Flan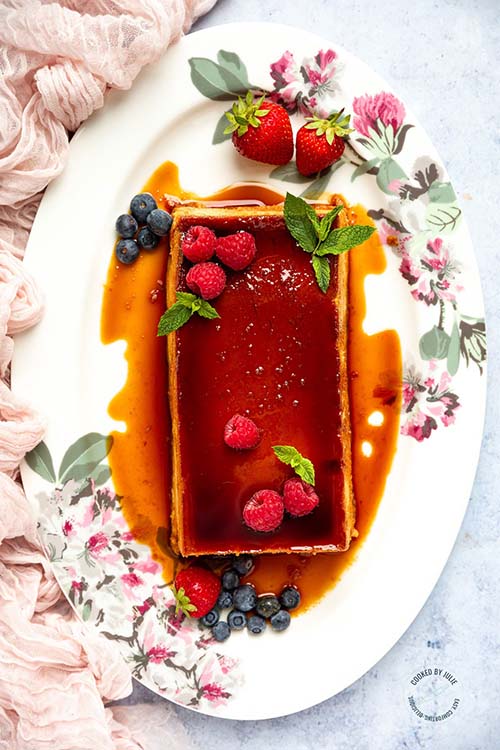 This classic Mexican dessert is so luscious and light, not to mention indulgent and creamy!
81. Mexican Churros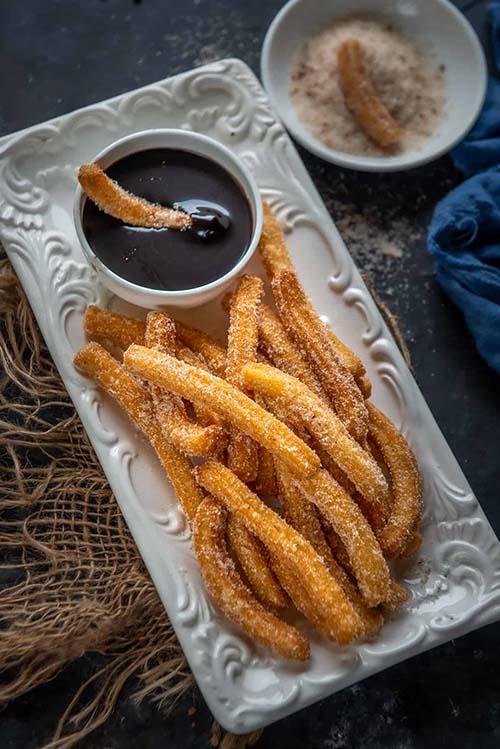 Mexican Churros are great on their own or for dunking in chocolate, a dessert-inspired dip, or your flan!
82. Churro Cookies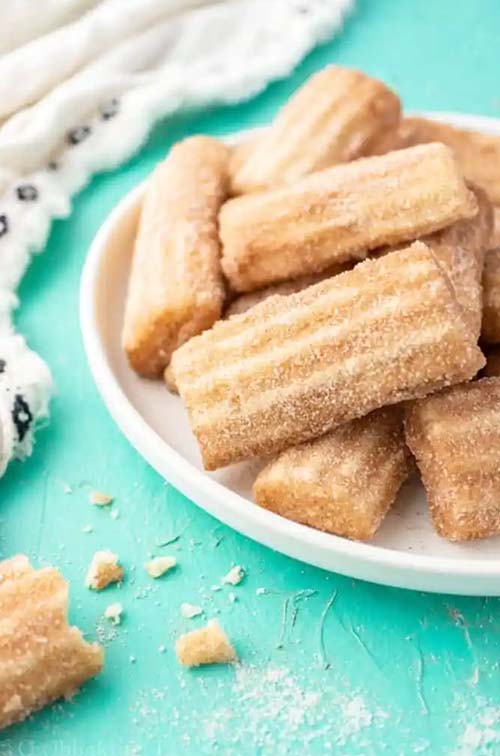 Churros with all the flavor, but without the grease.
83. Margarita Macarons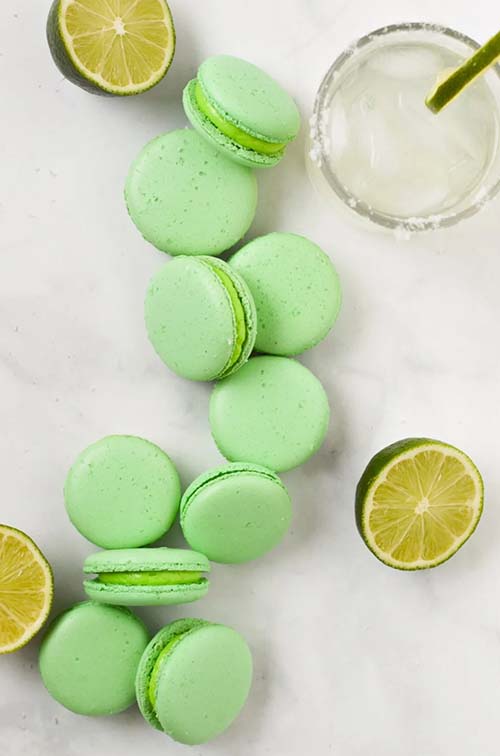 Filled with a delicious tequila lime buttercream frosting, these Margarita Macaron cookies are sprinkled with sea salt in imitation of the classic beverage. This margarita-themed dessert recipe will be the hit at your Cinco de Mayo celebration!
84. Buñuelos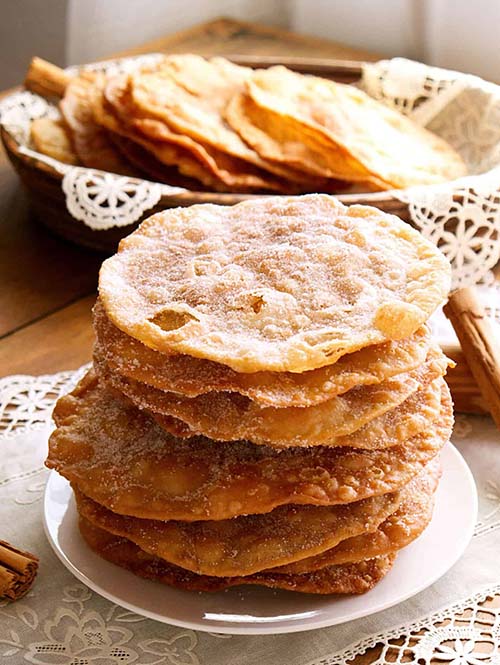 Sweetened with cinnamon and sugar – such a good combo – buñuelos are tortilla-esque fritters sprinkled with cinnamon sugar. These will certainly be a hit at your event!
85. Rice Cereal Tacos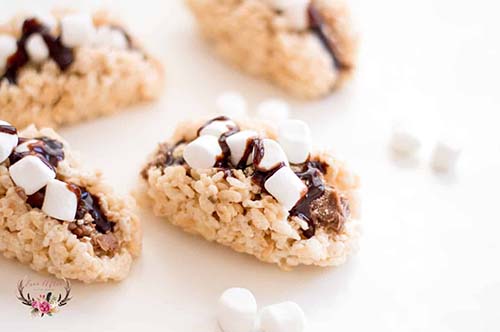 Your traditional rice crispy treat but in a fun taco shape!
86. Cajeta Empanadas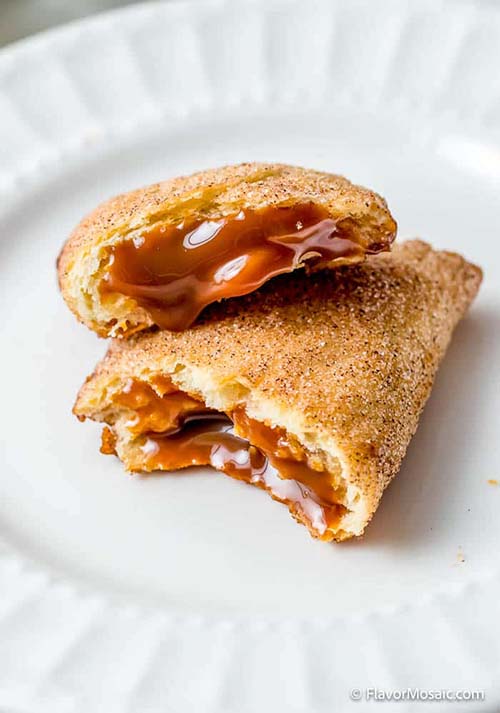 Sweet, creamy, and delicious, these Mexican Caramel Empanadas make perfect hand-held treats. The Mexican caramel is sweet and sticky on the inside while the empanada crust is covered with cinnamon sugar for extra goodness.
87. Watermelon Margarita Popsicles (Tequila & Non-Alcoholic)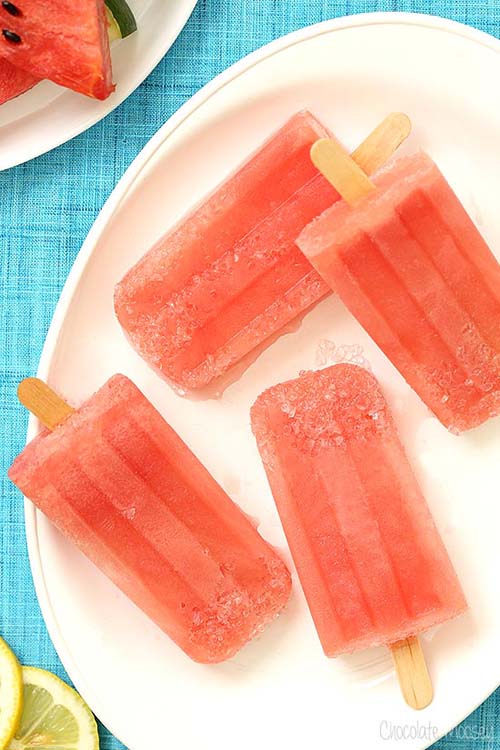 Kick up your feet and unwind with Watermelon Margarita Popsicles! Recipe for both tequila and non-alcoholic popsicles included.
Cinco de Mayo Party Invitations
Now that you have your party planned, it's time to send out the invites! Here are some of our favorite Cinco de Mayo invitations.
88. Customizable Cinco De Mayo Floral Party Invites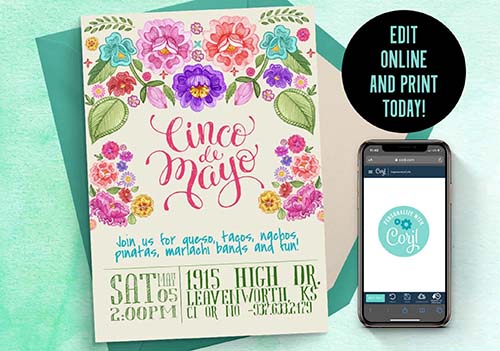 89. Join us for Fiesta! Personalized Party Invites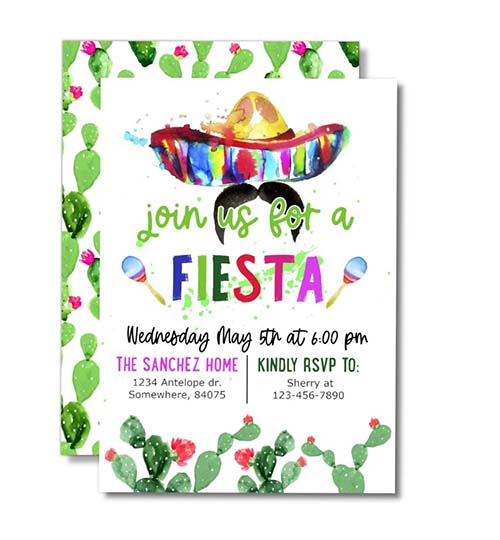 90. If You're Going to be Salty – Cinco de Mayo Party Invite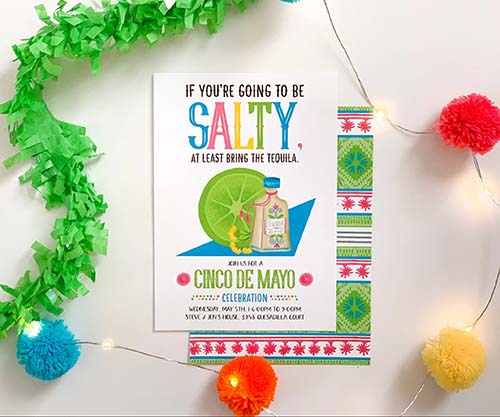 91. Printable Cinco de Mayo Flyers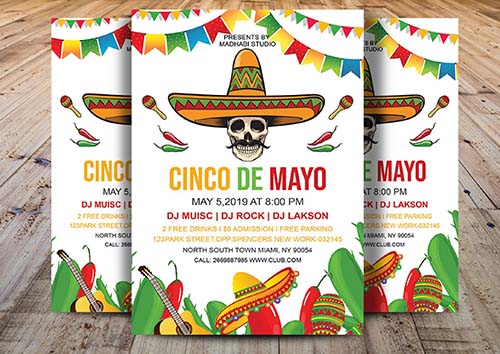 92. Cinco de Mayo Bridal Shower Invitation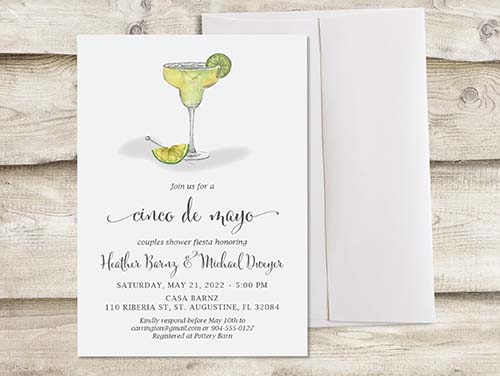 93. Taco 'Bout a Fiesta! Digital Party Invitation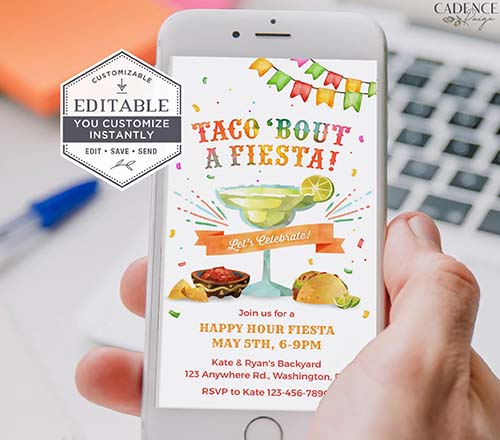 94. Pink & Orange Cinco de Mayo Customizable Invite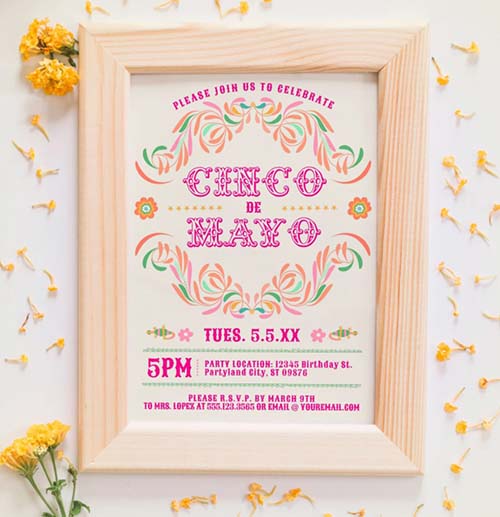 95. "Single" de Mayo Party Invite Printable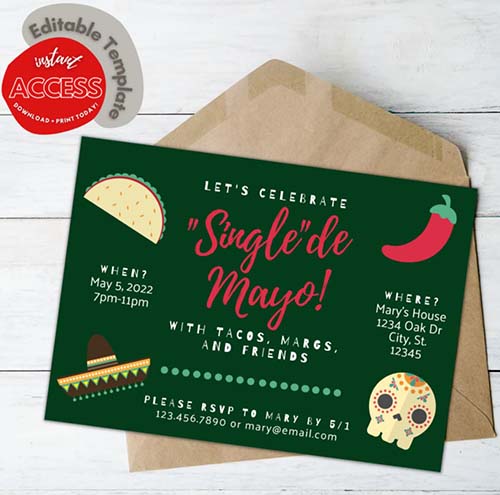 96. Cinco de Mayo Fiesta Invitation Template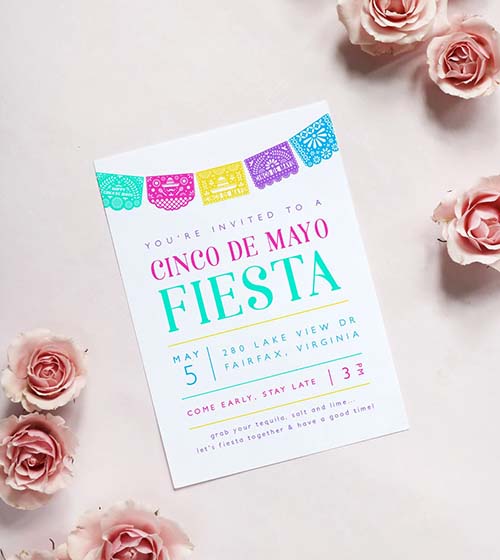 97. Cinco de Drinko Fiesta Party Invites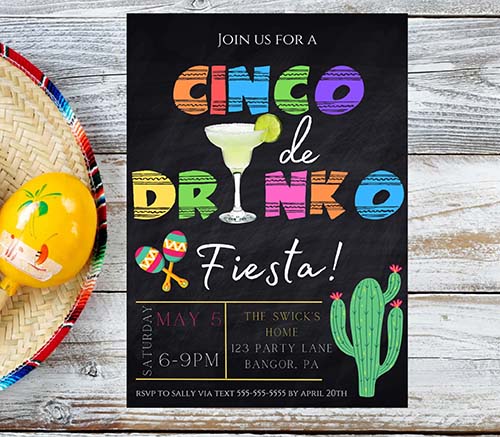 Cinco de Mayo Party Outfits
Your decor is pristine, the invitations have been sent, games and activities have been planned and prepped, and your table is laden with delectables. Now, what to wear? Here are a few ideas to inspire.
98. Nacho Average Mama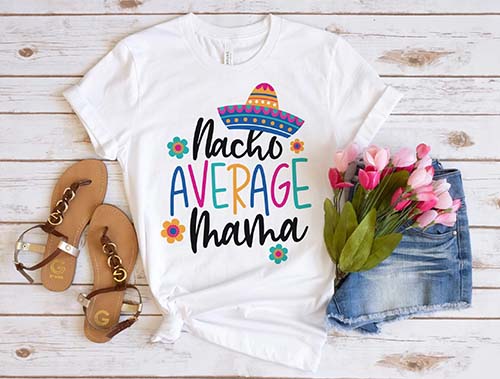 Make it a night to remember with this fun nacho tee! We bet she'll wear it all year around.
99. Fiesta Serape Poncho
Keep the fiesta going late into the night when you have this great serape poncho to wear as the sun goes down!
100. Mexican Baby Dresses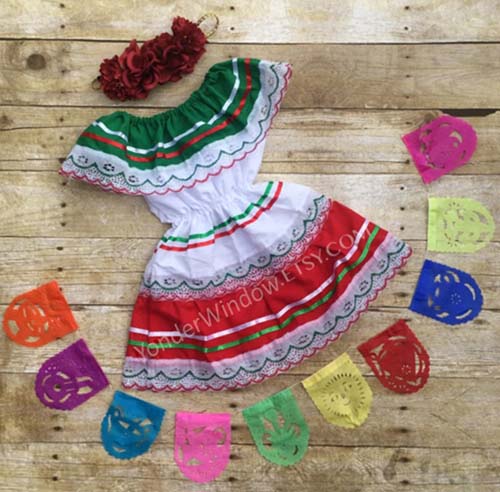 Traditional Mexican inspired baby dresses for your littlest party goer!
101. Mini Sombrero Party Hats
It simply isn't Cinco without lots of sombreros, and we love these tiny options!
102. Traditional Mexican Dress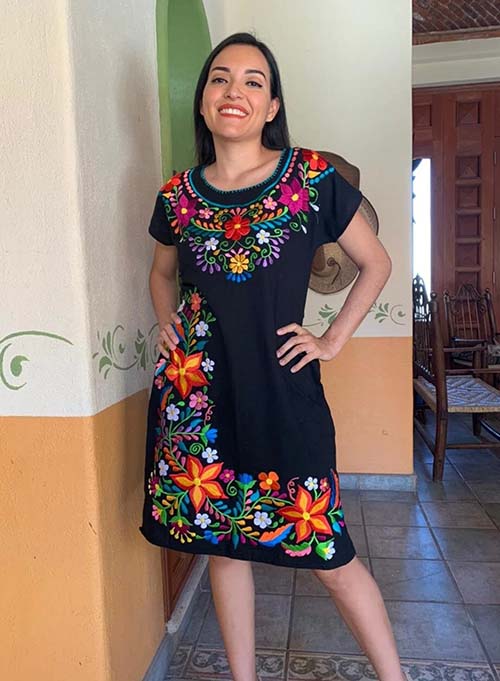 Don't forget to decorate the most important part of the party – you! These beautiful dresses follow the traditional floral pattern you will find all over Mexico.
Read Next: Cinco de Mayo Gifts
Pin It