Let's face it, finding a babysitter on Valentine's Day will be like finding a needle in a haystack! If you didn't book one LAST Valentine's Day, you're not likely to find one now.
But fear not! Having a party WITH the littles can be a lot of fun, too. Especially if your friends bring their kids (which is, in a way, a little like a babysitter, right?).
Whether you plan to celebrate with just your sweetheart, with your whole family, or your besties with kids, we've got some fun ideas to turn your "night in" into a real Valentine's Day party.
10 Best Valentine's Day Party Ideas
Our website is supported by our users. We sometimes earn a commission when you click through the affiliate links on our website. See our privacy policy & disclosures for more information.
1. Create Cute Valentine's Party Invites
The first thing to do is send out some invites! You can go old-school, with proper paper and envelopes, be a bit techier with a cleverly designed email, or just shoot out a group text. Make it easy on yourself with this adorable, customizable template.
Don't forget all the pertinent info: date, time (both start and finish), what to bring, what to wear, RSVP, etc.
2. Play Valentine's Day Jeopardy
This fun customizable Valentine's Day themed Jeopardy game is a must-have! You can add in your own touches, and even your own questions. There are plenty of fun categories to choose from, too.
For another option that's a hoot to play with friends, try You Don't Know Jack! by JackBox TV.
3. Add Some Creatively Sweet Decor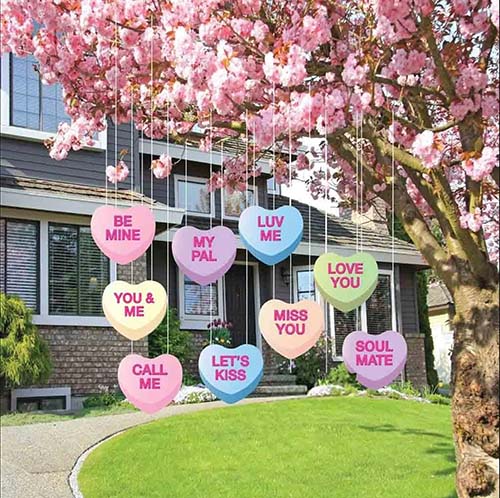 These hanging Valentine's Day decorations look just like the real thing! (And probably taste similar, but let's not find out.) They'll instantly make your front yard or your back porch party ready. Everyone will know who is hosting the party with these adorable hanging candy hearts.
If balloons are more your style, you can't go wrong with this poppin' archway, all done up in romantic hues of pinks and reds. It's a quick and easy way to blow up all 107 balloons because it comes with a pump! (And even the pump is heart-shaped … awwww).
4. Valentine's Dress Up Party
Dress up as your favorite Valentine-themed character. This might be a heart, cupid, famous lovers like Antony and Cleopatra, or characters from your favorite romantic movie or book. The sky's the limit!
Of course, since your guests will be encouraged to dress up too, you might as well have some prizes for Best Costume.
5. Love Songs Karaoke Party
Get yourselves a karaoke machine and let the fun begin! Only the sappiest of most corny and cheesy love songs need apply.
6. Popcorn & Movie Night
No party is complete without popcorn! Try making it ahead of time and drizzle pink dyed white chocolate over it, or add in some Red Hot candies.
As far as movies go, consider your audience! If it's all adults, think Titanic, Romeo and Juliet, The Notebook, Casablanca, or Gone With the Wind. If it's a family party, consider Up, Frozen, Annie, Enchanted, or one of Disney's live-action remakes.
Related: 50 Amazing Ideas for a Super-Fun Movie Night
7. Everything Pink Party!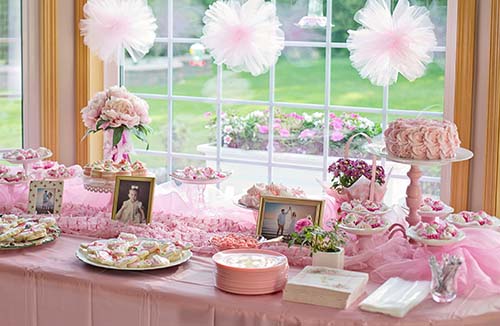 From head to toe, wall to wall, decorate the entire place (and all your food) in pink! Even the boys must embrace the Pepto Bismol theme with this fun idea. The photos are going to be awesome sauce!
Pink foods to consider: cookies, Hostess Sno-Balls, strawberry ice-cream, fresh strawberries, animal cookies, pink lady apples, ham, roasted red potatoes, shrimp cocktail, grapefruit segments, salmon, pink M&Ms (did you know you can order just the pink ones!?!), watermelon, rose wine, and pink lemonade.
8. Host a Classic Tea Party
Whether it's with just the two of you – or a Galentine's Day party – dressing up and hosting a classic tea party is always fun! Don't forget the tiny foods, plenty of teas, sugar cubes, and fancy hats!
9. Share Chocolate Strawberry Fondue
You can't have a Valentine's party without the classic, and delicious, chocolate covered strawberries. Make them yourself or place this out for guests to use during your party. It will be the most memorable – and delicious – part of your evening!
10. Throw a Galentine's Day Spa Party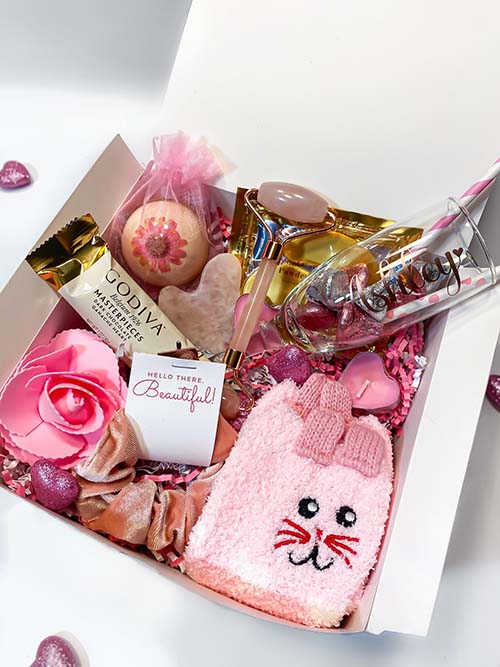 Spend the day with your favorite single gals (or gals whose husbands didn't plan anything!) with a much needed spa treatment.
Go out to a public place (did someone say mud bath?), enjoy some time at home with this spa box and a glass of wine, or whip up a batch of pink cocktails. Make it extra classy with some sliced cucumbers for your eyes, masks for facials, and maybe even hiring a tween to paint everyone's toenails.
Related: Every Holiday You Can Give Cute Gifts
Romantic Valentine's Day Party Ideas for Couples
The best Valentine's Day party is the kind you share with the love of your life… just the two of you or with other couples, whether you're introverts or total party-loving extroverts, you'll find some romantic and exciting ideas below!
11. Paint & Sip Date
If you both love to paint and drink, this is a fun activity to do with either just the two of you or with all of your friends. Don't forget to take a group photo with your masterpieces to post on social media!
12. Celebrity Couples Matching Game
Pick your favorite celebrity couple (don't worry if they've broken up, celebrities never seem to stay together long, do they?). Then have fun dressing like them! Go old-fashioned, like Bogey and Bacall, or contemporary like Blake Lively and Ryan Reynolds.
Add on the fun and see who knows celebrity couples the best with this printable game!
13. Romantic Brunch
Spend brunch time the best way possible – with donuts, mimosas, and your boo-thing! Who needs to stay up late when you can start the party earlier in the day? Besides, lots of us have to work in the morning, right?
Book your favorite breakfast place soon or plan out your own!
14. Red Heart Galore Decor
Decking out your bedroom for your significant other is a great way to be romantic and swoon-worthy. Especially if it's a surprise! They'll be entranced with this gorgeous Valentine's Day themed boudoir. Ooh la la!
15. Love Potion Cocktail Hour
Make delicious Valentine themed cocktails together such as this Love Potion smoothie cocktail. There are lots of romantic looking drinks out there to try: you can go for a pink or red color, or pair your standard alcohol drink of choice with aphrodisiac foods.
16. Have a Sweet Conversation with Cookies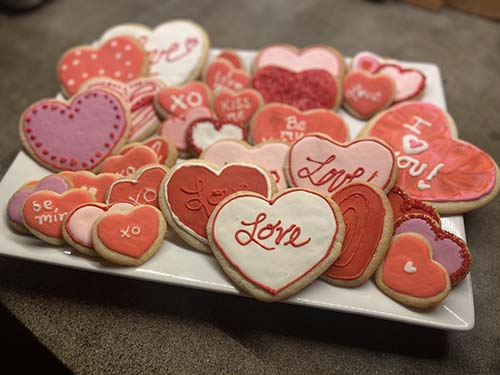 Set out some pre-made heart cookies out for everyone to decorate with their own silly Valentine messages for each other such as "be mine" or "ur cute".
Fun to decorate, fun to eat!
17. Can't Have a Party Without Twister
It can't be a Valentine's Day party without Twister, it's an unwritten rule! Don't worry if you aren't as flexible as you used to be, the fun is in the tumbles.
18. Talk, Flirt, Dare!
Talk, Flirt, Dare! These fun & romantic conversation starters can be used personally, or at parties according to the description. It's a fun way to break the ice and get to know one another.
No awkward silences here, not at this party!
19. Wine & Chocolate Charcuterie Board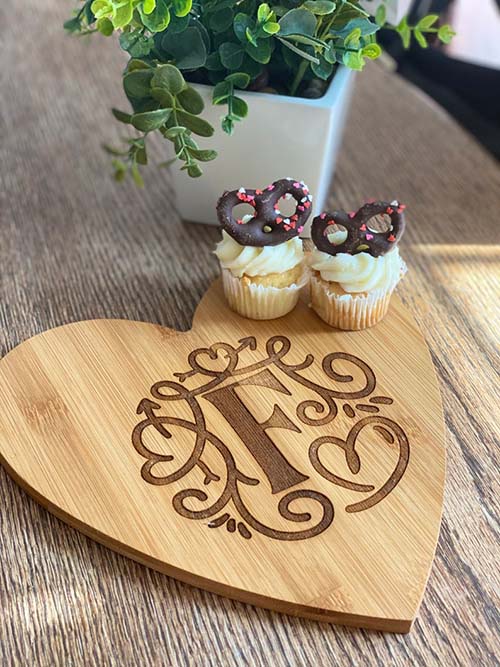 Wine tasting is fun for any wine-lover, but to include a romantic charcuterie board? That makes for a fun Valentine's night, not to mention absolutely delicious! This sweet little cutting board is personalized, too, so it's extra special.
A great way to bring a treat to a friend's house and leave them with a nice gift at the end of the night. Or put your own initials on, and you'll have a cutting board to reuse for years to come.
20. Romantic Movie Night
If it's just you and your Sweet Boo, or you're having the whole gang over, there are lots of romantic movies out there to choose from! So get out the cozy blankets, romantic candles, and favorite drinks – there are lovey-dovey movies to watch!
Here are just a few to add to your binge list:
For more adult-friendly ideas for your Valentine's Day party, check out this article!
Fun Valentine's Day Party Ideas for Kids
With children in the house, you want something to keep them busy (besides consuming box after box of V-Day candy). Here are some of our favorite Valentine's Day party activities for kids.
21. Valentine's Day Activity Box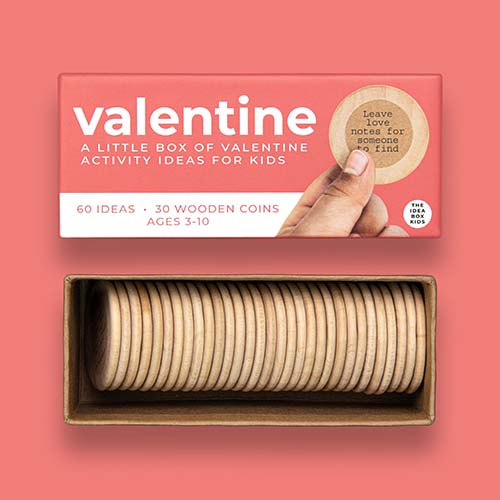 Valentine's Day doesn't have to exclude the little ones! They love "Love" too! With 60 fun activities, these cute little wooden discs will keep them totally entranced and occupied.
22. Smash a Heart Pinata
What kid DOESN'T love a pinata?! None that we've ever met so go all out this is cute cupid heart pinata. Don't forget the bat and bandanas.
Want to go all out? Stuff with only pink and red candies/toys.
23. Emoji Games
Kiddos know their emojis! Probably better than their parents do actually… So, let them have fun with these clever emoji themed games. They'll be in a friendly competition in no time!
24. Sweetheart Coloring Pages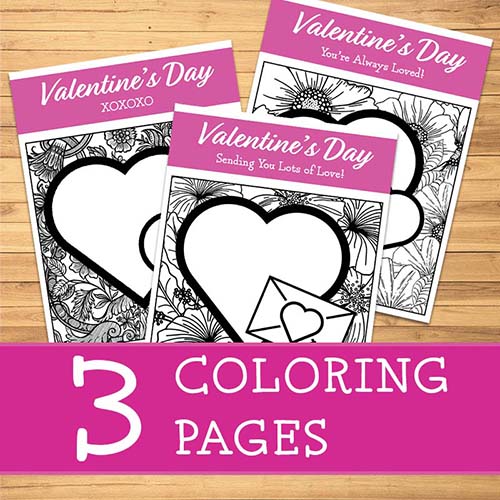 Pair these adorable coloring pages with lots of markers, colored pencils, and crayons then watch the magic happen! Don't be surprised when the adults want to join in the coloring fun so make sure to have plenty of sheets on hand.
Might be fun to hold an old-fashioned coloring contest at the end, with a judging panel! Or scotch-tape them up on all the windows for some instant Valentine's Day décor!
25. Love Potion Ring Toss
This cute ring toss set is totally applicable for Valentine's Day with its bright pink colors and heart shaped rings. It will keep the littles entertained for a long time and can be played with strict rules, or just simply as-is.
Adults can join in or be free to socialize with one another while their children have a fun activity.
26. Cupcake Decorating Party!
You supply the cupcakes and decorating supplies: the guests supply the creativity and panache! Everyone will love decorating their own cupcake, only to gobble it up afterwards.
27. Crafting Hearts
Kids just LOVE arts and crafts, don't they? They'll go bananas over these sweet wood hearts that they can put together, paint, and decorate.
You can even purchase them personalized with their initials if you like!
28. Bean Bag Toss Game
For the backyard or a big bonus room, this bean bag toss game is perfect! The kids will have a blast trying to get their bean bags inside the clever and adorable Valentine's Day themed banner.
Throwing in the house is finally okay with Mom!
29. BFF Sleepover
Nothing like spending time with your BFF's that love you on this sweet day!
Spend time eating candy, pizza, popcorn, and watching silly movies together in these matching slumber party squad pajama shirts! Especially great for that in-between age of the Tweeners, who aren't ready for romance, but don't want to miss out on a holiday.
30. Activity Place Mats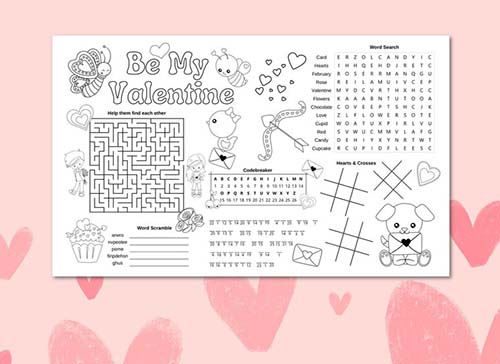 Just like those fun, old-fashioned paper menus you used to get at a restaurant when you were a kid, only better! Supply some crayons on the table and watch the black and white artwork come to life.
This is a real crowd pleaser for the kindergarten age group, but even the older ones will want to solve the puzzles!
Related: Valentine's Day Gifts for Kids
Heartwarming Valentine's Day Party Ideas for Families
Let's take a look at some party ideas and activities the whole family can enjoy on Valentine's Day – invite your friends, too!
31. Valentine's Feud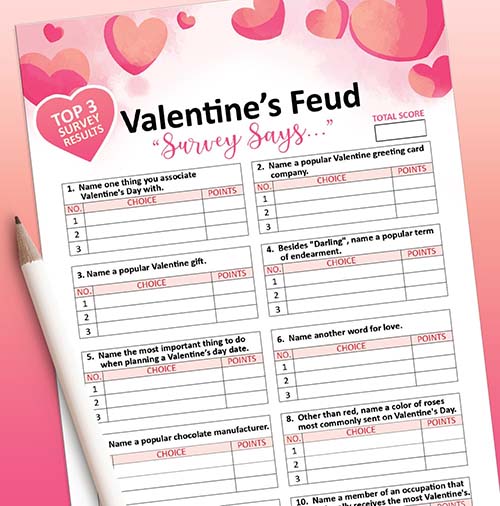 Fun for the whole family, this Family Feud style Valentine's game will keep everyone thinking hard and laughing too! Don't forget to scour your house for lots of pencils. And hey, no cheating on your neighbor!
Prizes for winners are always a good idea *wink wink*
32. Heart Wall
Fill up a wall with hearts that list everything you love and appreciate about each other! This is a fun one to do last minute or build up to it by supplying the paper hearts ahead of time for everyone to fill out.
Make sure to take pictures when done – paper doesn't last forever, but photos do!
33. Would You Rather: Valentine Edition
This Valentine's theme Would You Rather game is not only family friendly, but you'll learn so much about each other! You'll be saying awww one minute, then laughing hysterically the next.
What a fun way to spend the evening with your favorite people.
34. Make Your Own Heart Pizza
Whether you make it with the kids or for the kids, follow this recipe to enjoy a heart shaped pizza together! Pizzas are the perfect family dinner because they're so versatile. Allergies, preferences, you name it, you can assemble the perfect pizza for everyone.
35. PJs & Breakfast for Dinner
Nothing like spending time together in comfy pjs while eating heart-shaped pancakes for dinner. Oh boy, this could become a new yearly tradition!
36. Musical Hearts Valentine's Day Game
Here's how to play Valentine's Musical Hearts: Set down hearts with numbers on each one all along the floor. Have someone play music, then stop it at random. When it stops, they then draw a number from a bowl… if someone is standing on that number, they win a prize!
Prizes can be totally silly, super cool, or way simple. Maybe a mixture of all three!
37. Valentine's Day Treasure Hunt
Print out this handy Valentine's Day treasure hunt download and you have an instant party game! The kids will love scouring the house and yard for all the needed items.
38. Balloon Pop & Find the Sweet Message
Write each family member's name on several heart balloons (or just the kid's names) and drop a note inside that has what you love about them written on it. "You're awesome at singing!" "You have the best hair on the block!" "I love your smile!"
Fill up the balloons and spread them around. Send out each person go find their balloon and pop it to read the message.
39. Sweet Valentine Puzzle
Spend relaxing, quality time together while completing this sugar filled puzzle. Unlike Sorry, Clue, or Monopoly (which are obviously designed to tear apart families, haha) a puzzle is a more soothing end to what was probably a sugar fest day at school!
40. Kids' Movie Night
Kiddos like sweet and romantic movies too, as long as there isn't too much kissing – ewwww gross!
Here are some friendly movies you can safely leave them watching-
Meaningful Valentine's Day Party Ideas for the Classroom
What do you do on Valentine's Day with a classroom full of crazy kiddos? Here are some of our favorite V-Day school party ideas!
41. Share Cards Around the Classroom
Everyone loves getting a whole shoebox of sweet Valentine's cards in February! These cute instant downloads really fit the bill nicely.
42. Sweet Classroom Party Favors
Send them home with a little something to remember the day by, like these fun stationary party favors.
43. Valentine's Day Word Search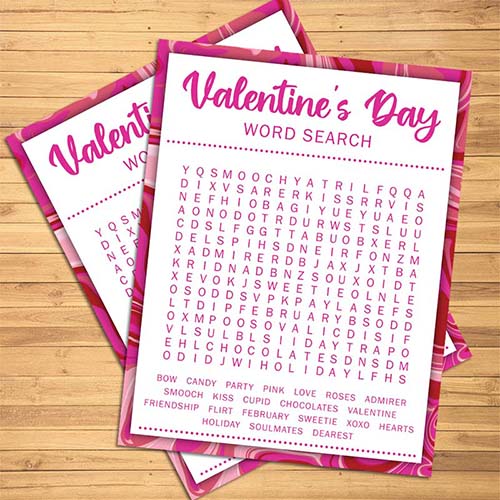 Keep their minds whirling and their brains working after all that sugar with this Valentine's themed word search! Each child will love finding all the hidden romantic words.
44. Cute Monster Ornament Crafts
These crafts are so adorable! Monsters have never been so cute as they are with these little ornaments that the kids can decorate themselves.
More: Valentine's Day Ideas for Schools
45. Cupid's Arrow Toss
Divide up the class into teams and give each group a handful of Q-tips. Place down a long line using tape (or just a long blanket) and place a large bowl at the end of it. Line up the kids to try and toss their "cupid's arrows" into the bowl.
Whichever team was able to get the most Q-tips in their bowl, wins!
46. Adorable Table Signs
Having one at each desk is a fun and easy way to brighten and cheer up the schoolroom without a lot of work! They'll love that they each get to take home their centerpiece too.
47. Fun Photo Booth!
Not only will kids have a blast with this, but the parents will also love the photos. Set out as many props as possible and watch the goofy shenanigans begin!
48. Valentine's Day Word Scramble
Kids love puzzles and, fortunately for parents, they're a clever and sneaky way to keep their brains sharp. They'll have lots of fun completing this Valentine's Day word scramble, especially if there's a prize at the end for fastest winner.
49. What I Love Memory Book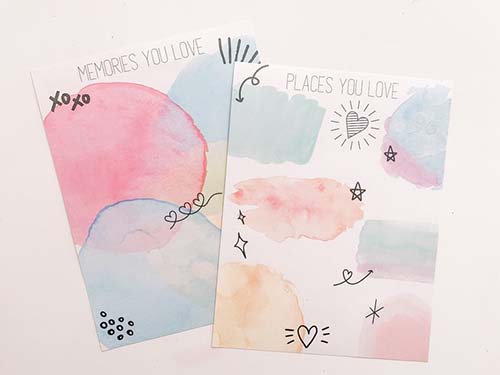 It's important to remember it's not all about the candy, cookies, and stuff you get for Valentine's Day, but sharing the love is what matters! These memory books will get it all down on paper, where it will last forever.
Parents will love seeing this come home in their kid's backpack, rather than yet another bar of chocolate!
50. Large Group Bingo
There's a reason why Bingo never goes out of style, year after year: it's just plain fun! Ages from 3-103 will love pairing up to play a good old-fashioned game of Bingo, especially when it's Valentine-themed.
Read Next: 15 Super Fun Valentine's Games for Kids
Pin It