Finding the perfect anniversary gift can be a challenge. To help you out, we have put together an exhaustive list of phenomenal gifts and ideas.
Continue to read and see what we've put together for you. Your spouse is sure to appreciate anything you may choose from this catalog.
Enjoy!
Our website is supported by our users. We sometimes earn a commission when you click through the affiliate links on our website. See our privacy policy & disclosures for more information.
All About the 9th Anniversary
Below we have compiled all you need for your 9th-anniversary gift ideas, including this year's gift themes (new and old!), flowers, gems, and more.
9th Anniversary Themes
This is part of our series on Anniversary Gifts by Year.
What is the traditional 9 year anniversary gift?
Pottery.
Why is pottery the traditional ninth anniversary gift?
Pottery has is used as a vessel to carry water, which flows and adapts to its surroundings just like your marriage has for the past nine years.
What is the modern 9 year anniversary gift?
Leather is the modern 9-year anniversary gift.
Why is leather the modern 9th anniversary gift?
Leather represents durability, flexibility, and warmth. Leather is a gift that gets better as time goes on.
What is the 9 year anniversary stone?
Lapis Lazuli is the 9-year anniversary stone.
Why is lapis lazuli the ninth anniversary stone?
Lapis lazuli is a stone that is a deeply intense shade of blue. This stone is believed to promote harmony and friendship. Who doesn't want that in their marriage?
What is the 9th anniversary flower?
The poppy is the ninth-anniversary flower.
What is the 9 year anniversary color?
Terracotta is the color to celebrate your ninth anniversary.
10 Best Ninth Anniversary Gifts
Let's take a look at gift ideas! Most of these incorporate the year's specific theme, but some are just plain creative, romantic, and perfect for any year. Read on!
1. Custom Portrait Plate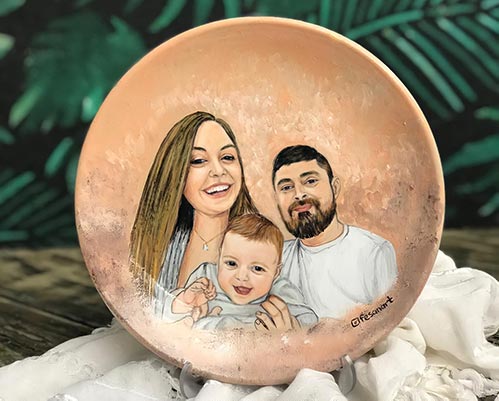 Imagine the smile on her face when she opens this gift – a beautiful hand-crafted porcelain family portrait plate. You can personalize the plate on the front or the back. The choice is yours.
This is a piece of art that she is sure to cherish from the moment she lays eyes on it. It is perfectly suited for display in any room of your home.
2. Pottery Mugs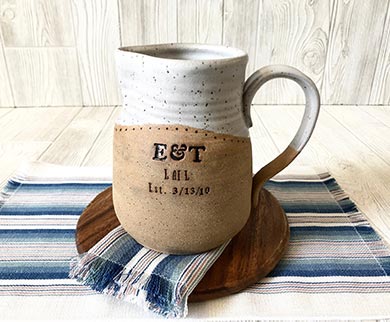 What do you think she'll say when she opens this beautiful personalized ceramic pitcher?!
She will use her new handcrafted pitcher to serve wine, juice, water, or any beverage. It would also make a beautiful centerpiece on your dining or kitchen table.
Because it is hand-made, no two pieces will ever be the same.
3. 9th Anniversary Pottery Card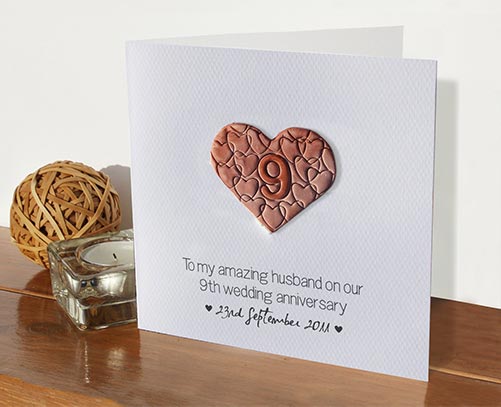 A truly original anniversary card for your husband or wife. Made from pottery and high-quality cardstock, your spouse, will keep this amazing card for years to come. It is perfectly suitable to frame and display.
Personalize the front with your wedding date – a date set for all eternity. For the inside, be sure to write a sweet, romantic, and memorable "happy anniversary" message!
4. Leather Frame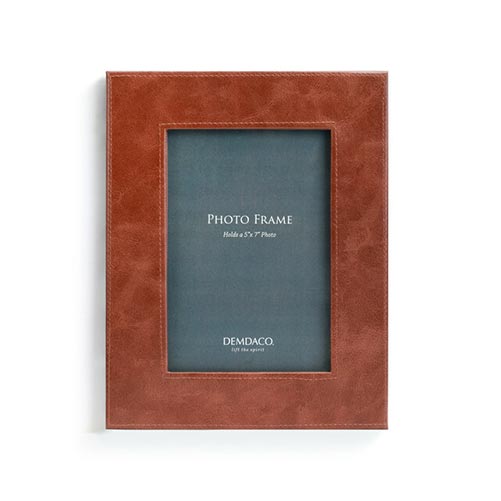 Stitched detail adds a hand-made feel to this rustic leather frame. He will relish being presented with this gift and a favorite photo of the two of you.
He is sure to display it on his bedside table, dresser, or work desk. A beautiful piece to remind him of the love you share.
5. Engraved Bookmark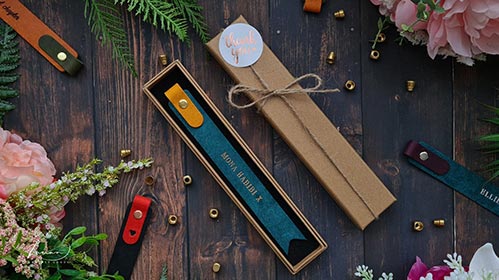 Your book lover is sure to enjoy a hand-made leather bookmark. You can customize with a name, date, or short text message.
Perfect for a coffee table book, a Bible, or that novel she's been wanting to read.
Choose from seven beautiful colors with a contrasting loop color. This is an anniversary gift that will last for years and years.
6. Pottery Classes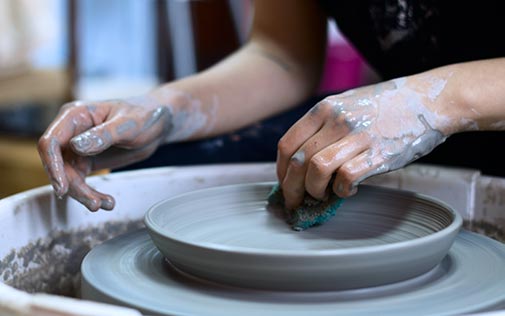 Learn to make pottery together. Because ceramic is the 9th anniversary gift theme, this is the perfect introduction for the two of you to share a new hobby.
Courses from Udemy are given online so you can learn at your own time and pace. Or you can find local classes where they have everything set up for you.
Make some beautiful pieces to decorate your home or office. A couples' gift you are both sure to enjoy.
7. Leather Rose
On your ninth anniversary, your wife would enjoy receiving a beautiful leather rose. Each rose is hand-crafted from genuine leather, with no two ever being the same.
Leather symbolizes your marriage has become a source of protection and security. Choose her favorite color from seven different shades. She will lovingly display her rose for years to come.
8. Custom Card Holder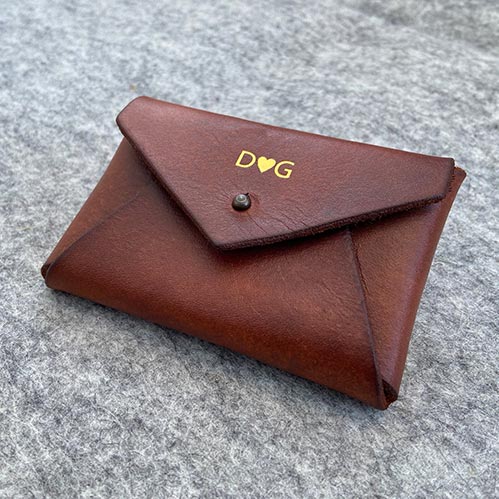 A multi-use pouch for him or her, handmade from leather with a name, initials, or left blank. Perfect for business cards, coins, or folded bills.
With so many colors to choose from, you can pick his or her favorite. A gift that your love will cherish for a very long time.
9. Happy Ninth Anniversary Bowl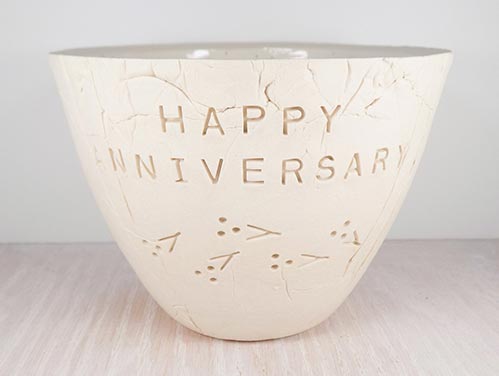 Say "Happy Anniversary" to your beloved with a handmade piece of art. Crafted from clay, every one will be an unique original.
She can use her new bowl for serving or display it on a shelf. Whether filled with candy or flowers, this is a gift that is both functional and pretty.
10. Pottery Windchime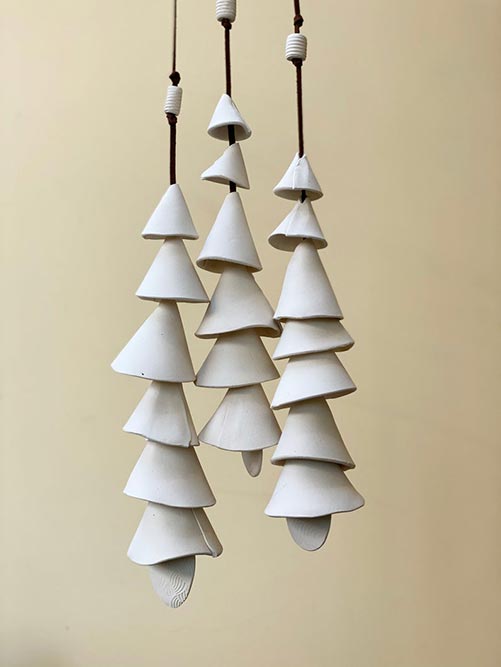 A beautiful ceramic windchime she will treasure. Everyone will enjoy how they look and sound.
She can hang it on the patio or even inside. Her new windchime will add beauty and elegance anywhere she decides to display it.
Traditional 9th Anniversary Gifts (Pottery)
11. Engraved Serving Platter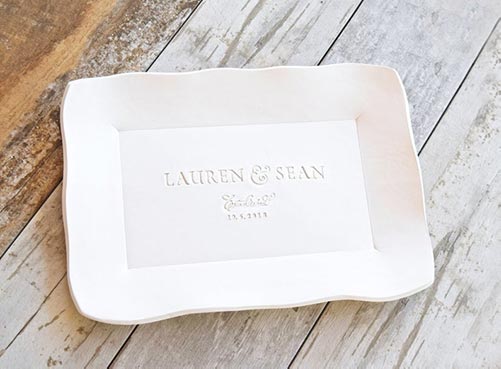 An elegant gift for your ninth anniversary – a personalized serving platter. Have your first names, and your special date etched into this platter.
She will use this pristine white platter for display and serving your favorite meals or treats.
12. Gaiwan Tea Set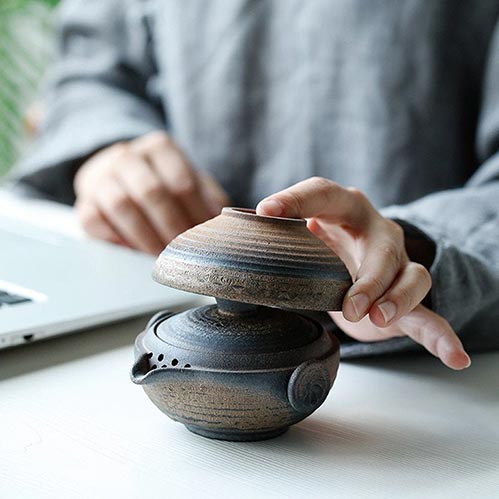 When you need a relaxing cup of tea, you will enjoy using this traditional Tangpin teapot. Surprise her by brewing her the perfect cup after a long day at work or a hectic day at home with the kids.
A gift you both will use over and over.
13. Heart Wall Pocket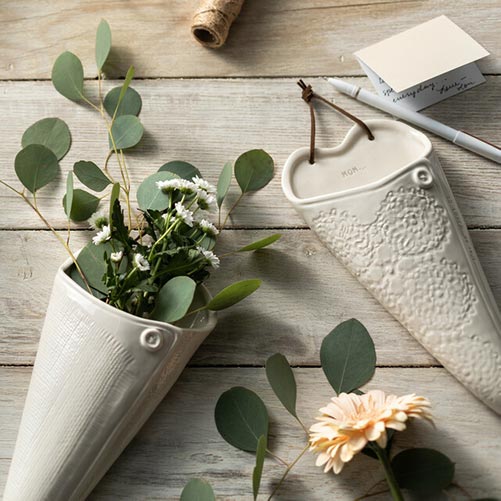 The Heart Wall Pocket is wall décor; this is perfect for holding notes or flowers. This piece will add a little style to any room they displays it in.
Hang on your bathroom wall and place a brightly colored face cloth in it, in the kitchen, place some silk flowers, and it will look charming in the bedroom too.
14. Terracotta Jewelry Dish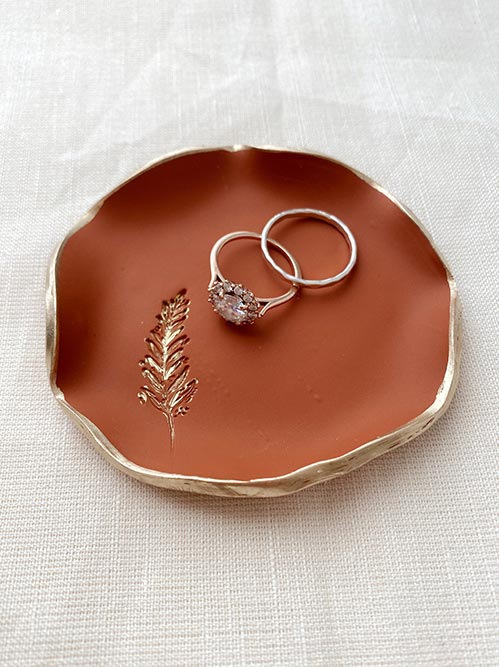 Your beloved will be reminded of you every day she uses this handmade jewelry dish. Made from clay and in a beautiful shade of terracotta, it is perfect for a ninth anniversary gift.
15. Handmade Ceramic Mug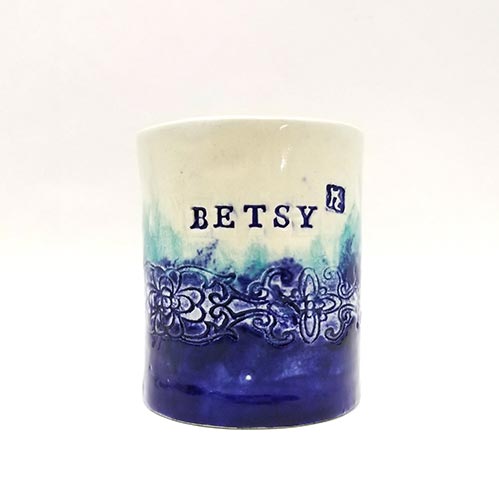 He will enjoy his morning cup of coffee and think of you each time he uses this personalized mug.
The blue colors stand out against the earthen-white porcelain material, and the pattern is breathtaking too!
Modern 9th Anniversary Gifts (Leather)
16. Personalized Leather Journals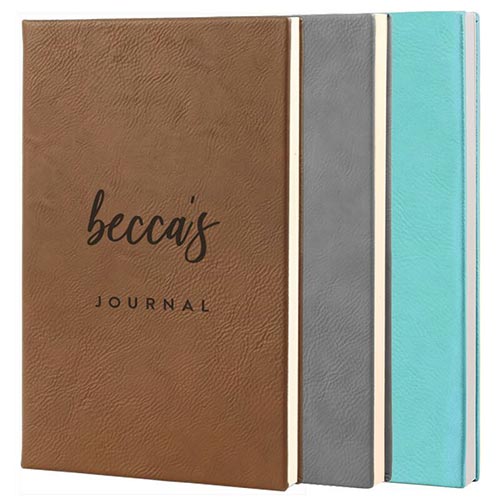 Our personalized "leatherette" journal is a wonderful gift for your loved one—a nice place to keep your private thoughts, artwork, or even recipes.
Have your sweetheart's name engraved on the front of this book to make it extra special. A gift that will be used often and kept for years.
17. Leather Wallet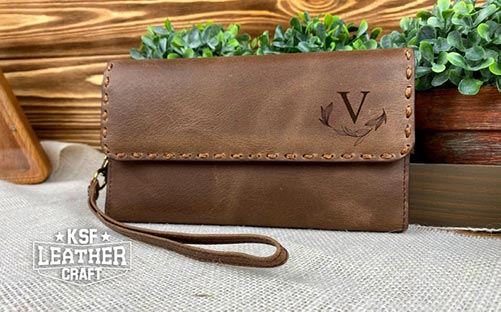 Have her name or initial placed on the front of this genuine leather wallet. On the inside, you can write a personal message, favorite scripture, or poem.
Husbands, this is something she will use for years and years to come, with the genuine leather standing the test of time. And it will only get more beautiful with age, just like the love you share.
18. Custom Leather Stamp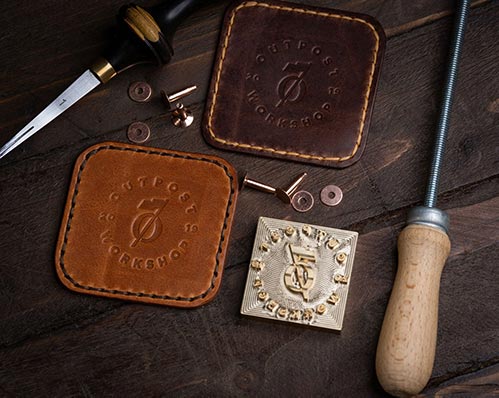 A custom leather stamp is a gift he is sure to enjoy. His stamp can be used on leather, wood, clay, wax, and plastic.
Made from high-quality brass, this stamp will last a long time. He can do his own projects and have pride in them by finishing them off with his own stamp.
Have his name, company, or other branding placed on the custom stamp.
19. Personalized Leather Ornaments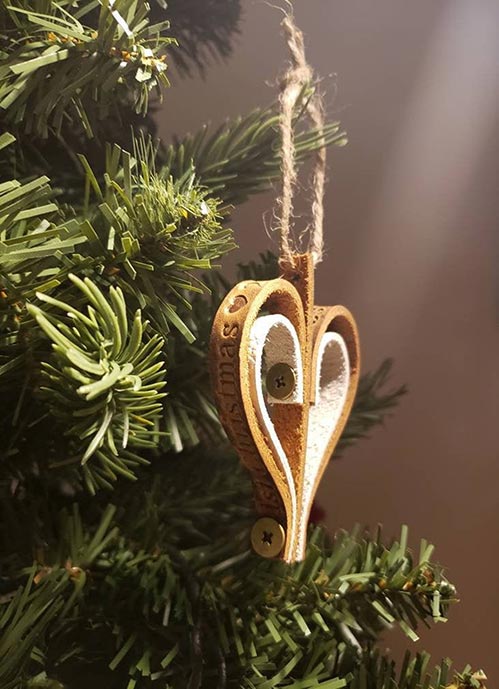 A personalized leather Christmas ornament is a splendid way to commemorate your ninth wedding anniversary. Add your personalization with names and dates.
This ornament will last through a lifetime of holiday seasons spent together.
20. Engraved Leather Tray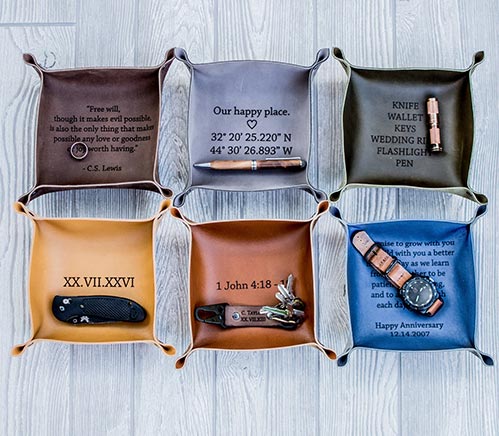 If you're looking for a 9th anniversary gift sure to please him, look no further than this handmade leather valet tray. He'll use it for jewelry, keys, pocket knife, or change.
Personalize with his name, dates, or a short text, and choose a favorite color. A perfect organizer for your guy!
9 Year Anniversary Gifts for Her
21. Lapis Lazuli Engraved Necklace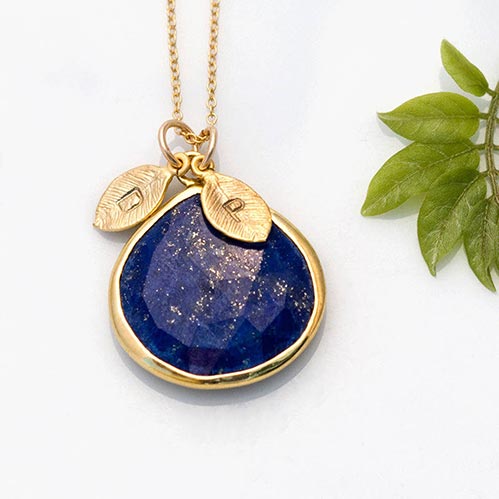 Your wife will shower you with kisses when she opens this exquisite piece of jewelry.
Lapis Lazuli is the stone that is traditionally chosen for your ninth-anniversary celebration. Have her gem set in gold or silver.
She will cherish this necklace for a lifetime and pass it to the next generation.
22. Leather Engraved Purse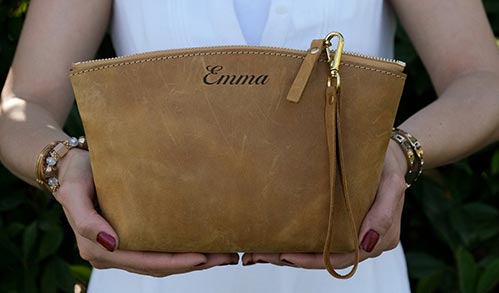 She will adore this handmade leather bag. Have her name embossed to make it truly special. It's a gift that will last for years, one she will appreciate and use often.
23. Poppy Flower Sun Catcher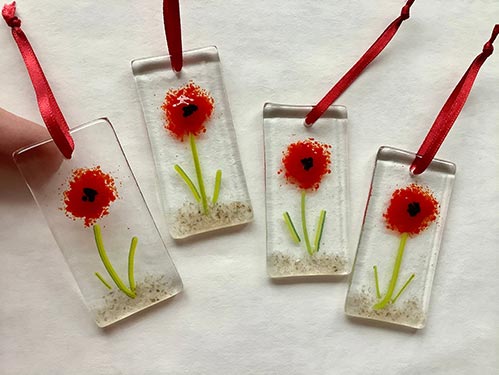 These cute glass suncatchers will make her smile. Poppies are the flower that represents the ninth wedding anniversary. She will appreciate your love and thoughtfulness with this gift.
24. You Are Loved Vase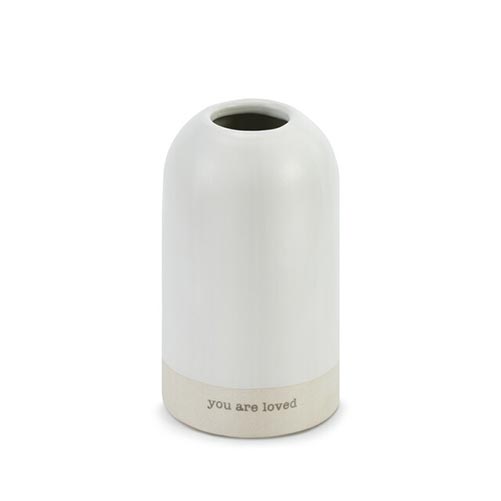 Every time she looks at this simple yet elegant vase, she will be reminded that you love her.
Her vase will match any decor with or without flowers. But, she might appreciate it more if you kept it filled with her favorite blossoms.
25. Poppy Flower Earrings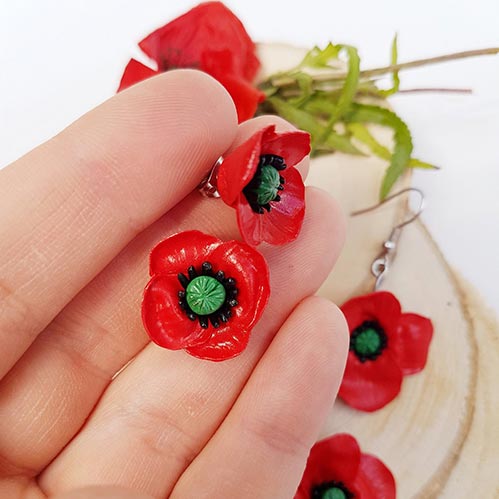 Nothing is quite as cute as these vibrant-colored earrings! Made from polymer clay with stainless steel posts, her natural beauty will make your gift of earrings look even more fantastic.
Celebrate your life and love together with the color and vibrancy of poppies. The poppy symbolizes the peaceful contentment of your nine years together.
9 Year Anniversary Gifts for Him
26. Personalized Leather Flask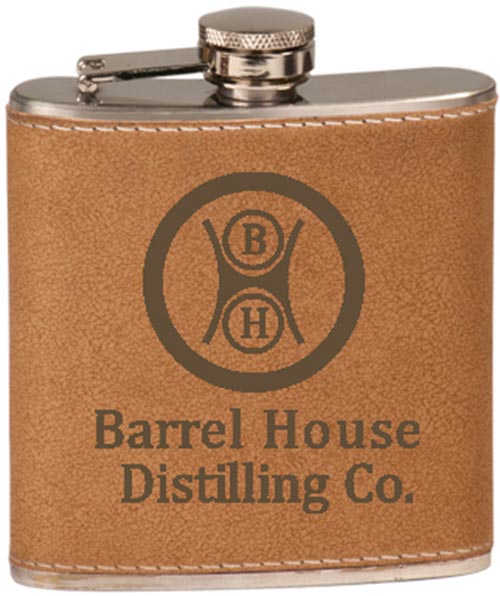 Our custom-made stainless steel flask is covered in genuine leather. Have your husband's name engraved on the front of the leather covering.
He's sure to enjoy this pocket-size flask after a long day at the office or on a relaxing day off. Cheers to you both!
27. Monogrammed Belt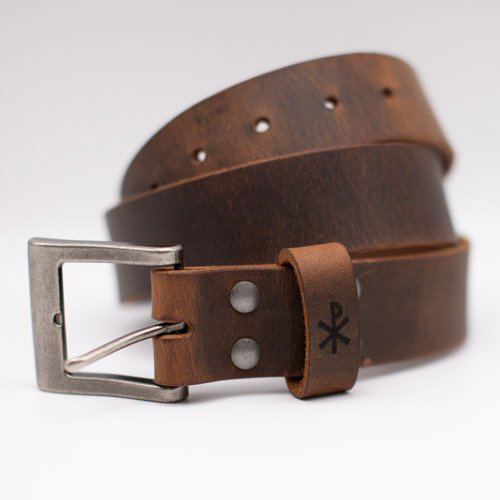 Give him a gift he will use with this genuine leather belt. Put his initials, name, or emblem on the loop – have something special engraved on the inside of the belt.
A wonderfully hand-crafted belt that will last for years.
28. Leather Bracelet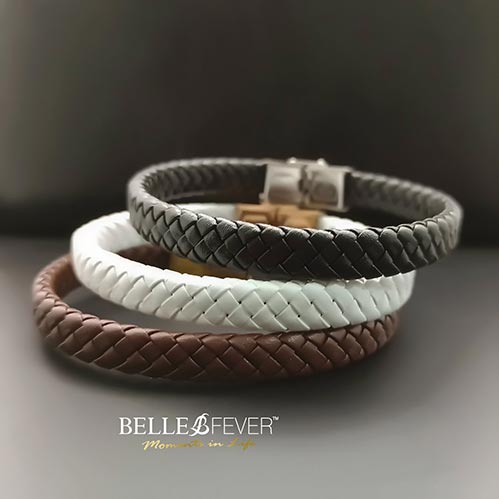 If he is an animal lover, this is a great gift. This bracelet is made from high-grade simulated leather – no animal gave their life for it.
He will enjoy the understated look and feel of his bracelet. It can be worn with just about any style of clothes. He is sure to wear it often.
29. Personalized Cufflinks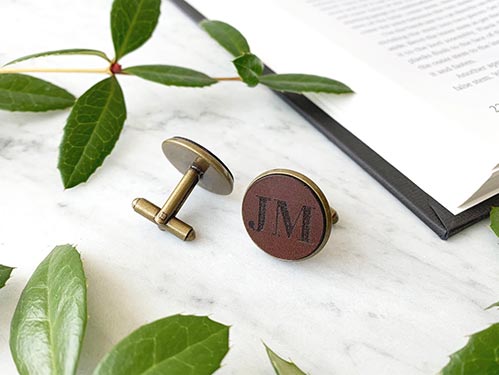 He will be impressed with these classy cufflinks. Handmade cufflinks are embellished with monogrammed leather. You can have up to three initials placed into the leather.
30. Leather Portfolios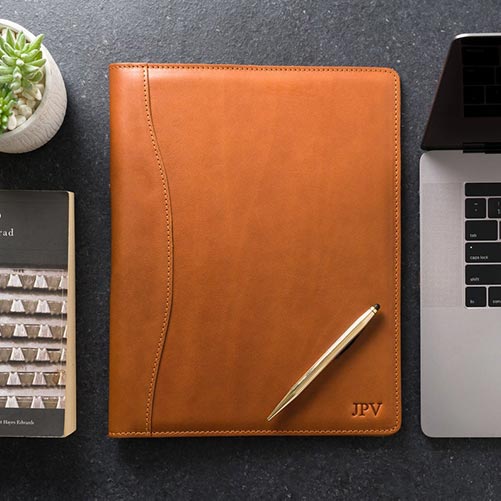 A distinguished high-quality leather portfolio is not just a thoughtful gift but a very useful one too—a perfect addition to any businessman's briefcase.
Every portfolio sold sponsors a day of education for a child in need. Your gift just keeps on giving.
9 Year Anniversary Gifts for Couples
31. Pottery House Sign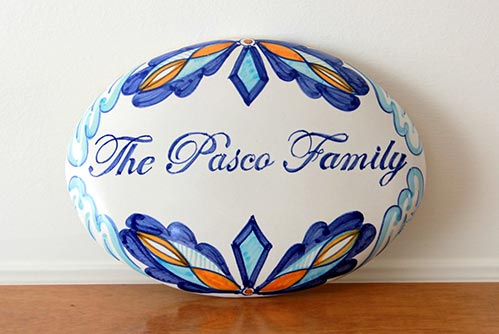 An extraordinary piece of Italian pottery is a considerate gift that your spouse will always cherish. They will proudly display this piece in a place of honor.
This is something that can be passed down from generation to generation.
32. Personalized Succulent Planter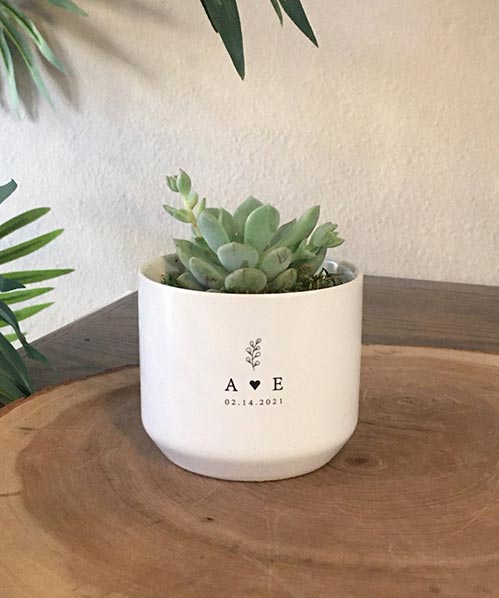 A sweet gift that the two of you will enjoy. Have your initials and anniversary date placed on the front of the planter– a cute reminder of your devotion.
This uncomplicated design will fit in any home or office setting.
33. Leather Tumbler Sleeves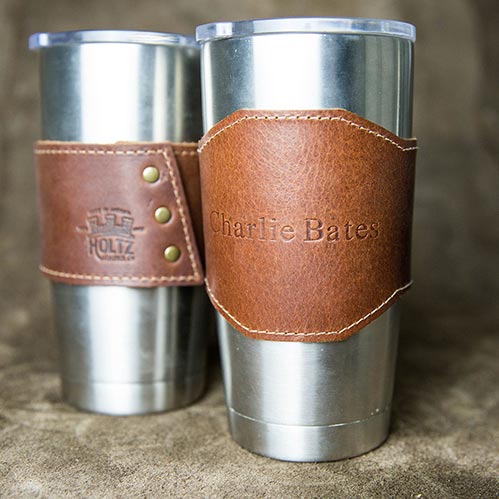 A gift your spouse is sure to like – a leather sleeve for their insulated tumbler. These full-grain leather sleeves can be engraved with up to 15 letters – plenty of space for a name or a sweet saying.
Choose from three colors to match your tumbler. A serviceable gift that will be used often.
34. Personalized Leather Travel Bags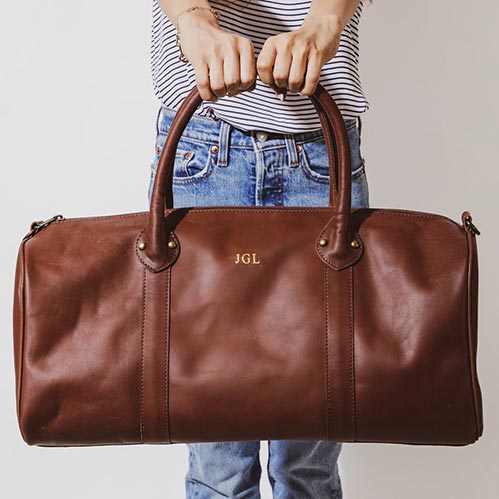 Hand-made from full-grain leather, this weekend bag will get used frequently and for years.
Add a foil debossed monogram for a special touch. The leather is high-quality and smooth to the touch. A gift that will be greatly valued.
No sense buying just one; after all, this is a weekend bag. He won't go without you!
35. Matching Leather Keychains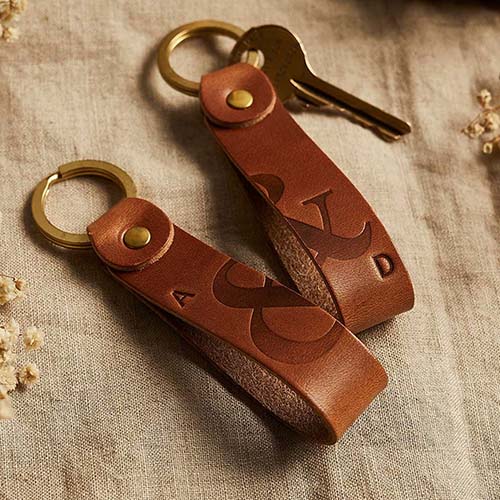 With this leather anniversary gift, you'll each take a token of your love everywhere you go.
The premium quality leather is handcrafted into a matching set of key chains, which are then laser etched with one spouse's initial on each one.
In addition to the personalization, they are also engraved with an ampersand that lines up perfectly when you put the two together… as they always should be at the end of each day!
Unique Ninth Anniversary Gifts
36. Leather Music & Jewelry Box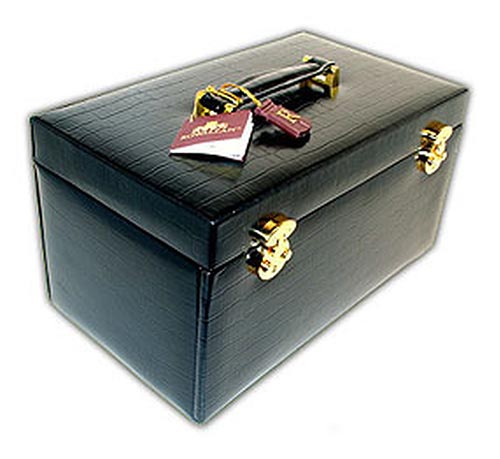 Your wife is going to admire this incredible crocodile style black genuine leather jewelry box.
There is a useful handle at the top, making it easy to carry with you. The lock and key will keep your jewels safe at all times.
There is a mirror inside the lid and 16 compartments for your treasures—also ring-roll for your rings, and some extra drawers for storage.
37. Personalized Light Box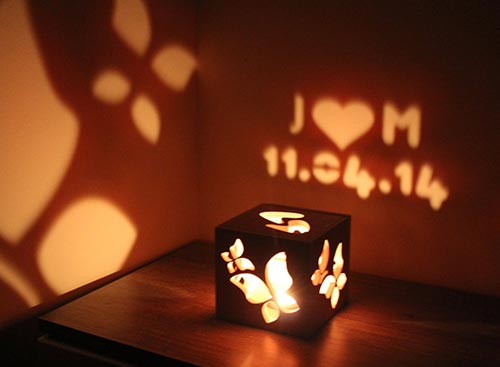 A unique gift that your spouse is sure to be captivated by. Have your own personal message projected on the wall for you and your beloved to share.
Your "magic box" will cast a romantic glow around your room—a perfect way to celebrate another year of passion.
38. Leather Sketchbook Cover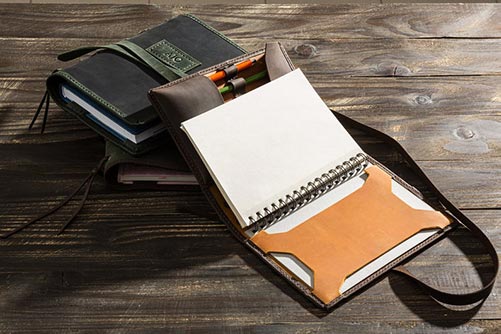 Give your wife or husband a leather, handmade sketchbook cover. The cover can be used over and over for years and years.
A wonderfully thoughtful gift for the artist you adore.
Every piece of leather is cut and stitched by hand. The craftsmanship is exquisite. Have your sweetheart's name stamped onto the front of their cover, and choose from three color combinations.
39. DIY Clay Flower Frogs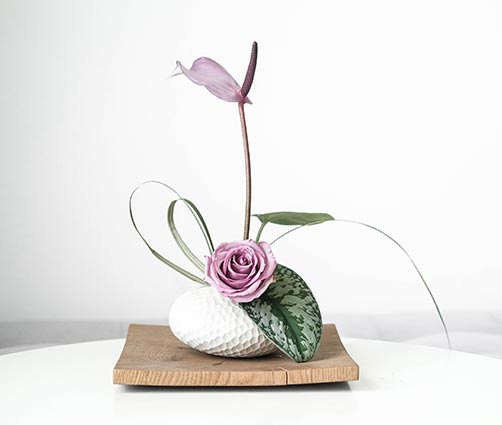 Get your wife set up with this DIY craft.
Pick up these few items for her:
Direct her to this tutorial and let the fun begin.
40. Pottery Windchime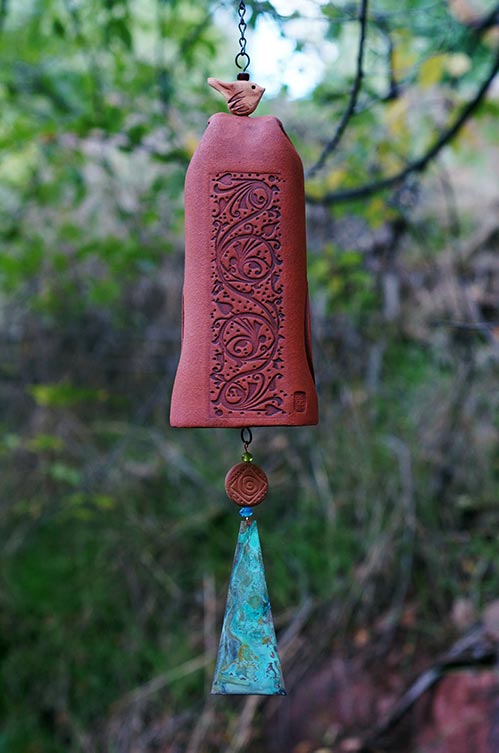 Surprise your backyard gardener with a gorgeous handmade windchime. Created from clay, with copper wire, beads, and glass.
Featuring a beautiful carved pattern of vines and florals. A copper wind-sail accents the chime with a patina finish. A wonderful addition to any patio, backyard, or garden.
Read Next: Gifts by Anniversary
Pin It