Time to get a rolling start on the best gifts for car lovers!
Everyone knows someone who considers cars (and all the odds and ends that go with them) their life's passion. Chances are, when you hear the term car lover, a certain friend or family member comes to mind immediately.
Maybe their birthday is coming up (or graduation, retirement, or some other special occasion) and you want to find them a unique gift that suits both their personality and their favorite hobby: all things car.
Your friend or loved one may be a vintage car collector, a skilled mechanic or detailer, or simply an automobile enthusiast who loves to work on their hot rod whenever they get a chance.
No matter who you're shopping for, below you'll discover 21 awesome gift ideas that any one of these types are sure to enjoy and appreciate.
Let's start this engine!
Top 21 Gifts for Car Lovers
Our website is supported by our users. We sometimes earn a commission when you click through the affiliate links on our website. See our privacy policy & disclosures for more information.
1. Sports Car Collector Sign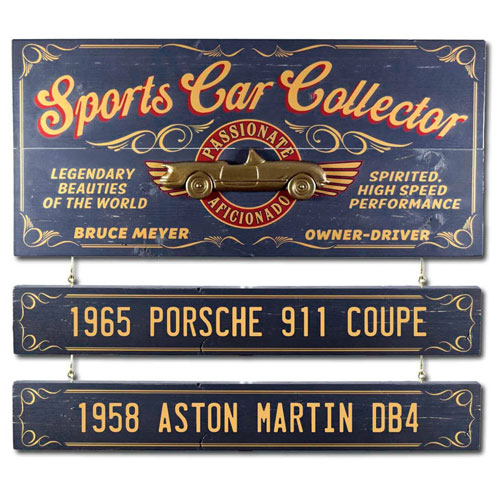 If you're shopping for a sports car lover, check out this Vintage Personalized Sports Car Collector Sign. With hand distressing over wood to give it that nostalgic vintage appeal, this personalized sign is sure to be enjoyed (and proudly showed off) by the sports car enthusiast or collector in your life.
Each of these signs measures 23.75″ x 11″, with each consecutive hanging plate measuring 23.75″ x 3.75″.
Imagine how stunning this gorgeous sign would look in the home of that special car collector!
2. Muscle Car Collector Sign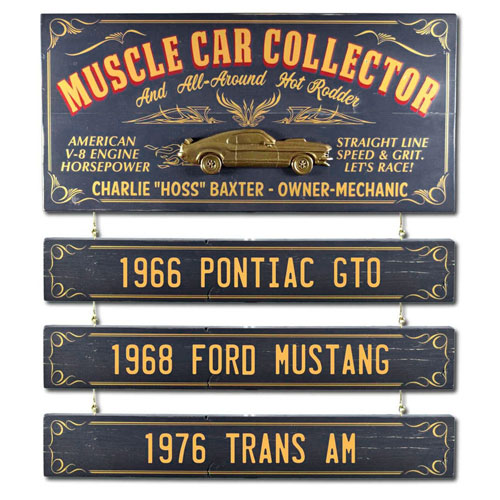 Another jaw-dropping piece from Northwest Gifts is this collector's sign, this time for muscle car enthusiasts.
With their Personalized Muscle Car Collector Sign hanging proudly in their home or office (each sign comes with the hardware needed for easy wall-mounting), your loved one will be able to showcase their wish list of favorite muscle cars or the vehicles they already have in their personal collection.
Customize the plaque with their name and "title" (collector, mechanic, owner, etc), then add as many name boards for cars as you like.
In addition to the "Sports Car Collector" (#1) and "Muscle Car Collector" (#2) signs, we also have a third design, the Vintage Car Collector Sign. This last one is ideal for collectors of all types of classic cars.
3. Personalized Leather Tool Wrap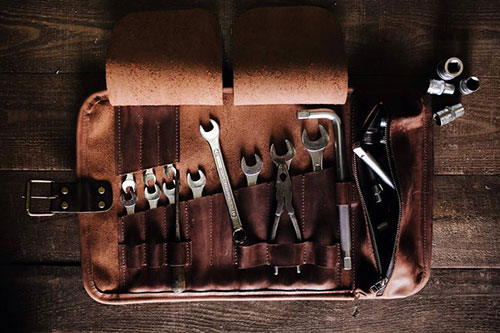 Working on cars means that your loved one needs tools… lots and lots of tools. They probably have them lying around the garage, right?
Maybe some are sticking out of a drawer or are stashed away in some other compartment, but for the most part, your beloved car enthusiast likely doesn't have them as organized as they'd like.
Help them out in that area with this handcrafted leather tool roll. Made by hand using genuine leather and specially designed to carry heavy tools, the tool roll can also be personalized to feature your loved one's name.
Each roll measures a generous 11.8″ x 19.7″, contains several slots and pockets for various instruments, and includes a stylish buckle for clasping shut. This is one of the best gifts for car lovers in how it combines usefulness and class.
4. Designer Fire Extinguisher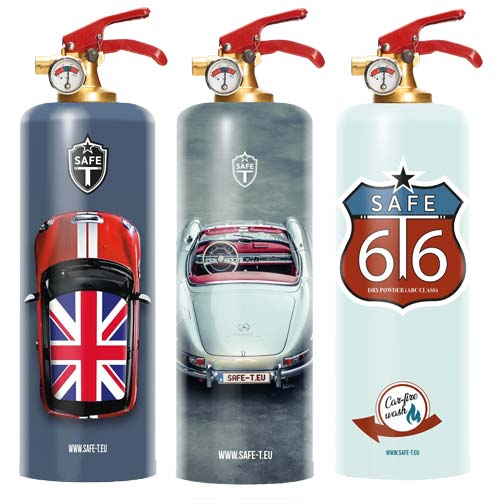 For the safety-conscious car lover, these designer fire extinguishers are the ideal gift. They're fully-functional but still look great – who wouldn't want one in their garage!
There are several car, auto, and highway themes available, plus other interesting designs including extinguishers that look like wine or whiskey bottles, commissioned artwork, famous skylines like New York City and Hong Kong, and so much more.
Shop all the decorative fire extinguisher themes here.
5. Gear Shift Personalized Bottle Opener Car Lover Gift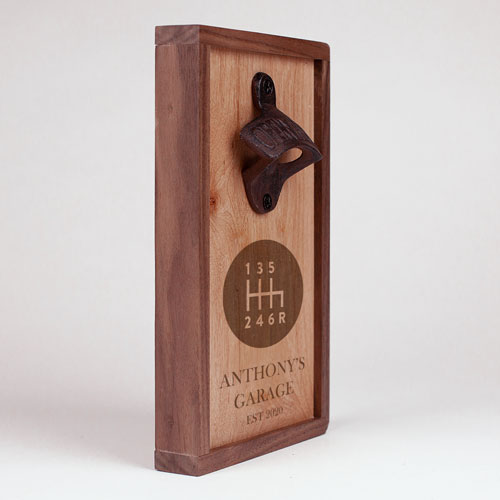 Here's something for the garage or man cave that will surely be put to great use.
Our Personalized Car Lover Wooden Bottle Opener is handcrafted in our Oregon shop and custom engraved with your car geek's name or garage name (and "Est" date) below a classy 6-gear shifter symbol.
Every time your car enthusiast cracks open a brew, he'll be reminded of the day he received the best car lover gift ever. It's perfect!
6. Manual Car Cuff Links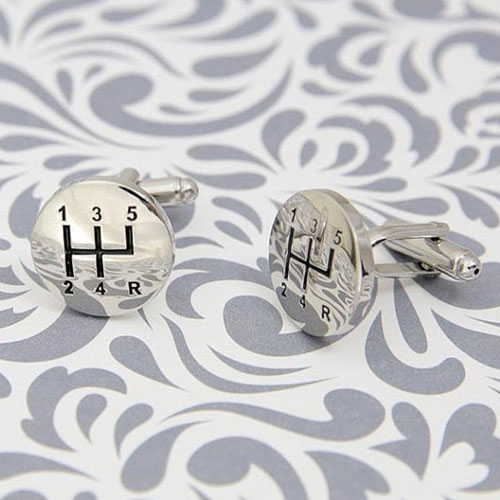 Gifts for car lovers come in all shapes and sizes, and if you know where to look, you can spot some really extraordinary finds. Etsy is a great resource for such gifts.
Just check out these unique cuff links, which feature a manual gear shift design. This would make the perfect gift for any mechanic, garage owner, or car salesman who also has to dress up from time to time (company party, anyone?)
7. Mechanic/Gearhead/Car Lover Custom Engraved Tumbler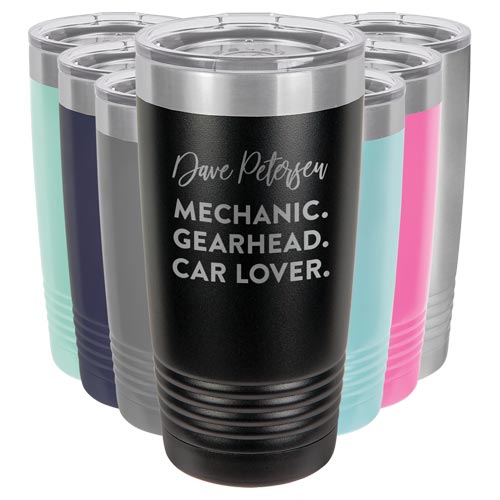 Is your loved one on-the-go a lot? Could they use a gift that's practical, yet still highlights their love for all things car? Then surprise them with this super cool – and super convenient – custom engraved tumbler.
Our tumblers come in a range of colors and styles, with your choice of capacity from 12 to 30 ounces. We'll customize the gift to feature your car enthusiast's name plus their garage name, shop name, a fun car quote, or any other text you know they'd appreciate.
These are Polar Camel tumblers, meaning that each one comes double-walled and vacuum-sealed for insulation comparable to that of the popular (and more expensive) YETI brand tumblers.
8. Cooling and Heating Seat Cushion
Chances are, your loved one has climbed in their car (or truck) and thought to themselves, "Wow, it's so cold out! I could really use a seat warmer right about now." Or, "Good grief, it's blazing. Even my backside needs an A/C in this heat!"
Okay, okay. They've probably never thought exactly that, but you know they would welcome just one of those options to help them get through the hot or cold seasons.
But what if you could get them both in one? Now you can with this heating and cooling seat cushion, which conveniently comes with a car adapter. Boasting two heating and three cooling levels (not to mention premium leatherette material), this cushion is sure to be greatly appreciated as a terrific car lover gift.
9. Custom License Plate Frame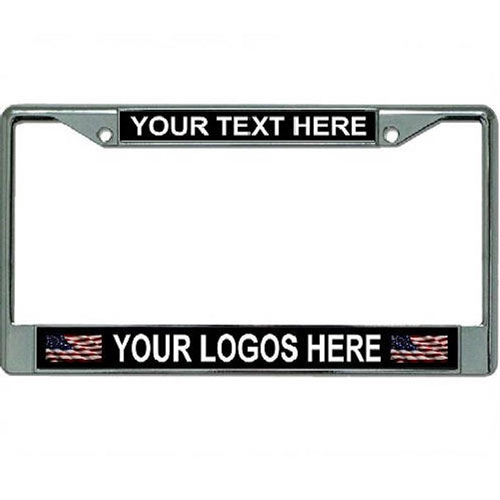 Imagine the look on your car lover's face when they see this neatly personalized license plate frame that you've had custom-made just for them.
Choose between black and chrome frame colors, as well as what text and logos you'd like to customize the sign to feature. Each frame comes with two color inserts and is already pre-drilled for easy installation.
10. Classic Car: The Definitive Visual History
There's nothing wrong and everything right with thinking outside the box when gift shopping for loved ones.
For example, if you need a gift for a classic car lover who also happens to love reading, combine these two hobbies and viola- you've got "Classic Car: The Definitive Visual History."
This picture book (featuring over 1,300 photos) offers historical insight on vintage automobiles, beginning in the 1940's and going through the 1980's. Bonus: it comes with two poster-style prints.
11. Custom Car Window Decal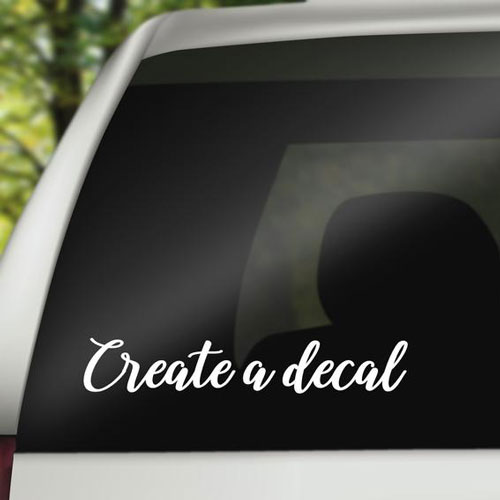 Everyone loves a fun car window decal, including the automobile fanatic in your life.
The best part about this personalized decal is that you get to design it how you know your car enthusiast friend would love it, right down to text, font, logo and background color. Your order will include a squeegee and instructions for easy and fast application.
12. Garmin GPS Navigator
Decorative products always make fun gifts for car nerds, but they would probably appreciate a practical car lover gift, too.
For example, take this Garmin GPS navigation system. Whenever they get the urge to travel, they'll no longer have to study a map or drain their phone using an app. This GPS will tell them (literally) where to turn next, the current speed limit, the approximate time of arrival to their destination, and any construction or other slow-downs they can expect along the way.
With free updates for life, this is the ideal tool to get your car lover back on the road and keep them distraction-free.
13. Personalized Garage Clock Sign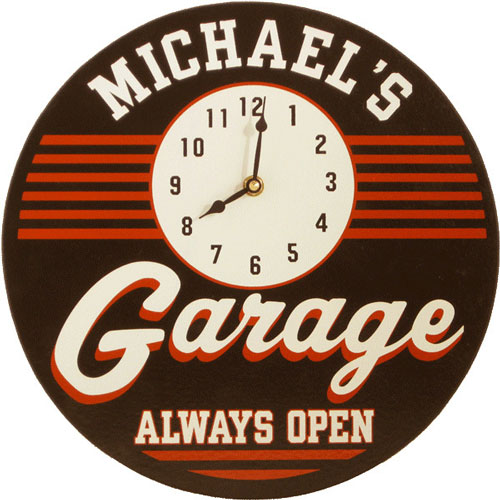 If you are searching for a gift for car enthusiast who spends all their time in the garage, look no further than this classic-style personalized garage clock sign.
With red stripes and retro lettering, this sign is made to resemble a clock that may have been found in a 1950's garage. And it has the vibes to prove it! Be sure to personalize it with your loved one's name for an extra-special touch.
14. Monogrammed Car Floor Mats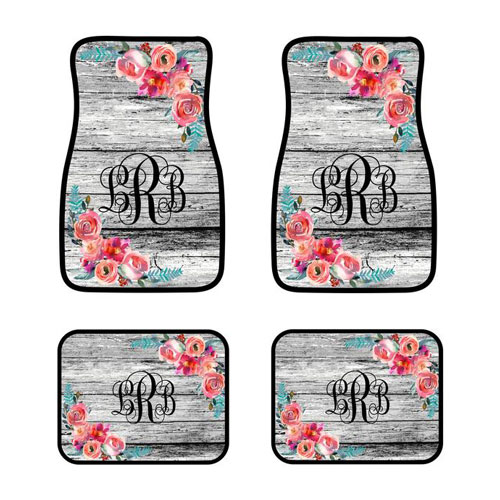 Some people love to decorate their cars just like they do their homes… or themselves!
Do you know someone who has fluffy steering wheel cover, a cute little rear view mirror accessory, and/or seat covers to match their bubbly personality? Then you just know they're going to love these floral car floor mats from Personally Yours.
They best part about these mats is that they come monogrammed with your loved one's initials right in the middle – tres chic!
15. Interior LED Strip Lights
Any car, vintage or brand new, can quickly be "souped up" with these interior LED strip lights from Govee.
It's a truly neat light setup which features your car lover's choice of several colors to display (which the driver can easily control via the Govee app).
A built-in music sensor allows the lights to "groove" on their own to the beat of any music that's playing in the car. Super cool. What more can a car enthusiast need?!
16. WeatherTech CupFone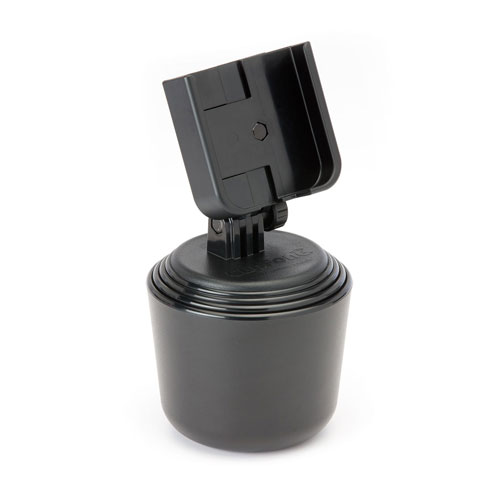 Almost everyone has a cup holder in their car. At the same time, almost everyone struggles to contain their phone in a secure place while driving.
If the car lover in your life grapples to use their phone's direction app, make important calls or otherwise operate their device safely and legally while behind the wheel, they might benefit from this WeatherTech CupFone.
Simply by sitting in the cup holder, this novice cell phone holder will let your loved one stay hands-free, use voice command when needed, easily follow directions, and charge their phone simultaneously without having to handle it.
17. Car Enthusiast Drink Coasters
For the car lover who is a tad bit hard to shop for (maybe they already have everything they need to work on their passion), here is a fun little gift idea.
These silicone car enthusiast drink coasters are made to look like car floor mats. They'll be the perfect accompaniment to a cup of coffee, a glass of tea or an ice cold beer.
18. Custom Photo Air Freshener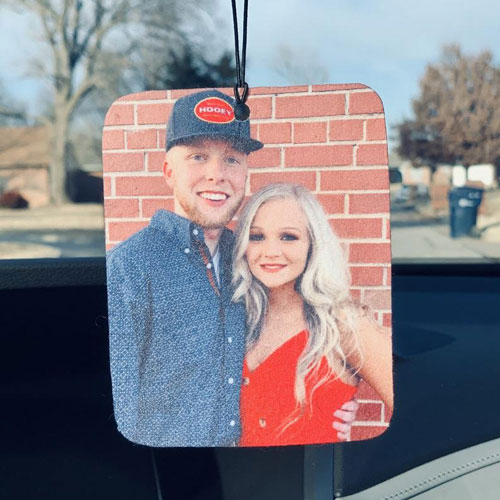 Car fresheners are sweet little somethings that can really go a long way in making a vehicle smell nice, or even new, again. But let's be honest, they're kind of boring, especially as a gift idea.
Not to worry! Forever Fresh Design Co has transformed your standard everyday car freshener into a gorgeous personalized keepsake that is sure to be treasured by your loved one long after the scent fades.
All you have to do is send the seller a photo that your loved one will treasure. They will send you back a unique car freshener that your loved one can proudly hang from their rearview mirror and enjoy every time they get behind the wheel.
19. Tire Coffee Mug
This Tire Coffee Mug for Car Lovers is another cute gift idea that would make a great addition to the drink coasters shared above (#17).
The ceramic mug is made to look like a stack of tires, perfect for a mechanic or garage boss. With a handle that looks like a wrench for an easy grasp, it's the perfect gift for car enthusiasts. Each mug is dishwasher safe and works great for hot or cold beverages.
20. Car Lovers Funny T-Shirt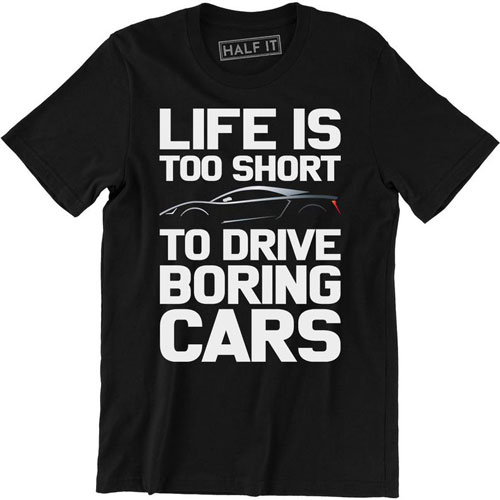 They already know the message on this shirt. But your pal who is also a car buff will love to let the world know, too. Help them do that by gifting them this fabulous t-shirt from Half It.
The fun and cozy shirt is made of ultra-soft cotton, and the seller uses an eco-friendly water-based ink when printing.
21. Trunk Organizer
Even the most particular of car lovers will be happy to receive the gift of a trunk organizer. This one in particular will fit the bill!
The portable organizer is ideal for arranging groceries, sports equipment, tools, or other car accessories. It's collapsible too, meaning that it can be transferred from car to car, or taken out for later use.
This polyester trunk organizer comes with a convenient drink holder, an inner mesh pocket, sub-dividers, handles for easy maneuvering, and more.
More Car Lover Gifts
Thanks for reading our top 21 unique gifts for car lovers! We're confident that you were able to find the perfect gift for your loved one from our list. If not, hopefully we are able to provide you with the inspiration you need to continue your search.
If you do need further inspiration, check out our selection of Car Enthusiast Gifts over at Northwest Gifts.
And here are a few more ideas that couldn't fit into our main list:
Do you have any great gift ideas for car enthusiasts? Or are you a car lover yourself who recently received an amazing car-related gift? Be sure to let us know about it in a comment below.
Pin It