There is an easy-peasy way to make a DIY essential oil reed diffuser for less than four bucks. Here is how to do it.
Disclosure: This post contains affiliate links. But you'll probably just get all this stuff at the dollar store. 😉
WHAT IS A REED DIFFUSER?
A reed diffuser, or stick diffuser, for essential oils is one of many ways to get the aroma and mood-lifting effects of essential oil spread through the air. It is completely natural and does not require any batteries or electricity.
In essence, a reed diffuser is a container that holds essential oils with several small wooden reeds sticking out of it. An essential oil mixture soaks into the reeds, travels up them, and then gets released into the air through evaporation.
The $4 Essential Oil Reed Diffuser
ITEMS NEEDED
You need just a few things in order to make your reed diffuser. Most of these can be purchased at any dollar, discount, craft, or department store.
Glass bottle. Preferably one with a narrow opening. The narrower the opening, the less loss to evaporation. Check your local dollar store – Cost: $1.
Bamboo skewer sticks. A pack of thin bamboo skewer sticks works great for diffusing essential oil. Dollar store can be hit or miss. We found ours at WalMart – Cost: $0.94
Distilled water. You will need a substance to mix with the essential oils, since it only takes a few drops. Many people use light oils like safflower or sweet almond oil to minimize evaporation, but for a low-cost diffuser distilled water works just fine. We had bottles of distilled water on hand so our cost was about twenty-five cents. Worst case scenario you can grab a single bottle from just about any store – Cost $1.
Isopropyl alcohol. AKA rubbing alcohol. If you use water as the essential oil carrier, you will want to use some rubbing alcohol (vodka also works) to help speed up the oils travel up the sticks. Plus it helps keep bacteria from building up in the diffuser. Check your local dollar store – Cost: $1.
Essential oils. We're not including the cost of essential oils, since these can vary quite a bit. You'll just need a few drops of your favorite oil(s).
Total cost: $3-4. Since we got the bottle and alcohol at the dollar store, the reeds at WalMart, and had a cheap bottle of distilled water on hand from a larger package (about $0.25 cost), our actual cost was about $3.19.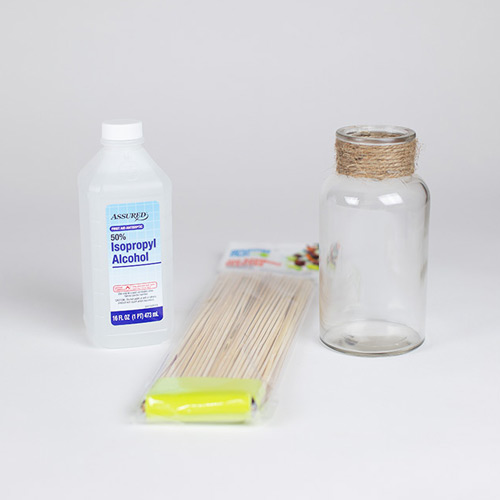 HOW TO MAKE YOUR OWN REED DIFFUSER
Once you have your materials together, you can easily make your own DIY essential oil reed diffuser. Here's how:
Wash out and dry the glass vase or jar
Mix together:

1 cup distilled water
1 tbsp isopropyl alcohol
6-12 drops of essential oil

Pour essential oil mixture into the vase
Add 4-15 reeds or bamboo sticks
TIPS & TRICKS
Rattan Reeds VS Bamboo Skewers
Bamboo skewers are cheap. We bought ours for $0.94 at the local department store. You can also get them online. Here's a set of rattan reeds that looks pretty good.
Rattan reeds work a little better than skewers, but for a low-budget option you really can't beat the bamboo skewer sticks.
How to Get More Scent
The more often you flip the sticks, the more scent you get. The oil mix soaks into the wood sticks and slowly travels up, aided by the alcohol. To release more scent, flip the reeds on their ends so that the well-soaked end is up in the air.
Another way to get more scent is to increase the number of reeds. In larger open rooms, use 10-15 sticks. In a smaller area such as a bathroom you may prefer 4-8 so that the diffusion of oils does not overwhelm the room.
And of course the fail-safe way to get more scent is to use more drops of essential oil. But since that is the highest-cost part of your diffusion system, you might want to try the other options first.
Prevent Evaporation
You can extend the usage life of your mixture by minimizing water loss due to evaporation. The way to do this is by getting a glass jar or vase with the most narrow opening possible. You can also use a cork lid or mason jar lid and drill holes for the sticks to poke through.
Make an Essential Oil Diffuser Gift Basket
If the jar is big enough, you can place the alcohol, skewers, and a bottle of essential oil inside for a no-waste diffuser gift basket. Alternatively, place the items in a gift bag or get a basket container from the dollar store while you are getting the other supplies.
If you give this diffuser as a gift and want to include some essential oils, we recommend Jade Bloom as a premium-quality brand with a mid-range price point. You can shop for their oils here, no membership or subscription required.
PIN IT TO YOUR DIY BOARD