These cardiologist gift ideas are truly full of heart.
Yes, we made a heart joke. In a guide to cardiologist gifts.
And no, we won't do any more. Cross our hearts.
But if, in your heart of hearts, you're looking for the perfect cardiology gift, you'll find it in our guide below.
21 Best Cardiologist Gifts
Our website is supported by our users. We sometimes earn a commission when you click through the affiliate links on our website. See our privacy policy & disclosures for more information.
1. Handcrafted Wood Cardiologist Sign with Custom Engraving
The Personalized Cardiologist Plaque is crafted from solid wood features a bold block font centered around the ancient medical symbol of the Staff of Hermes.
With each and every line fully customizable, this is an elegant and contemporary yet rustic and natural addition to any cardiologist's home, office, or reception decor.
Two sizes available (12×16 and 18×24), each can have one or more personalized hanging "name boards" added to honor each cardiologist or staff member in your office.
2. Floral Heart Keepsake Box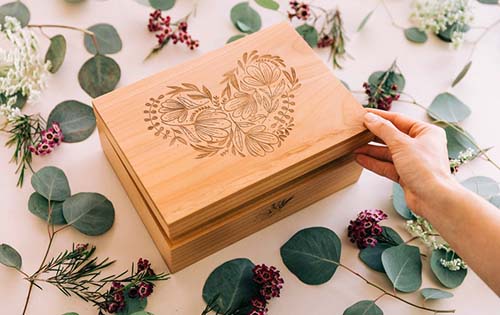 This genuine Alder wood keepsake box is the real deal, made in the USA with hidden hinges and a lovely etching of a floral heart design.
Ideal for commemorating a special achievement or honoring a retiring cardiologist, this gift idea balances perfectly between premium and affordable, meaningful and practical. Optionally, you can also have the lid custom laser etched with any special custom message.
3. Anatomical Heart Vase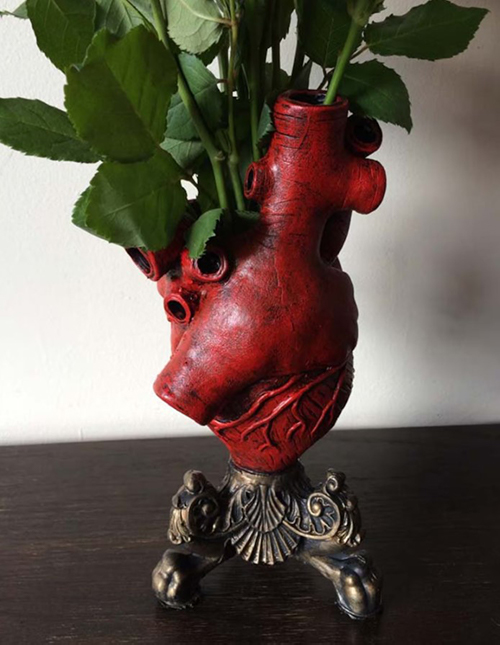 This is perhaps the most interesting and eye-catching of all the gifts for cardiologists on our list. The anatomical heart vase will charm the cardiologist in your life for sure – and anyone else who enjoys flowers!
4. Commissioned Art Portrait
To make a big splash with your gift, commission a portrait of your cardiologist. This will be much more than just an accent for the office; rather, it will be a treasured heirloom passed down in the family for generations.
The portrait above was done by the artist Mary Ann who is based in Northwest Florida. She often completes stunning portraits from photographs of the subject, shipping the final piece to just about anywhere in the world.
5. Premium Littman Stethoscope
The world-class stethoscope trusted by medical professionals in all fields. Every cardiologist needs a high-quality tool like this. A very practical cardiologist gift idea for the recent graduate.
6. Handcrafted Wood Cardiology Script Sign with Custom Engraving
Custom handcrafted in our Oregon woodshop, this gorgeous wooden cardiologist sign is made in a contemporary style using real woods and stands apart from other similar pieces because the personalized medical design is laser engraved into the wood surface.
No flaky screen printing here. This is an heirloom-worthy decor piece suitable for the home, office, or reception area. Completely customizable, available in small and large sizes, optional hanging name boards that you can personalize for each cardiologist or team member on staff.
7. Vintage Personalized Cardiologist Sign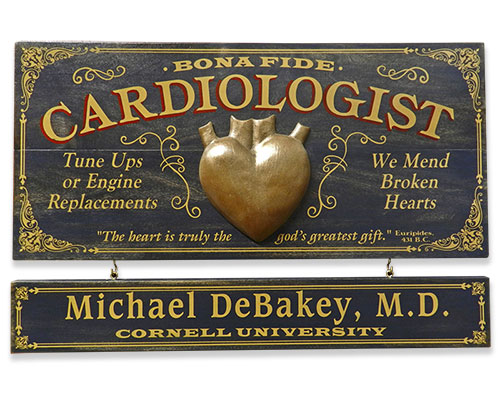 The ultimate cardiologist gift for the vintage enthusiast, this cardiology decor sign is made in the USA, features a 3-dimensional hand-carved relief centerpiece, and optional personalized hanging name board.
The hanging plank is custom screen-printed with the good doctor's name. The board can also include a second custom line with other info, such as qualifications, or graduating university, or business name.
What a great gift!
8. Heart Coaster Set
This well-designed glass coaster set shows you progressive cross-sections of a cute and artistic heart shape. A fun accent for the cardiologist's home, office, or reception area, this is one of our favorite cardiology gifts because it is both a useful furniture protector and an attractive décor piece.
9. Custom Travel Mug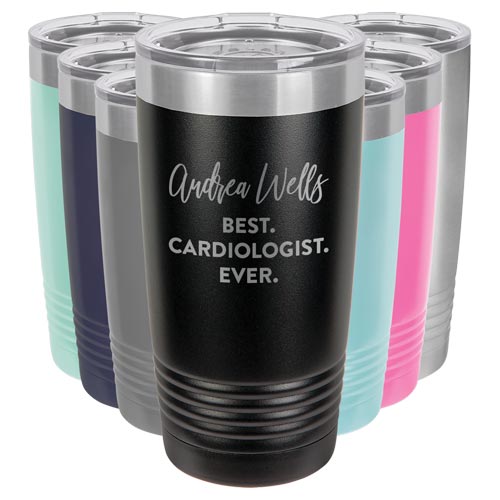 Your cardiologist will appreciate a mug that says "Best Cardiologist Ever" or "Cardiologists Heart Coffee" or maybe just their name so that no one touches their darn coffee.
These personalized tumblers are great gift ideas because they are top-of-the-line stainless steel travel mugs with double-walled and vacuum-sealed lining that keeps drinks hot or cold for hours at a time. The perfect cardiology gift for a cardiologist on the go.
10. Anatomical Heart Necklace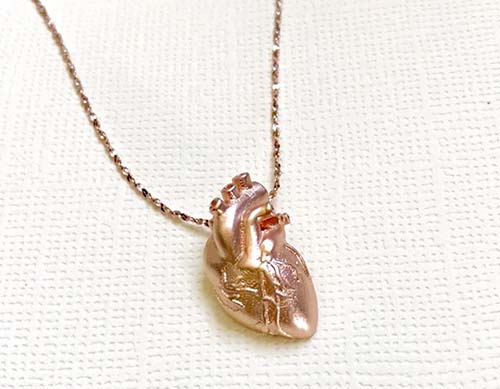 Your beloved cardiologist will appreciate this rose gold necklace with an anatomically correct heart.
Designed by an actual doctor, this necklace somehow manages to be both cute and medically-themed – a rarity, for sure! Let them know that they are close to your heart with a special gift.
11. Flowers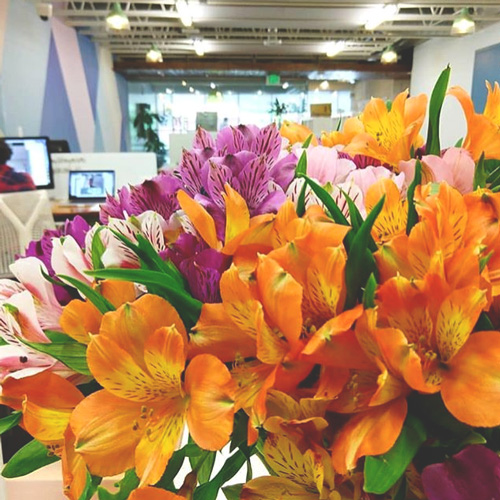 Fresh flowers bring a sense of life, vitality, and fragrant beauty to any professional atmosphere. The cardiologist in your life will appreciate a bouquet of choice blooms delivered to their home or office.
12. Heartbeat Tumbler Glass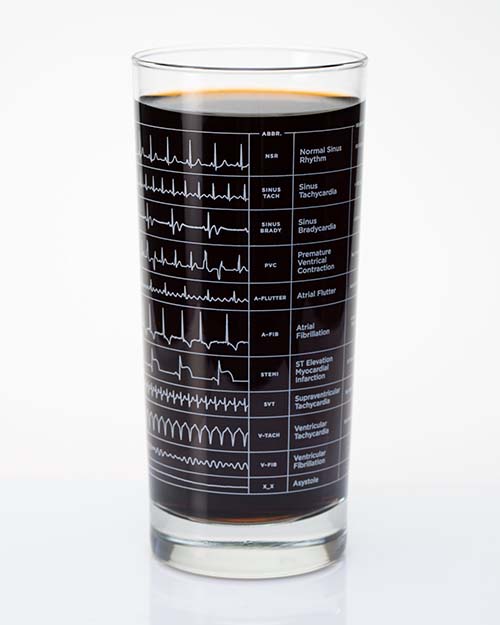 Here's the perfect "study aid" for the medical student in your life. Yes, we used air quotes, because this won't really help them study more… it's only going to help them drink more beer.
Which, on some days, is just fine. At least they'll appreciate this cardiology-themed gift!
13. Coffee Pourover
The Chemex Coffee Pourover provides an earthy vibe and sophisticated yet simple method for brewing great coffee. The glass composition and timeless design allows each cup of coffee to obtain maximum flavor.
These pourovers work by placing a cone filter in the top section, adding coffee grounds, then "pouring over" the hot water, which brews and drips down to the glass container below. This method minimizes inhibitors and conflicts to occur, keeping the coffee as pure, natural, and delicious as possible.
14. Bose Over-Ear Wireless Headphones
Cardiologists deserve some peacefully chill downtime. Listening to music, listening to great podcasts, catching up on the news…
Whatever listening material floats their boats, these premium Bose wireless and noise-canceling headphones optimize the listening experience to help your cardiologist to achieve ultimate relaxation.
Related: 10 Best Gifts for the Doctor Who Has Everything
15. Floral Heart Print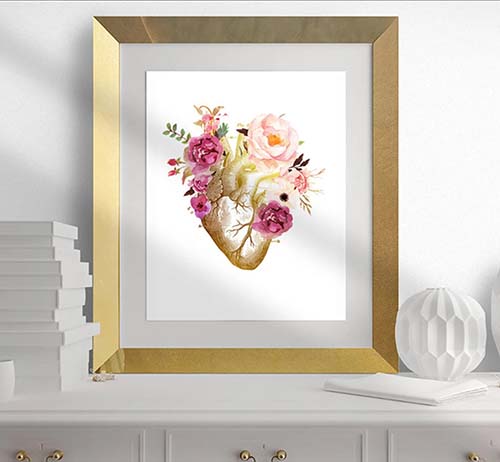 This flowery human heart fine art piece is a digital download, which you can use to create a beautiful printed and framed gift idea for a cardiologist or use as an accent for your cardiology office. Stunning.
16. Vintage Personalized Wine Connoisseur Sign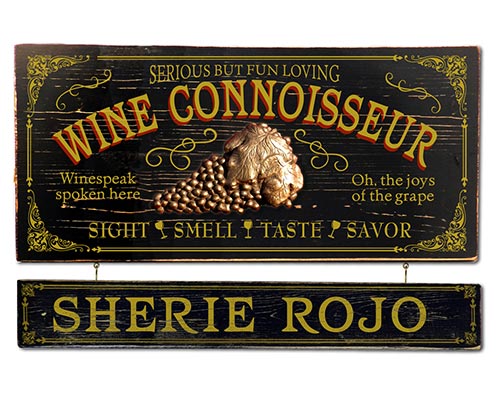 This vintage-style wooden plank sign is the perfect gift idea for any true wine connoisseur. (We're guessing the cardiologist you have in mind for this loves wine. And we're probably right.)
Made in the USA from furniture-grade wood, personalized to order, and finished to look antique with distressed wood, this is a great gift idea.
17. Anatomical Heart Engraving
This stunning Gothic-style anatomy art piece features gorgeous scrollwork and a human heart etched into a solid wood plaque.
And if this one isn't amazing enough for you, you might want to consider the colorized phone case version with a hand-painted finish in vibrant reds and blues.
18. Plant a Tree to Restore a Devastated Forest
Trees for a Change is leading the way with creative gift ideas that do more than just fuel our love for stuff. One great way to honor the "cardiologist who has everything" is by taking care of God's good earth and planting a tree in a devastated forest area.
In addition to knowing that the earth just got a bit more green, they will receive a certificate in a beautiful recycled wood frame stating that a tree has been planted in the US National Forest in their name. Other perk include:
A card with a personal message from you plus (optional) logo
Their name recorded in the Tree Gift Registry
Access to online photos and information about where the tree was planted
19. Shuffleboard Table
If you really want to blow their mind – and some serious cash – go big with something fun and exciting for their chill cave.
Like this shuffleboard table, a 22-foot regulation size fun center complete with electronic scoring system and display. They (and you) will enjoy hours of great competition. The only question left is… where the heck will it go?
Other big and fun ideas include:
20. Custom Engraved Bird Feeder
A different sort of gift from the usual office knick knacks and plaques, these cedar wood bird feeders have been a huge hit to celebrate special achievements and honor retirees.
Made in the USA from genuine aromatic cedar wood, the feeder includes custom laser etching on the front panel of any text, logo, or combination of the two. You can also engrave the back side, which is ideal for a special message from staff members.
Related: Best Doctor Retirement Gifts
21. Cook-at-Home Accessories
There are few things better for promoting a heart-healthy diet than cooking at home – as your cardiologist well knows! So help them practice what they preach with some top-quality kitchen tools, gadgets, and accessories.
Read Next: 21 Thank-You Gifts for Doctors to Show Your Appreciation