Last Updated on July 31, 2020
Do you have a special card player or card shark in your life? Are you looking for some truly special poker gifts?
If it's in the cards we'll help you find an ace of a gift! You will be the queen or king of gift giving! We are not bluffing, we're giving it to you straight!
Okay, okay, enough card playing references. We fold. 😉 Here is a list of some of the best card shark gift ideas we found, and we dare you to keep your poker face.
Poker GIFTs FOR THE CARD SHARK
Our website is supported by our users. We sometimes earn a commission when you click through the affiliate links on our website. Learn more here.
1. Vintage Personalized Card Shark Plaque
Crafted in the USA and personalized to order, this Card Shark Plaque is hand distressed, and features a 3D deck of cards. One of our all-time favorite poker gifts.
The optional hanging nameplate can be personalized with the name and/or business name, and is perfect for a personal sign, or to hang in a bar or restaurant.
2. Wood Burned Hand Painted Coasters
Display your drinks in style with these rustic poker coasters that are hand painted and burned on wood. How cool is that?!
Everyone will be jonesin' to play cards at your place. This comes with a set of four coasters.
3. Luxury Playing Card Set
One word comes to mind when we see this set.
Swankityswankswankenstein!
(Because that's totally a real word.)
For that classy someone in your life, this may be just the gift. The card set comes with four deluxe Artisan Playing Card decks, plus a beautiful laser etched case. This set will help anyone play in style.
According to no less an expert than David Copperfield, it's "the best playing cards ever produced."
4. Portable Poker Table Top
Time for game night, and nowhere to play? Gasp! How about a portable poker table top, complete with carrying case?
Perfect for rotating poker nights, or games on the go. This poker table gift comes with drink holders and molded chip trays, for a legit Vegas feel. Game night can now commence.
5. Custom Engraved Flask and Player Kit
Want to win some serious brownie points with the card shark in your life? We'd bet on this gift cashing in the chips. 😉
The beautiful case )which includes a custom engraved flask, deck of cards and dice) makes this one of our top picks for great poker gifts.
And the heirloom wooden presentation gift box can be personalized, too. Oh, yeah!
6. Ace of Spades Tie Clip
Here is a sweet little poker gift for the dapper card player in your life. A subtle bit of man bling, sure to bring a twinkle to his roguish card shark eyes. Made from fine English Pewter.
Let's face it. Ladies love it when their man dresses up now and again, and here is a great excuse.
7. Deal 'Em Vintage Poker Room Plaque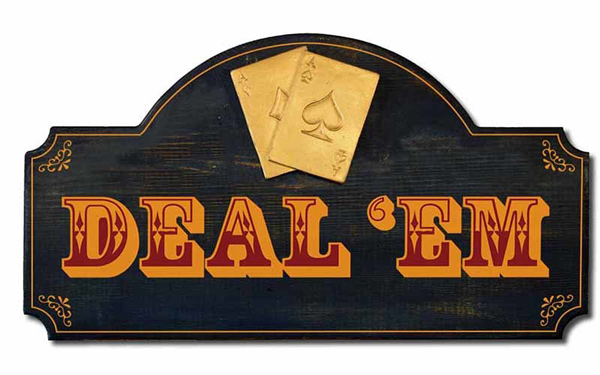 Handcrafted in the USA and finished in a vintage, distressed wood style, this "Deal 'Em" poker room sign can also include a personalized hanging nameboard. The dealer is in.
8. Texas Hold 'Em Poker Table for 10 Players
This top-rated yet affordable 10 Player Texas Holdem Table makes game night a breeze. Play like the pros, and now you can invite all your friends to play at this spacious table.
9. Custom Engraved Poker Chip Gift Set
Holy poker chips, batman!! This set comes with 300 poker chips, cards, dice, in a custom engraved wooden case. Yep, it has it all. And if you have to play the hand you're dealt, as they say, how about make it a good one. 😉
10. Four Aces Poker Hat
We all know hiding aces IN your hat is totally taboo, but there's no harm in sporting a hat with aces ON it, am I right? Here is a stylish way to say "Hey, game on." Comfy, classic, and a neutral look to fit any style.
11. Queen of Hearts Necklace
Got a special queen in your life, or a lady card shark? Celebrate her with this sweet Queen of Hearts necklace. Going out for a night on the town, or at the casino, this necklace is just right. It has a classic style, and is nickel free also!
12. Custom Cigar Humidor
Poker and cigars go together like eggs and bacon, as the saying goes. This custom cigar humidor can be personalized with any custom engraving you like (family crest, name, quotes, etc), and will hold up to 20 cigars. At the next poker game those cigars will be in fine style and flavor, impressing even the pickiest player.
13. Gentleman's Agreement Personalized Cigar Humidor
Every poker game needs two things: A gentleman's agreement that actually means something, and cigars.
This personalized card shark gift is the perfect picture of both, and will help you achieve that classic musky cigar-smoke-filled-room feel at every poker night. More personalized humidors here.
14. Poker Chip Socks
With these beauties you will be hiding more than a good hand. Deep down in your shoes these sweet poker socks will be there, giving you that extra boost of fashionable confidence.
15. Casino Money Clip
There's no incentive to win like a schnazzy money clip! I suppose if you were in a slump you could fill it with monopoly money, and it would even make that pastel currency look fabulous. 😉
Or you can get a custom engraved money clip here.
16. Poker T-Shirt
Get your sassy pants on with this shirt, so technically your sassy pants AND shirt. Folding will not be in your vocabulary, as you kick ace in this baby. 😉 See what we did there?
17. Personalized Barrel Head Poker Room Sign
Add some serious swagger to any room with this barrel head sign! Made from real white oak – just like a real barrel head – and customized to your liking, it will be flush at first sight!
18. Automatic Card Shuffler
Save those card playing fingers with this automatic shuffler! With the extra energy in your digits you will be able to give two very enthusiastic thumbs up!
19. Personalized House of Cards Poker Room Plaque
In your own house of cards, there's no limit and you play at your own risk. Warn all comers with this fun and fiesty vintage-style poker room plaque, which is made in the USA and includes free personalization of your name across the top.
20. Old Fashioned Gambling Parlor Custom Sign
This vintage-style Old Fashioned Gambling Parlor Personalized Wall Art Sign is a snazzy piece of American-made craftsmanship and ingenuity.
A fun and clever wooden poker room plaque includes archaic card-playing expressions, an antique theme, ranking of poker hands, and a 3-dimensional relief carved pair of aces as a centerpiece.
21. Dogs Playing Poker Framed Art
Last of all, the mother of all poker gifts. This art deco piece needs no introduction. Dogs Playing Poker, by Cassius Marcellus Coolidge, in a museum-quality print with premium frame. Your card shark will love it.
Pin it:
How about you, what are some of your suggestions for great poker gifts for card sharks?