Today we're sharing with you the 17 best orthodontist gifts for your gift-giving delight.
Is this an orthodontist thank-you gift after your braces have come off? Is it Orthodontist Appreciation Week and you're looking for something for your boss? Or is the ortho your spouse, relative, or friend?
Your Ortho
Your orthodontist has given you a priceless gift: a beautiful smile that you can be proud of. Naturally, you want to show your doc just how much you appreciate all they've done for you (and your pearly whites) by giving them a little something special.
Your Boss
Are you, rather, looking for the perfect gift for your boss? Keep reading, you'll find what you're looking for.
Your Friend
Or maybe you are looking for that perfect orthodontist-themed gift for a friend or family member. Perhaps someone special in your life has just graduated, retired, or is having a birthday. We've got the perfect gifts for your ortho friend.
Whatever your relationship to this special orthodontist may be, we've got you covered. Let's take a look at the ideas and see if we can find you that perfect gift!
Best Orthodontist Gifts for All Occasions
Our website is supported by our users. We sometimes earn a commission when you click through the affiliate links on our website. See our privacy policy & disclosures for more information.
Here's what we have for you:
Gifts for Orthodontists
Orthodontist Graduation Gifts
Orthodontist Retirement Gifts
Gifts for the Orthodontist's Office
Let's begin!
Gifts for Orthodontists
Orthodontists gifts come in all shapes and sizes. Here are a few that really stand out:
1. Set of 4 Ceramic Flower Teeth Pots
How cute are these little tooth-shaped planter pots?! Your orthodontist will enjoy caring for and watching their plants grow out of these cute "teeth."
It's the perfect decor for desks, coffee tables, bookshelves or mantles in the home or office.
Your order comes with four high-quality clay planters that measure 7 x 10 cm each.
These little pots do not include the plants, so be sure to do the planting ahead of time (or include some succulent seeds) before you do the gifting.
2. "All Together Now" Teeth Shirt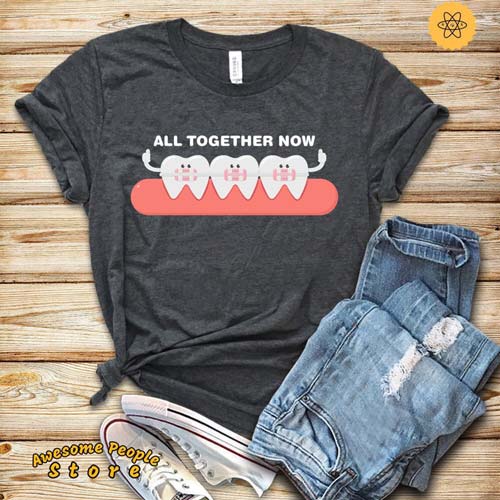 For fun orthodontist gifts, you can't go wrong with fun t-shirts! This one takes the cake.
Imagine the look on your doctor's face when they open this gift and see those silly braced teeth looking up at them! Casual Fridays just got a whole lot more fun.
This All Together Now! Orthodontist T-Shirt is available in three different shades (black, dark gray or light gray) and several different sizes.
3. Custom Engraved Tumbler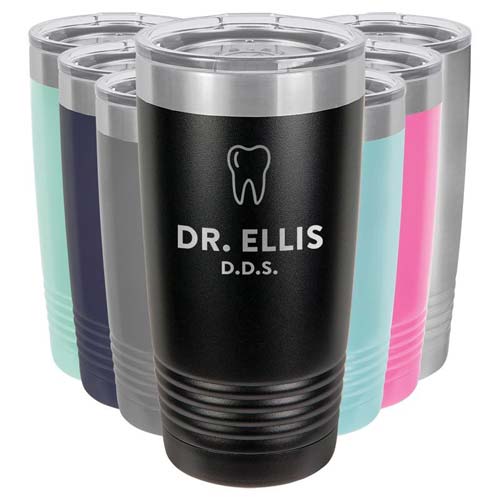 Orthodontists and dentists have a lot on their plates. They have numerous patients to care for and worry about, all day long, and sometimes the stress of their job can make them forget to properly care for themselves.
Staying hydrated is super important no matter who you are, but especially if you're a doctor. So help your fave orthodontist remember to drink up with this super fun tumbler from Northwest Gifts.
This Polar Camel tumbler comes custom engraved with their name and a cute little tooth. Another popular design is this one, which you can customize to say anything you like: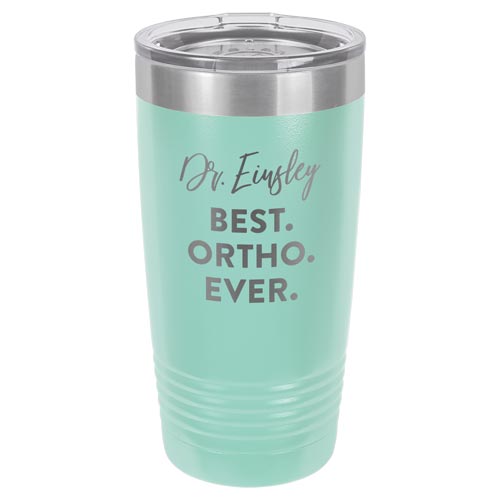 Have it say "Best Receptionist Ever" or "Best Orthodontist Assistant" or anything you like.
The tumblers are double walled and vacuum sealed for maximum insulation. Each design is available in many different styles and colors, and with bulk discounts too. So you can personalize one for every team member!
4. Custom Orthodontist's Mug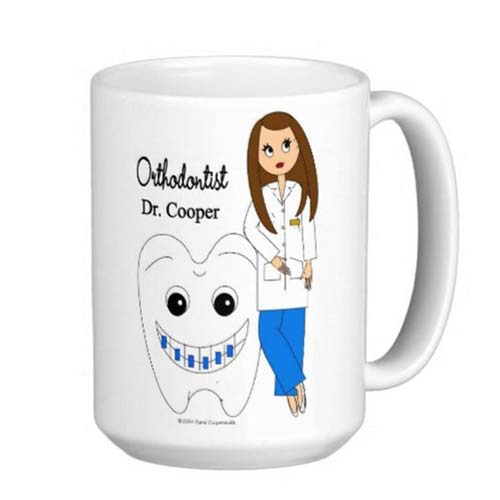 Your orthodontist will enjoy sipping her morning cup o' joe from this cute mug.
It features a cartoon character in her own likeness, as well as her name, which makes it that much more special and fun.
And with the smiling tooth wearing a set of braces, she won't have to explain to anyone what kind of a doctor she is.
When ordering, you get to choose from several different cartoon characters, so pick the one that most closely resembles your orthodontist! You can also choose between glasses/no glasses.
These ceramic mugs hold up to 15 ounces and are both dishwasher and microwave safe.
Related: 14 Unique, Charming, & Classy Gifts for Dentists
Orthodontist Graduation Gifts
Memorable orthodontist gifts for the recent graduate? We've got 'em:
5. Personalized Dentistry Sweaters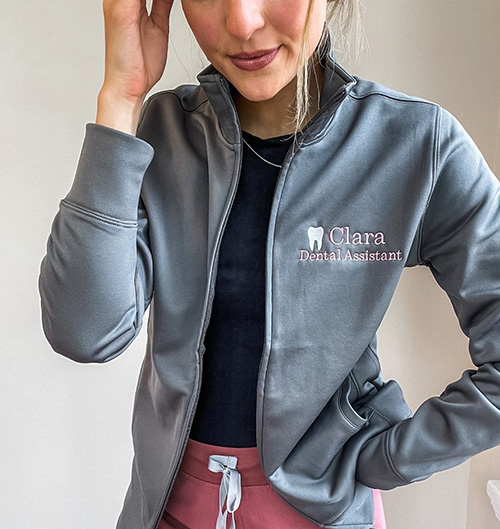 If there is any one thing consistently true about dentistry offices, it's that they tend to be cold. Like, really cold. Help them beat the chill with one of these great, personalized sweaters!
Custom embroidered with their name, position, and credentials if desired, it easily slips over their scrubs or work attire. They'll love having a go-to jacket to grab on their way to work.
6. Tooth Bracelet Watercolor Print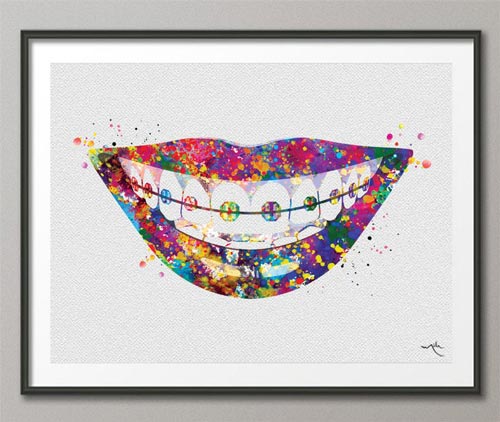 For the fun-loving grad, get them something uber interesting that they can hang in their new office. This "Tooth Bracelet" Watercolor Print is super colorful and perfect for the brand new orthodontist just starting out.
From paper to canvas to velvet, you choose the medium (and size) you'd like this watercolor printed on.
7. "She Believed She Could, So She Did" Keychain
For a little something sweet that will still the new orthodontist in your life of her major accomplishment, you can't go wrong with a cute keychain like this one.
All she has to do is hook this triumphant set onto her purse or key ring, to proudly display wherever she goes. "She believed she could, so she did!" Stainless steel and hypoallergenic.
8. "Say Aah-Some!" Throw Pillow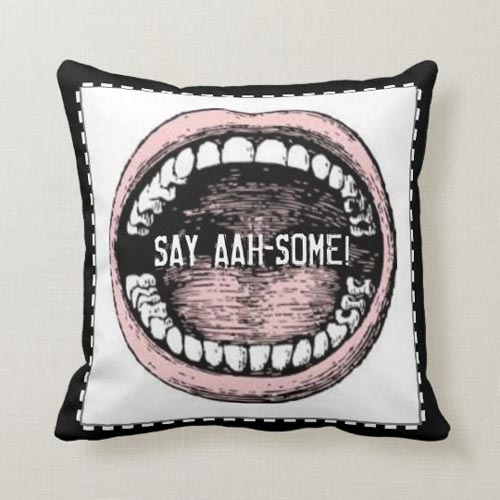 Another cool gift for the grad to display in their new place of work. This "Say Aah-some!" throw pillow from Zazzle has a sort of retro, textbook style look to it, but with all the necessary elements of modern comfort and style.
This polyester pillow is made from soft knit fabric that allows it a smooth, wrinkle-free look. Measures 16″ x 16″ and includes pillow insert.
Orthodontist Retirement Gifts
Your favorite orthodontist is getting ready to retire after many years of dedicated service to smiles everywhere. Surprise them with a thoughtful retirement gift:
9. Custom Engraved Bird Feeder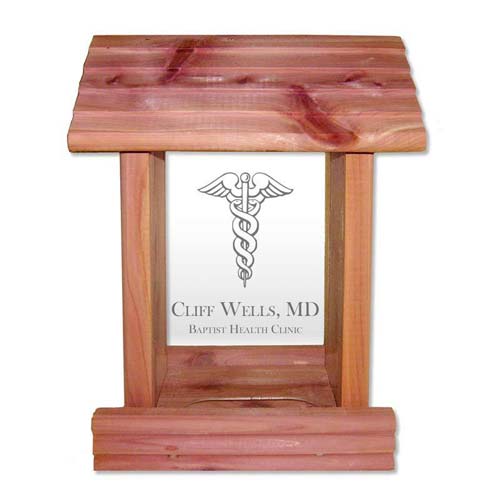 After many years in the office, your doctor is probably looking forward to some much-needed rest and relaxation at home. No doubt much of that time will be spent outside, so why not enhance their experience with a personalized bird feeder?
This beautiful bird feeder is made of cedar wood and features an engraved Staff of Hermes on the front acrylic panel (along with personalization of your choosing). From top to bottom it measures 10.5″ tall.
It's a truly thoughtful gift because a) it's personalized, and b) it goes outside, meaning it won't clutter up their home or office. Plus c) it draws in birds and helps care for creation. A great idea for anyone!
10. Personalized Bamboo Wood Cutting Board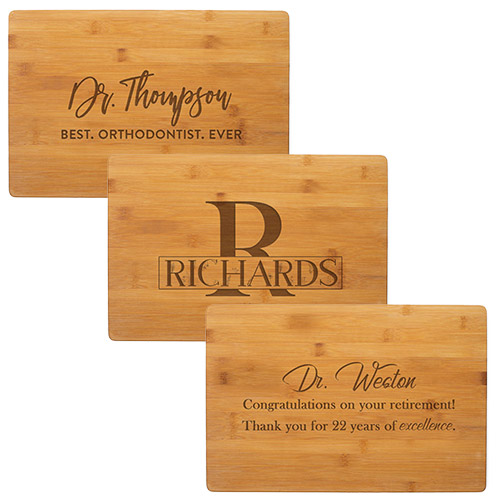 Do you know an orthodontist who's second calling in life would have been as a chef? Were they are the type who like to cook as a means to unwind/relax after a long day of straightening teeth?
If so, now that they're retiring they're going to have more time than ever to enjoy this passion. And you've got this golden opportunity to gift them something that will go a long way in the kitchen.
Enter these beautiful Bamboo Wood Cutting Boards from Northwest Gifts. Each design includes your orthodontist's name, plus other personalized and creative accents. Each one measures 18″ x 12″.
11. Personalized Walnut and Maple Wood Bottle Opener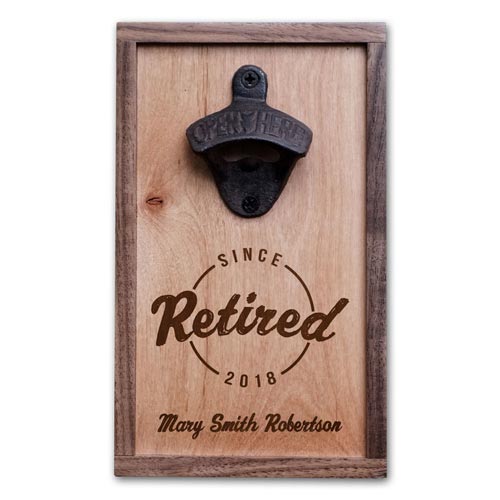 If you haven't noticed already, personalization is kind of our thing over at Northwest Gifts. This Walnut Wood and Maple Wood Bottle Opener, designed specifically with the new retiree in mind, is another great example. Your orthodontist's name and year of retirement are the central features of this beautiful gift.
This bottle opener is made of solid, long-lasting maple and comes with a walnut frame. The opener itself is cast iron. Can be used as a permanent, wall-mounted fixture in the home, or as a portable opener. Measures 8.75″ x 5.25″ x 1″.
12. Custom Engraved Retirement Sign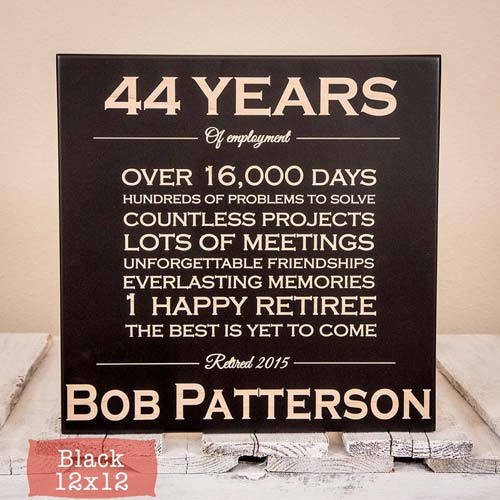 Gift them this maple wood, laser-engraved Retirement Sign, and your doc can proudly display the details of their career. At the same time it will remind them that the work they contributed will always be appreciated. You choose the size and board color.
13. Erin Condren Travel Planner
If you already know that your orthodontist is going to be going cross country (or abroad) once retirement is official, consider getting them something that they could really use during their travels.
Wanderlust meets its match with this Erin Condren travel planner. From packing lists and budget goals to meal planning and more, this planner has everything they'll need to make their trip a memorable – and highly organized- one.
Plus it includes a sheet of fun travel-themed stickers!
Gifts for the Orthodontist's Office
One of these cool gifts is sure to kick up a notch any orthodontist's office:
14. Pacific Crest Wooden Orthodontist Sign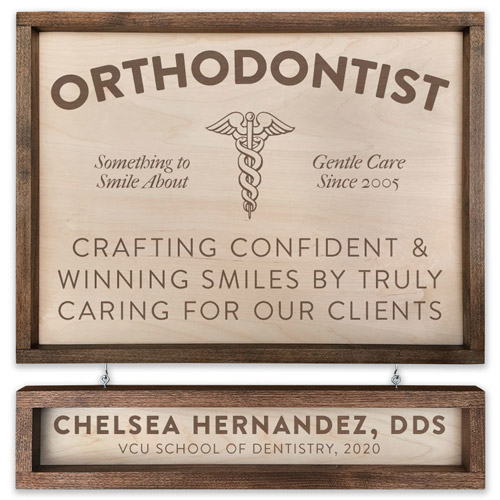 Out of our Pacific Crest series comes this gorgeous piece of handiwork.
This Personalized Wooden Orthodontist Sign will add a touch of sophistication to your orthodontist's office, all the while showing off their credentials, business motto, and/or anything else you know they'd love.
Made right here in our Oregon shop from alder and birch ply, this plaque is available in two sizes and arrives ready to hang.
15. Essential Oil Diffuser
Help your orthodontist turn their office into their home away from home with this essential oil diffuser/humidifier.
Features include two different misting modes, eight different light colors that they can change/change the dimness of, and an auto shut-off feature for when the water level gets low. It can function as a humidifier only, or as a night light.
Going with this gift? You might want to throw in some soothing essential oils, too.
16. Tooth Plushie
Maybe you're looking for gift ideas for your child's orthodontist. This person has to be special to be able to care for kiddos, who are often not the easiest patients.
You want to show your appreciation to them and all that they've done to care for your child's teeth, so what better way than to get them an office gift perfect for a pediatric practice?
Enter this cute squishable tooth plushie. With two dot eyes, a smiling face and even a little tooth of it's own, this simple kawaii toy will both brighten up the office and provide much-needed comfort to nervous youngsters.
17. Orthodontist Wood Plank Sign with Name Board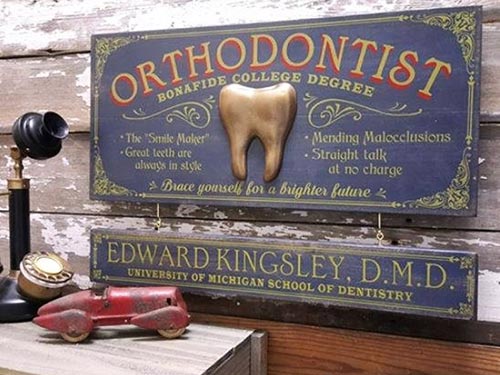 When it comes to orthodontist gifts for the office, the more impressive the better.
Well, it doesn't get much more impressive than this Orthodontist Wood Plank Sign, which includes a personalized hanging name board.
This sign will bring a vintage feel into a modern medical practice, while still displaying your doc's name and school (or however else you want to personalize it) and "Bonafide College Degree."
Includes a 3D resin tooth applique and measures a rather impressive 24″ x 16″.
Bonus Orthodontist Gift: Decorative Fire Extinguishers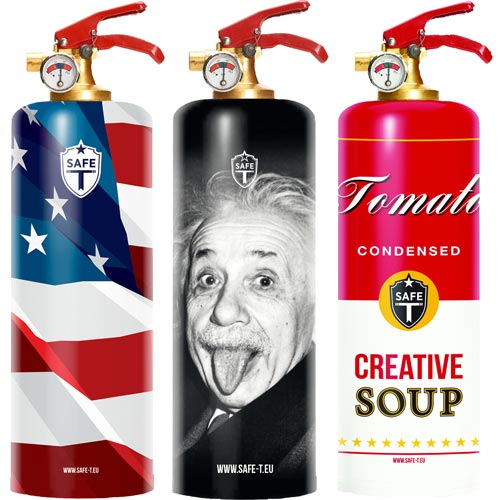 Every professional wants their office to be safe – and doubly so when clients and staff are concerned!
So fire safety is important. You need to have a fire extinguisher (or several) on hand; why not make it something that is super-cool?
Check out the vast selection of eye-candy fire extinguishers from Safe-T. These include a variety of themes ranging from this premium brass beauty to this stylish whiskey design and many more fun designs.
More Gifts for Orthodontists
Many of the gifts mentioned above were picked with the orthodontist's profession in mind.
But orthodontists aren't just doctors! They're people too, just like you and me… they have families and hobbies and well, lives, outside of work.
With that in mind, here are some more gift ideas for orthodontists that don't necessarily pay homage to just their jobs. These gifts could be for anyone, really… some are even DIY!
For next-level personalized gift ideas, tailored especially for those in the medical profession (orthodontists included!), click here.
Pin It