Looking for Wolverine gift ideas?
With decades of comic books and 10+ movie appearances, Wolverine is certainly one of the most popular comic book characters of all time.
With his iconic adamantium claws and gruff, stoic, yet somehow loveable demeanor, Wolverine is always a great choice for cosplay, t-shirts, room décor and more.
There's never a better time than now to stock up on some fresh X-Men gear, especially if you are looking for unique gifts to give to a comic fan in your life.
And just to keep things fun, we'll throw in some Wolverine-themed trivia tidbits along the way.
The Best Wolverine Gift Ideas
Our website is supported by our users. We sometimes earn a commission when you click through the affiliate links on our website. See our privacy policy & disclosures for more information.
1. Wolverine Jacket
Vintage style distressed jacket with orange stripes, designed and made by hand to look like the jacket worn by Wolverine in the X-Men films.
Did you know: Deadpool 2 (2018) is Hugh Jackman's 10th time portraying "Logan" aka Wolverine.
2. Wolverine Claw Earrings
Logan's adamantium claws, Wolverine's helmet… this whole set are the perfect accessories for attending the premiere of your favorite X-Men's latest film.
3. Wolverine PopSocket
Everyone has a phone, and everyone struggles to hold on to that massive pocket computer aka personal YouTube screen while flipping sideways to watch and vertical to text.
Enter this X-Men PopSocket, which simplifies things greatly. (And looks awesome!)
Even if your Wolverine fan already has a device like this, the claw-torn image of comic book Wolverine is just the thing for the Logan enthusiast in your life.
Did you know: Wolverine's real name, revealed deep into the comic series, is James Howlett.
4. Wolverine Wall Art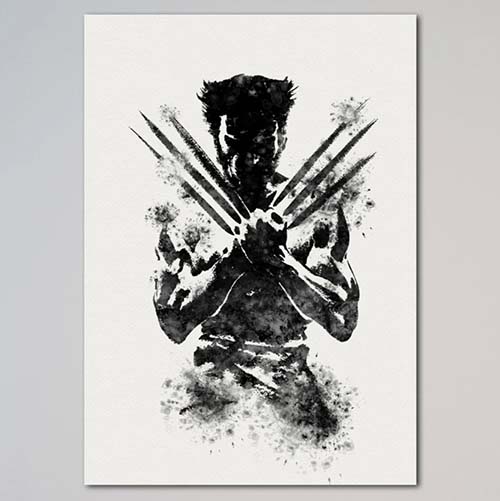 An incredible fan-art rendition of everyone's favorite X-Men character, complete with energetic paint splashes and claws at the ready.
Anyone would love to display this gorgeous Wolverine art print on the walls of their home!
5. Wolverine Silhouette T-Shirt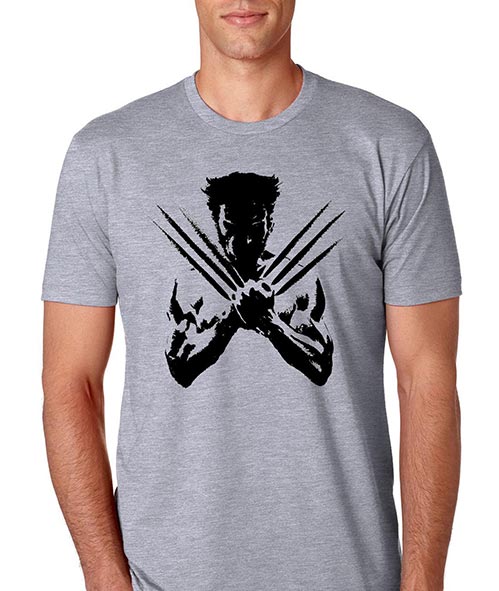 This simple silhouette t-shirt has 2 elements: Logan's famous hairdo and crossed adamantium claws. Simple, yet unmistakable.
The ideal gift for a friend who is an understated and very chill Wolverine enthusiast.
Did you know: Thomas Logan is actually the name of one of the men who killed Wolverine's father.
6. Wolverine Action Figurine
Action figures are always cool. From kids to collectors, anyone who loves Marvel's X-Men will simply adore this classic Wolverine figure.
You're never too old to play pretend. Maybe get a few X-Men (and bad guys) so they can fight!
Here's another great option:
This one is more "lifelike" and is modeled after Hugh Jackman's turn as Wolverine. Two heads (for different facial expressions) and two sets of claws (pre- and post-adamantium) make this figurine complete.
7. X-Men Movie Box Set
If they don't already have it, what could be a better gift idea than 838 minutes of the X-Men movie collection? The answer, of course, is nothing.
This set contains the original X-Men trilogy plus four additional titles.
You could also give digital downloads on the recipient's favorite streaming or digital content platform. Use our Digital Gift Guide for tips on how to do this well.
Did you know: Wolverine's first appearance in the Marvel Comic universe was in a 1974 Incredible Hulk comic.
8. Wolverine Origins Adamantium Claws
If you haven't found the perfect gift yet, look no further. Seriously. What could be better than a set of Wolverine's claws?
Made from real adamantium* for authenticity.
This is the way to make any Halloween or convention-ready cosplay costume complete.
You may also enjoy: Cosplayer Gifts: How to Find the Perfect Cosplay Gift
9. Wolverine Car Air Freshener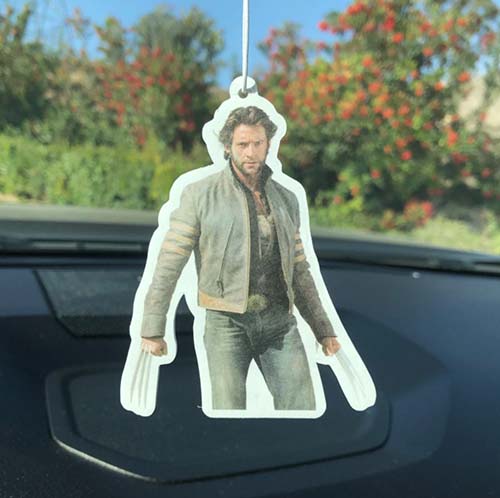 When, like the X-Men you love, you're constantly on a new adventure (or just crawling out of your man cave to pick up some take-out), the freshening odor of Hugh Jackman is always going to be a win.
This Wolverine Air Freshener features the greatest superhero (Wolverine, duh) in his greatest iteration (Hugh Jackman's portrayal, duh), with the greatest scent (new car smell, duh). It's the perfect gift for the Wolverine fan who has it all!
Did you know:In addition to his animal-like retractable claws, Wolverine has many of the senses of an animal, including keen hearing and smell.
10. Custom Superhero Portrait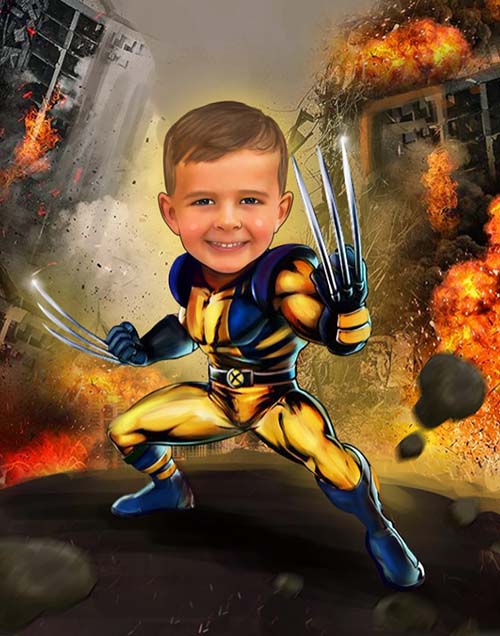 What a fun idea! Give someone special a whole new vision of themselves by personalizing their very own superhero portrait. You'll receive a digital download that you can print into any size to create your own unique poster or framed art with a customized Wolverine that looks suspiciously like someone you know.
11. Wolverine Origins Vintage Trading Cards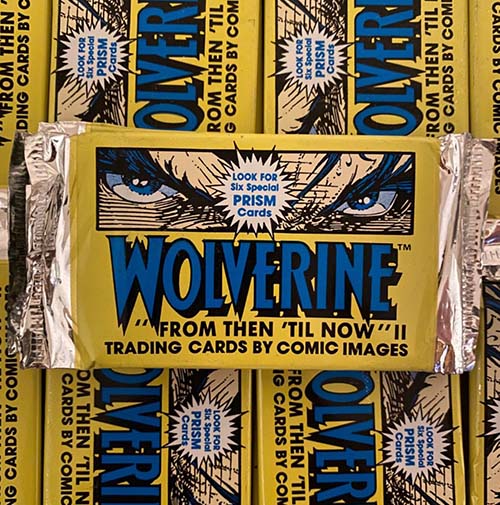 Comic book trading cards are always going to be a win, and doubly so when they're all Wolverine! Get these 1994 "Wolverine, From Now, Till Then" Trading Cards and watch the recipient's delight as they add some real gems to their collection.
And you can always check out eBay for more vintage Wolverine trading cards!
Did you know: In one scene in 2009's X-Men Origins: Wolverine a black vintage Mercedes Benz can be spotted moving around. This was the vehicle Charles Xavier and Erik Lensherr used in the beginning of X-Men: The Last Stand.
12. Wolverine Cookie Cutter
This is a great DIY Wolverine gift idea that's both tasty and affordable:
Get this inexpensive Wolverine mask cookie cutter
Use the cookie cutter and your crazy frosting skills to decorate with yellow and black frosting
Gift cookies + cutter to the Logan Lover in your life
Easy peasy, lemon squeezy.
Did you know: Wolverine has a son with similar abilities (retractable claws, healing factor, etc) name Daken, who becomes a supervillan in the Marvel Comics universe. Do you sense another X-Men movie coming…??
13. Mutant & Proud Mug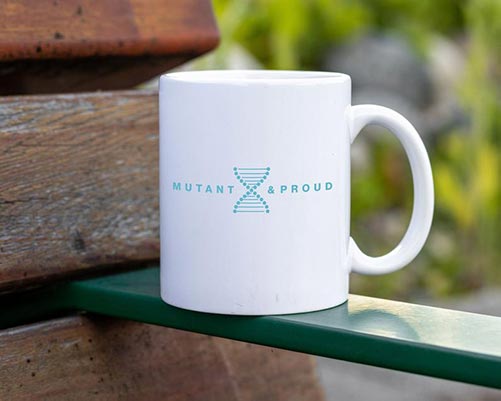 Show off some mutant pride with this double helix DNA "Mutant & Proud" white mug.
This is a great gift for those who love Wolverine/X-Men/Logan/Hugh and coffee/tea with equal passion.
Read Next: The Massive List of Family-Friendly Movies That Grownups Love Too
Pin It