Looking for a creative gift idea for an aspiring artist?
Maybe you have a youngster who draws fairly well and is old enough to handle legit digital art tech. Or perhaps you're looking for a thoughtful gift for an artsy adult, or something special for the Photoshop enthusiast.
A digital drawing pad is just what you're looking for. In this unboxing and review of the XP-Pen Artist 13.3 Pro, we'll show you all around a good one.
We'll also give you some reasons why this is genuine high-end tool (at a modest price) for artists and aspiring artists (aka kids) alike.
Our website is supported by our users. We sometimes earn a commission when you click through the affiliate links on our website. See our privacy policy & disclosures for more information.
We received this product at no cost for review.
What Makes a Good Gift for Artsy Types?
You would think artsy types like artsy stuff. And they often do, but, being artists, they're typically pretty picky. So there's no guarantee that what you think is beautiful is up their alley.
Really, in my experience the best gifts for artsy types are always supplies and tools. Things that help them continue to create.
For the artist in your life, that might be a pack of canvases in various sizes, along with paint and brushes and so on. (Just be sure to find the type and brand they like!)
Or it could clay for sculpting, driftwood for creating their found art masterpieces, a camera to be able to take quality photos of their work. You get the idea!
The artist always wants to create. Help them do so, and they'll love (and remember!) the gift.
This is where a good drawing tablet like the XP-Pen series can really shine. It's a tool that helps encourage artistic creation. The quality is good enough for professional artists, and it's also a fun way to introduce the younger set to digital art drawn by hand.
What Is a Drawing Tablet?
Drawing tablets or digital art pads come in all varieties, from simple kid-friendly ones in the $20 range and high-end pro versions that can go up past a cool grand. (Like this one.)
If you're looking for a good gift that takes the artist seriously but doesn't break the bank, you'll be looking at tablets in the $100-300 range.
Most drawing tablets do the following:
Use a digital pen (usually included) to translate your physical strokes onto a digital canvas
Can sense the pressure and movement of brushstrokes to create realistically emulated art
Require a connection to a separate device, like a laptop, via HDMI or USB
Require 3rd party software (like Photoshop, Corel, Affinity, etc) for best functionality
To introduce an aspiring artist to the world of digital art, a good mid-range drawing tablet is the perfect gift. We recently received the XP-Pen Artist 13.3 Pro, and it's the ideal product for gifting.
Let's take a look, shall we?
XP-Pen Artist 13.3 Pro (Unboxing)
Here's our unboxing of the XP-Pen Artist 13.3 Pro (Holiday Edition).
The holiday edition includes a few bonus items, like the puzzle, which aren't included in the standard version. It also comes in the festive holiday-themed box.
XP-Pen Artist 13.3 Pro (Review)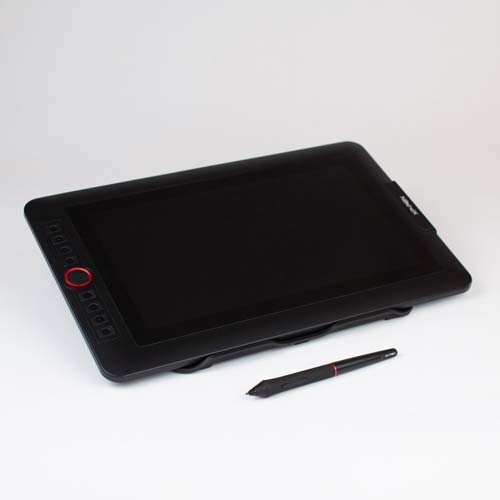 1. First Impression
My first thought on opening the box was, Wow, this is really big. It's like, double the size of a typical iPad-type "tablet."
My second thought was, hmmm this is actually pretty nice looking. The packaging was solid, it comes with quality accessories, and the tablet looks so inviting.
2. Requirements and Setup
So, first things first. For this to work, you're going to need:
A painting, editing, or digital art program. The tablet does not include art software, as it's intended to work with your artist's favorite program.
An HDMI and USB connection. My desktop is a few years old and doesn't have HDMI, so I wasn't able to use it right away. Thankfully I was already planning on getting a new laptop on a post-Thanksgiving sale, so I just had to wait about a week to be able to use it.
Driver download. You'll then need to hop onto the XP-Pen website to download the support drivers that ensure a healthy connection between your drawing tablet and PC. It took me about 10 minutes to set up.
That's it! Aside from downloading the drivers and adjusting a few settings, it's pretty much plug-and-play.
3. What's Included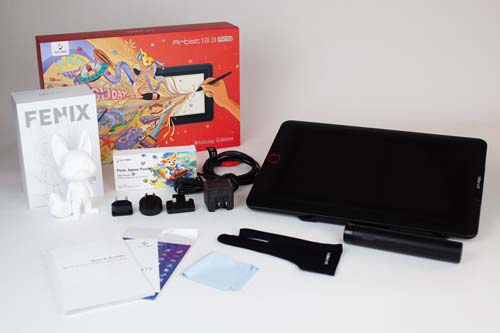 XP-Pen drawing tablet (15.3″ x 9.8″ x 0.5″)
Stand, which can flatten for storage
Drawing pen with case
8 replacement pen tips ("nibs")
Drawing glove for thumb and finger
USB/HDMI connection cable
Power adapter (ours came with 4 types, including the typical American plug, which is the only one we use)
USB extension cable (male & female ends – this is a nice accessory to have!)
Microfiber cleaning cloth
Instruction booklet
Sturdy storage box, everything fits back in there easily
Also, since this is the "Holiday Edition", it looks like there were a few bonus items:
Fenix statue, looks like you can paint it
160 piece Fenix jigsaw puzzle
Anime-style poster
Stickers
Decorative "Holiday Edition" box
If you're just ordering the regular XP-Pen Artist 13.3 Pro, I'm not sure how many of these bonus items you might get. (Update: The Fenix statue is sold separately.)
4. Features
Fairly simple setup – took about 10 minutes
After the initial setup, very easy to use – just plug and go
Huge drawing surface area
Full-laminated screen
1920 x 1080 pixel display resolution
Nearly no parallax
Tilt support
No need for battery in the pen
Higher color coverage, up to 88% NTSC (≥123% sRGB )
5. Using the Tablet
Here's my kid doing a demonstration (trust me, you don't want to see me doing a demo):
Since we're running Photoshop, after connecting the device as a 2nd monitor I pulled up a blank document, turned on the brush tool, and started drawing.
Using Photoshop's brush, pen, or pencil tools, you can draw on the tablet and it looks exactly like it would look if drawing on paper. The capabilities and sensitivity is amazing.
I don't have any other experience to compare this to, other than using a mouse in Photoshop, so I don't know how much better or worse the XP-Pen is compared to other tablets. But I was certainly surprised at how responsive and accurate it is.
Press harder with the pen, and you can see the difference on your screen. Use quick or slow brush strokes, or angle the pen, and again – you see the difference. It behaves like a paintbrush.
In my book, that's excellent.
Then pen is a little funky to use as a stylus. For example it can be awkward when selecting tools, functions, and options, or to "type" text by writing/drawing. I've never used a stylus regularly, but I assume that, like with anything, after some practice it will be easier to use.
For myself, during the initial testing, when I wanted to save a document it was easier to use the mouse and keyboard. I'd move the mouse, wait a second while the sensor switched from the tablet to the mouse, and then click and type as needed. You can write out letters using the pen and the program will switch them to typed text, it just wasn't super easy at first.
6. Is the XP-Pen for Kids?
My kids (aged 12 and 10) loved it. We used it with Photoshop, which was the toughest part for them.
Once they get their tools and settings right, they both love drawing with it. It's responsive and they totally feel like they are creating really cool art.
Since the pen is best for brush strokes, using it as a stylus wasn't the easiest for them either. Often I would assist by clicking settings or typing in file names on the laptop, using the mouse and keyboard.
So it probably comes down to the program you use along with the tablet. Do your kids enjoy watching YouTube tutorials and delving into difficult, daunting programs like Photoshop? Or do they prefer a simple "Paint" program? Either way is fine.
Remember that the tablet itself is just a tool. There's no built-in program, it functions like an extension of your desktop. Whatever program your kids are used to or enjoy drawing with should work with this device.
If the child is into serious art, then this is a seriously great gift idea.
The Verdict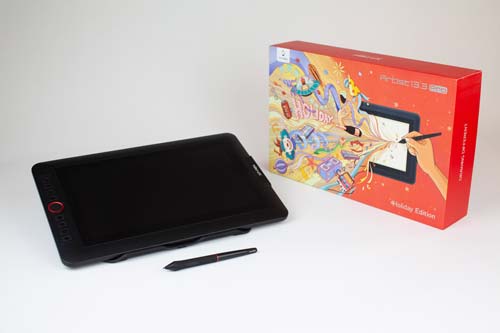 Ultimately, this is a really fun, useful, and high-powered tool for anyone who loves to draw.
I think it's an equally great gift for established artists as well as aspiring artists – the functionality is top-notch, it's easy to use, and it expands your world from simple paper or canvas to the entire realm of digital art.
Get it here:
Note that the standard and holiday editions have the same tablet and pen. The holiday edition just has the brightly colored box and some other bonus stuff.
Pin It