You know how Christmas décor starts right after Halloween? Like, November 1st hits and wham, everything is green and red with bright sparkly lights and ho ho ho.
Of course you know. Everyone says, "Golly gee, I can't believe the year has flown by and it's Christmas again!" Like this hasn't happened before. Every. Year.
Our website is supported by our users. We sometimes earn a commission when you click through the affiliate links on our website. See our privacy policy & disclosures for more information.
Well, here's something you might not know. The day after Halloween is one of the best days to stock up on some great Christmas ornaments. Because the stores pile in all the Christmas stuff on November 1st, the old orange-and-black spooky-witch-and-pumpkin junk has to go. So go it does, and usually at 50% off or more.
I'm telling you, this is the best time to buy your skeleton Christmas ornaments.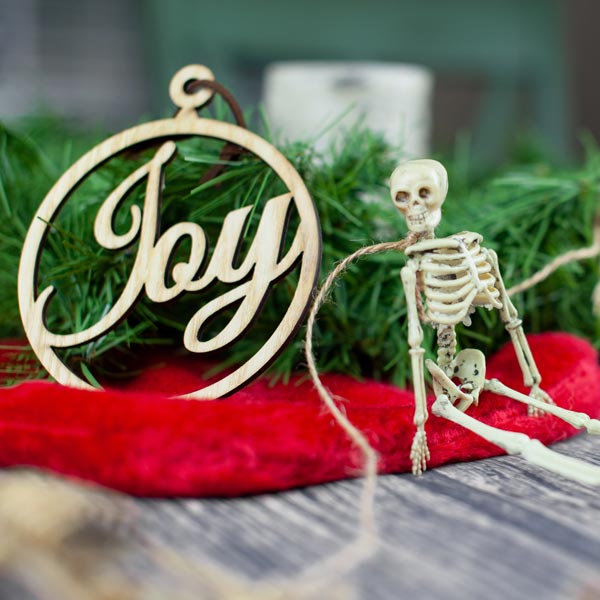 Oh, wait (you say), I'm a good Christian I am, we don't do skeletons! Heavens to Betsy.
Well, we're Christians too. Maybe not so good, having sins from which we need to be saved and whatnot, but we do love Jesus and love to honor God however we can.
Because of that, we put skeletons on our Christmas tree each and every year as our own special, unique, and biblical tradition.
Related: Unique Christmas Gift Ideas for the Home
A Creepy, Christ-Centered Christmas Tradition
We started out with just one skeleton, found at an antique store for 99 cents. We had recently been talking about how we wanted more meaningful Christmas ornaments that our kids would grow up remembering, in addition to the regular silly stuff like reindeer, Santa, and pickles.
I think you need a balance, right? Some goofy fun, a dash of holiday schmaltz, the occasional sugar rush of nog or ridiculously delicious frosted sugar cookies or marshmallowy hot chocolate, and meaningful traditions that help your family treasure the story of the Incarnation.
But most of the that stuff comes a little too easily. It's really easy to pop in your old DVD of Home Alone or stream Elf and watch two hours fly by. To keep your family's hearts and thoughts centered on Jesus takes a bit more effort.
Related: 10 Old Christmas Movies to Watch Every Year
That is why it is so important to start and continue Christ-centered traditions each and every year. These are the traditions that your kids will remember as they grow.
Like the skeleton ornaments!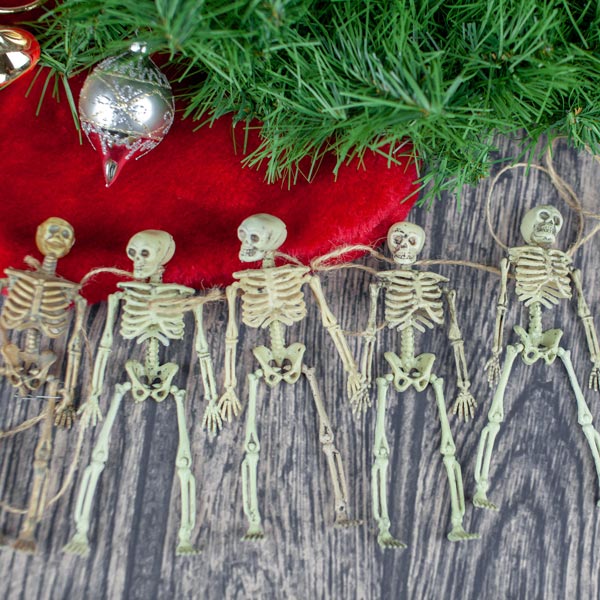 They'll definitely remember this one, because it is interesting, kinda creepy, and totally unique.
Anyways, we were at one of those antique stores that has all the little booths with random trinkets and collectibles. We had been brainstorming biblical themes and imagery that would work for meaningful Christmas ornaments, and we found this little decorative skeleton.
And we knew we had to get it. It was just so perfectly biblical.
Ok, ok, so if you haven't guessed by now, the reference is to Ezekiel chapter 37 and the vision of the dry bones. Let's take a closer look at that passage and its relevance to the Christmas story.
Ezekiel's Vision
In Ezekiel 37 God brings Ezekiel, in a vision, to a valley filled with bones. Yes, it's in the Bible, and it says the valley was filled with bones. Look it up.
The bones were "very dry" (Ezekiel 37:2), which signifies that these weren't just recently dead people; they were dead dead. The point is that these bones are Very Dead.
And God says to Ezekiel, "Son of man, can these bones live?" (verse 3)
Ezekiel wisely answers, "O Lord God, you know."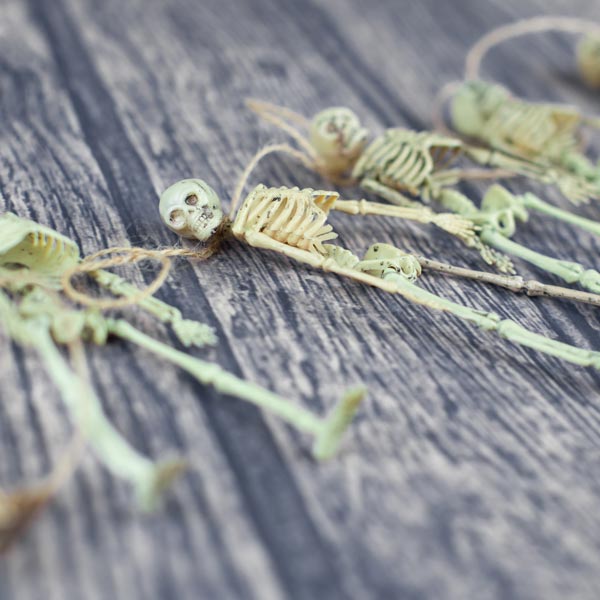 Then God tells Ezekiel to prophesy over the bones and tell them the Word of the Lord:
Behold, I will cause breath to enter you, and you shall live. And I will lay sinews upon you, and will cause flesh to come upon you, and cover you with skin, and put breath in you, and you shall live, and you shall know that I am the Lord.

Ezekiel 37:6
Spoiler alert: This hits on a major biblical theme that we see at the very beginning of Genesis all the way through the New Testament. It's creation imagery, but not just creation: A new creation.
So Ezekiel prophesies as God tells him to, and there's this weird rattling sound and the bones start coming together.
Skeletons.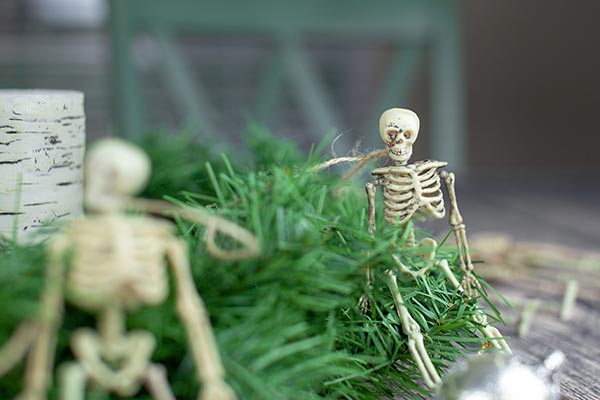 An entire valley filled with an army of creepy skeletons.
This is the picture (one of many) God gives us of the new creation. Skeletons, skeletons everywhere!
But it doesn't stop there. You can picture the scene done in Hollywood CGI; sinews wrapping and coiling around around the bones, flesh creeping up over the new muscle, the skin coming together.
But picture this as it's described, because now it's even weirder: the valley is filled with dead bodies. We know they are dead because Ezekiel specifically says that there is no breath in them (verse 8), then mentions that they had to stand up:
Then he said to me, "Prophesy to the breath; prophesy, son of man, and say to the breath, Thus says the Lord God: Come from the four winds, O breath, and breathe on these slain, that they may live."

So I prophesied as he commanded me, and the breath came into them, and they lived and stood on their feet, an exceedingly great army.

Ezekiel 37:9-10
Now there is an army of resurrected people filling up the valley. From dry bones to rattling skeletons to fleshy dead to living, breathing army, this is a picture of death being undone and life triumphing over the grave.
But we're not quite done. After the multitude comes to life, the scene gets personal.
At that point in Israel's history, God's people were despairing. Their nation had been overrun by foreigners, their army was utterly defeated, their king and most of their leaders were deported, and the land was ruined. Under the complete control of a world-empire, how could this tiny nation hold on to any hope?
But into this age and spirit of despondency, God says,
Son of man, these bones are the whole house of Israel. Behold, they say, 'Our bones are dried up, and our hope is lost; we are indeed cut off.'

Therefore prophesy, and say to them, Thus says the Lord God: Behold, I will open your graves and raise you from your graves, O my people. And I will bring you into the land of Israel. And you shall know that I am the Lord, when I open your graves, and raise you from your graves, O my people. 14 And I will put my Spirit within you, and you shall live, and I will place you in your own land. Then you shall know that I am the Lord; I have spoken, and I will do it, declares the Lord.

Ezekiel 37:11-14
In the place of despair, God speaks hope. In the midst of death, God creates life. In the valley of skeletons, God re-creates his very own people.
If this isn't a picture of the Gospel…
After all, Jesus takes on our despair and gives hope. Jesus took on death, destroying its power, and gives us new life. Where we were once dead in our trespasses and sins, Jesus has made us alive again in the power of his Spirit.
What a powerful image of Christ's work for us in his life, death on the cross, burial, and resurrection! This is the whole point of the incarnation!
Related: Meaningful Christmas Gifts for Kids
The Skeleton Christmas Ornament Tradition
So perhaps this November 1st, when all the old Halloween kitsch goes on sale, you will find some beautifully biblical imagery to use in your Christmas decorations.
And as you decorate your tree each year (with crosses, angels, and shepherds; perhaps with Jesse Tree ornaments, probably bulbs and tinsel and reindeer and Santa's), consider adding some creepy-but-hope-inducing skeletons.
(This is the closest thing I found online, but you can probably find these on sale at department stores on November 1st.)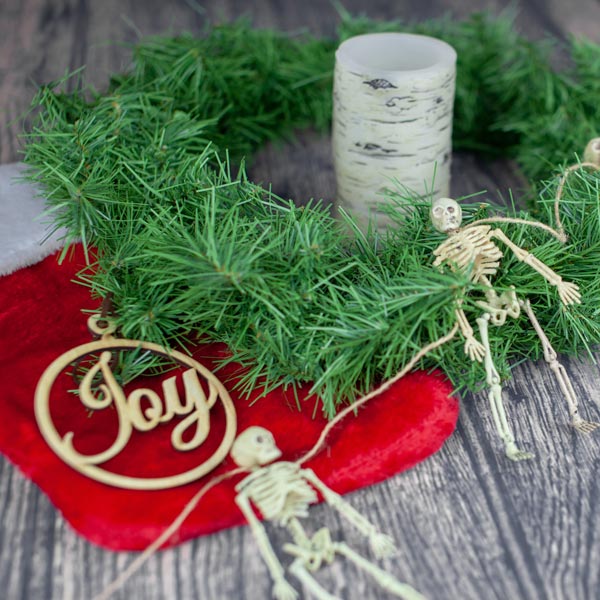 You can ask your kids, "Why do we hang skeletons on our Christmas tree?"
As with a catechism, you can teach them to respond, "Because in Ezekiel 37, God gave us a picture of new life. The dry bones were turned to skeletons, clothed with flesh, and received new life from the breath of God. And that is a picture of what he has done for us through Jesus Christ."
What a beautiful tradition.
More: