When it comes to housewarming, a hostess gift, or a going-away present, a beautiful "As for Me and My House" sign is always a wonderful gift idea!
The beloved verse from Scripture is a gentle nod to guests and family members that the Lord comes first – which is always a great reminder. So whether you're looking for a Biblical home décor gift or something to adorn the walls of your own home, the plaques and signs that we've handpicked below will surely fit the bill.
21 Best "As for Me and My House" Signs
Our website is supported by our users. We sometimes earn a commission when you click through the affiliate links on our website. See our privacy policy & disclosures for more information.
1. Personalized As For Me and My House Plaque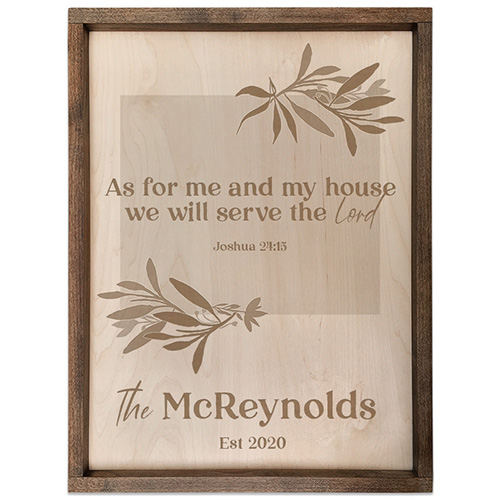 It's already beautiful, with its pretty font and swirly design, but this one is made even better by the personalization! Your friend will love unwrapping this little beauty, and they'll appreciate the thoughtfulness you put into it by adding in their names.
2. As For Me and My House Farmhouse Shelf Sign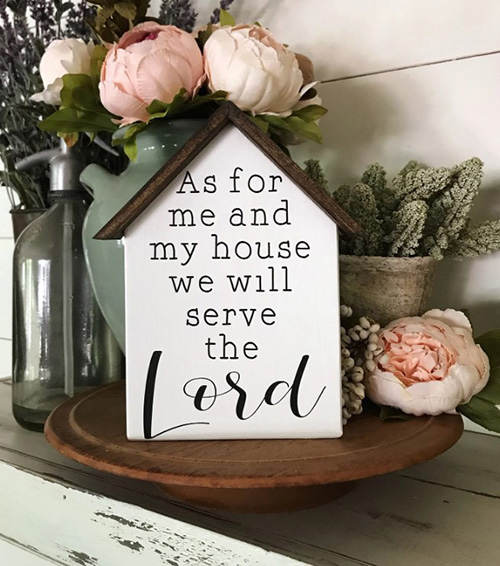 This little mini farmhouse sign is the right blend of cute and sweet! With its diminutive size and bright black rooftop, it fits in perfectly with all sorts of decor, but would look especially attractive in the kitchen.
3. Printable Botanical As for Me and My House Wall Decor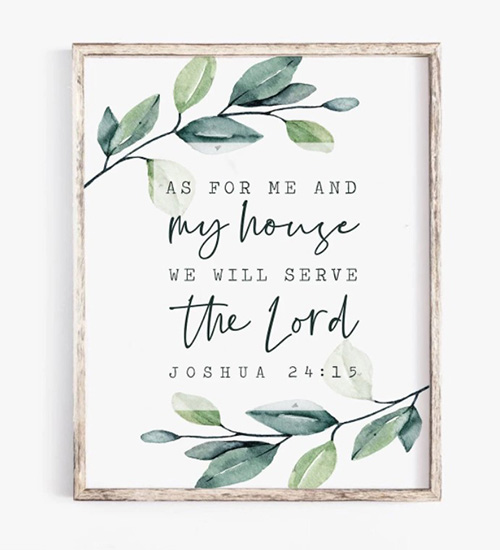 Here's a watercolor botanical version of our favorite verse that is awash in gentle hues of green. It will look great in a neutral space. We really like this one for office spaces and/or lobbies as well, as it's so soothing to the eye.
4. Large Custom Family Name Wooden Sign with Joshua 24:15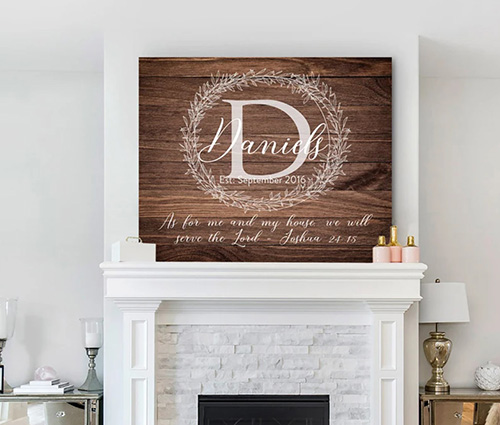 This oversized wooden sign is fully customizable with your name, making it great fit for a family wall or above the mantle! It has a rustic charm that is truly timeless, and will blend in seamlessly with any decor: farmhouse, modern, vintage, industrial, or cottage.
5. Gold Framed Joshua 24:15 Rustic Wood Decor
This rustic version is trimmed and outlined in a pretty gold shade, making the black and white really pop. We think this one will look best in a bedroom, or even a bathroom, but really you could hang it proudly anywhere in the house!
6. As For Me and My House Wall Art Vinyl Decal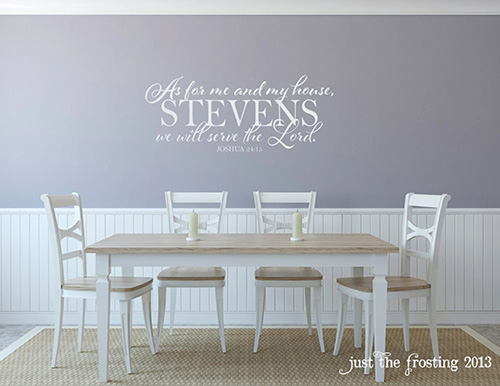 This vinyl decal of the popular scripture is a great way to go when you have plenty of wallspace and want to make a statement (without putting any more nail holes in the wall). Great for an entryway, over the dining table, or centered on your family wall of photos, this is an inexpensive way to totally change up your decor.
7. Vertical Wooden Joshua 24:15 Scripture Sign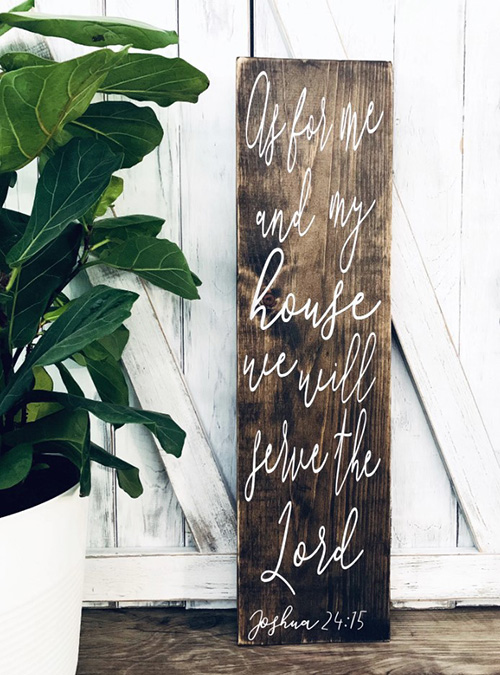 For those tricky spaces, like entryways, hallways, tiny bathrooms, or galley kitchens, a tall vertical sign is the style of choice! This plaque really catches the eye with its size and pretty font, all on rustic "plank" of natural wood. Also great for porches!
8. As For Me and My House Printable Wildflower Wall Art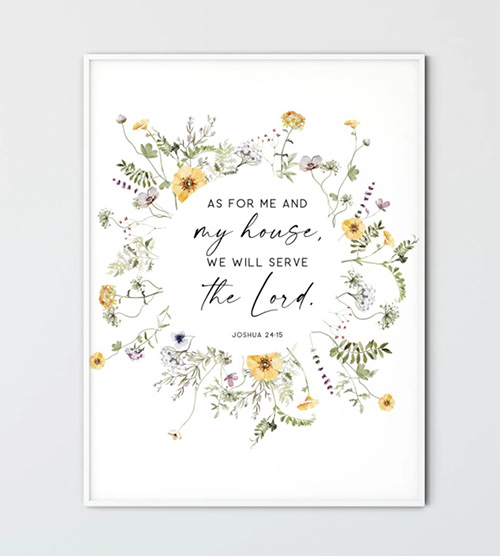 This watercolor style flower print is so pretty! We love the darling blooms all encircling the verse. Such a nice addition to a cottage type atmosphere, a little girl's bedroom, or your get-away cabin in the woods.
9. As For Me & My House Hanging Cotton Flag Banner
Let this pretty flag fly and get ready for the compliments! Everyone will love this unique and simple flag – whether you let it float gently in the breeze outside on your porch, or inside where the family gathers.
10. Joshua 24:15 – Laser Engraved Alder Wood Plaque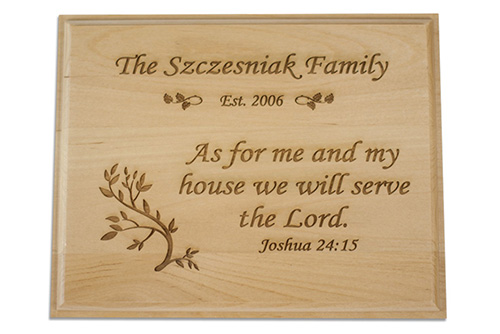 This plaque is laser engraved with your family's name on a pretty piece of alder wood, making it a great housewarming gift or wedding present! They'll love hanging this plaque in a spot of honor on the wall, to be admired by all who visit. And it's available in four different sizes!
11. Leafy As for Me and My House Vinyl Wall Art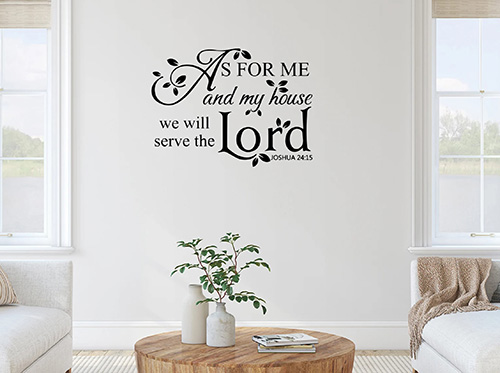 Vinyl art for the win! When you rent a home especially, it's always a good idea to have decor and art that can easily be removed without damaging the walls. Enter in this well-designed decal, which boasts elegant fonts accented with adorable little leaves.
12. Cherry Wood "As for Me and My House" Personalized Cross
Crafted from solid cherry wood, with a stain that gives it a deep jewel-toned coloration, this personalized cross really leaves no doubt where you stand as a household and what you believe! This Joshua 24:15 accent will look amazing right above the doorway as you first come into the home, but would look equally as pretty on any wall you choose.
13. Framed Canvas Joshua 24:15 Scripture Wall Decor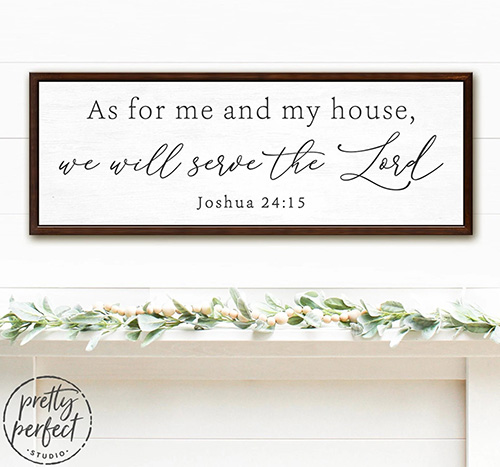 The premium heirloom canvas that it is printed on really makes this one stand out in a crowd. The creamy texture and color will blend in perfectly with your style – no matter the style! When you're looking for a simple yet effective way to brighten and spruce up your home, look no further than this minimalist framed canvas.
14. Customized Modern Wooden Cutout "As for Me and My House" Wall Sign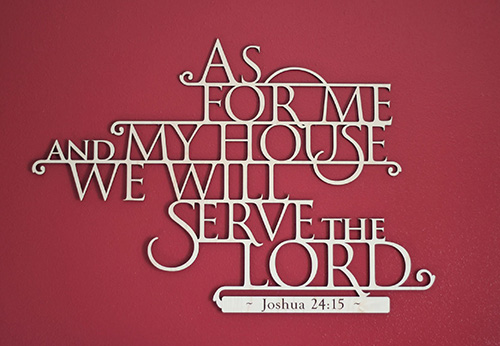 Totally unique, from its eye-catching font to its personalization, this customized modern wooden cutout is a real standout! Offering a more up-to-date and unusual way to share Scripture, this great sign will especially be effective on a brightly colored wall.
Read: 50 Random Acts of Kindness for Christians to Share the Love of Christ
15. Scalloped Wood "As for Me & My House" Sign
This one has a totally beachy feel, making the Scalloped Wood "As for Me & My House" Sign perfect for your vacation rental, cabin getaway, or summer home! It's a cute yet grown-up sign, made extra special with its scalloped shape and pops of teal color.
16. As for Me and My House Wooden Wall Art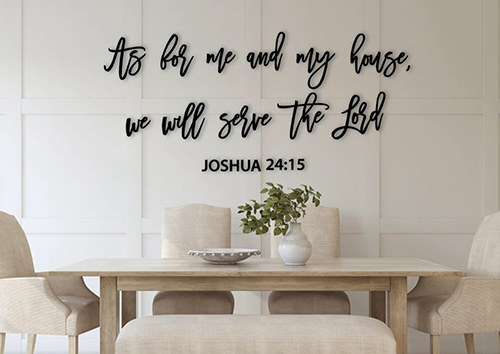 This laser cut sign is such a stand-out! It will really bring new life to your kitchen, dining room, or den. It has a more modern vibe to it, making it perfect for a newly married couple just starting out. Would also look amazing in the church coffee shop or study area!
17. Minimal Hanging "As for Me and My House" White Sign
Simple and minimalistic without all that fussy nonsense, this white sign is the way to go when you prefer a clean slate and dislike clutter! Keep it simple and classy and pretty with this timeless wall hanging.
18. Arched "As For Me & My House" Black Wooden Wall Plaque
Almost playful in its design, this arched black wooden wall plaque is great for families of "littles." They'll love designing their decor and photographs around this cute plaque. Guests will definitely want to know where they found it!
19. Large As For Me and My House Metal Sign

When you have a HUGE wall that just overwhelms you with despair about what to hang, have we got a solution for you! This giant metal sign will make the space sing! Make a statement without breaking the bank (or hanging 30 different photographs – who needs that kind of stress in their life?!). At 54" in width, this Joshua 24:15 wall decor accent is just the thing your space needs.
20. Deeply Engraved As For Me and My House Wooden Sign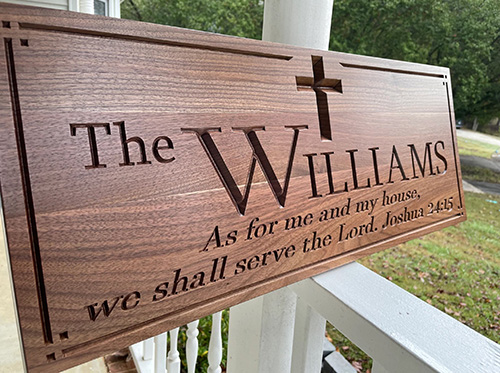 Great for that "porch life," you've been wanting, this deeply engraved personalized wooden sign almost looks like a professional advertising or business sign! Showcase Jesus and His love and your family's love for Him with this polished wooden sign.
21. Floral As For Me and My House Tray Sign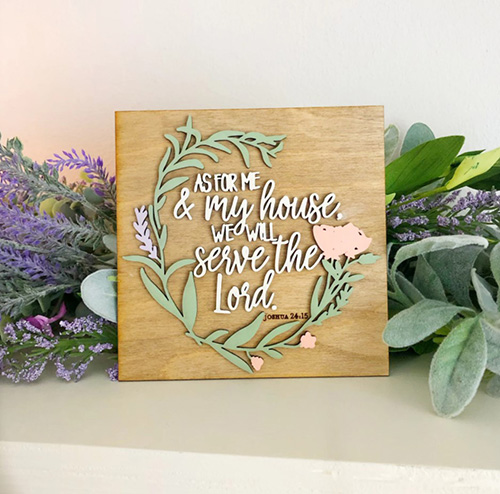 The pretty florals on this great tray sign make it perfect for a girly girl's bedroom, a single lady's home, or your guest room. The pastel colors make it great for Easter decorating, but we think you should leave it out all year around.
Bonus: "As for Me and My House" Cutting Board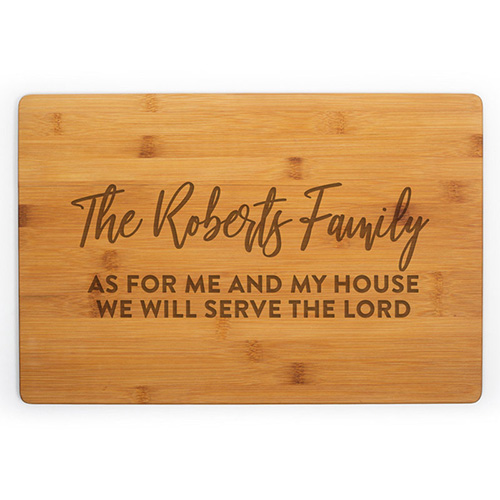 Whether you use this cutting board to slice cheese, arrange charcuterie, chop apples, or dice onions, or simply hang it in the kitchen, it is sure to bring a smile to your face every time you see it. Everyone loves a little bit of personalization too, making this cutting board extra special.
Read next: 21 Best Housewarming Gifts (That They'll Actually Use)
Pin It