Last Updated on July 31, 2020
These pharmacist gift ideas come with a long list of positive reviews and absolutely zero side effects. That's the kind of gift you want to give to a beloved pharmacy professional in your life.
Let's dispense with the pleasantries and puns and get right to prescribing the very best pharmacist gift ideas for someone truly special!
15 Side Effect-Free Pharmacist Gift Ideas
Please note that this post contains affiliate links. This means that if you purchase something you see on our site we may receive a commission at no cost to you. Read our full disclosure here.
1. VINTAGE APOTHECARY SHOPPE SIGN
A gorgeous piece of American-made craftsmanship and creativity in celebration of the apothecary's trade. Balms, liniments, tonics, elixirs… your pharmacist knows these things, and will love to display this personalized plaque on the walls at home or at the office.
2. PERSONALIZED PHARMACIST GIFT Tumbler MUG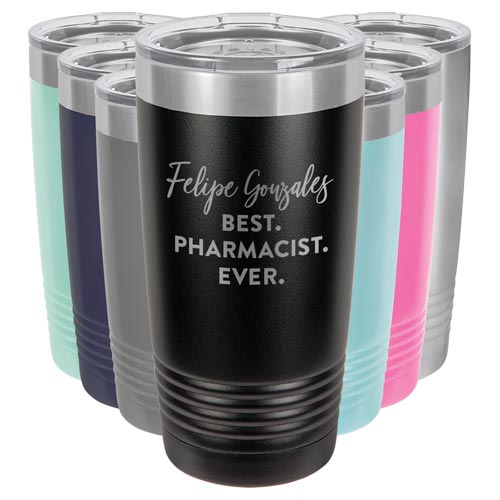 Tumbler mugs are great gift ideas for pharmacists. The pharmacist is always hopping around from consult to mixing to the phone to the office to…. well, everywhere.
Here's an awesome cup that keeps a drink piping hot (or freezing cold) for hours is one gift that they will truly appreciate – and actually use. Plus, you can get it completely personalized here!
3. VINTAGE PHARMACIST SIGN WITH CUSTOM NAME BOARD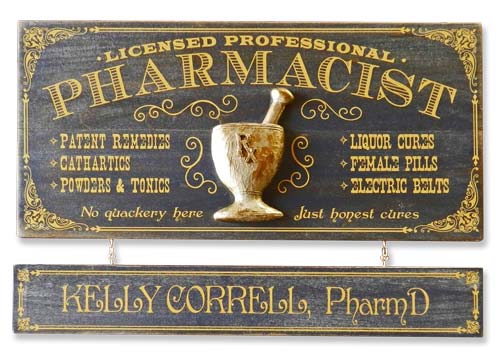 Made in the USA from real wood and finished with a hand-distressed vintage style, this silkscreened and hand-painted pharmacist sign features an RX mortar and pestle relief carved by hand and some clever verbiage.
You can also get the hanging name board, personalized with name and qualifications. PLUS you can get as many additional name boards as you like, to celebrate additional degrees or other certifications, or you can personalize a name board for each staff member.
4. VINTAGE PHARMACY MANAGER – TECHNICIAN SIGN WITH CUSTOM NAME BOARD
Same thing here as #3, but for the pharmacy manager/technician. The retro style is reminiscent of old-fashioned drug stores of yesteryear, and is sure to be a hit with the staff.
5. PHARMACIST PILL BOTTLE EARRINGS
Check out these adorable little pill bottle earrings! The ideal pharmacist gift idea for someone who loves anything and everything cute. Each earring is shaped like the classic orange prescription bottle with the Rx symbol.
6. LETTERS TO A YOUNG PHARMACIST
A practical book of advice from leading pharmacists who have been there before. These are personal letters offering sound advice and insight to help seize opportunities, learn to balance career and family, how to avoid common mistakes, and strategies to overcome setbacks.
7. PHARMACIST WINE GLASS
You can tell what kind of day it was over at the pharmacy by how full the wine glass gets filled. Regular level: Easy day. Halfway: Rough Day. Full: Don't. Even. Ask.
8. PERSONALIZED WINE BOTTLE HOLDER WALL DECOR
Speaking of wine-loving pharmacists… This wine bottle holder displays a lovely little collection of wine bottles at the ready. Made in the USA from solid wood and personalized with your pharmacist's name across the top.
9. BOSS THIS WAY POINTER SIGN
Here's the thing: the pharmacist is the boss. Period. This solid wood pointer sign shows the way to the boss' office with a hand-carved wood pointer finger. Large size, vintage style, and customization available.
10. PRESCRIPTION COFFEE MUG
Either that is a ginormous bottle of pills, or you're a coffee-drinking pharmacist.
11. INSTANT PHARMACIST JUST ADD COFFEE MUG
Just like it says: Add coffee, get pharmacist.
12. PERSONALIZED PHARMACY LABEL COFFEE MUG
Your prescription is one large cup of coffee. Or two. Perhaps three. Sip repeatedly until you begin to feel human. RX#: PICKMEUP. Qty: As many as needed.
13. PHARMACIST GIFT KEEPSAKE TRINKET BOX
Handmade trinket keepsake box in the shape of a classic Rx pharmacist's mortar and pestle. The top lifts on a hinge to allow you to store special keepsakes and memorabilia.
14. PERSONALIZED KEEPSAKE BOX
For something a little more classy and durable, consider a walnut wood keepsake box with glass lid. Includes etching on the glass and a personalized name plate.
15. BACTERIA NECKTIE
How about a microorganism necktie, filled to bursting with the tetrahymena molecule, a common organism used in research. A perfectly nerdy gift idea for the pharmacist with a chemistry background. Handmade by The Wool Fish, where you will find many, many more creative necktie designs for the perfect pharmacist gift.
PIN IT