Last Updated on July 29, 2020
If you want to have the ultimate home bar, you're going to need to think about whiskey barrel tables. The right table is something that says you mean business, and that you sure do love your whiskey.
But more than that, a great table says you are ready to gather around with friends and family, sharing good times, great conversation, and plenty of drinks.
So check out these ten great whiskey barrel tables that you can either buy or make, DIY-style.
From great big round tables that will seat the entire gang down to end table accent pieces (and everything in between), these are the best home bar accent tables made from whiskey barrels.
10 Great Whiskey Barrel Tables
Our website is supported by our users. We sometimes earn a commission when you click through the affiliate links on our website. Learn more here.
1. Amish Made Rustic Whiskey Barrel Table with Glass Center
This rustic beauty is Amish crafted and American made. The whiskey barrel table is built from an authentic oak barrel topped with quartersawn oak wood with a clear glass center so you can see the barrel head.
As a pub table, it works great because the tabletop is wide enough to actually fit your legs underneath. Spacious, rustic, and well-made, this is the home bar table set you've always wanted.
2. Whiskey Barrel Coffee Table with Storage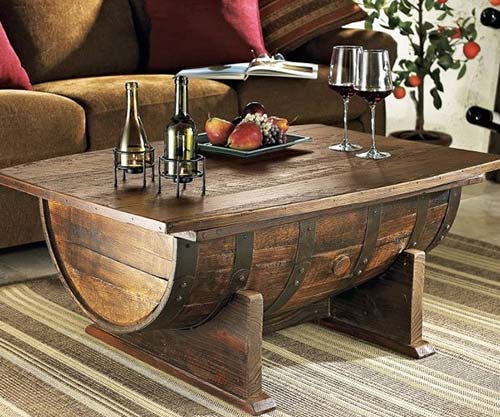 Crafted in Indiana from half of a reclaimed whiskey barrel, here is a barrel coffee table that is sturdy, durable, and beautiful.
The whiskey barrel table top is made from oak and pine, and the entire piece can be stained to match your decor. Plus, the table top lifts to reveal plenty of surprise storage beneath, perfect for extra blankets or perhaps a hidden cache of the good stuff.
This is a whiskey barrel table that is meant to be enjoyed.
3. Reclaimed Jack Daniels Whiskey Barrel Table with Stave Chairs & Footrest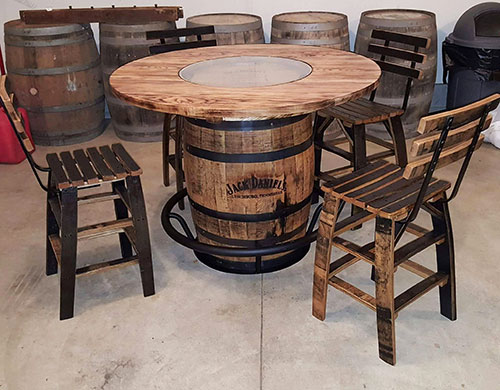 Made in Ohio from a reclaimed Jack Daniels whiskey barrel, this pub table set is the stuff of dreams. It has everything you could possibly want in a whiskey barrel table:
A real, genuine whiskey barrel for the base
Jack Daniel's branding
Set of four chairs
Chairs are actually MADE FROM BARREL STAVES
Solid wood table top big enough to get your knees under
Footrest for comfort
Cut out center so you can see the barrel head
Glass insert in center so the entire table is smooth
Made in the USA
It's awesome
4. Personalized Quarter Whiskey Barrel Table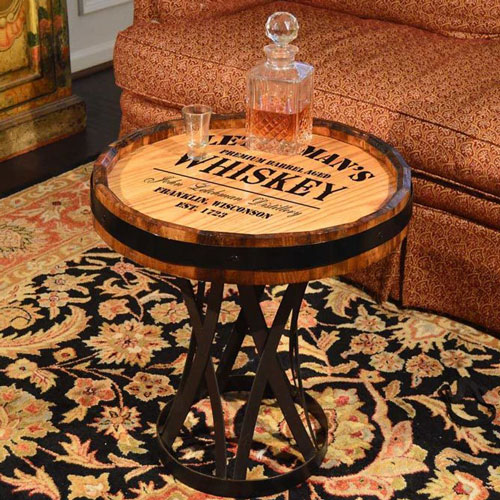 This side table is made from the top "quarter" of a whiskey barrel and a gorgeous wrought iron stand. We'll laser etch the top with a whiskey label personalized with your name, location, "est" year, and more.
This is the perfect whiskey barrel table to go next to your favorite lounge chair! More options and styles are also available here.
5. White Oak Whiskey Barrel Bistro Table with Stand
This cute barrel bistro table is made from an authentic reclaimed whiskey barrel and completed with a solid table top and elegant metal stand.
With the removable stand, the barrel table is bar-height and people can stand around it. Without the stand, it's kitchen-table height. Your choice!
6. Handcrafted Oak Whiskey Barrel End Table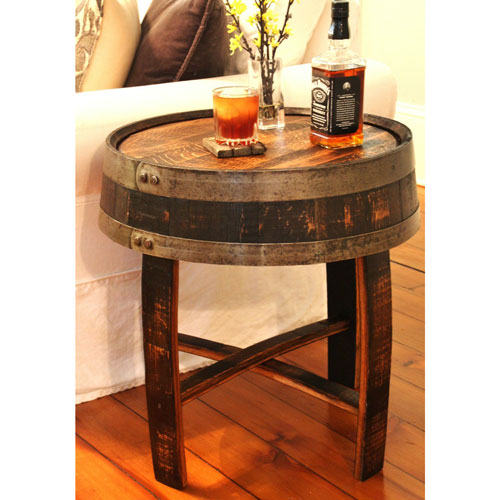 Here we have another handcrafted end or side table, this one made from a barrel top with legs that are crafted from actual barrel staves. The steel hoops are there, too, giving it a touch of the industrial/antique feel.
With a rustic oak finish that will complement any decor, this table will look great in your living room or home bar. Get it here.
7. Whiskey Barrel Table & Cabinet with Lazy Susan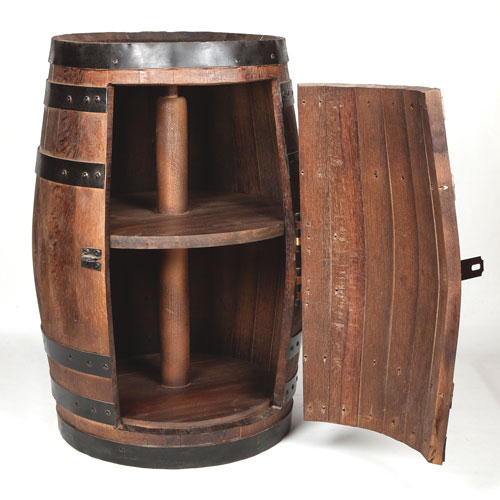 This whiskey barrel is a table on the outside, and a party on the inside. By which I mean, it's a lazy susan on the inside, and that lazy susan is where you'll keep your vast whiskey selection. After all, that's where the party starts.
Fill it up with a set of custom engraved whiskey glasses, and you'll be ready to go!
8. Whiskey Barrel Head & Staves Pub Table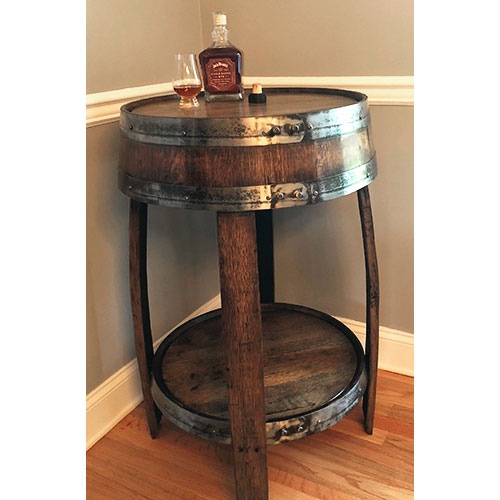 This pub table is made from a pair of barrel heads with long oak barrel staves for the legs. Rustic yet elegant, the rich dark stain, gorgeous oak wood, and expert craftsmanship come together to create the perfect table for your kitchen or home bar.
9. Whiskey Barrel Table Cabinet (Or Sink, Or Fire Pit, Or…)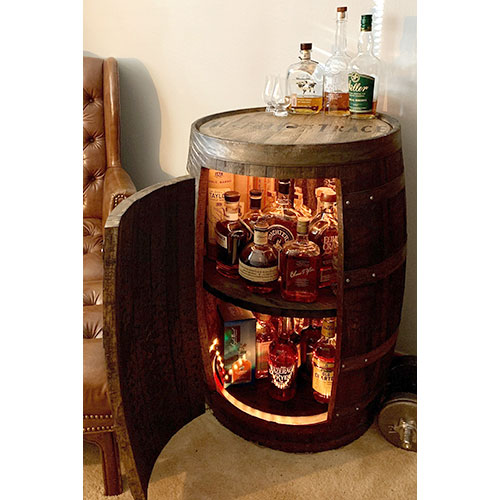 This whiskey barrel side table also serves as your liquor cabinet. That's the best of both worlds, if you ask me.
But wait, there's more! This shop will take a reclaimed whiskey barrel and turn it into just about anything you could want. Check it out; you could have a:
Sink
Chest
Trash can
Rotating bar shelf
Chair
Cabinet with door
Half-barrel cabinet
Even a fire pit!
Get a couple barrels with different functions, and that will be a great way to round out your home bar decor with an upcycled barrel theme.
10. DIY Whiskey Barrel Table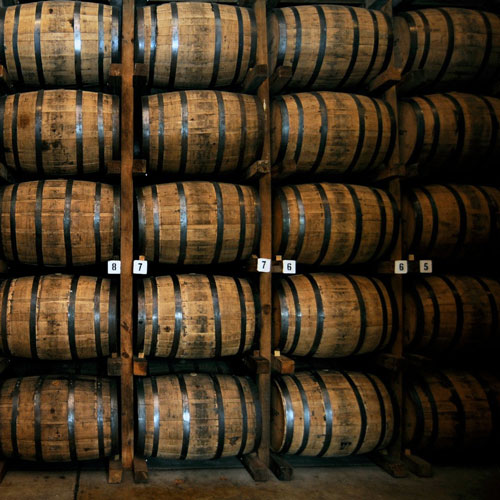 Now that you've seen all the best whiskey barrel table styles and designs, how about trying to make one for yourself? With a bit of work, you can make your own whiskey barrel table, decorate your home bar, and impress your friends. Here's how.
How to make your own whiskey barrel table.
Get a reclaimed barrel

If you have access to whiskey barrels locally, that will be your most affordable option. Check with local distillers, or keep your eye on Craigslist. To get started right away, you can order a reclaimed 34″ (kitchen table height) whiskey barrel here, a Jim Beam barrel here, or barrels from several other major distillers here.


Clean & dry the barrel

You'll want to make sure the barrel is properly cleaned, dried, and prepped. Start by cleaning your barrel with deck cleaner, then rinse off with water. Once it dries, sand the entire exterior (going with the grain) to smooth it out and prep it for your stain. Use a clean cloth to wipe off the dust.

Stain the barrel

Choose a stain to match your decor. Tape off the metal components using painter's tape and apply the stain, wiping off excess stain as you go along. Leave to dry, and apply additional coats until you reach the color of your liking. For a natural look, leave as is. For a polished, finished look, add a coat of polyurethane evenly to the entire barrel. Remove tape.

Measure for the tabletop

You'll want to make the tabletop at least as large as the barrel top, probably a lot larger. Measure the diameter of the top of the barrel. Then decide how large you would like the tabletop to be. For a bistro-style table, you'll want at least a 16″ overhang all the way around, which means that you will need to add 32″ (16″ for each side) to the diameter of the barrel top. If you are going for a larger table, consider a 20″ or even 24″ overhang. For smaller serving and end tables, a 2-6″ overhang should suffice.

Make the tabletop

3/4″ plywood is affordably and easy to work with, so that's what we'll be describing, but you can also choose oak for consistency and authenticity. Trace out the circumference of your table on the board with a beam compass, then cut using a jigsaw equipped with a fine finish blade. Sand the edges of your new cut to dull the side, as this will make the table more comfortable.

Stain the tabletop

Stain the tabletop piece to match the barrel. Follow the same steps as above, but you'll probably need a few extra coats to match the aged wood of the barrel. For optimal results, stain both top and underside of the table, and don't forget the edges. Finish with a polyurethane coat all the way around.

Attach barrel and tabletop

Use your beam compass to trace the outline of the barrel onto the underside of the tabletop. This will help you center the board correctly when attaching it to the barrel. Next, apply a bead of wood glue to the top edge of the barrel, then place the tabletop, making sure the outline you traced is facing down and aligned with the barrel top. Finally, allow the glue to dry for a minimum of 24 hours. For additional security, you can drive some nails or screws down into the barrel. Fill the holes with wood filler or cover with a lazy susan centerpiece.

Make it unique

You can also use your handyman skills to cut out a section of the barrel and place a shelf inside. Save the cut out pieces and reassemble them if you want to make a cabinet door, or leave off for a truly "open" bar. Find inspiration from all the whiskey barrel tables listed above!
---
There you have it! The ten best whiskey barrel tables that you can buy or DIY. I hope you've found something perfect to complete you home bar or man cave decor. For more inspiration, check out all these personalized home bar decor accents from Northwest Gifts!
Pin It