In this article, we're going to look at twenty-one things you can age in a barrel.
Barrel aging is so on point right now. From beer to beeswax, there are tons of things you can age in a barrel. Our ancestors knew all about canning and cellars and barrel aging, and it seems like we're rediscovering it thanks to the internet.
Perhaps because of all of our web-savvy tethers to technology we have this internal and almost inexpressible yearning to go back to the ways things were back in the day.
Our website is supported by our users. We sometimes earn a commission when you click through the affiliate links on our website. See our privacy policy & disclosures for more information.
Barrel Aging is Old School
We love "back in the day" when you grew your own vegetables, canned them in jars or distilled it into a beverage, then maybe aged some of it in barrels in the cellar to achieve the perfect flavors.
We love making our own candles and DIY tutorials and Instagramming ourselves pretending to read books.
If that sounds cynical, it's not intentional. There's definitely something attractive, in a world saturated with $5 value meal drive-thrus on every corner and our clothes made an ocean away, there's something attractive and intriguing about making our own stuff.
But you're not here for navel-gazing. You're here to read about 21 Things You Can Age In A Barrel, and you won't be disappointed. We're not going to count the things everyone already knows about: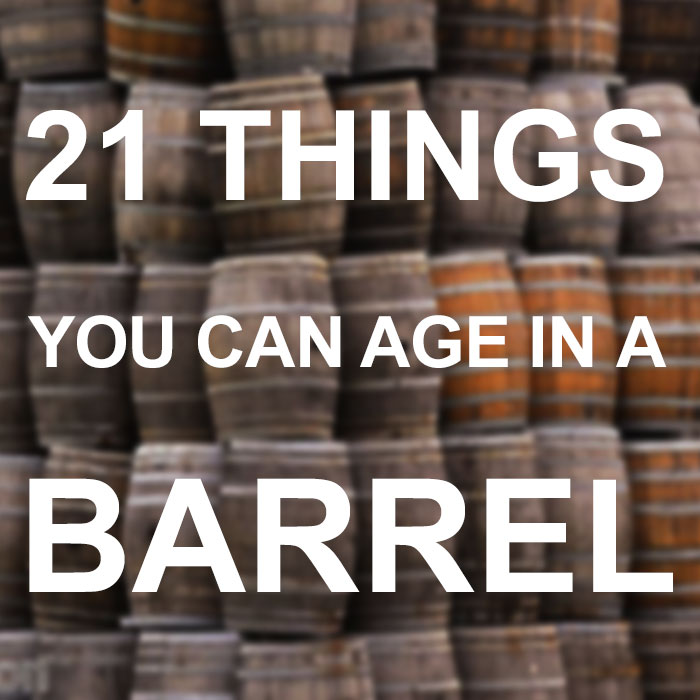 Here is your list of 21 things that can be barrel aged. Each item includes a note on how to do it, what barrel you'll need, and a cheater way to get it. (As in, where you can just buy it.) We'll start off with the four types of barrels we recommend, then move on to all the different things you can age in those barrels.
All of these – both the barrels and also all the stuff you can age in those barrels – make great gifts for family and friends!
21 Things You Can Age In A Barrel
1. Barrel Aged Pickles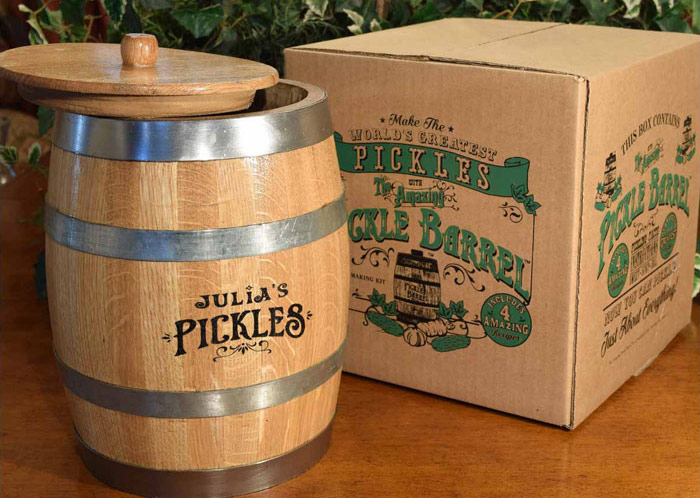 You can actually use the barrel to make the pickles themselves, while infusing them with that wonderful oak-barrel-aged flavor.
This Pickling Barrel can be personalized with a name and it comes in an attractive old-fashioned box, so it will make a great gift for someone with a taste for pickled things.
2. Barrel Aged Fermented Hot Sauce
Barrel-aged peppers soak up a delicious flavor unlike anything you've yet tasted.
3. Barrel Aged Cigars
Yes, that's right! You can barrel age cigars in this Cigar Infusion Humidor Barrel, which doubles as a humidor and a flavor infuser.
The kit includes your choice of a variety of flavor packs, ranging from Highland Malt Whiskey to Coconut Rum and everything else in between.
4. Barrel Aged Beer
Bourbon-infused stouts and porters are some of the trendiest and most delicious beers on the planet. Whether this trend is going to stick around is something for beer snobs to debate, but in the meantime you can enjoy your own home-aged Bourbon Porter or whatever else tickles your fancy when you have your own aging barrel.
5. Barrel Aged Pig's Feet
Pig's feet are one of those unique delicacies that you either completely love, or you're completely grossed out by it. If you happen to love them, you can pickle them yourself and age them in a barrel for an ultra-rare treat.
6. Barrel Aged Hot Sauce
This is a trendy item, so there are tons of recipes and places to buy it online. The best, in our opinion, is to do it yourself with the fun video.
7. Barrel Aged Coffee
Coffee & booze – a classic combo. Barrel aging coffee is a great idea, and here's how you can impress your friends and do it yourself.
8. Barrel Aged Tea
Barrel-aged tea is an up-and-coming trend that is gaining inroads as a crossover among wine and tea enthusiasts.
9. Barrel Aged Cologne & Perfume
Cask culture meets high society when you don bourbon-scented barrel aged cologne or perfume.
10. Barrel Aged Vinegar
Balsamic vinegar is traditionally aged in oak casks, aka barrels. It's a fun non-alcoholic way to get into distilling, and it tastes great on a wide variety of foods!
11. Barrel Aged Mustard
What else could make mustard any better than a smoky, oaky infusion of bourbon?
12. Barrel Aged Maple Syrup
Pancakes and waffles get a fresh kick when you pour over a hearty helping of barrel-aged syrup.
13. Barrel Aged Cacao Nibs
14. Barrel Aged Kombucha
If craft beer and hipster coffee shops had a kid, ze would grow up to be barrel-aged kombucha. Look for this to start #trending soon.
15. Barrel Aged Bloody Mary Mix
Here's another fun idea for your sauce barrel – make up a bloody mary mix, age it in a barrel for a couple months, then enjoy the best Bloody Mary you'll ever have.
16. Barrel Aged Sriracha
The coolest new hot sauce plus barrel aging means you'll always have the perfect condiment for any meal.
17. Barrel Aged Vanilla Extract
Vanilla is actually pretty ideal for aging in oak barrels. Part of what makes barrel aging effective is the presence of vanillin (read more here) in the oak wood itself. Vanillin, as you can probably guess from the name, is the primary component of the extract from the vanilla bean. Who knew?
18. Barrel Aged Soy Sauce
Soy sauce, somewhat like vinegar, has a long history of being aged in barrels. Put your sauce barrel to good use by making soy sauce and fish sauce (see next, #19).
19. Barrel Aged Fish Sauce
A wonderfully unique sauce that smells totally gross, but when used correctly turns out to be the secret ingredient in all my favorite foods.
20. Barrel Aged Worcestershire Sauce
Worcestershire sauce is another one of those flavors that you either love or love to hate (whether or not you can pronounce it properly).
21. Barrel Aged Barbecue Sauce
Bourbon and whiskey have been used in marinading meat since forever. So it's no surprise that you can infuse that flavor into some delicious BBQ sauce.
What else can you age in a barrel?
And be sure to check out ALL of our DIY Barrel Connoisseur Kits here!