What gift does a gun collector want most of all? A gun, of course! Rifles, shotguns, handguns, pistols – lovers of guns love them all.
But then again, a genuine collector can be a bit particular about which guns to get, so if you don't want to venture into the territory of actually buying a gun, here are some of the most creative gun collector gift ideas around.
21 Most Creative Gun Collector Gift Ideas
Some of the products below feature affiliate links. If you use our link, at no cost to you we may get a small commission, which keeps this blog running. Read more here. With that out of the way, read on!!
1. Personalized Gun Collector Tumbler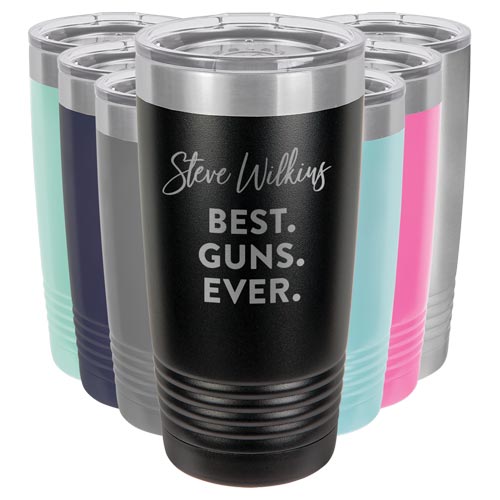 Our Personalized Tumblers can be custom laser etched with any text, in any font you like. Shown above we have our "Best Ever" design, which you can personalize with the recipient's name and totally customize the phrase beneath – "Best. Guns. Ever." or perhaps "Gun Collector & Enthusiast" or "Winchester '73" – whatever you want!
Plus these mugs are well-crafted with double-walled stainless steel construction and a vacuum sealed interior that keeps drinks hot or cold for hours on end. The perfect personalized gun collector gift!
2. Vintage Personalized Gun Collector Sign
Check out this vintage style all-wood gun collector plaque to hang above your gun case, declaring that you're a bona fide expert. Comes ready to hang and with a 3-d hand carved applique of an old antique gun.
Optional personalized name plank that hangs down, you can get multiples if you want to list the top items in your collection along with your name. Made in the USA.
3. Blue Book of Gun Values, 39th Edition
The industry standard value reference guide, in a brand-new 39th edition. The Blue Book of Gun Values is a great gift for any gun collector or enthusiast. Filled with more than just values and pricing, this handbook includes history, descriptions, and much more for all gun types.
More popular gun collector's reference works:
4. Vintage Personalized Rowdy Buck Conservation Club Sign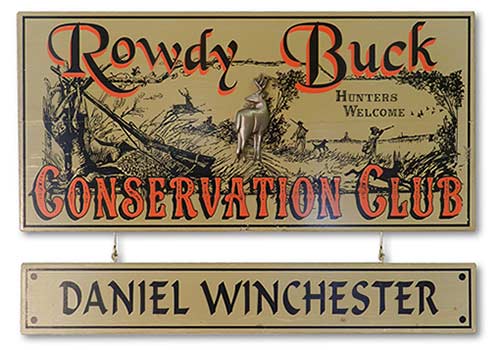 Another vintage design, the Rowdy Buck Conservation Club Sign is made in America from furniture-grade wood, comes ready to hang, and adds a splash of personalized antique style to a gun collector's office, den, or gun room.
5. AMERICAN FLAG BULLET CLOCK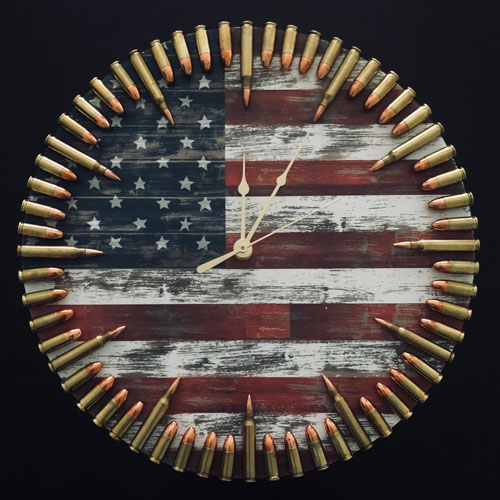 These rustic handcrafted clocks feature intricate settings of bullets for each minute in the hour. This particular design boasts a distressed Stars & Stripes artwork background. A fun and creative gift idea for the gun collector in your life.
6. Wanna See My Guns T-Shirt
Gun collectors just want to show off their guns. This is the perfect t-shirt for a gun enthusiast with a touch of wry humor.
7. Self Healing Target
Here's a gun collector gift idea that can be put to good use, over and over again. Rated for pistols and rifles from .22 LR all the way up to 50 BMG, the cube's shape and construction allows it to be shot thousands of times. It will simply flip over and bounce around again, and be ready moments later to be shot again. Great for target practice.
8. I Love One Woman & Many Guns Coffee Mug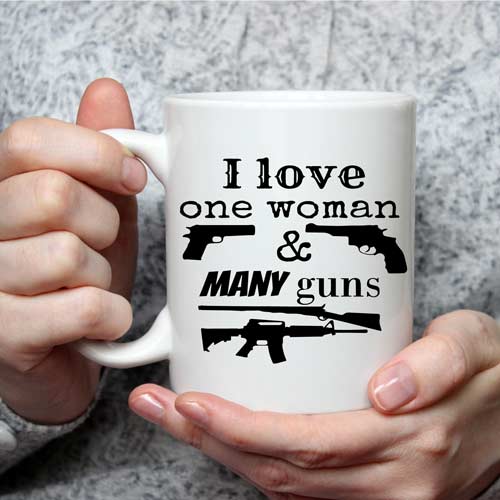 Wife. Guns. Coffee. 'Nuff said.
9. "Bulletproof" Whiskey Shot Glasses with Real .308 Bullet
Here's a great gun collector gift idea for the straight shootin' whiskey enthusiast. This set of two "bulletproof" shot glasses feature a real .308 bullet embedded into the glass. Drink up!
If your gun collector is into whiskey, you'll want to check out our whiskey gift guide.
10. SafeNDry Gun Safe Dehumidifier
This moisture eliminator reduces the risk of mold, mildew, rust, and corrosion in the gun safe or gun cabinet. An great gift that any gun collector will appreciate and put to good use.
11. Personalized Gun Heart Coaster Set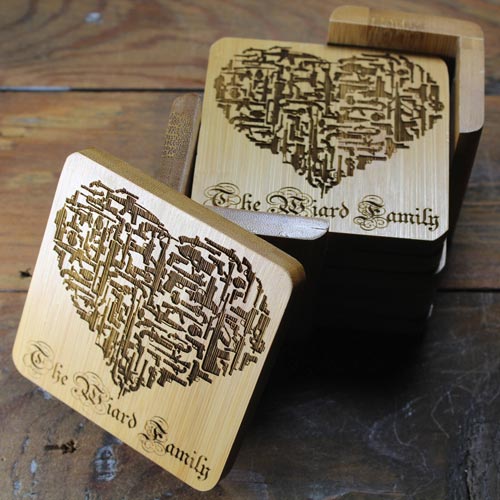 This personalized wooden coaster set includes custom engraving of name or family name and a heart made of – what else? – guns.
12. Buckshot Coaster Set
Shotgun shell coaster set in which each coaster looks like the back of a 12 guage shell. Each one is etched with "Buckshot 12GA," and features a hand-painted golden finish along with non-scratch pads on the bottom to protect your furniture.
The coaster holder is also designed to look like a shell, complete with red-ridged and metallic gold exterior.
13. Custom Hidden Gun Storage Wall Decor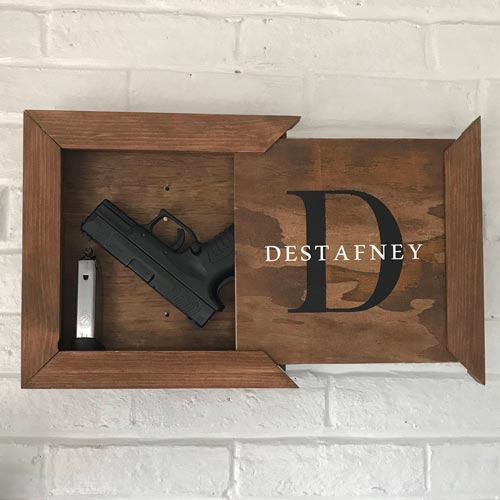 This rustic wood wall mounted plaque is so cute, with your family's last name and monogram initial! But wait… slide the frame a bit to the left and presto! You are ready for action.
Truly one of the most creative gun collector gift ideas for those who want to keep their decor style cute and Pinteresty.
14. American Flag AR-15 Gun Concealment Cabinet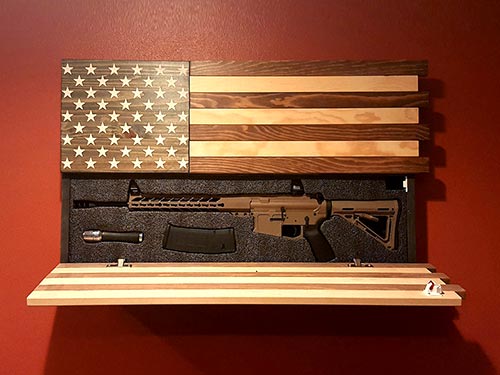 All-stained-wood gun cabinet shaped and colored like an American flag, concealing your AR-15 or other collectible gun. Comes with blank foam that you can cut to fit the gun of your choice.
15. Bluetooth Smart Handgun Safe
So maybe a gun safe is a more traditional gun gift idea, but the "smart" feature merits your attention. Most gun collectors are totally concerned with personal safety, and this is one of the best accessories on the market. The Vaultek Biometric Handgun Safe can be kept close by – at your desk, bedsite nightstand, under the kitchen counter – and it locks with "smart safe" technology for safety and security.
16. Out of Sight Gun Safe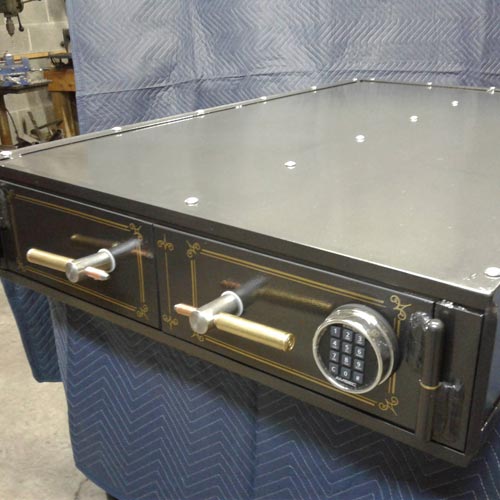 Check it out – this gun safe is superbly designed to minimize wasted space and increase the accessibility of your stored gun collection.
The inner tray pulls out, allowing you to view and play with the guns as easily as you like, leaving no movable parts in the safe for easy maintenance.
Plus it's handcrafted in the USA with true American pride and ingenuity, making it the dream gift idea for a gun collector.
17. Gun Jewelry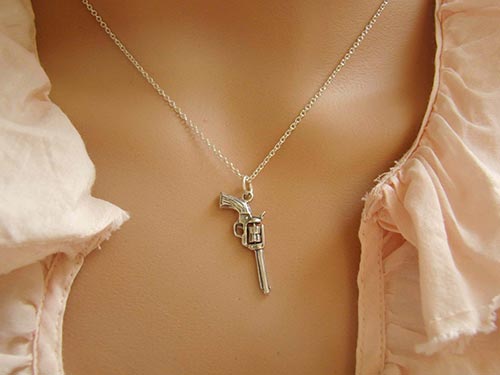 Perfect for the fashionable gun collector, a cute jewelry accent like old-fashioned pistols, M41As, sniper rifles, M16s, and more can be yours to wear proudly. More gun jewelry here >>
18. Time-Life History of the Gun in 500 Photographs
Time-Life's History of the Gun in 500 Photographs is a fun coffee table book for the gun collector. Highly readable and informative, even to the longtime afficionado and history buff.
19. Adult Activity Book for the Gun Collector
A gun collector coloring book! For the whimsical gun enthusiast, this book is filled with activities including coloring pages, crosswords, cryptograms, word find, gun trivia, and more.
20. Cast Iron Bottle Opener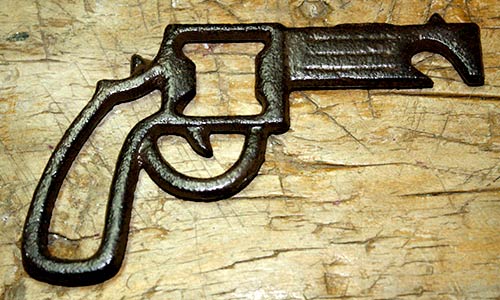 The only thing better than 1) a gun, or 2) a replica is 3) a gun-shaped bottle opener. This pistol-shaped cast-iron bottle opener is just a few bucks, handcrafted, and the perfect stocking stuffer for the gun collector and craft beer connoisseur. You're welcome.
21. 50 Caliber Bullet Bottle Opener
The final entry in our list of 21 gun collector gift ideas – another bottle opener, this one a 50 caliber shell casing fired by the United States military and repurposed to a new life of opening beers and sharing cheers.
Pin It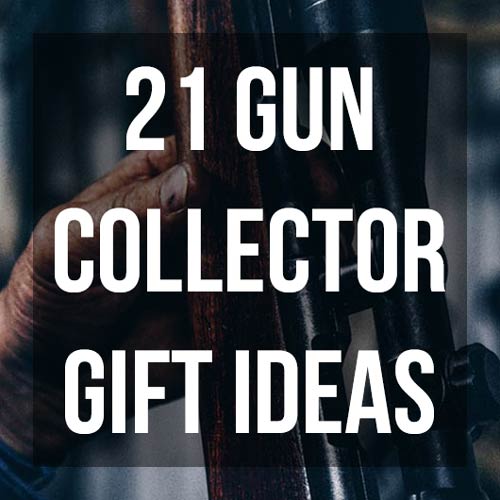 More Gun Collector Gift Ideas
NRA membership
Ammo for their various guns
Vintage gun accessories
And, of course, guns