Last updated on
Let's face it, musicians are weird. So a weird gift for a musician is weirdly fitting. As a musician myself (guitar, tinker around on a banjo) I know that an off-the-beaten-path instrument is a stellar gift idea.
It actually doesn't matter a whole lot if we actually play it, or – for non-instrument gifts – use it. Just having interesting and quirky music-related stuff is tons o' fun.
This means that, for most oddball musicians, whatever you get them will be a success. Just be sure to take into account their interests; for example, a classical music enthusiast will probably like different things than, say, someone who is into rap.
But then again, music is a great unifier, and people are always coming up with ways to marry diverse styles. So in reality someone who plays the violin may love a death metal distortion pedal, and you don't have to be into blues or throat singing to enjoy the marvelous documentary Ghengis Blues.
Enough said. Here are 21 Really Weird Gift Ideas for a Musician. Mostly instruments, some other cool accessories and stuff.
1. The Matryomin
The Matryomin is a Theremin dressed up as Russian Nesting Doll. Since the Theremin is pretty much the weirdest instrument ever, stuffing it inside of a Russian Nesting Doll makes about as much sense as fun size candy bars. Doesn't get much weirder than that.
Watch the video above of the Matryomin Ensemble playing Beethoven's 9th, then get yours here.
2. The Moog
The Theremin – the only instrument you play without touching – is so weird we're including it twice, right off the bat. The Moog is the standard in Theremin instruments.
Watch this documentary if you're not convinced. (The trailer is above.) Heck, get them the DVD if the Moog is out of your price range.
3. Guitar Wall Hanger Shaped Like a Pick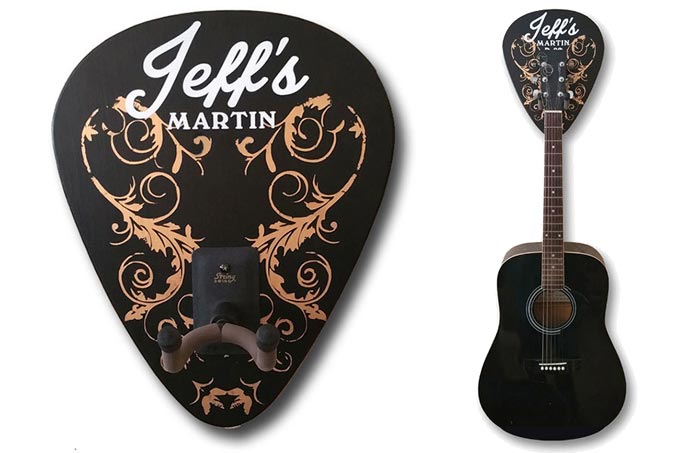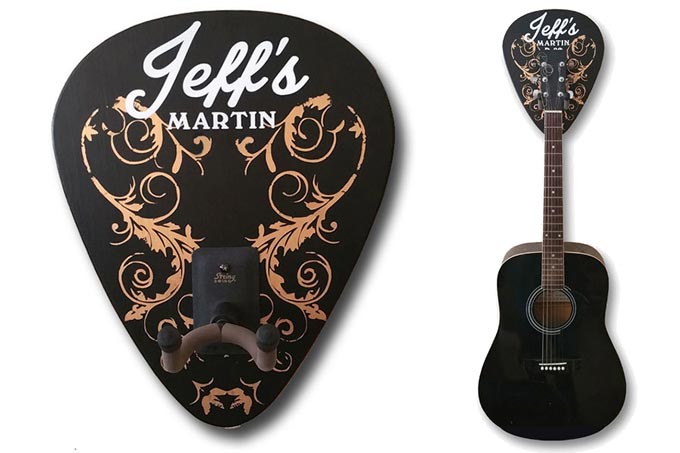 Cleverly shaped like a guitar pick, this is a neat way to wall mount a guitar. Made in the USA in six different designs, it includes personalization of name and guitar name. Available here.
4. Bluegrass Jaw Harp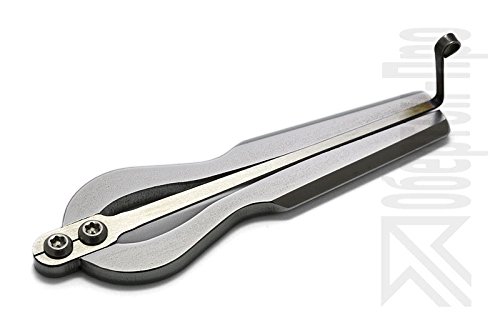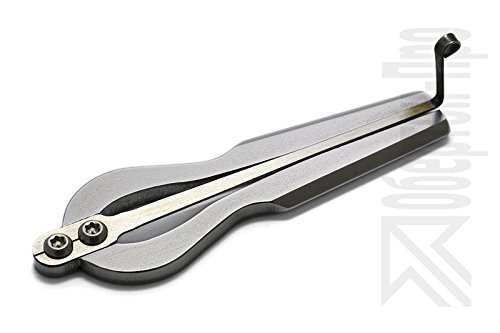 The jaw harp provides that special sound that is a distinctive of hillbilly bluegrass. Perfect as a stocking stuffer gift idea.
5. Personalized Soundwaves Print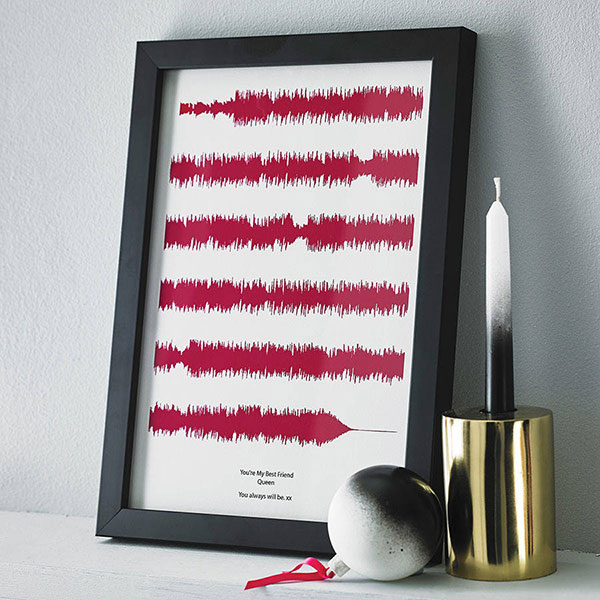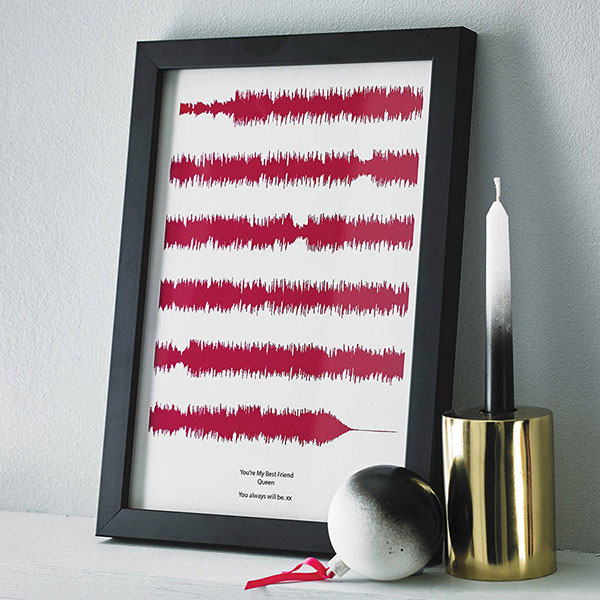 This is a great idea… a personalized print of the soundwaves of your favorite song.
6. Guitar Toilet Seat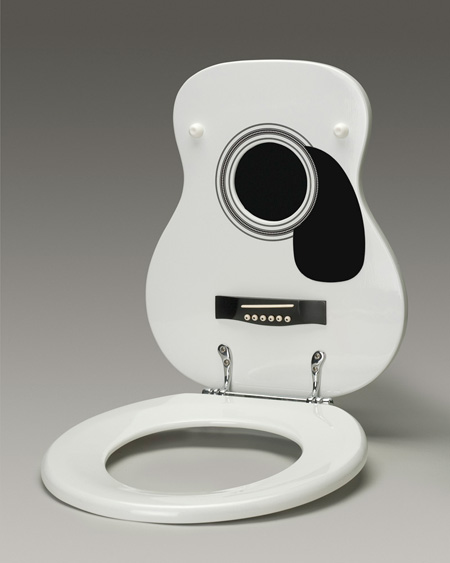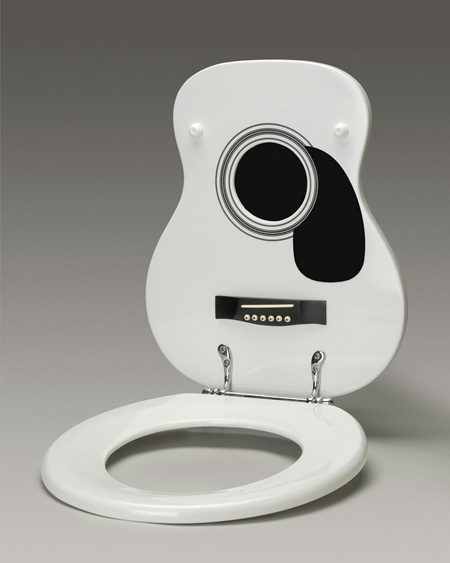 You asked for weird… here it is! Made by Jammin' Johns (seriously!). These come in accoustic guitar, electric guitar, and piano.
 7. Floating Bluetooth Speaker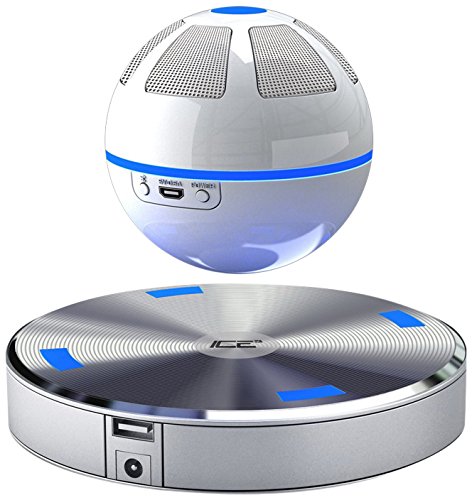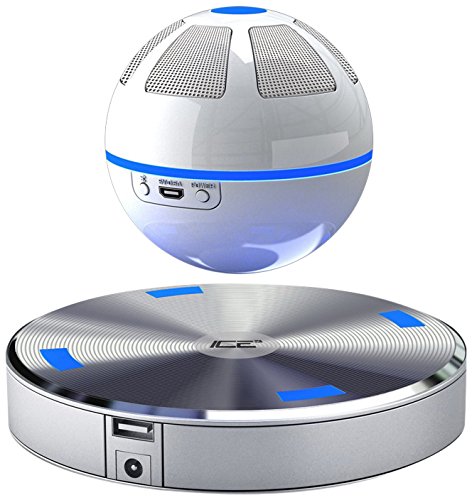 It's like a mini space station that sits in your home and plays music. Get it here.
8. Showerhead Speaker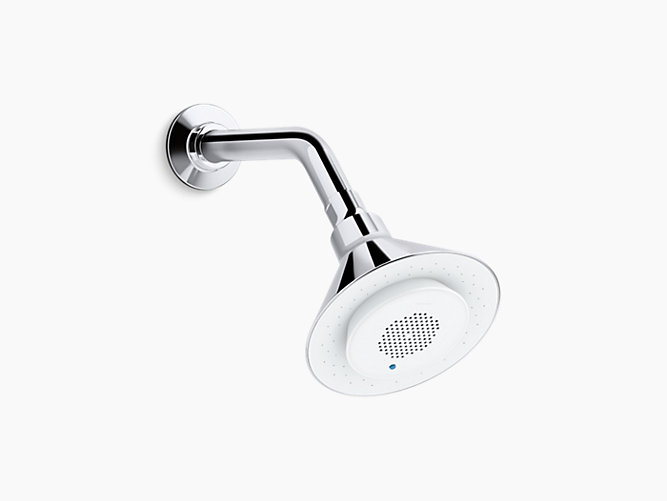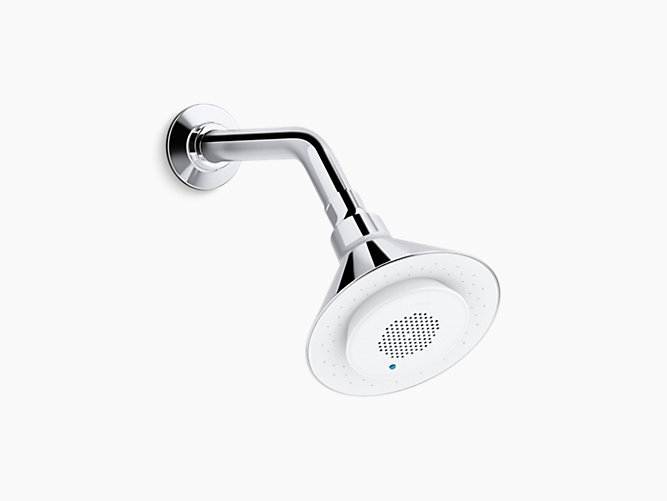 It's not just a showerhead. This speaker connects via Bluetooth and allows you to listen to – and hear perfectly – your favorite tunes while showering. Excessive? Yes. Weird? Yes. Musicians and music lovers will be thrilled.
9. Nychelharpa T-Shirt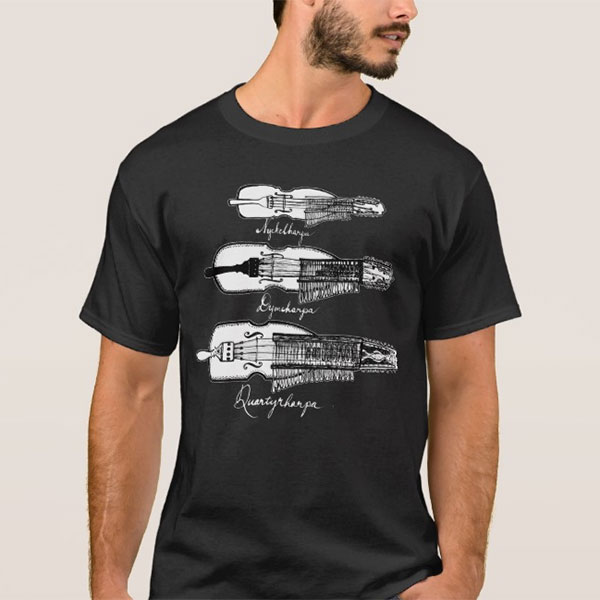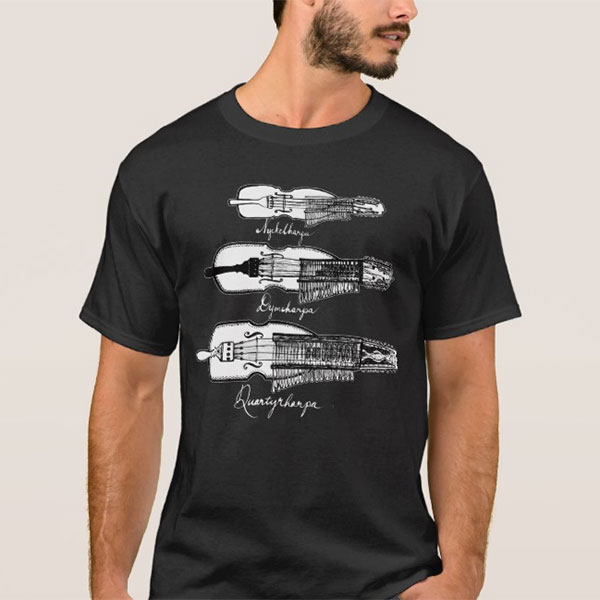 Do you know the difference between a nyckelharpa, a dymeharpa, and a quartyrharpa? Not many do. Musicians love weird niche stuff, so even if the musician in your life doesn't play these instruments, they'll love this gift. Get it here.
10. Thumb Pianos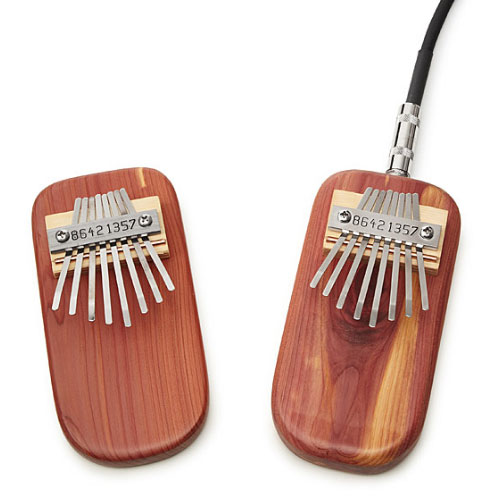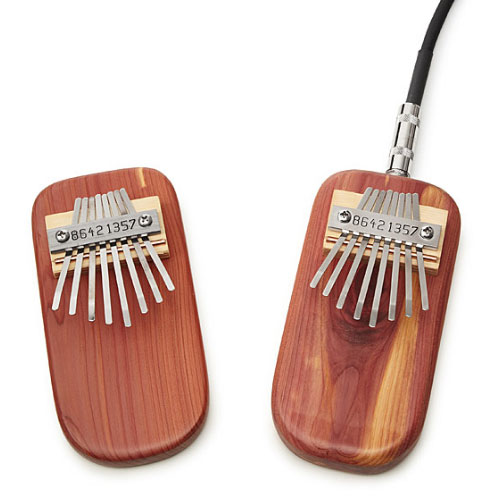 Thumb pianos are a super-nerdy gift idea for a musician. Check out these premium cedar wood thumb pianos, which can even come with quarter-inch jack for amplification! There's also the cheap stocking stuffer version and a larger 17 key rosewood version.
11. DIY Synth Kit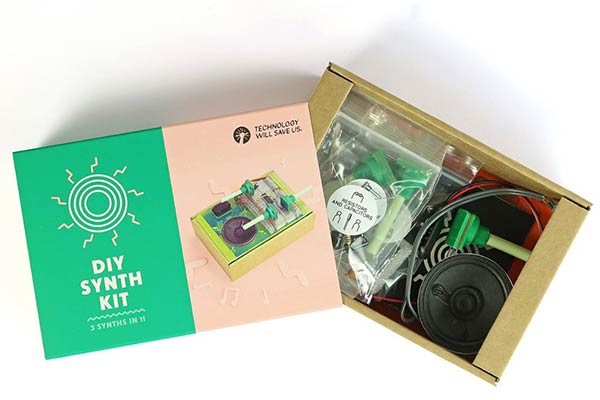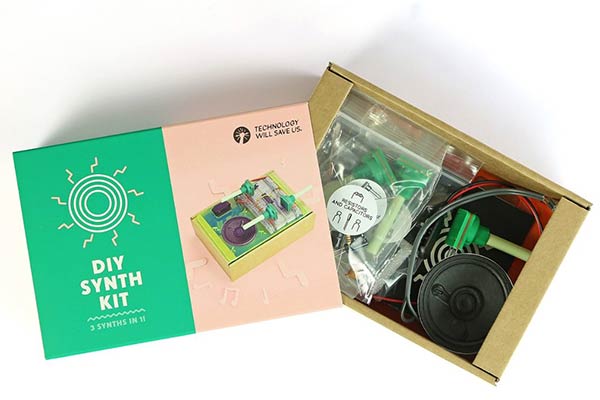 When you ask about things that never go out of style, most people will probably say a classy suit or a little black dress. But musicians are weird, so don't be surprised that we say the correct answer is "synthesizers." If that sounds about right, get the musician in your life this DIY Synth Kit.
(If they already have this there's also the DIY Speaker Kit. Just sayin.)
12. Guitar Doorbell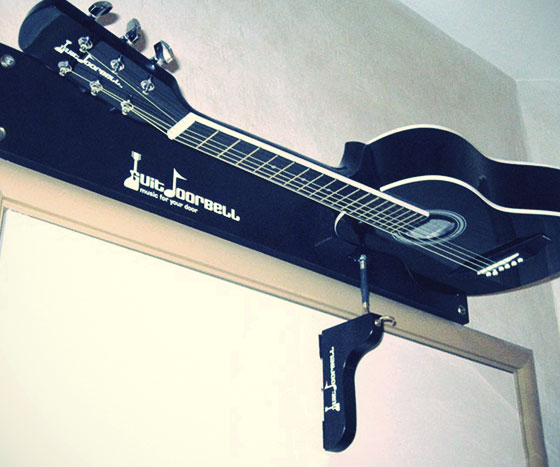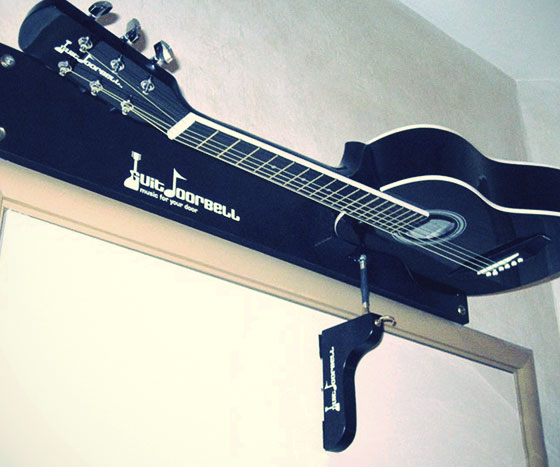 This is fun, and maybe something you can DIY. When the door is opened, it strums your guitar! Check out the Guitar Doorbell Kit, but make sure you have your volume down before clicking the link! I had mine pumped up and I nearly jumped out of my swivel chair when this 1995 website loaded with its auto-play strum sound effect. Sheesh.
13. Strumstick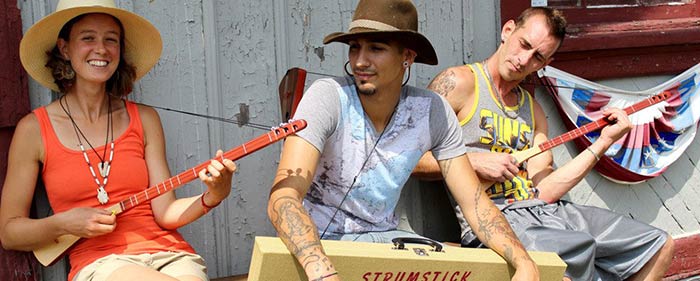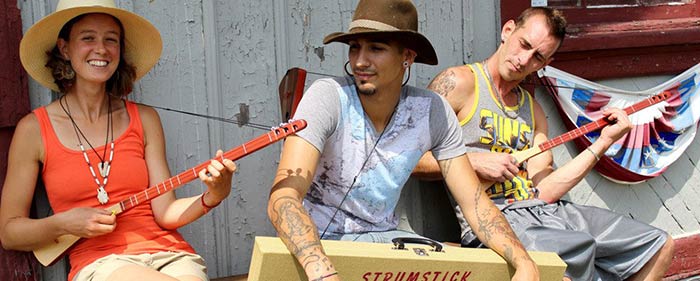 The strumstick sounds like a cross between a banjo and a dulcimer, and can be picked or strummed. A fun addition to your stringed instrument collection. Get it here.
14. Major Scale Wine Glass Set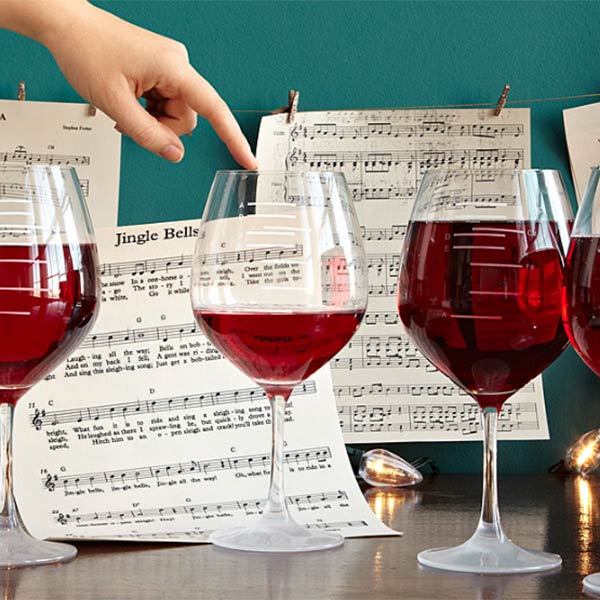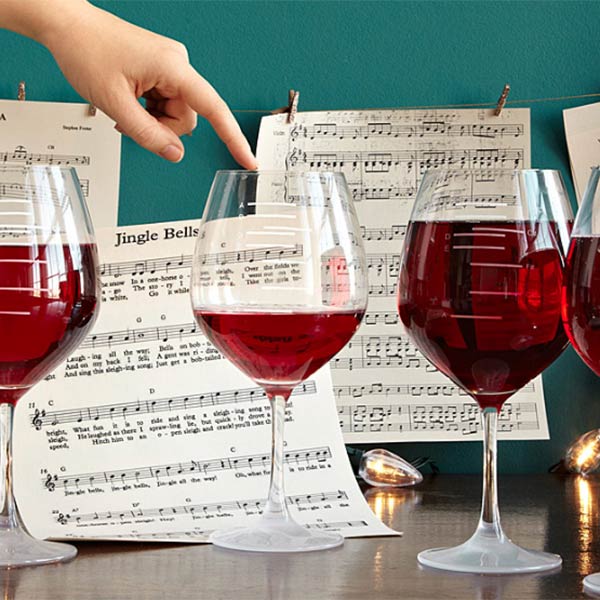 For the musician who loves wine… a set of wine glasses that guides you to playing the major scale. These come in sets of two, so you'll need 4 sets to get all 8 notes in the major scale to play at once. Get them here.
You may also be interested in some engraved wine glasses custom etched with anything you like – the silhouettes of classical composers, the name of a the recipient's band, a favorite song quote.
15. Guitar Amp Key Holder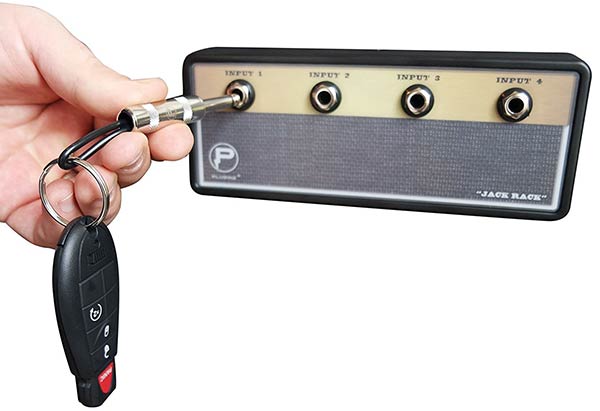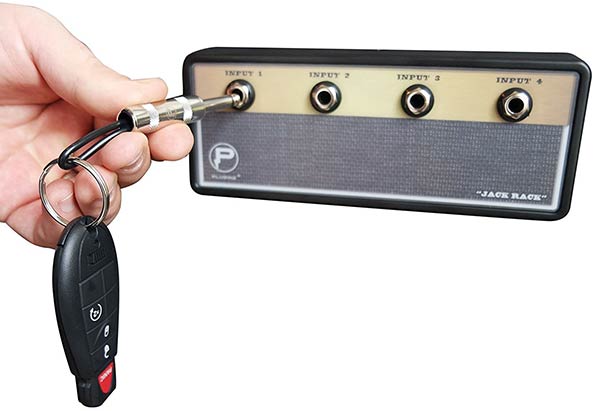 Here's a great stocking stuffer for the electric guitarist or bass player. This wall-mounted key ring holder uses 1/4″ input jacks to store your keys when not in use.
16. Didgeridoo


The Didgeridoo is almost a parody of itself as the go-to weird niche instrument. It's so mainstreamly-unique that to have one is actually kinda ironic in the hipster sense. Plus it's just fun to blow on something and make noise! Here are the premium quality ones, and here's one that will fit in just about anyone's gift budget.
17. Stylophone Pocket Synthesizer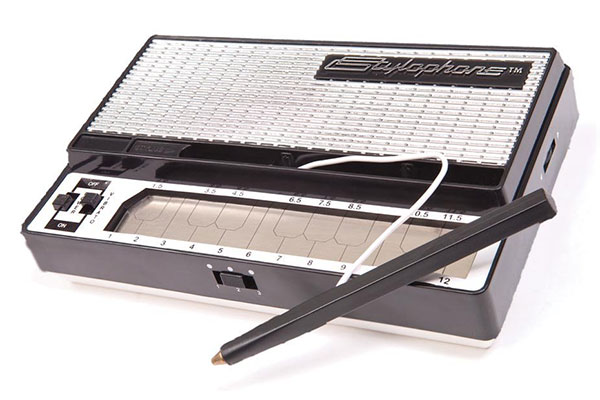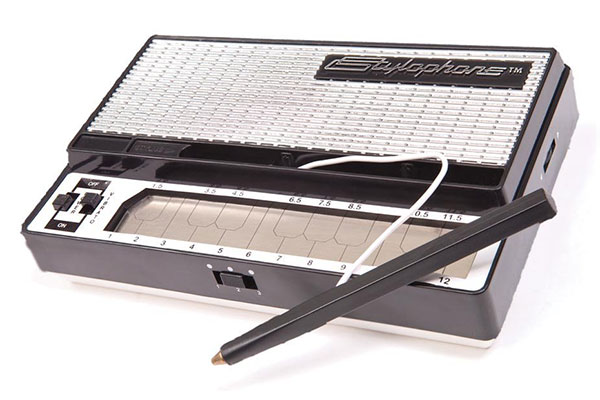 Snyths are just cool. So a pocket-sized one that you play with a stylus? Super cool. Get it here.
18. Playable Washboard Tie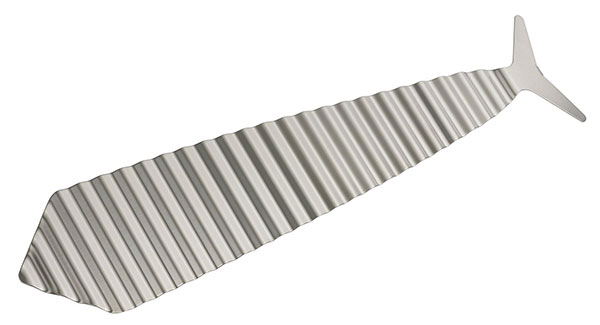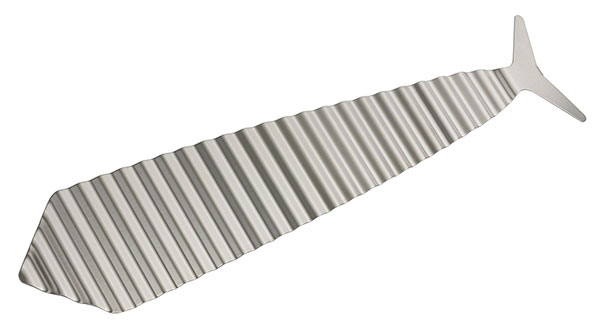 Grab a pair of thimbles and play along with any bluegrass tune. Best of all, you can wear this anywhere and play it anytime! Here it is.
19. Stumpf Fiddle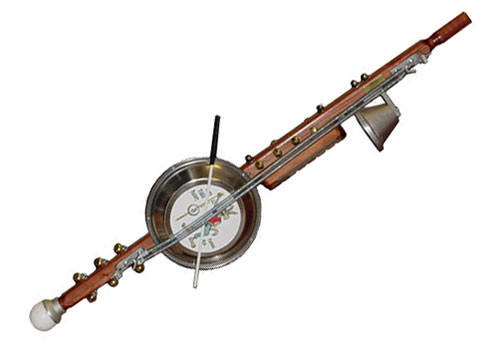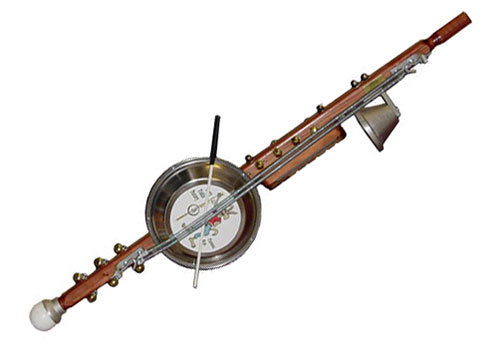 The Stumpf Fiddle is a weird percussion instrument. Sometimes also referred to as a stomp stick, this is basically a pogo stick (which makes a thump on the ground) plus all sorts of percussion accessories all rolled into one. Get it here.
20. Build Your Own Ukelele Kit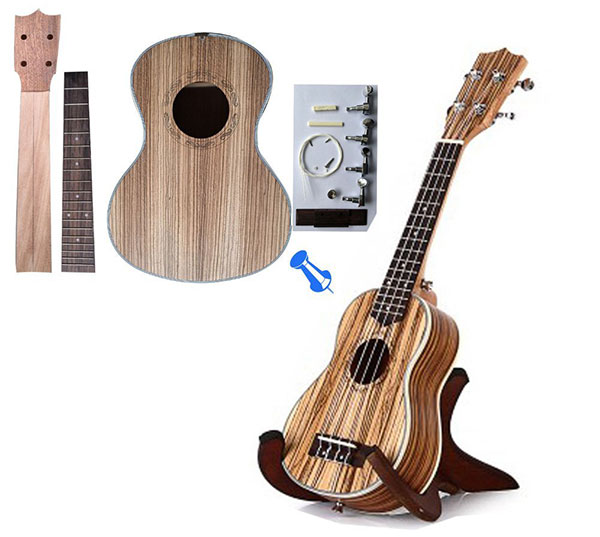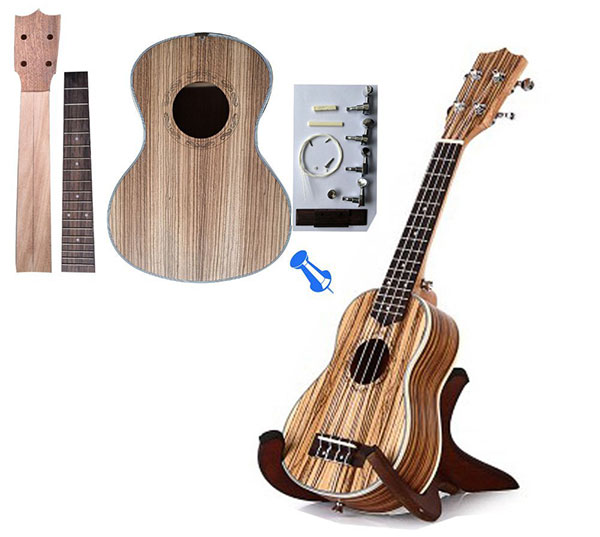 Build your own ukulele? Yes please.
21. Playable Rock 'n Roll T-Shirt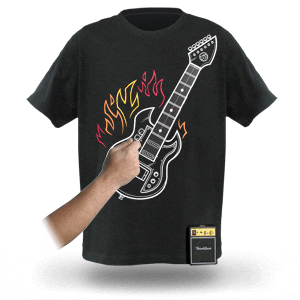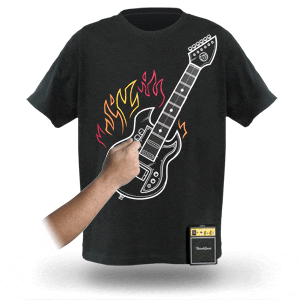 Bring your rock 'n roll with you wherever you go with this tshirt that has a guitar YOU CAN ACTUALLY PLAY. (Except on laundry day.) Available here.
More Interesting Music Gifts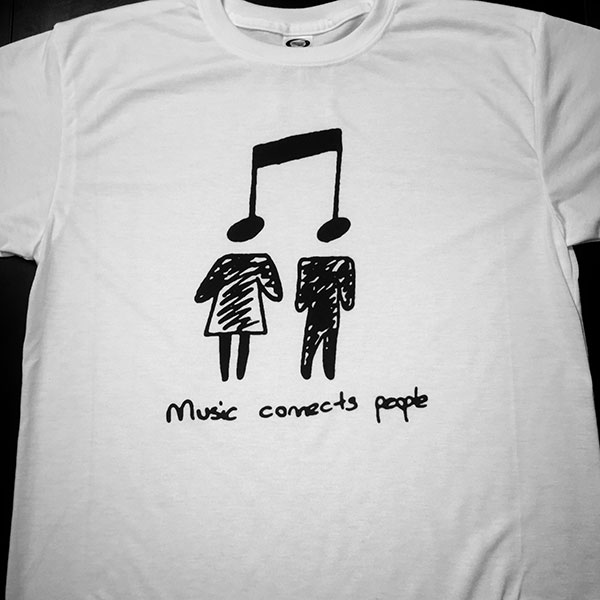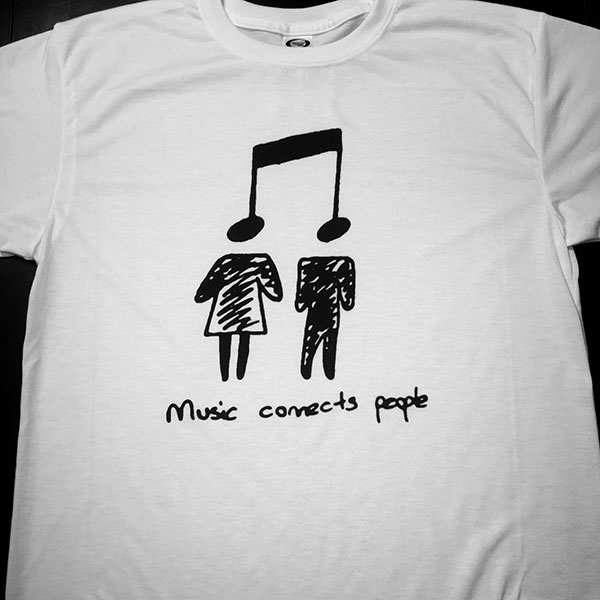 … and this mug (or tshirt) for anybody who was ever in choir: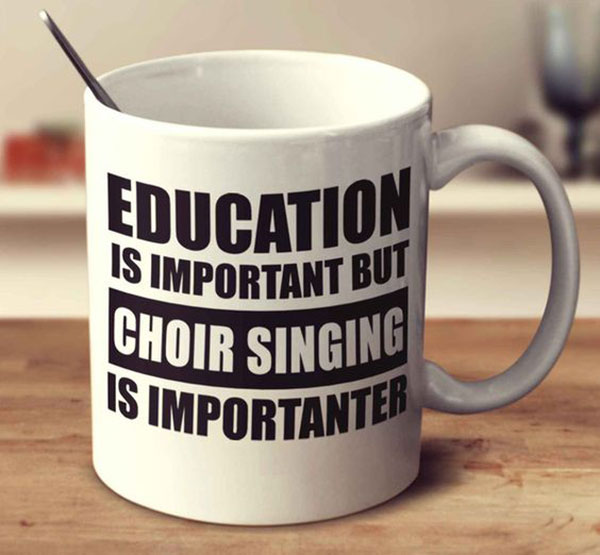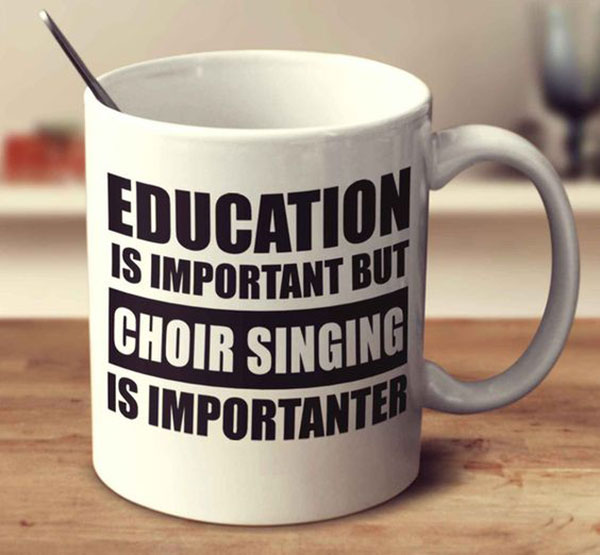 Pin it to save it!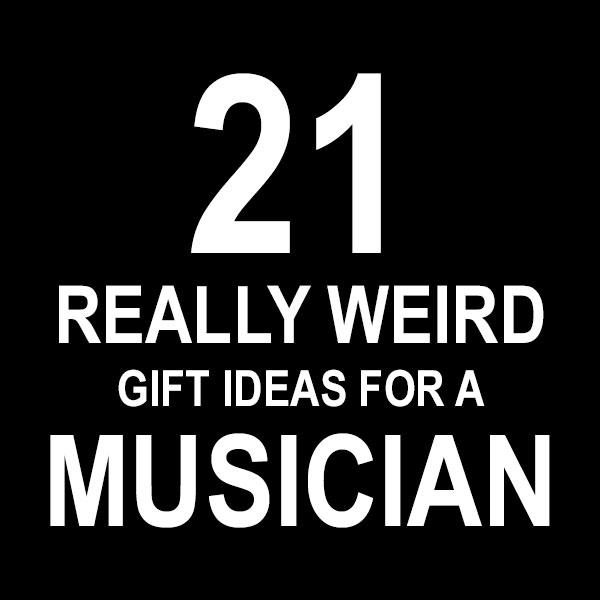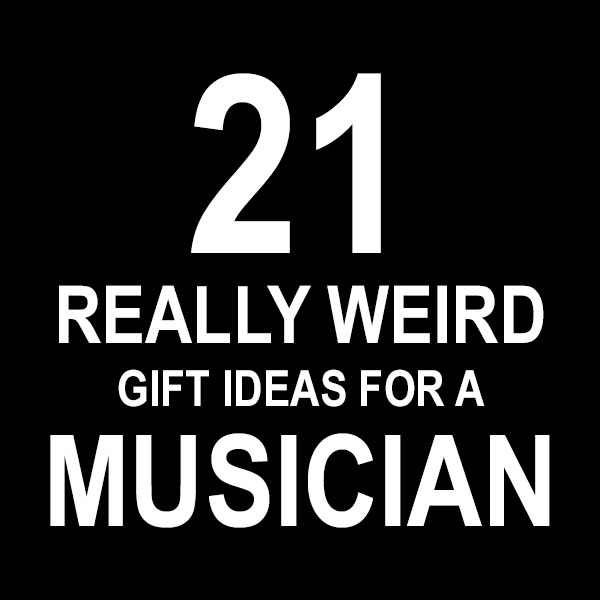 What are some of your favorite weird musician gift ideas?
(Visited 1,585 times, 1 visits today)