When your girl is a little more Wednesday Addams, and a little less Elle Woods, she needs a gift that really speaks to her murky little heart!
You just can't find good stuff at the mall or the department store for these special females, so we've put together some great ideas for you. After all, why blend in when you can stand out?
Here are the best gifts for the alternative girl in your life.
Top 15 Gifts for Every Alternative Girl
Our website is supported by our users. We sometimes earn a commission when you click through the affiliate links on our website. See our privacy policy & disclosures for more information.
1. Platform Shoes
They're the little black dress of Goth footwear: they can be dressed up or dressed down, look equally as fabulous with jeans as they do a dress, and are in their favorite color: BLACK AS NIGHT.
Every alternative girl loves some platform boots, and these will be right up her alley. Plus, they add height for fearsome itty-bitties.
2. Steampunk Heart Cutting Board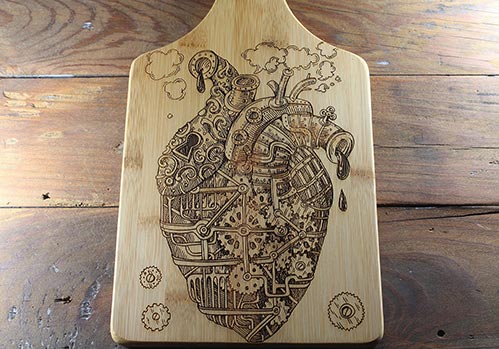 As gorgeous as it is functional, this steampunk inspired cutting board with its intricate artwork of a cog and gear heart is sublime.
Steampunk is trending now, and for good reason: it's alternative history meets sci-fi and is full of awesome female characters. She'll love this cutting board.
3. Checkered Skateboard
A little Beetlejuice, a little '80s style, and a lot of eyepopping detail make this board a winner. No pink flowers or peace signs here, just clean lines in a classic checkerboard pattern. She'll be all over this, and all over town in no time!
4. Heart Ghost Enamel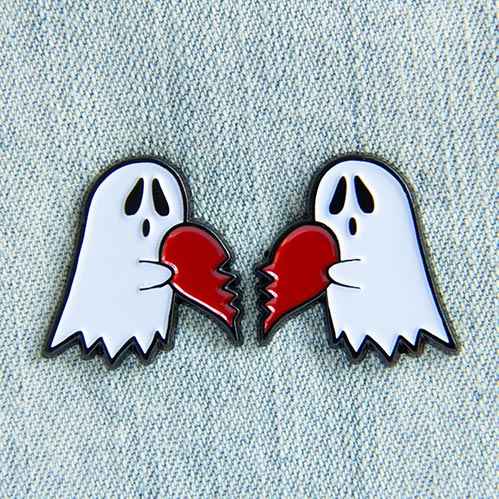 Whether she gives one to her BFF, or keeps them both for decorating her hats, jackets, or backpack, this adorable ghost with a broken heart pin is spooky and cute all at once.
She's bound to get a lot of compliments on this unusual set!
5. Personalized Bat Necklace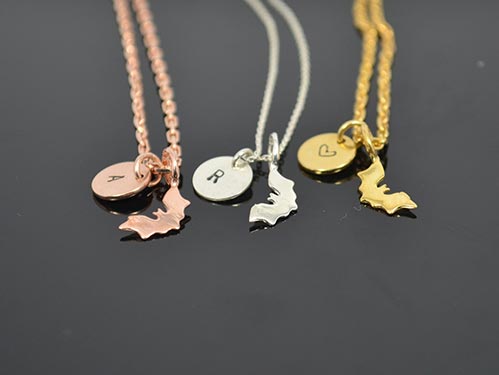 Whether you pick out the rose gold, the silver, or the classic gold, she's going to go bananas over this bat necklace! Not in your face kind of Goth, but simple and classy, it will go with all of her outfits and we bet she never takes it off.
If your girl is a creature of the night, or is wayyyyy into vampire lore, this dainty (but still hardcore) design is just the thing.
6. Banksy Wall Art
Not every girl wants to cover her dorm room in posters of cats. Some of them are a little deeper than your average motivational message wall art!
Enter these black and white – with a splash of color – wall art posters. They'll go with her décor and keep her motivated to stay true to herself.
7. Stay Positive Shirt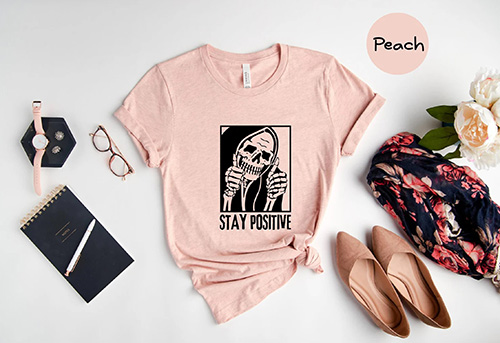 Witty irony abounds with this clever tee shirt! She'll laugh (in spite of herself) and find herself pairing this with everything from baggy pants to summer shorts to cargo jeans.
It's a good reminder to everyone she meets that just because she's into the spookier side of life, she still has a great sense of humor!
8. Coffee Mugs & Shirts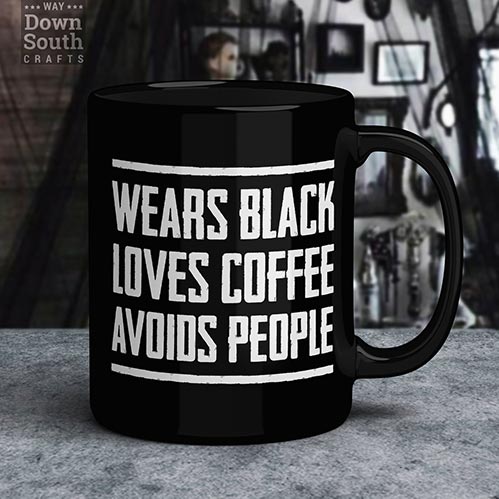 How great would pairing these two dark as night products be: a funny (and oh-so true) coffee mug, and this soft tee shirt?
Whether you go for both, or pick just one, you can't go wrong! Especially if she's a coffee loving kind of alternative girl, she'll be over the moon when she unwraps these.
9. Flickering Candles
Nothing creates a softly spooky atmosphere like some flickering candles! Keep the fire danger to a minimum with these exquisite and realistic looking flameless candles.
No melted wax to scrape off the table either! Plus with the remote control she can switch them off from the comfort of her coffin bed at night.
10. Personalized Skull Mermaid Tumbler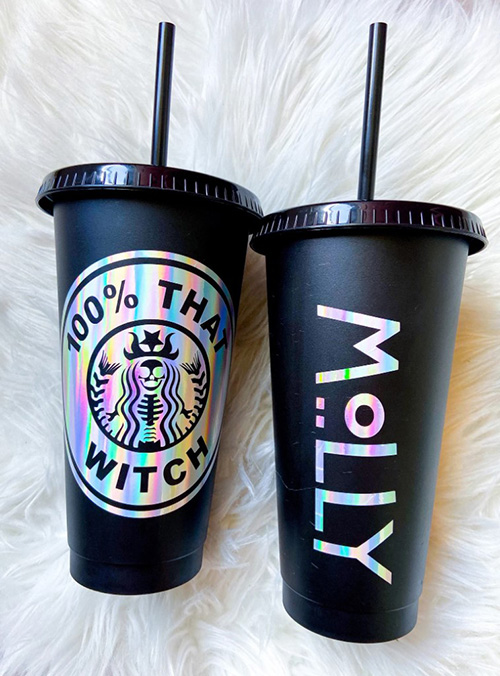 Just because you like Gothic things more than say, Barbie, doesn't mean you don't mind some girly-girl mermaids once in a while! Put a spin on the boring old Ariel story with these skull mermaid tumblers!
It's a little Starbucks, a little fairy tale, and a whole lotta badda$$ery.
11. Aesthetic Coloring Book for Adults
Coloring relieves stress, and what's more adorable than slightly dark but still cute pastel characters?
Pair this sweet but totally weird (in all the right ways) coloring book with some high quality markers and you have yourself a fabulous gift that will make her think of you fondly every time she gets to coloring.
12. Personalized Black Stainless Steel Necklace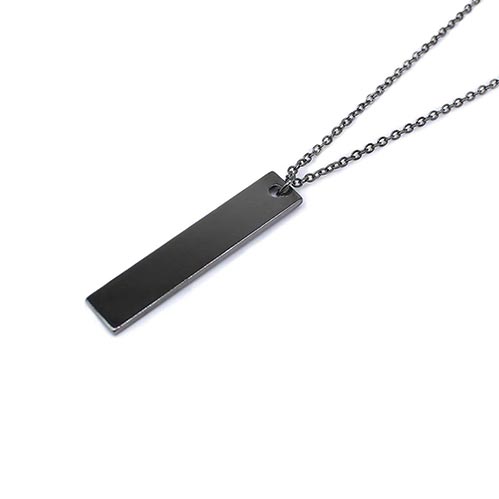 Personalized with her name or creed/mantra, this pure black stainless steel necklace is a winner for sure. It's distinctive and doesn't like anything you'd find at Claire's; instead it is an alternative girl gift just as individual as she is.
It will pair perfectly with a black tee or a steampunk dress, and will make her feel like a million bucks.
13. Skeleton PopSocket
You can like sunflowers and skeletons at the same time, why not embrace it? We love this cute and spunky popsocket, and think she will too.
14. Turntable Slip Mat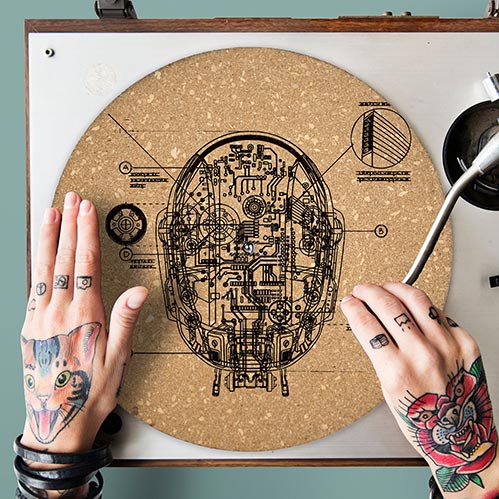 A little punk, a little steampunk, and a whole lot of rad artwork, this turntable slip mat is amazing! We guarantee this is the gift she didn't even knew she wanted until it showed up in wrapping paper.
If your alternative girl is a music lover who loves to play deejay, she is going to ecstatic over this one!
15. Rose & Black Tea Bath Bombs
Relax in a tub in full Morticia Addams style with these pretty black bath bombs!
Whether she uses them all up posthaste or keeps them in a dish to decorate her bathroom, she's going to adore these. They're unique, gorgeous, and and timeless: just like she is.
Read Next: Your Ultimate Sweet 16 Guide
Pin It