What gift can you give to a social worker that will really honor their service and devotion to their job and to others?
Social workers are true servants. You want to give a gift that reflects their joy in helping others, but also something that would really bless them.
Perhaps something personal or personalized, or maybe a gift that they can use every day at work. Or maybe the best social worker gift is something to help them relax and unwind.
So, what is the best gift idea for a social worker? You know them best, so ultimately it's up to you. But we're here to help give you a little guidance as you search for that perfect idea.
Let's take a look at the ten best social worker gifts.
10 Great Social Worker Gifts
Our website is supported by our users. We sometimes earn a commission when you click through the affiliate links on our website. See our privacy policy & disclosures for more information.
1. Personalized Social Worker Tumbler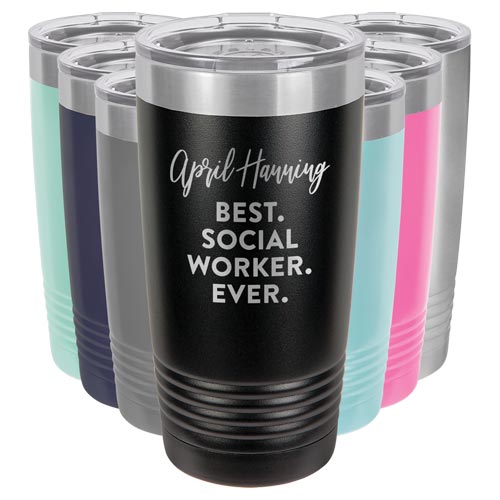 We'll start with one of the most popular social worker gifts: a custom engraved tumbler. This one includes personalized etching of the social worker's name plus "BEST. SOCIAL WORKER. EVER."
This is a great gift idea for an individual on their birthday or as a social worker appreciation gift for the whole department (bulk discounts are available!).
Tumbler mugs make great gifts for social workers because the double-walled vacuum sealed design keeps drinks blazing hot or freezing cold all day long. It doesn't matter whether they are driving around making house calls or stuck at the desk; this mug will be the social worker's new constant companion. Personalize it here.
2. Vintage Personalized Social Worker Plaque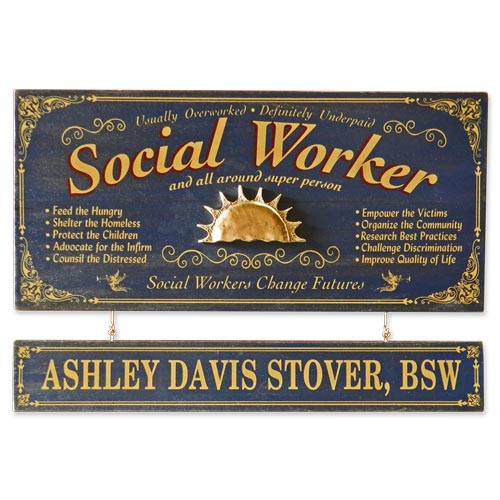 This Personalized Vintage Social Worker Sign has been a popular gift for graduation, promotions, and retirement. The antique style sign is made in the USA from real wood and distressed by hand to create a vintage effect.
With tongue-in-cheek humor ("usually overworked – definitely underpaid") combined with bright-eyed optimism and a spot-on social worker job description, this gorgeous wood sign make a great social worker gift.
You can add a hanging name board and personalize it with any text you like, up to two lines. Additionally, you can get more name boards to hang below. This means you can get a personalized name board for each member of your team, or to represent each job or degree, or anything else you want.
3. Relaxing Organic Spa Gift Box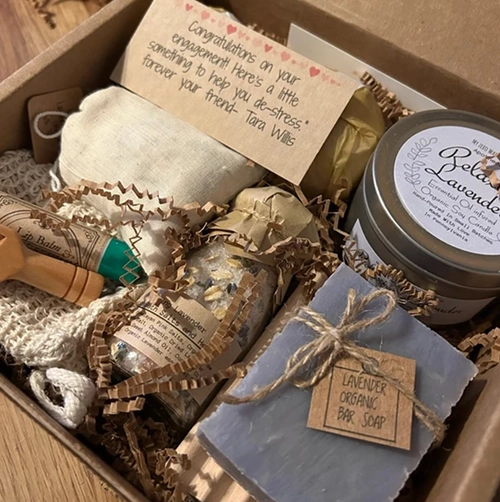 Make their day off a virtual trip to the spa! With this fantastic gift basket full of all the essentials they need to relax and unwind, their stress, aches, and pains will simply melt away. Plus, they never have to leave the comfort of their own home.
4. Social Worker Coffee Mug
A coffee mug is always a solid gift idea for a social worker. After all, the only real difference between a regular person and a social worker is that the latter drinks more coffee. (jk)
This humorous social worker mug features an "Atlas of a Social Worker's Brain." The chart shows where each thought resides. Stuff like, "I can fix this… I can fix this…" and "Will this day EVER end??" and "Oh my, I can't help this one." It's a creative and funny gift for any social worker.
Other great quotes you can get on a coffee mug:
5. Personalized Bird Feeder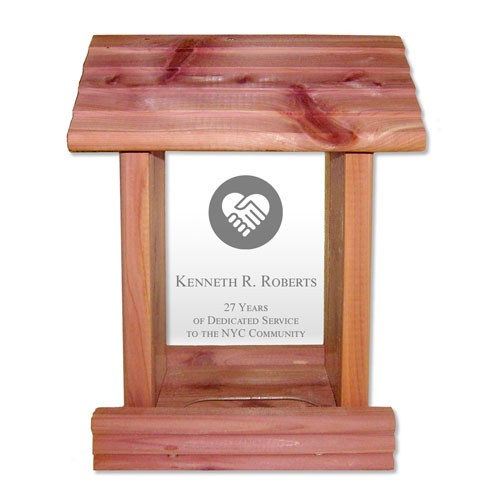 Now here's a creative gift idea. A personalized bird feeder can be hung outside their office window to draw the birds closer, or perhaps in the outdoor break area. Or they can take it home and display it on the front porch, back porch, or outside the kitchen window. These bird feeders do a wonderful job bringing the birds close in, bringing with them the gentle beauty of nature and a sense of peace and tranquility.
This feeder includes custom laser engraving on the front panel. We can laser etch names, titles, poems, Scriptures, logos, and more, so use your imagination to create the perfect personalized social worker gift!
6. Bullet Blender
What better gift for the on-the-go social worker than a bullet blender! This high-powered machine (600 watts!) is easy to use and creates a healthy breakfast, lunch, or dinner in minutes. It comes with one tall cup and two shorter ones, plus access to hundreds of delicious smoothie recipes. A truly thoughtful gift!
7. Custom Engraved Cutting Board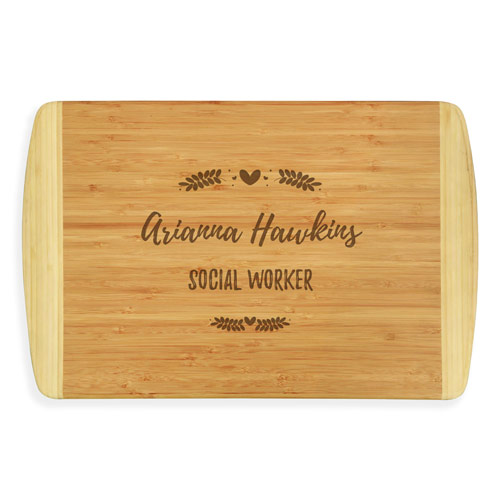 Cutting boards make a great gift because they are so handy to have around the home. Even better, give a personalized bamboo wood cutting board custom engraved with the recipient's name and title. It's affordable, fun, personal, durable, and useful.
Made from sustainable bamboo, which is a great wood for cutting boards because it is low-maintenance and helps maintain a sanitary working surface, this is a great gift for a social worker!
8. Custom Maple Keepsake Box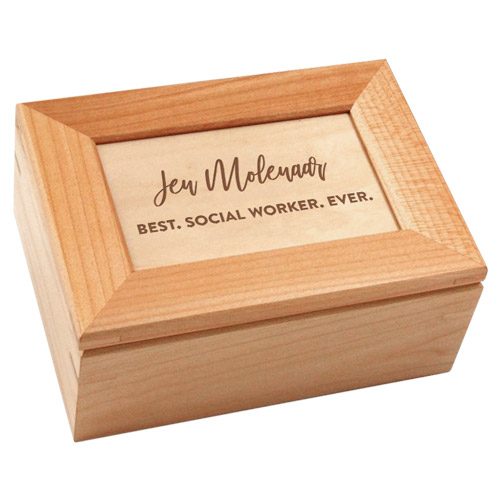 If you're looking for a gift for the best social worker ever, why not give them something that says what's on your mind? This personalized maple wood keepsake box is affordable, includes your text custom engraved (name and "BEST. SOCIAL WORKER. EVER." or any other text you like), and will provide a place for them to keep all their special treasures.
9. Social Worker Survival Kit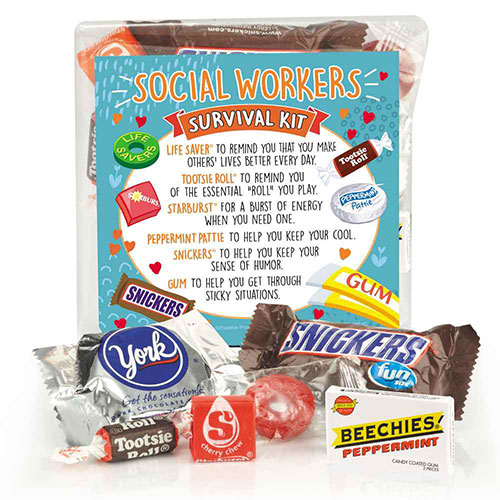 Here is another affordable gift you can get for the whole department. It's a simple gift, just a card and some candy, but it says a lot:
Life Saver to remind you that you make other's lives better every day
Tootsie Roll to remind you of the essential "roll" you play
Starburst for a burst of energy when you need one
Peppermint Pattie to help you keep your cool
Snickers to help you keep your sense of humor
Gum to help you get through sticky situations
This is a budget-friendly gift idea for social worker's month.
10. Personalized Keychain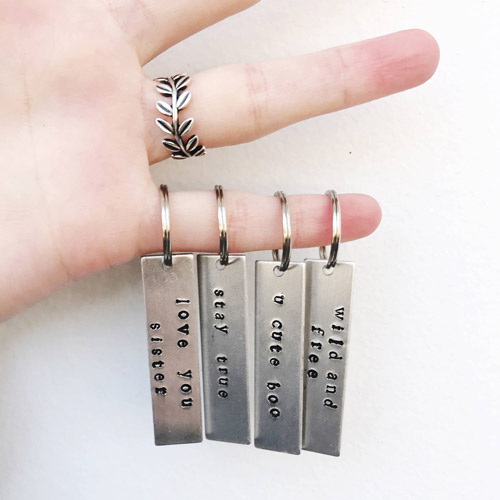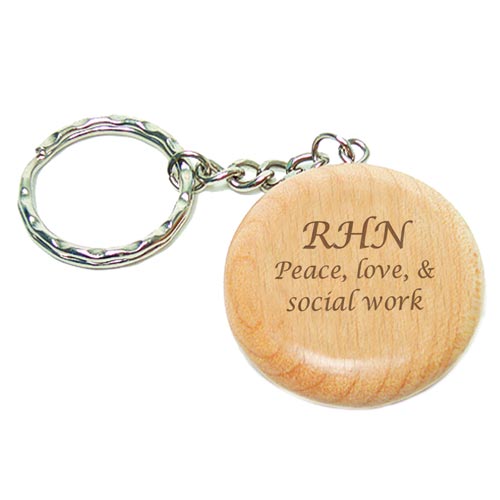 Keychains are a great gift for the entire staff. Two of our favorites are pictured above: the aluminum rectangle keychains with stamped personalization of up to two lines of text, or our own round maple wood keychains custom engraved with any text or logo.
---
I hope you've benefited from our review of the best social worker gift ideas on the market. These are great gifts that will honor the hard work and devotion of your favorite social worker(s).
Be sure to check out our complete collection of social worker gift ideas at Northwest Gifts, and while you're there browse around to find all sorts of unique, creative, and interesting gifts for anyone on your gift list.
Pin It