Last updated on
Understanding the Flavor of Wine – The Aroma Kit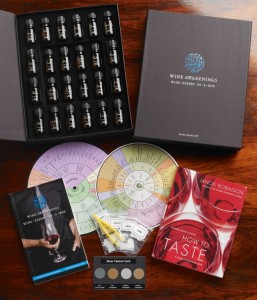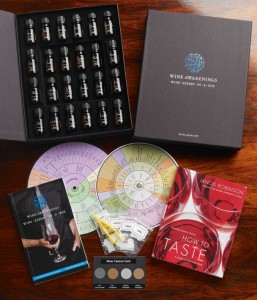 When you smell a glass of wine, your brain will search for stored scent memories to associate with the aroma in the wine. This is an ability that you can train your brain to do better with a
wine aroma kit. In a bottle of wine, there are a number of flavor combinations that are unique to that bottle. Depending on the sugars, alcohols, and phenolic content the wine can have a number of unique aromas that may seem familiar. From lighter lemon, peach or vanilla scents to heavier oak, coffee or black pepper tones – the aroma will differ from wine to wine.
In a wine aroma kit there are a variety of scents. Purchase a neutral wine and disperse the bottle amongst a number of glasses. Each glass will need to have a little scent added from the kit (read the kits instructions for quantities), swirl the wine in the glass and see if your nose can pick-up on the added scent. Is that vanilla…or honey? With enough practice you will be able to pick-up on the aromas that exist naturally in the wine.
There are a variety of kits, some are for red wines others for white wines; or you can pony up and buy the big master collection. The kits have a shelf life of 10 years, after which the scents will gradually lose strength. With a 10 year shelf life, you should be able to get a lot of use out of them.
A wine aroma kit can be great fun for a party. Challenging the guests to guess the scent in the selected glasses. They will be training their nose to identify the qualities of wine without even knowing it.
Northwest Gifts has a number of Home Bar Accessories and Personalized Glassware to class up any wine tasting party.
(Visited 43 times, 1 visits today)