Last updated on
These plaques are seriously old-school-cool. Instead of being just like those generic knock-off imports at Pottery Barn, our distressed wood signs are made by hand (in the USA of course) from actual wood planks and distressed to give them that authentic vintage-y look and feel.
The use of planks is a neat effect, because it adds a seam to the piece and creates that natural looking uneveness which you'll usually only see at your local antique mall. The colors, design, and lettering is done by a combination of poly-arch lithography and hand painting, and most plaques have a hand-carved relief applique which corresponds to the theme.
But the thing that really sets these antique style distressed wood signs apart is that they're personalized. Yep, you can get these with your family name, a friend's name, or with your own invented wine label or restaurant name done in a timeless vintage style to make your home bar truly unique.
With the initial launch, we have 15 designs, with more on the way. Here is a countdown of our five favorites:
5. Golf Club House Vintage Distressed Wood Sign
Our gift site started with a small selection of golf-related gift items, so there's always a special place in our hearts for golf stuff. This 19th-Hole-style sign is vibrantly colorful and reads:
Est Year [Custom]
Name [Custom]
CLUB HOUSE
Professional & Amature
GOLFERS
Welcome
Sandwiches & Cold Drinks
Served All Day
Good Times
Great Friends
4. Wine Time Vintage Distressed Wood Clock Plaque
With a real working clock, this fun sign will let you know there's always time for wine. Plaque reads:
Name [Custom]
Est Year [Custom]
Wine Time
There's Always Time For A Glass Of Wine
3. Moonshine Saloon Distressed Wood Sign
Grab a banjo or a washboard and pull up a chair to join in a bluegrass jam to celebrate the final distillation of your homebrewed moonshine. Perfect for the southern-style home bar, this one features a 3D growler relief, wild west lettering, images of folk instruments, and reads:
Name [Custom]
Good Times
Moonshine
SALOON
EST 2014
Copper Pot
DISTILLERY
2. Vintage Wine Cellar Distressed Wood Plaque
This one is simple, and simply beautiful. The design is restrained and draws attention to the custom family name and the barrel relief carved applique in the center. The border design adds a touch of elegance. Personalized for your wine cellar.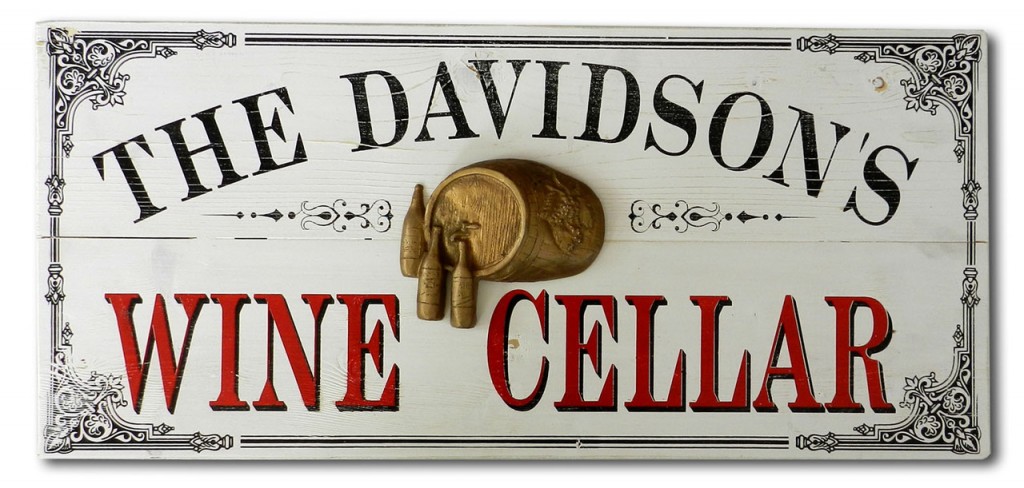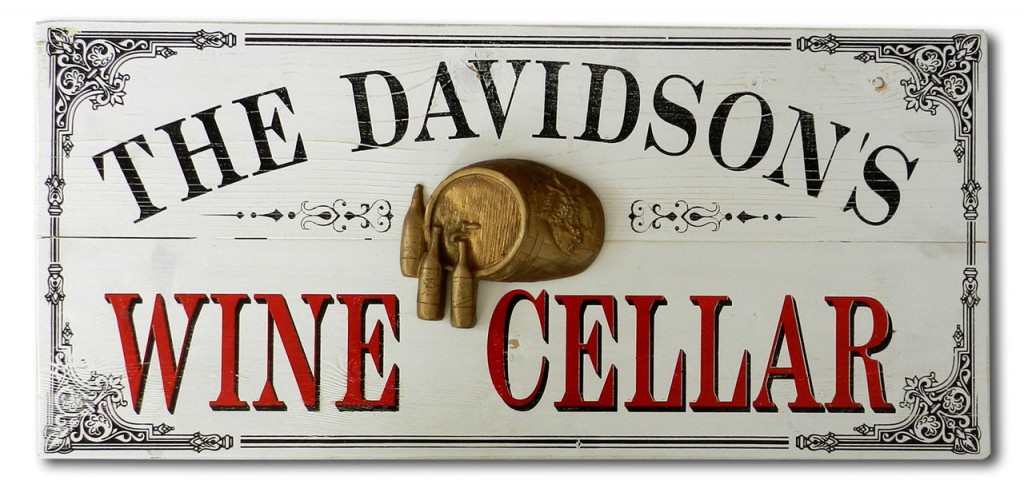 1. Personalized Scotch Whiskey Distressed Wood Sign
The Scotch Whiskey design gets the #1 slot (for now!) because of its ornate design which manages to convey a sense that the owner of this home bar or tavern is classy yet down to earth. The wooden sign reads:
Distillery name [Custom]
Name [Custom]
86 PROOF
Old Blended Scotch
WHISKEY
100% Scotch Whiskeys
All Over Twenty Years Old
Distilled and Bottled in
City / State [Custom]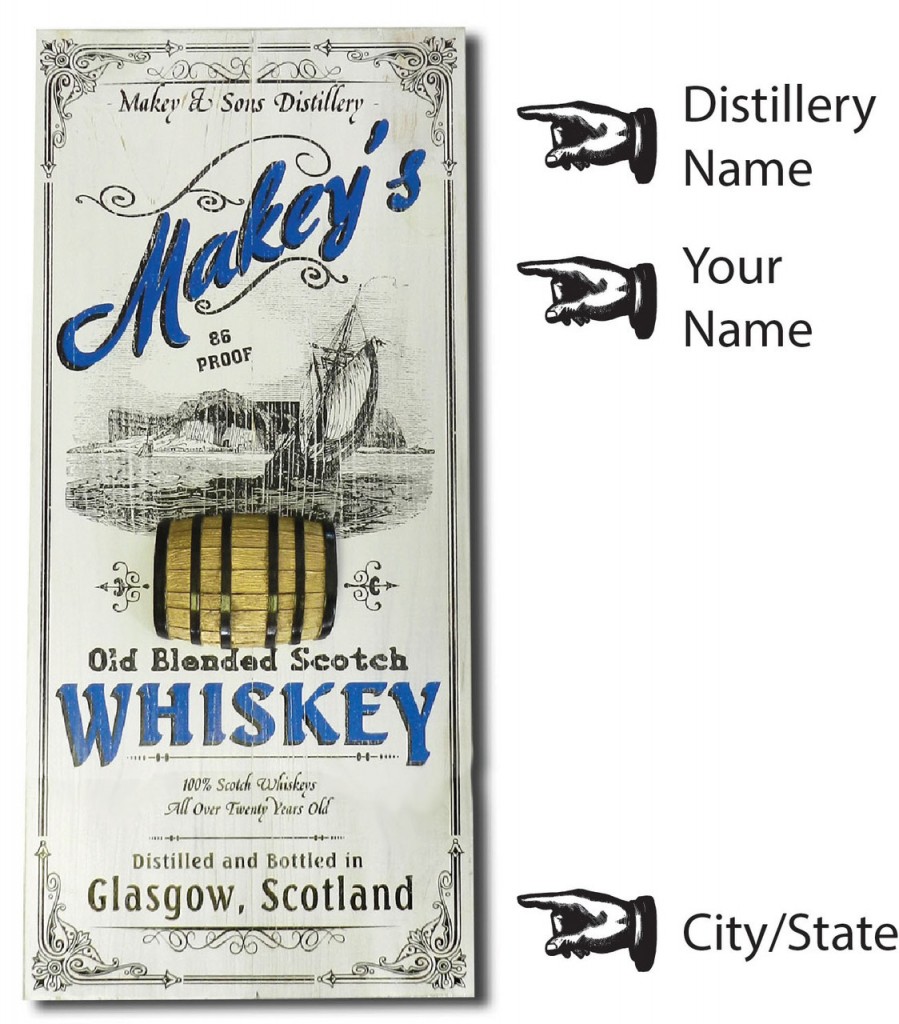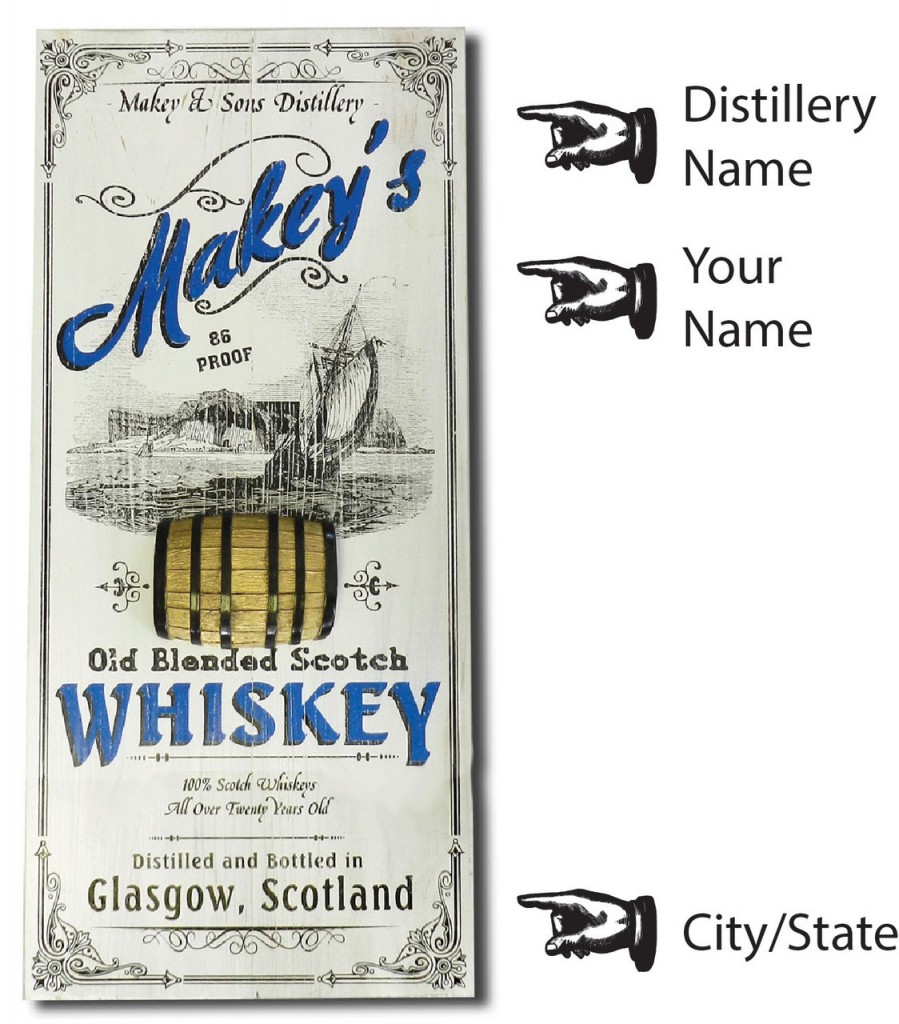 Shop the entire collection of personalized vintage-style distressed wood signs!
(Visited 176 times, 1 visits today)