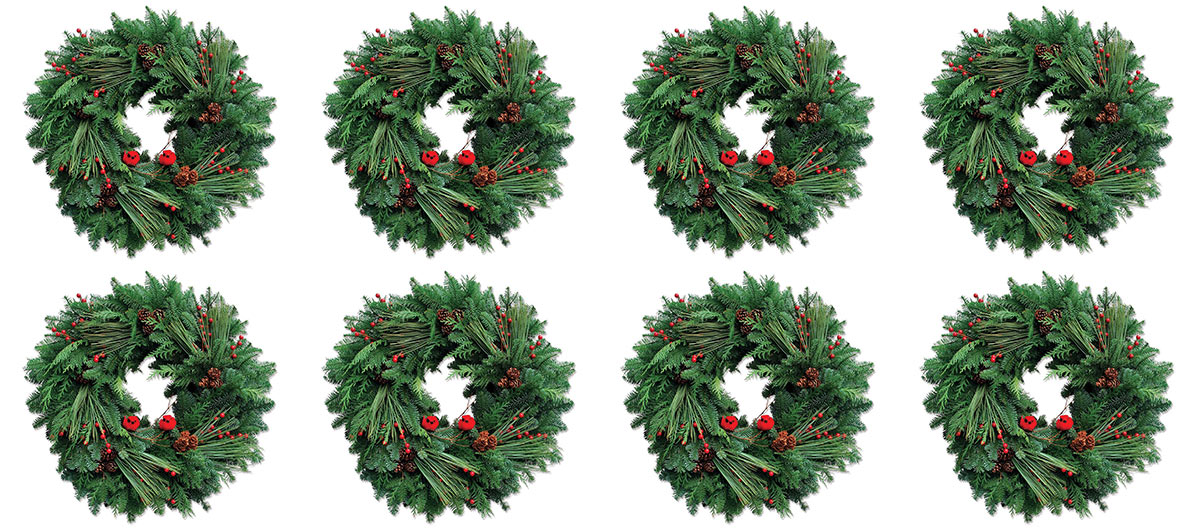 Organic Christmas Wreaths combine contemporary sensibilities with classic tradition in a manner that is eco-friendly and sustainable. Read more



Looking for the perfect gift for a woman, one brimming with beauty and possibilities? One that is perfectly suited to her decorative style, her flowery personality, her fashionable sensibilities? And are you looking for this gift a little too close to the deadline, even for expedited shipping? Are you looking for a … (*gasp*) … Last Minute Christmas Gift?!?
Then give her a beautiful card, with a printout of this picture, promising her a Year of Wreaths from Northwest Gifts. Not only will she receive her first floral wreath whenever you choose (well, maybe not in time for Christmas!), but she will receive one for each of the four seasons:
Pods and Twigs Wreath (Spring)

A rich and sprightly display of nigella pods and pink gomphrena nestled in a bed of winterbud. About 18″ across.

Sun Country Wreath (Summer)

Bring on the sun! Sunflowers, winterbud, tapestry millet, lipidium and safflowers will brighten your day. About 18″ across.

Autumn Splendor Wreath (Fall)

Perfect for a glowing fall season. Made with a mixture of preserved red, natural basil and yellow salal, along with dried triticale, winterbud, and nigella pods. Recommend for indoor use only. About 18″ across.

Bay Celosia Christmas Wreath (Winter/Holiday)

This cheery holiday door wreath brings out the brightness of Christmas. A lush base of fresh Oregon myrtle makes a perfect background for the Red Celosia. When you or your friend opens the box, this wreath is guaranteed to please. Approximately 18″ across.
All our wreaths are made from 100% organic materials, harvested and assembled at a certified organic farm along the Oregon coast. These wreaths can be shipped out at the beginning of each season (we've pre-filled out for you the dates: next March 1st, June 1st, Sep. 1st, and Dec. 1st), or you can specify your own dates!
This way, she'll have an entire year to enjoy your gorgeous (and organically grown, ethically harvested) gift, and still be glowing from the joy of receiving her last wreath next December, in time to decorate for the 2012 Christmas season! This truly is a gift that can't be beat, and when you consider that the packaged deal of our Year of Wreaths is much less then all four organic floral wreaths purchased separately, you'll be happy to know you've given a gift that is not only organic, affordable, and beautiful, but which will be received four times throughout the next year!
The Christmas season is upon us, and what better way to inaugurate the holidays than with a beautiful and ethically grown & harvested holiday wreath.  Here is a smattering of NorthwestGift.com's
holiday door wreath selection
, featuring both traditional and unique wreaths and centerpieces:
$34.95
$49.95
$42.95
$44.95
And if you're feeling adventurous, here are a few unique, non-Christmassy wreaths to whet your decorative appetite:
$48.95
$50.95
View our entire selection of wreaths
here
. And through Thanksgiving get an additional 10% off every item in our store. Happy Holidays!