Last Updated on July 31, 2020
Coaches and athletes love memorabilia. Old jerseys, baseball caps, sports cards, mugs, action figures, trophies, and anything else that stirs up memories of exciting victories and outstanding personal achievements.
For top-level competitors in high school, college, and professional sports, team championships are often rewarded with beautiful sports championship rings given to each player and member of the coaching staff. There are plenty of acrylic sports ring display cases out there, but you're looking for something with an extra touch of class, and maybe a way to add some personalized information about the team or individual accomplishments.
Enter the Sports Ring Keepsake Box for Championship Rings from Northwest Gifts.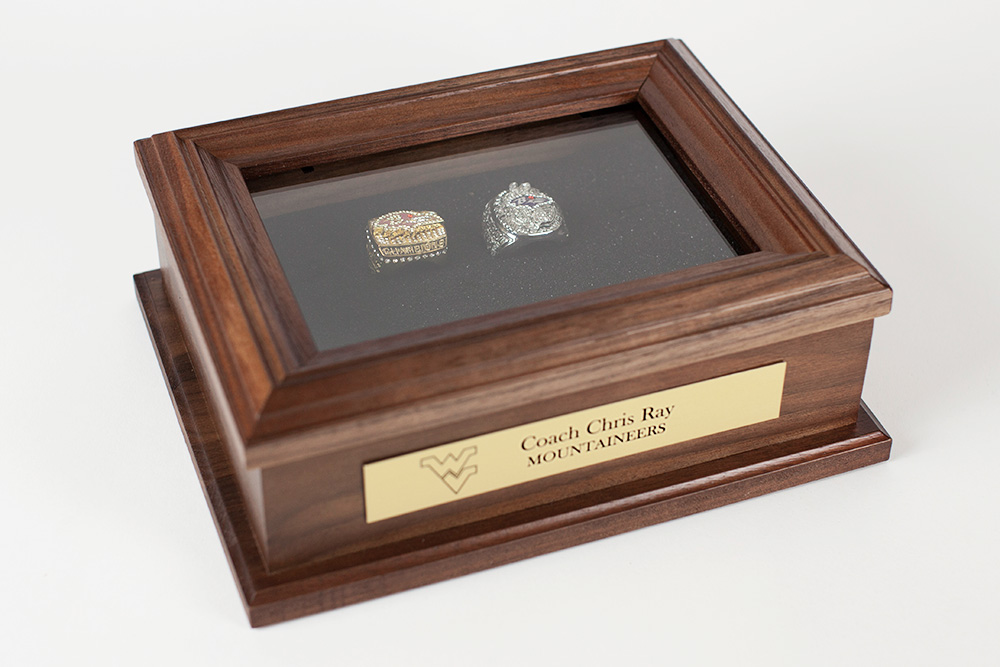 This sports ring display case is made in the USA from premium walnut wood, real glass, premium metal hinges, felt lining, customizable foam insert, and personalized name plate.
Check it out in detail in this video:
Gorgeous walnut wood grain lends the ring display box a sense of timeless class. Solid, thick construction gives the piece weightiness that is appropriate for displaying well-deserved victory rings.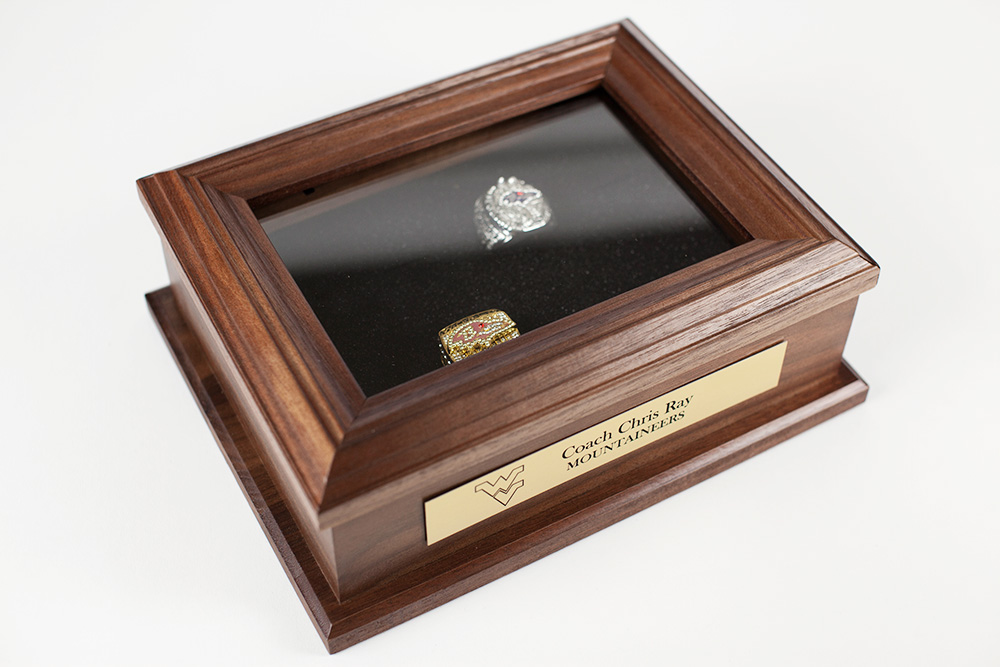 The sports ring keepsake box includes a custom laser engraved nameplate on the front, which can include a team or school logo along with your name, the team names, and the dates or years of important championships.
Optionally, we can engrave the glass for you with a quote or logo. We can add a jersey number in the corner, which allows for uninhibited visibility of the rings, or we can laser etch a logo boldly over the entire glass lid surface: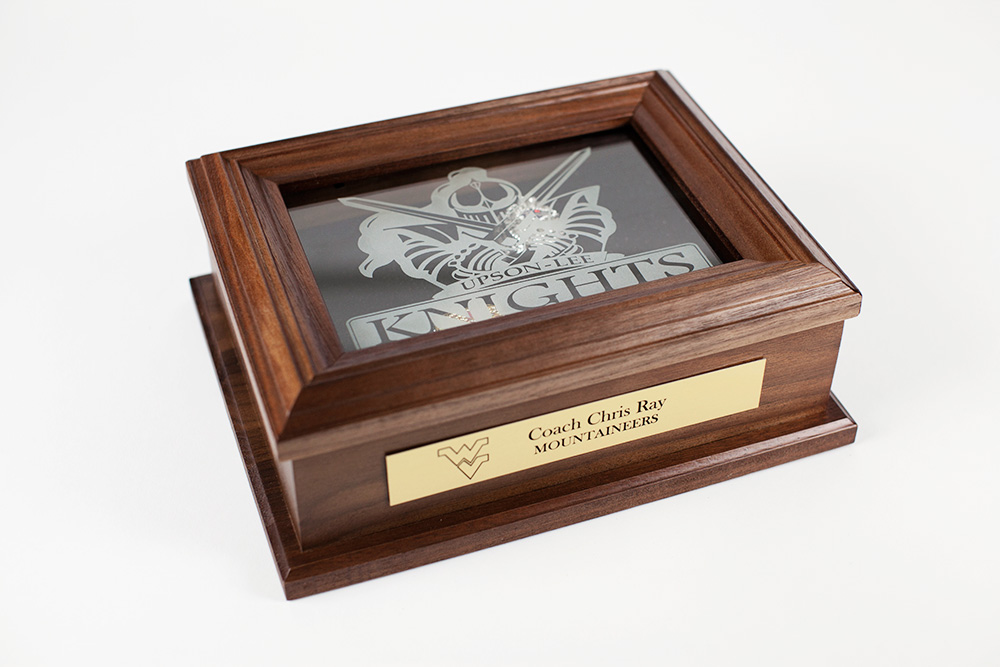 The foam insert is customized just for you as well. We'll custom cut each ring slot for you, with the unit holding between one and twenty sports championship rings. If you have a particular layout in mind we can easily make it happen for you – two slots in the top row, three in the bottom row, etc.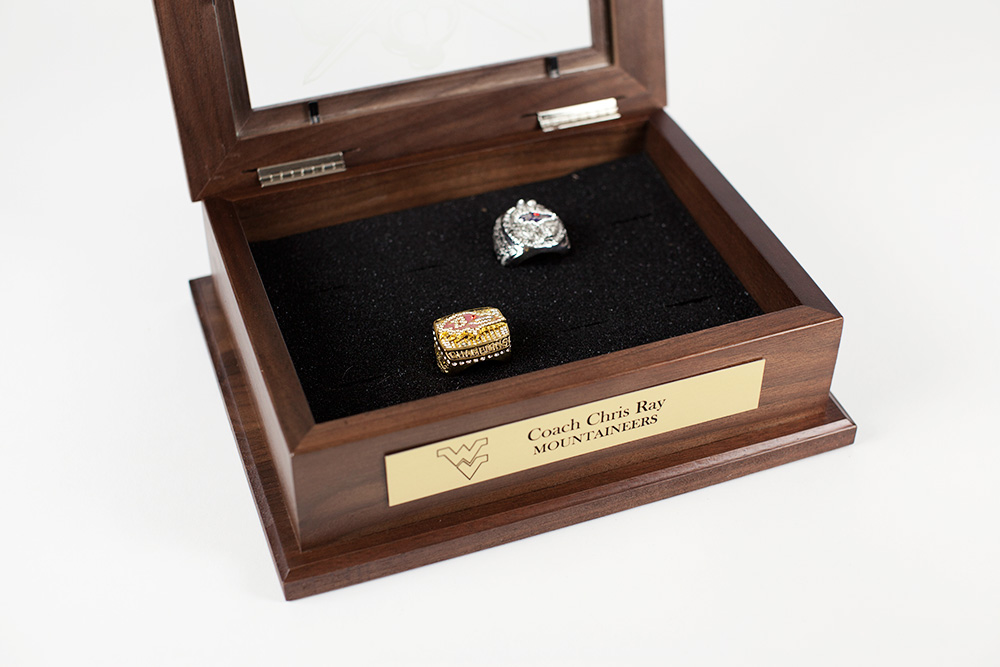 Check out the fine detail of the box itself:
We also offer the Sports Ring Keepsake Box for Championship Rings without the ring insert, in configurations suitable for commemorative gifts or family heirlooms. These are ideal for use as retirement gifts, employee appreciation, client recognition, promotional events, memory boxes, or wedding gifts.
These alternate styles of our lovely walnut wood keepsake box are available here: