To get right to it, we've put together a list of 21 truly practical gifts for men.
Some guys are just that way. They're pragmatic, down-to-earth, hard-working, sober-minded gents who don't often buy things for themselves but when they do, it's something very practical.
They like gifts that are helpful, useful, and sensible.
This list is for them.
Our website is supported by our users. We sometimes earn a commission when you click through the affiliate links on our website. See our privacy policy & disclosures for more information.
Practical Gifts for Men
Our Practical Men's Gift Guide covers a wide array of gift options for all kinds of guys.
So whether he'd rather be working out in the garage all day or would prefer staying in for the afternoon with a good book in hand, we've got ideas.
Let's explore together!
1. Personalized Wood Bottle Opener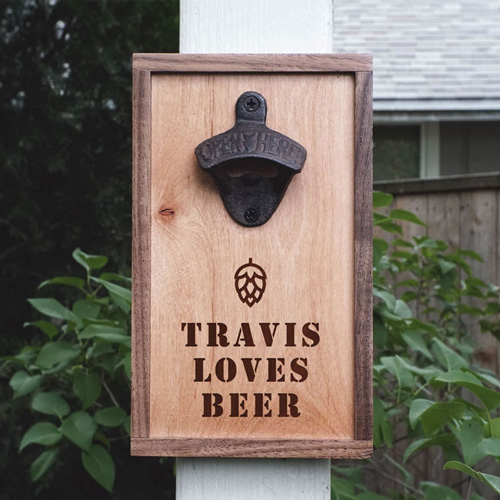 For some guys, there may be nothing more practical than a handy device like this one to pop open a cold one at the end of a long day.
It's designed to be mounted to the wall, so he'll always know where it is and have instant access. Now that's sensible.
Plus, this bottle opener is not like any other you've come across. It's handcrafted in the USA by Oregon-based Northwest Gifts, and comes personalized with your guy's name.
The opener itself is made of cast iron, meaning that it's a tool that will last him a long time. A laser-etched hops emblem is also included in the design, although you can also request any other themed design or even customize your own.
Bonus: Get him a "beer of the month" craft beer subscription to go with it.
2. Rocketbook Fusion Digital Notebook
Tech can be practical, too. So when you're looking for practical gifts for men, it can help to look the way of simple tech that almost anyone can utilize.
The Rocketbook Fusion is simple enough that even the most tech-unfriendly dudes can find it enjoyable. The idea is essentially the same as how you'd use a regular paper notebook and pen – only without all the killed trees.
Using his Pilot FriXion pen, your man will be able to jot down or record whatever he needs to do or remember.
Then, using the app, he can send his notes straight to the cloud for safekeeping, wipe down the pages and begin again. Practical, resourceful and brilliant!
3. YETI Roadie 24 Cooler
A YETI cooler like this one may be something that he's actually had his eye on for awhile, especially if he's the outdoorsy type. These are the top of the line, and for good reason.
The YETI Roadie 24 has been engineered to perform even better than its predecessors. It's a much lighter weight that its counterparts and also keeps food/drinks chilled or warm for longer. Holds up to 18 drink cans or 24 pounds of ice alone. Measures 16.5″ x .5″ x 17.5″.
Want to browse more styles? Take a look at these other uber popular YETI brand coolers:
4. Ring Video Doorbell
Did the special guy in your life recently buy a home? Or maybe he just became a dad and the thought of protecting his family just became a whole lot more real.
If so, give him the gift of home security with a Ring Video Doorbell.
The Ring doorbell security system uses a video/audio monitor and attaches to the front porch of the home (just like a regular doorbell). Unlike a regular doorbell, however, the Ring notifies the homeowner whenever motion is detected or when the doorbell is pushed.
The Ring operates off a rechargeable battery and utilizes the Ring app.
5. Samsonite Hardside Expandable Luggage
Everyone needs a good suitcase. Whether your guy friend prefers flying or taking the scenic route on four wheels, he is sure to appreciate packing his things into this high-quality luggage.
A suitcase is just about as practical as it gets – especially these ones. The Samsonite Omni Hardside Expandable Luggage Set (the larger at 24″ and the carry-on measuring 20″) both come with spinner wheels, too, for easy transporting.
The scratch-resistant micro-diamond poly-carbonate exterior ensures beautiful luggage for many trips to come. And TSA locks ensure that only he (well, and TSA) can access the inner contents.
6. Reusable Bamboo Straws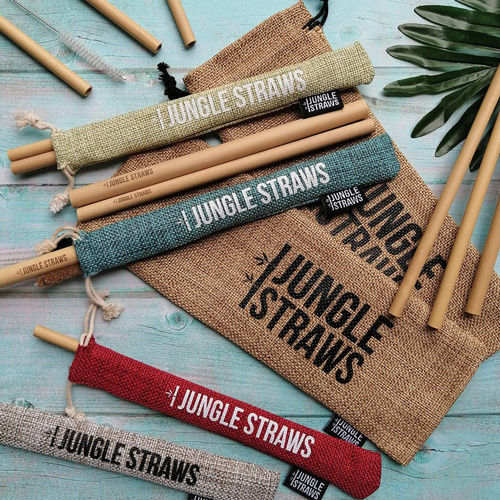 This one's for the eco-friendly guy in your life who is all about caring for mother earth and her future.
Reusable straws aren't just a fad; they're a lifestyle choice as well as a game-changer when it comes to reducing plastic waste.
Handmade in Vietnam from locally-sourced bamboo, these zero-waste straws come six to a set. Included in your order are a pouch and a cleaning utensil.
7. Reusable Sandwich and Snack Baggies
These reusable sandwich/snack baggies would go great paired with the reusable bamboo straws mentioned above.
It's a practical gift for men who take their lunches to work or school. Eco-conscious bros don't want to store their food in plastic baggies only to throw it away right afterward.
Take that guilt away from him by surprising him with his own set of premium reusable lunch baggies. These washable baggies are BPA free. Your order includes 10 of them, in varying sizes, as well as a convenient drying rack.
Related: Eco-Friendly Gift Ideas
8. Safe-T Fire Extinguisher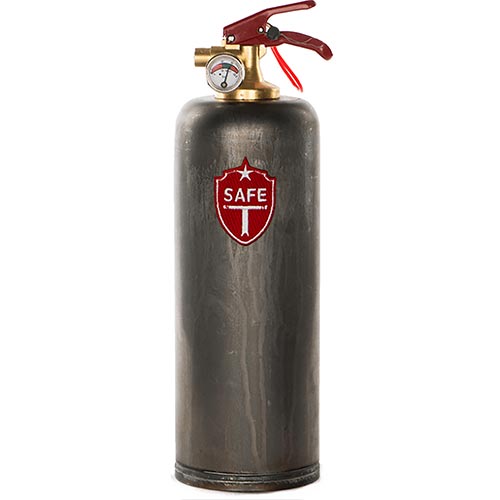 Few gifts are more practical than a fire extinguisher, so of course we had to throw one on this list!
Only this ain't your ordinary fire extinguisher, this is a safety device that actually looks great.
Safe-T decorative fire extinguishers are the real deal; they'll squelch a fire just as good as any other standard extinguisher. They meet EN 3-8 technical standards and include a CE 0029 approved tank.
But here's the best part about these extinguishers: they come in a huge variety of cool designs. The "raw steel" design you see above is just one of many; here's another: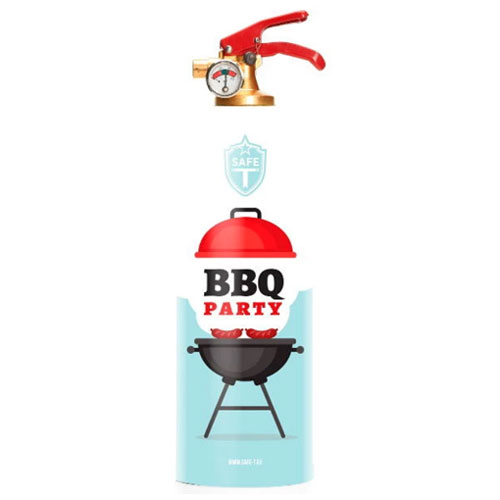 They have whiskey and wine themes, famous city skylines, luxury polished brass and other high-end metal finishes, plus pop art and unique commissioned art pieces. There's something for everyone!
Wanna browse even more *terribly* unique gifts for men? See here.
9. Black and Decker Home Tool Kit
What could be more sensible than a good set of home tools? Pretty much nothing!
If your man doesn't yet have his own set of top-notch utility tools (or could really use an upgrade from his collection of miscellaneous hand-me-downs), consider surprising him with this set the next time you see him.
The Black and Decker home tool kit comes with all the basics he'll need to keep his stuff in working condition (68 pieces in total). Included is an electric drill with charger, hammer, screwdrivers, tape measure, drill bits, a carrying case and more.
10. Practical Care Package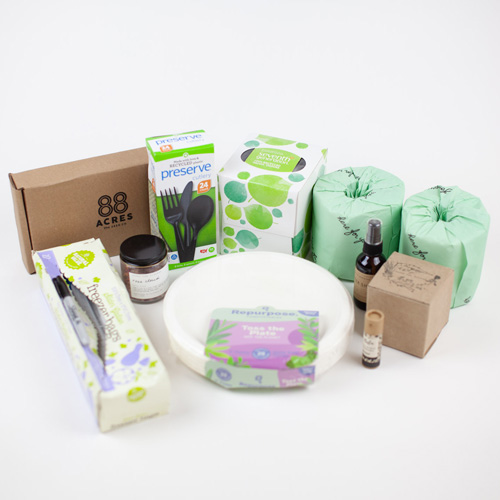 Really, a care package? For a dude? Um, that's a big yes. Because sometimes, guys need a little encouragement and help too to get things done or to take care of their home.
Here for You helps you curate care packages suitable for even the most manly of men. There's no fancy lotions or candles in this package… think more along the lines of items he can utilize around his home.
He'll find stuff like toilet paper, paper plates, garbage bags, soap, and much more. (And you can always opt to add-on that lotion or candle if you really want). This is an ideal practical gift for the special guy in your life who has moved to a new place or even just needs a little pick-me-up. Check out our review and unboxing here.
11. Personalized Multi-Tool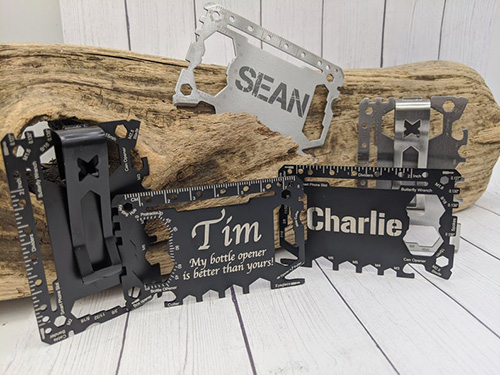 How can such a little tool have 46 functions to it? We don't know either, but here it is before our very eyes.
This credit card-sized multi-tool can open bottles, measure things, tighten glasses, and open cans. It can slice open boxes, cut through wire, and attach to a key ring. And it can fit snugly in his wallet until he needs to use it.
Personalization is included, so be sure to include his name when you order.
Related: Personalized Gifts for Him
12. Custom Work Apron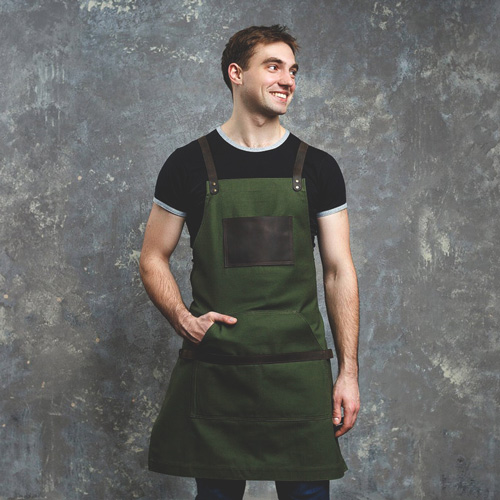 Some guys are happiest being out in the garage or shop, working away on whatever project they have cooking up at the moment.
Whether he's a woodworker or a car person, he more than likely has a lot of tools that he uses on the regular and that he could benefit having within easy reach.
When you give him a custom leather work apron like the one pictured here, you're really giving him the convenience and luxury of nearby supplies (and not to mention clean clothes). And this ain't your Granny's apron!
It's handcrafted using a leather-canvas combo – meaning that it's about as durable as it gets. Pockets and loops make it easy to reach for whatever he'll need next, and you can also opt to customize your order just for him.
13. Heavy Duty Tie-Downs
Let's begin with a quote:
Every man needs a good set of tie-downs.

Literally Every Guy Ever
So take that wisdom and roll with it to find the ultimate in practical gifts for men.
This premium Rhino tie-down set includes heavy-duty ratchet straps and axle strap tie-downs. The break strength comes in at a ridiculous 11,128 pounds. Perfect no matter if he drives a car, truck or utility terrain vehicle… because security while traveling or hauling means peace of mind.
Plus, all the other guys will be jealous of his really, really nice tie-downs.
14. Personalized Bamboo Wood Cutting Board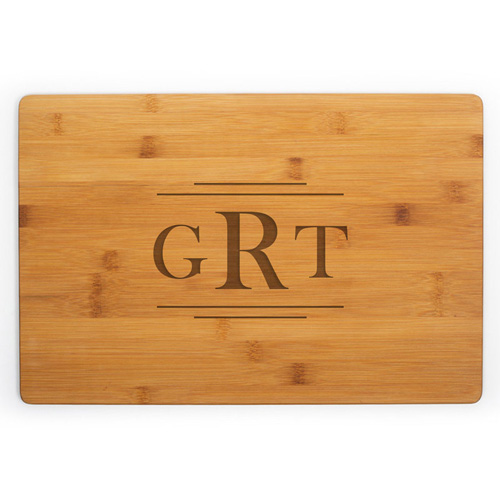 A cutting board makes a wonderful gift for almost anyone, and for any occasion. If you're in need of a practical gift for a guy who loves to cook, this cutting board will fit the bill.
This custom engraved cutting board is made from quality bamboo wood, and is large enough to be used or displayed. And he very well may want to display it, when he sees that you've had it personalized with his initials.
Measures 18″ x 12″ x .75″. More designs available here.
15. High-Powered LED Flash Light
Okay, we can all agree that everyone needs a good working flashlight. I don't care who you are.
That's why this GearLight flashlight will make a super practical gift for the main man in your life.
Utilizing a high-powered LED bulb, this flashlight comes with five light modes. It's shock resistant, water resistant, has zooming capabilities AND operates on regular ol' AA batteries. Great for everyday use as well as emergencies.
16. Shoe and Towel Exercise Shelf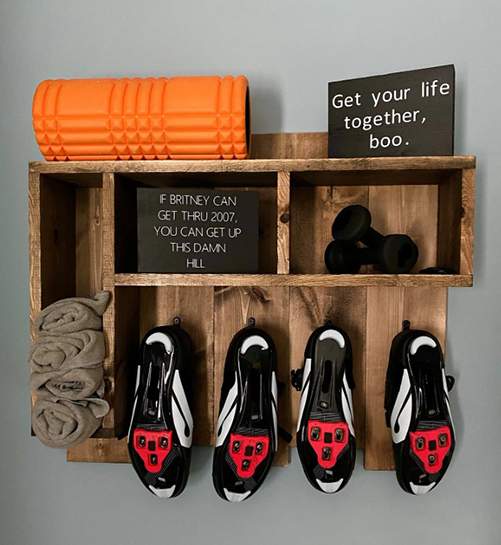 If you are struggling to find the most practical gifts for men, but find that he already has everything he needs, what do you do? Try and think of what your man likes to do (e.g., his hobbies) and then consider all the elements that go into that activity.
For example, if he's really into fitness, a little bit of outside-the-box thinking can go a long way in leading you right to the perfect gift.
The perfect idea for your fitness fanatic may very well be this wood shoe and towel exercise shelf.
It's farmhouse chic meets modern gym, but really it's just a great gift for the home. He can put shoes, towels, weights or anything else he needs to in the cubbies, along the top shelf or hanging from the one of the hooks. Super useful!
17. Wood Docking Station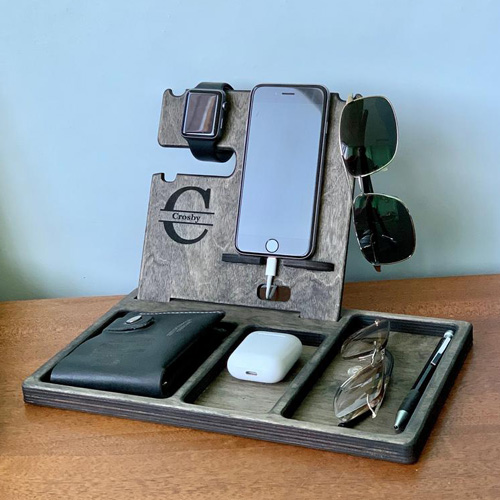 These days, it can be hard to juggle all the little necessities life requires we keep track of: our keys, glasses, smart watches, wallets, phones… just, you know, everything. So it can really help to have a "home base" to keep it all organized.
This handcrafted Men's Docking Station serves as that base. It comes with just enough space for everything your guy will need to keep all his important stuff in one place. There's even a slot for a phone charger to fit through… perfection. Personalization is also available!
18. Vintage-Distressed Full Grain Leather Belt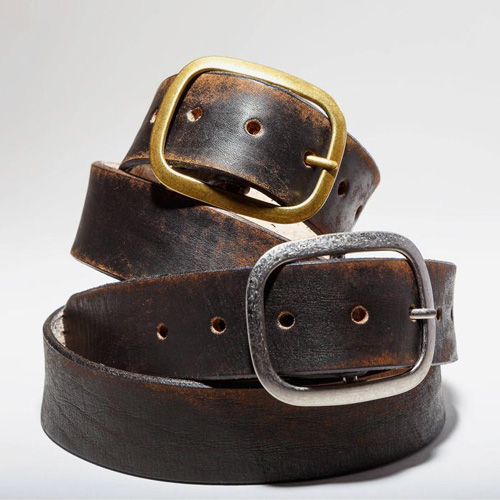 Your man's belt for everyday wear should be simple, but also first-rate quality.
This distressed leather belt meets both those standards. The belt is made by hand from the finest full grain leather, meaning that it's going to last him for a long time. The leather has also been aged in order to give it the appearance of a well-worn piece of apparel, when in fact it's actually brand new.
Choose between several different sizes as well as silver or brass for the buckle.
Related: 21 Cool Gifts for Men
19. Spray Paint Can Wall Mount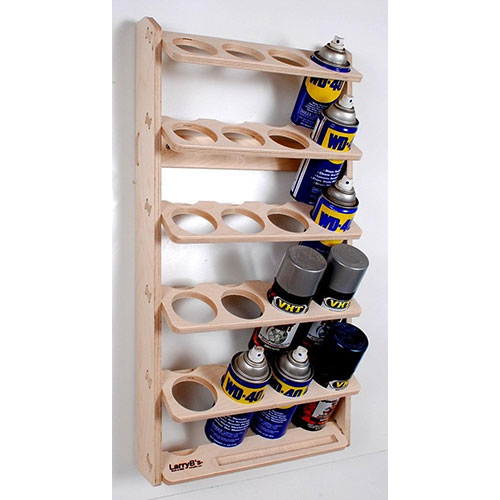 Spray paint cans are notorious for finding their way all over the garage. Without a shelf or dedicated space to keep them, it's hard to find the color you need or the particular kind of paint you're looking for.
This Baltic birch spray paint rack will take the stress out of – well, spray painting – by allowing him to keep all his favorite cans organized and right where he needs them. It can hold up to 20 cans at a time.
Also a great place to store WD-40!
20. Men's Grooming Kit
Hair and beard grooming kits make all the lists for men's gifts. But there's good reason for it! If your man takes pride in keeping his locks groomed, he's going to appreciate a fine grooming kit like this one. No ifs, ands, or buts about it.
The Philips Norelco trimming kit you see here comes with all the tools needed to manicure face, head and body hair quickly and flawlessly.
21. Personalized Book Embosser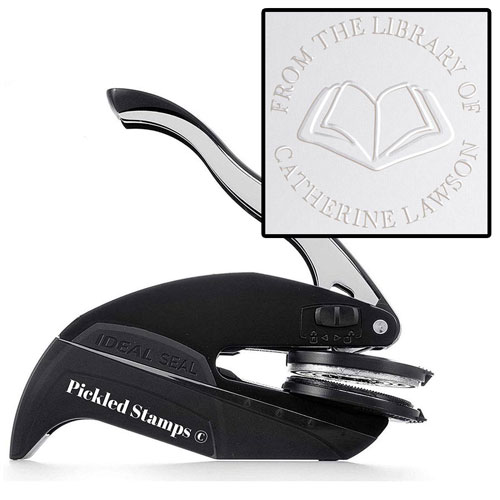 For all those book lovers out there, we've saved the best for last.
This personalized book embosser from the designers over at Pickled Stamps is certainly a practical gift for the avid reader.
With his new embosser, your favorite bookworm will be able to stamp his name (or the name of his library if you want to get fancy) into all his prized volumes.
More Gifts for Men
Did you find the perfect gift yet? If not, never fear – we have some more inspiration for you.
First, more practical gifts. Here are 10 Practical Gifts That People Actually Love.
Next, additional gifts for men. Check out our master list of guy's gifts (over 65 gift ideas, plus a rabbit-hole of links to even more niche ideas.
Lastly, the opposite of practical gifts. Yep, really. But think about it – "practical" is not the only thing that describes your guy, or the only thing he cares about. So consider something that, while it's pretty much the opposite of a practical gift, could still be the best idea ever. Give him an experience that he'll never forget. Here are 50+ Experience Gifts to create lifelong memories.