Last Updated on July 31, 2020
What could be more refreshing on a hot summer day than an ice-cold cocktail of vodka, ginger beer, lime, and a sprig of mint served in a shiny copper mug?
The answer, of course, is "I can't think of anything that would be more refreshing and now I want a Moscow Mule real bad".
So what is this drink, how did it get its name, and why is it so special that it gets its very own copper mug?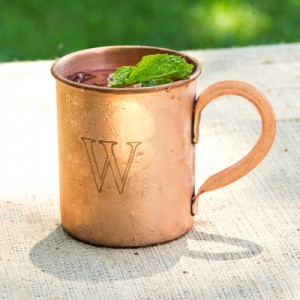 The answer to these questions are not quite as clear, but what has been handed down to us through folklore is fascinating. The story goes that the vodka distributor for Smirnoff in the USA was having poor sales and a rough go at competing with the extreme popularity of whiskey. Meanwhile, a ginger beer manufacturer in Hollywood was having the same problem competing against the much more common ginger ale and root beer drinks.
The two distributors sat down with a few associates at the Cock 'n Bull restaurant in Hollywood (which was owned by the ginger beer producer) and began nibbling hors d'oeuvres and wondering what to do with their products. Someone suggested combining the two along with some lemon juice. Ice was brought, drinks poured, and, after several rounds, the drink was christened the "Moscow Mule" in reference to vodka's association with Russia.
As a marketing ploy, the drink's inventors enlisted the owner of a nearby copper factory (who may or may not have been at the original Cock 'n Bull gathering, and who also may or may not have had an excess of inventory he was trying to unload) to engrave the names of famous Hollywood movie stars on copper mugs.
The Cock 'n Bull was a popular spot on the Sunset Strip at that time, and soon the Moscow Mule took off as famous film stars were seen drinking the cocktail in the distinctive copper cups, which were etched with their names and stored behind the bar just for them.
Trends come and go, and just as the cocktail fad faded in the late 1960s, a resurgence in popularity has been growing the past few years as the new generation rediscovers classic cocktail recipes. The Moscow Mule is an attractive choice to get people started in cocktails since it conveys the vodka in such a cool, crisp, and refreshing way.
If you enjoy this bit of cocktail folklore-slash-history, consider joining in to Hollywood history with your very own personalized Moscow Mule Copper Mug, or share this recipe with your friends:
Moscow Mule Recipe
Ingredients
1/4 cup vodka
1/2 cup cold ginger beer
1 tbsp fresh squeezed lime juice
Ice cubes
Garnish: Lime wedge OR mint sprig
Copper mug
Instructions
Fill copper mug with ice. Add vodka and lime juice, then slowly pour in ginger beer. Stir to mix, the add lime wedge or mint sprig to garnish.
(Visited 1,668 times, 1 visits today)