Last updated on
There are two keys to a fantastic, treasured, memorable, and appreciated home bar holiday gift. If you follow these tips, when the wrapping comes off you'll be sure to see that heartwarming smile, that exclamation of surprise and delight, the meaningful laugh that says, "You know me so well!"
Key #1: Get A Gift They'll Use
Maybe he's been talking about aging his own bourbon, or perhaps she's always trying and tasting new craft brews. Clue in on what they are into and what they talk about, and use it to your gift-giving advantage.
For the first friend, he's likely to be interested in a charred oak barrel that he can use to flavor his bourbon in unique ways. For the second friend, you couldn't go wrong with a set of tasting glasses on a flight with a space for chalboard notes. Someone who has just converted their den into a home bar might like some vintage-style wall decor. Coaster sets have been a huge hit, perfect for the person who's always sliding a coaster under your glass, but there are others who never use coasters so maybe they would like a bottle opener in their stocking this year.
The key to remember is, think about the person, their personality, how they use (or don't use) certain types of things, and get them a home bar holiday gift that you know they will use.
Key #2: Personalize It
There are vintage pub signs, then there are vintage pub signs with their name on it. There are wall mounted bottle openers, but a wall mounted opener engraved with their initial is far superior. You can get a cute appetizer tray just about anywhere, but nothing beats a custom laser etched barrel top tray with their name on it.
You get the idea – there's all the mass produced stuff, which is fine, but if you really want a special gift that they are going to treasure forever, personalize it. <– Yep, that's a link to our web store, because that is exactly what we do and we think it is awesome.
10 Ideas for the Ultimate Home Bar Holiday Gift
So now that you know what's important and what to look for in a home bar themed Christmas gift, here are some ideas. Note that for most of these items, a variety of sizes, styles, designs, and options are available – click or tap through from more details.
1. Personalized Oak Barrels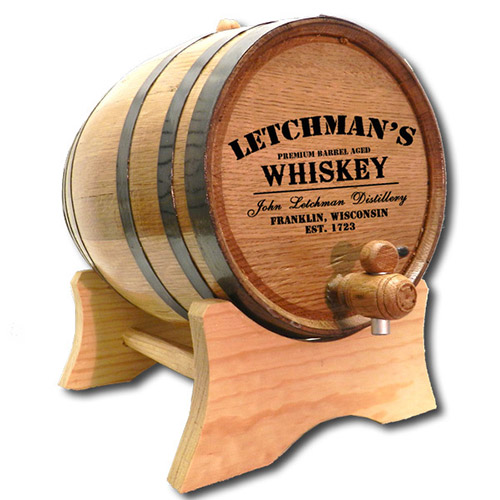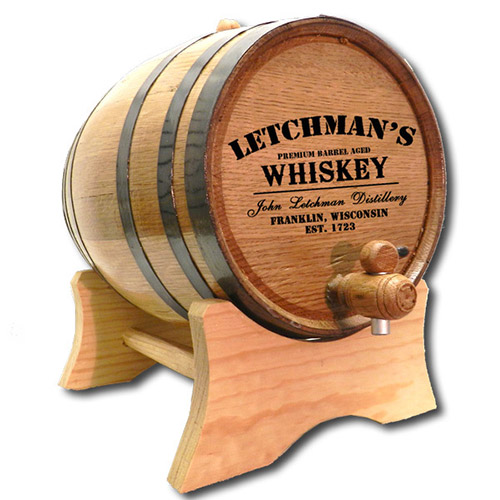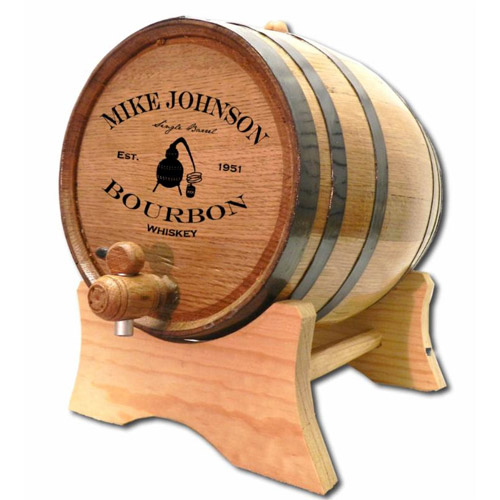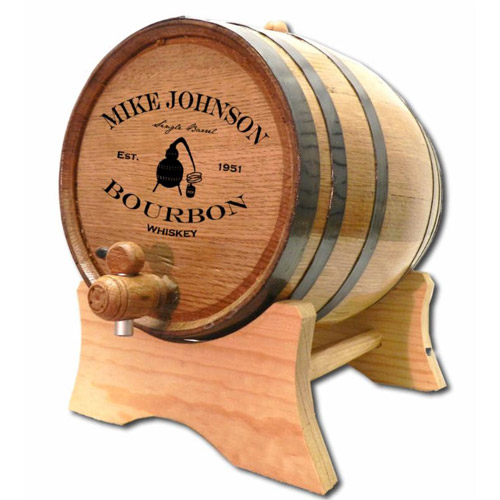 These are two of our most popular designs in our collection of personalized oak aging barrels: the Whiskey Distillery and the Bourbon Still. We have a whole variety of designs that are easily customizable with names and more, or you can get non-personalized barrels or even a completely customized version with your company logo on it.
2. Personalized Home Bar Plaques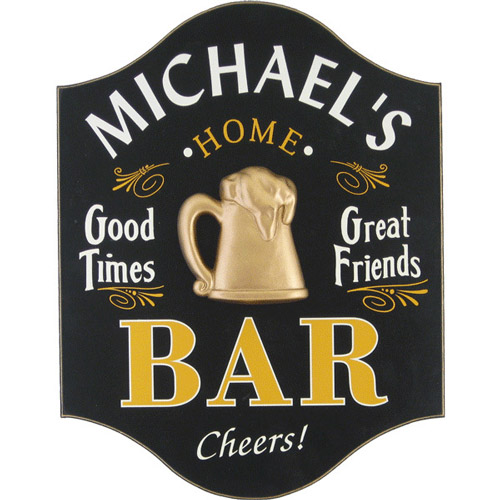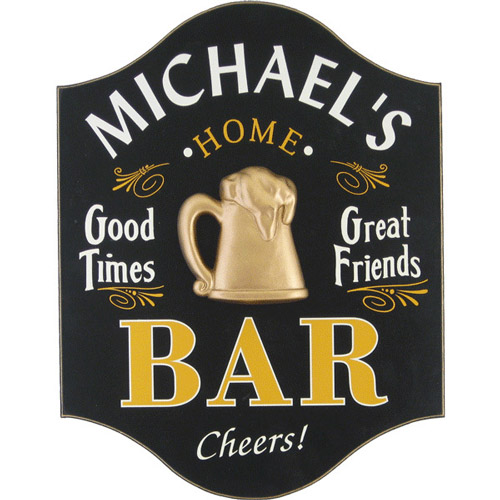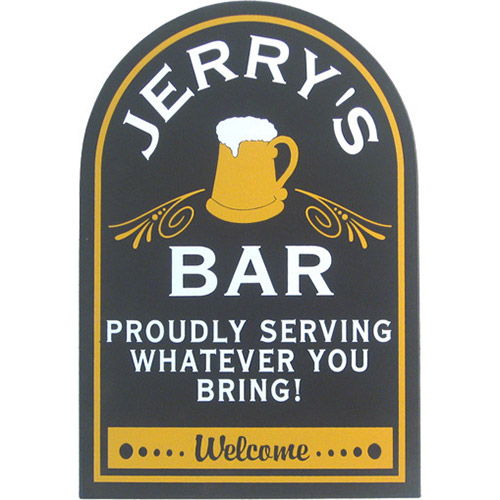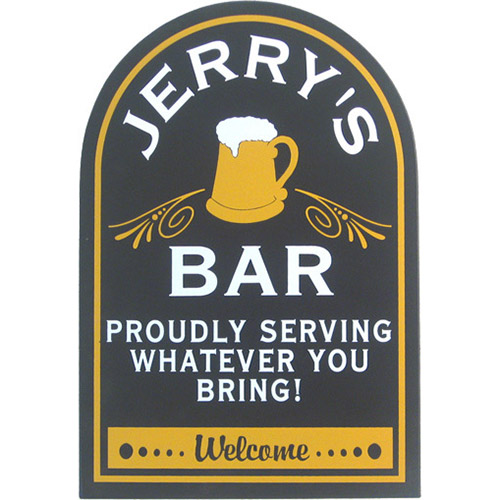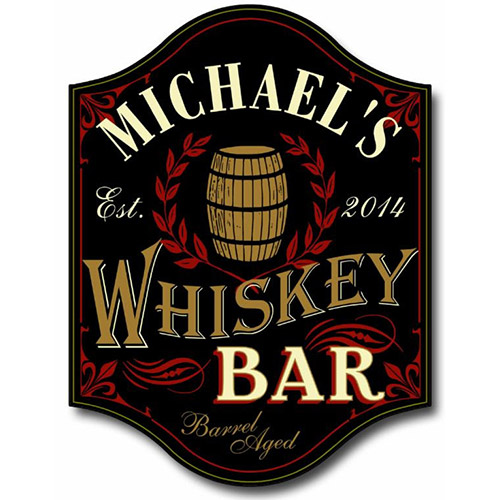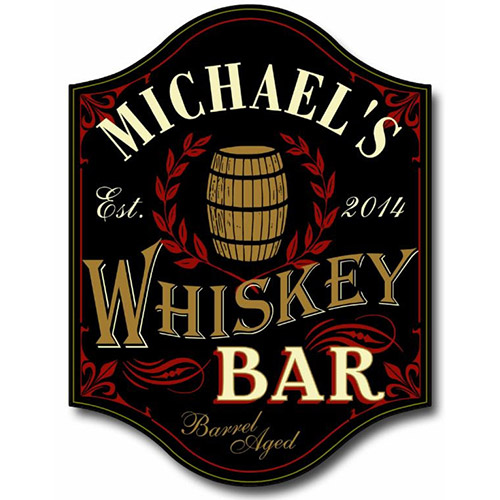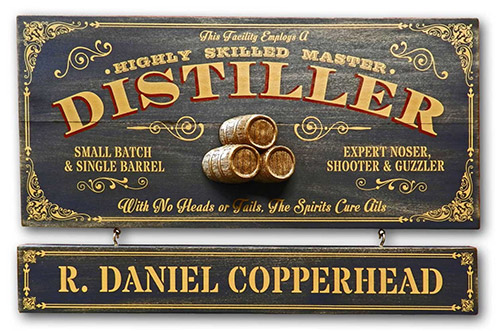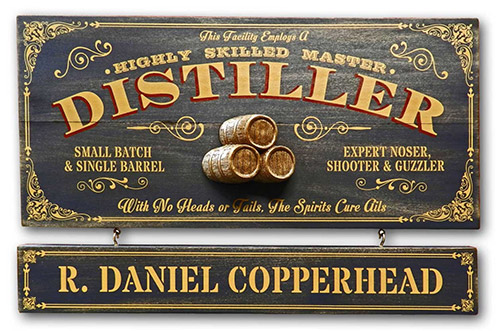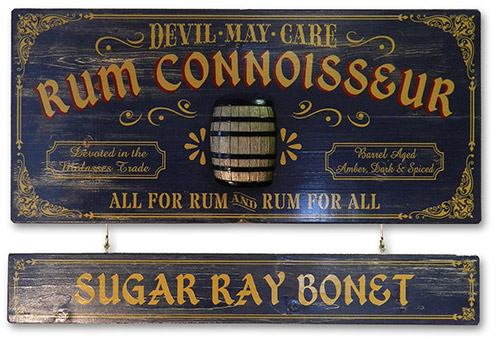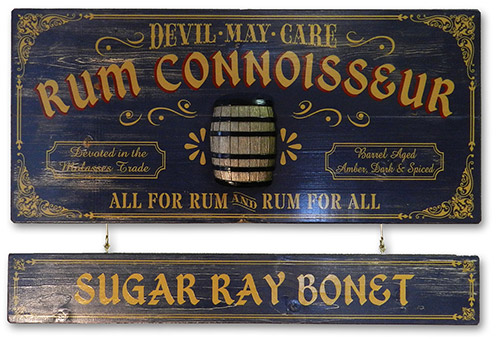 These are some of our best-selling plaques during the Christmas season. Click or tap on any of the photos above to view the product, or you can check out some of our collections here:
Personalized plaques and signs are perfect for accenting any home bar. Crafted in the USA from furniture grade wood and personalized with the name of your choice (and sometimes more), these holiday gifts for the home bar are sure to please.
3. Bottle Openers
The Rustic Wall Mounted Bottle Opener includes a magnetic cap catcher and an initial laser etched in large block lettering. The Corkscrew Bottle Opener is a multi-tool ideal as a stocking stuffer, and can be engraved with the text of your choice, making it a personal and special gift.
Check out all our bottle openers, which include a ton more personalized openers and a nifty collection of fish-shaped ones for the fishing enthusiast.
4. Personalized Mugs & Glasses
Every home bar needs glassware, cocktail mugs, shot glasses, and more – why not take it up a notch and have them custom engraved? Whether it's the super-popular Moscow Mule Copper Mug (personalized just like in the old days), a stylish set of Mojito Cocktail Glasses, or a completely customized shot glass, we have what you're looking for.
Check out the complete collection of barware here. Champagne flutes, mason jars, glasses shaped like beer cans – we have it all, and can custom engrave it for you.
5. Quarter Barrel Plaques
Quarter Barrel Plaques present a one-of-a-kind home bar centerpiece. These signs are crafted from a real oak barrel head, surrounded by barrel stave pieces to look like the top "quarter" of a barrel, then engraved and/or silkscreened and hand painted with customizable vintage designs.
The ones you see above are the most popular, but we also carry a wide selection of niche themes, including Irish Pub, 19th Hole Golf, Cocktail Lounge, Brewery, Cantina, Sports Bar, and Vineyard Estates.
Additional non-bar-themed Quarter Barrel Plaque designs include Home Theater, Barbeque Joint, Garage, Coffee House, Pizzaria, and Ice Cream Parlour – all customizable.
6. Make Your Own Whiskey Kits
These Barrel Connoisseur Kits are uber cool. Each one includes an oak barrel, fancy iron stand, spigot and bung, cleaning kit, and 3 unique flavor infusions to create your own take on Scotch, Bourbon, Irish Whiskey, and more.
This is a great idea for the enthusiast who has been itching to try making their own spirits. Surprise them with a memorable gift that they'll love to use!
7. Tasting Sets
Tasting sets like these sampler flights are a fun addition to any home bar. An especially apt home bar holiday gift for the person who is always trying something new. The chalkboard slates work super for a rotating selection of wines or beers.
8. Menus & Chalkboards
Speaking of chalkboards… these chalkboard plaques can not only be custom engraved for the recipient, but they can then further personalize the chalkboard anytime they want with a colorful chalk design, fancy lettering, new menu or bar choices, or a welcome message to friends and family.
Check out all our home bar chalkboard ideas here!
9. Coasters
Customized coasters are always a good stocking stuffer. We have a variety of leather coaster sets that match our most popular designs for oak barrels and barrel head plaques, or you can get completely customizable coaster sets in wood or marble. Check out all our coasters here.
10. Growlers & Decanters
Perfect for the one who likes to stock up on their favorite beverage to share. We have a nice collection of growlers (including soft shell totes and rustic wood carrying cases), as well as several different decanters and sets for wine, whiskey, and more.
We hope you found some inspiration in these home bar holiday gift ideas, please pin this post to save for later or to share on your own gift list!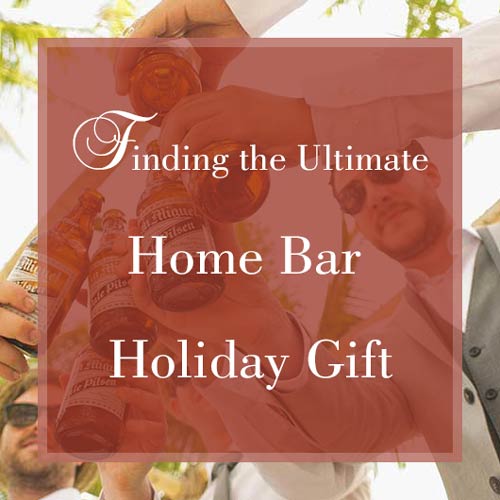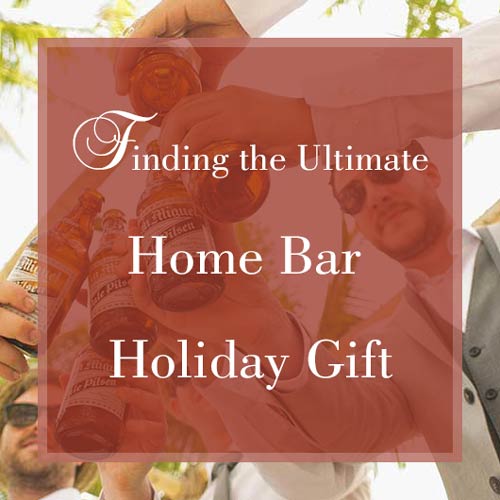 (Visited 34 times, 1 visits today)