Are you a teacher? (God bless you, if so.) A parent who volunteered for your child's Valentine's Day party? The homeschool co-op president? If one of these describes you, then read on for some great Valentine's Day ideas for school that will:
A. not break the bank
B. will delight the students, and
C. won't give everyone a sugar rush that leaves the Little's (and their parents) in tears at the end.
From fun and unexpected party favors, to fantastic DIY projects and crafts — we've got something for everyone. Let's get to it!
Fun Valentine's Day Party Ideas for Classrooms
Our website is supported by our users. We sometimes earn a commission when you click through the affiliate links on our website. See our privacy policy & disclosures for more information.
1. A Classroom Full of Sweethearts!
Decorate the classroom with the cute conversation hearts! Have heart shaped snacks, balloons on each chair, or a banner on your door! The possibilities are endless.
The Dollar store always has lots of fun Valentine's Day decor, prizes, and treats, so why not start there? It's also easy to make your own hearts out of construction paper, and sign them with witty or sweet expressions and conversations. Each desk could have their own personalized heart, as well.
2. Bee Mine Valentine
Serve up a surplus of honey treats, like honey sticks and Bit O' Honey candy. Order or DIY your own bee decorations, and keep everything in a bright yellow and black theme. Balloons, too, of course!
Toss in some vases of yellow daisies and you'll have a sunny and cheerful party atmosphere in no time. You can even keep the candy yellow themed: banana Now and Laters, lemon drops, etc.
3. You Make My Heart Pop!
Play a class-friendly movie and treat your kiddos to some popcorn during your classroom party.
Here are some classroom-friendly Valentine's Day movie ideas:
4. Owl Always Love You
Crafts can include owl printables that can be decorated with feathers from the craft store, paintable, wooden owl cut-outs (we've recently seen them at the Dollar Tree in packs of two!), and making cute little owl finger puppets. They'll create the cutest feathered friends!
5. Love is In the Air
If it's not too cold out where you are, consider flying some real kites outside, or doing an egg drop! Or they can learn about flying airplanes or interesting animals that fly, like bats and flying squirrels! Hot air balloons are a fun way to learn about flying, as well.
Perfect Valentine's Day Decorations for Your Classroom
6. Signs for Your Desk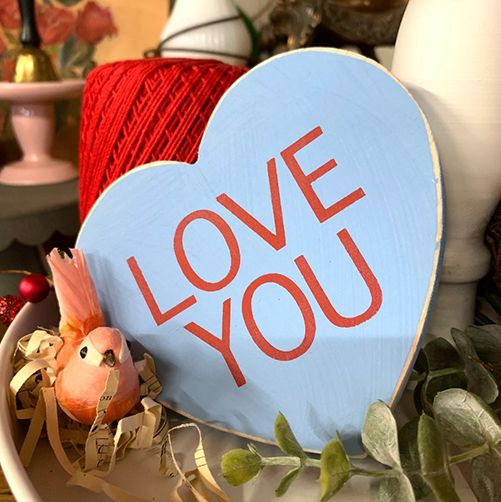 These fun, oversize conversation hearts will brighten up a dreary classroom in no time! They almost bring a cheeky, Willy Wonka type atmosphere to your desk.
These are super fun, handmade and really pack a punch. Plus, they're so easy to store and keep for the coming years (not like paper decorations that get torn, or felts that get stained).
7. Custom Bulletin Board Letters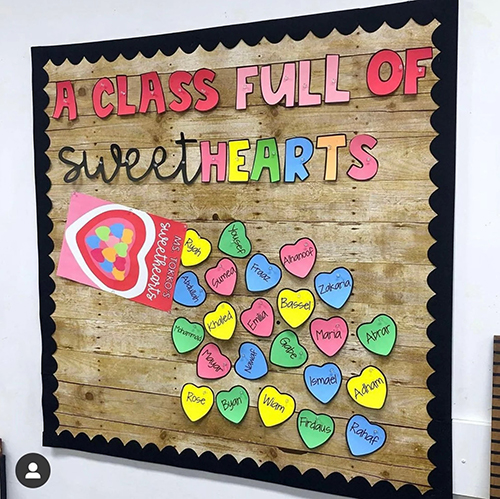 The kids will love seeing their names on these adorable, custom bulletin board letters! Instantly, your classroom will be brightened up and have a party atmosphere for the whole week. Cute and easily reusable, they'll come in handy for all sorts of games and keeping track of the kiddos.
8. Hang Up Some Candy Heart Banners
These "candy" heart banners look delightful, don't they? Put them up just out of reach of grabby hands (you know how irresistible banners are to kids and tugging, don't you?), this cute banner really brings a festive look to any ordinary classroom. Great for school hallways and Youth Rooms, too!
9. Felt Valentine Envelopes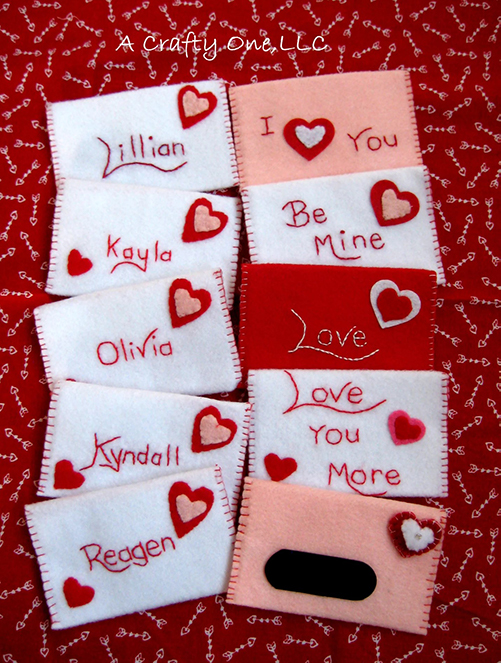 So much more fun and way more reusable than your traditional Valentine's Day envelopes, these cloth versions are so adorable! They would also be fun to make as a class together, and then sent home to Mom and Dad.
Felt and glitter pens, and either craft glue or a simple needle and thread are all they take!
10. Classroom Window Stickers
Make your classroom the obvious best — even from the outside looking in — with these cheerful window stickers! An easy way to bring some cheer to a dreary February, they'll give a huge pop of color and will delight your students. So simple!
Best Classroom Games for Valentine's Day
11. Valentine Word Scramble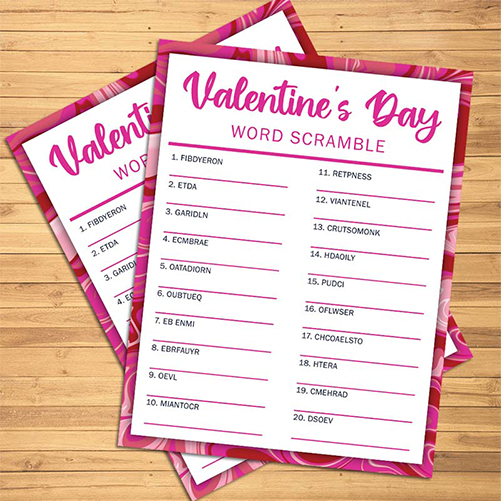 These printables will get their competitive juices flowing in no time at all! Whether you use them during class time as a fun way to learn, or pass them out to take home, everyone loves a good word scramble!
Colorful and bright, you can pair them with Dollar Tree Valentine's pencils for an old-fashioned bit of fun.
More: Printable Valentine's Day Activities
12. How Many Candy Hearts Are There?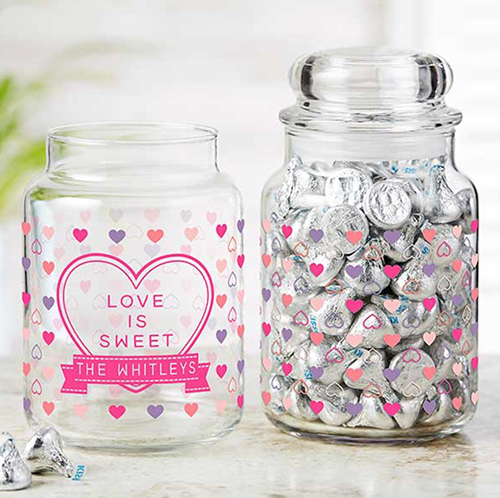 Fill a large, see-through jar with candy hearts, then pass out slips of paper and pencils. Each kid can take a wild guess at how many there are. Winner has the closest guess and gets a prize!
Quite possibly our sweetest of valentine's day ideas for school. But don't worry, everyone's a winner since there are so many candy hearts to nibble on!
13. I-Spy Valentine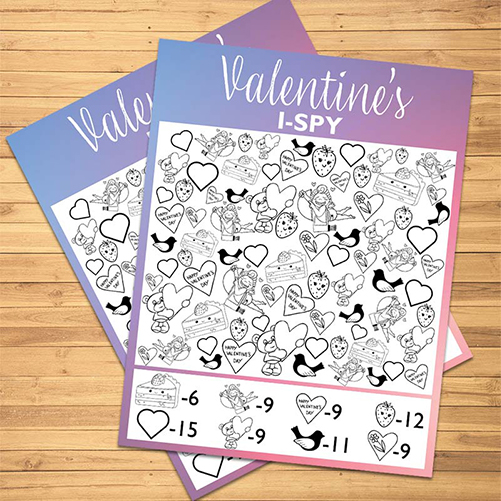 These adorable printables are an easy go-to for when students have finished their school work earlier than the others. Or you can pass them out for some fun class time together!
Have a blast finding all the hidden objects (kids can color them, or simply circle them). Hold a little contest to see who can find the most, and hand out Valentine's related prizes to the top winners!
14. Valentine Classroom Bingo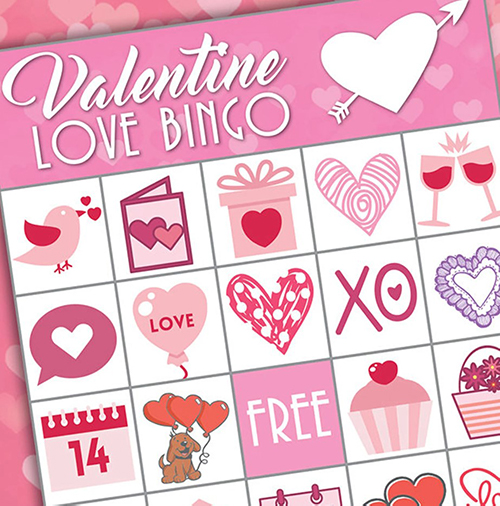 These printables are so fun with their pink and red colors and Valentine's Day theme! The kids will love learning to play classic games like Bingo. Don't be surprised if they don't want these cards packed away at the end of the holiday, but want to keep them around all year around!
15. St. Valentine Says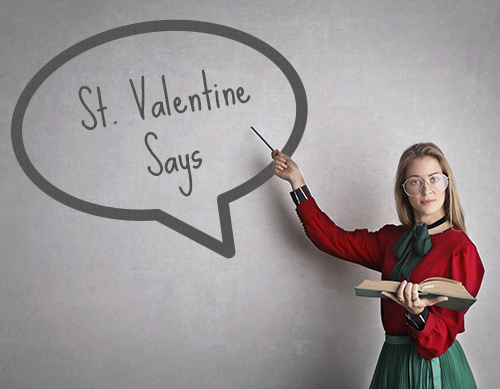 Just like good ol' Simon Says, but with St. Valentine! A good way to make cleaning up the classroom fun, or just a great idea to get those morning wiggles out! It can be played inside or outside, for a few minutes, or all throughout the day.
Related: Best Valentine's Day Party Ideas for Kids & Families
Fun Valentine's Day Box Ideas for Classrooms
16. Dinosaur Stegosaurus Printables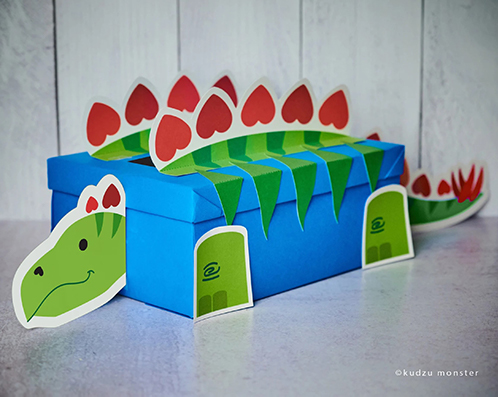 If your classroom is dino crazy, then you need to learn to make these easy, peasy, lemon squeezy, dinosaur stegosaurus printable boxes! These boxes are almost better than all the treasures they're going to be holding.
If your kids can't get enough of all things dinosaur, these ones will be a huge hit! A fun, jurassic themed alternative to to normal valentine's day ideas for school.
17. Pizza Valentine Box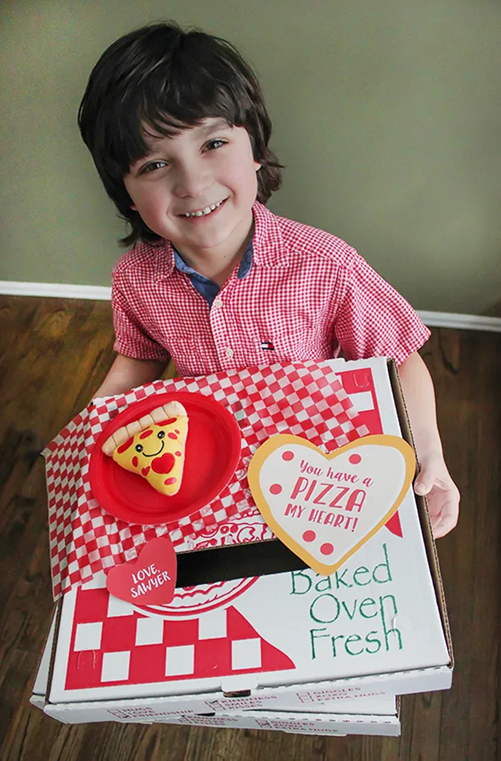 How adorable is this pizza Valentine's box? Once you've decided if each student gets to make their own, or you just want one to hold everyone's Valentine's treats/notes, you'll want to ask your local pizza restaurant for the box(es)! Love is in the air, so they'll be sure to be accommodating!
18. DIY Llama Card Box
This llama card box is easily DIY-able and so stinkin' cute! Made from materials we guarantee you have lying around your house, this fun llama will be the belle of the party ball.
The nice size means you can make just one, and fill it up with class notes. Or you can tackle making enough for each student, or supervising the kids making their own.
19. Puppy Mailbox Craft Kit
This cute Fido is part Clifford the Big Red Dog and part Snoopy, and we love him! Painted a bright red, with easy self-adhesive foam stickers, it will be a hit at the Valentine's party.
He's just so cheery and fun, you'll want to make one each year! Definitely one of our top, cutest valentine's day ideas for school.
20. DIY Valentine Owl Card Box
These big-eyed owl card boxes are just the thing for your Owl Always Love You party (see above)! So easy to personalize and customize so each and every one is special, these cute boxes will be an instant treasure that the kids might love more than the treasures they hold!
Valentine's Day Cards for Kids
21. Floral Cut-Out Cards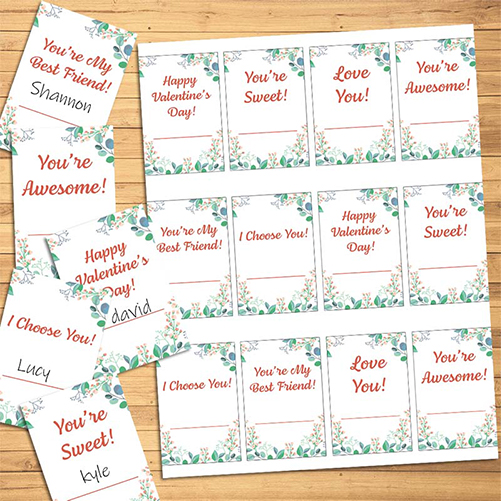 These floral cut-out cards are easy to print, and the soft flowers make them great for upper ages as well (instead of the Kindergarten cartoon varieties). They're a more grown up version of a classic Valentine's Day card, and we know the kids will treasure them.
22. Sweet Animal Plush & Cards
This absolutely adorable, sweet animal plush and card set is a no-brainer! And that price just can't be beat! Your students will be feeling, well, all the feels when they each get a tiny new friend along with a card from you.
23. LOVE Colorful Cut-Out Cards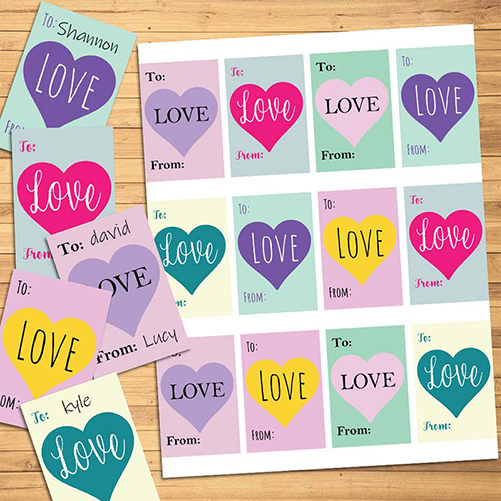 Classic and colorful, these LOVE cut-out cards just scream Valentine's Day! They're great for boys and girls and are easy to pass out in large groups. We love the color palate, too.
24. Scratch Off Cards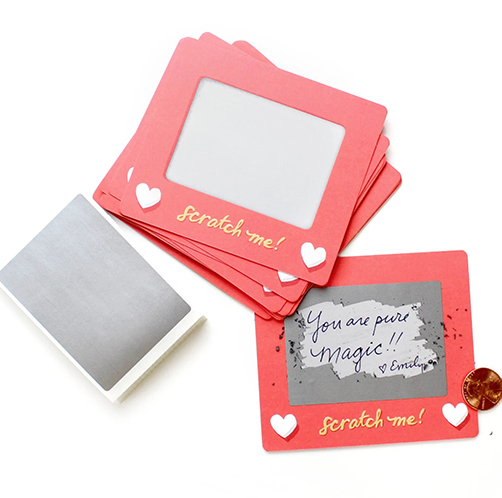 These are not your mama's Valentine's Day cards! No, these scratch off versions are way modern, and the kids will get a kick out of them for sure! Bring a little magic to your Valentine's Day party with a set of these Etch-A-Sketch look-alikes.
Related: Valentine's Day Quotes for Families and Kids
25. Dino-Mite Cards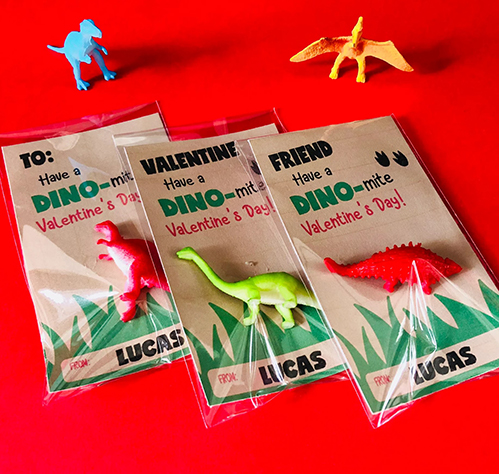 And the dinos are included with these clever Dino-Mite cards? Sign us up! These tiny jurassic valentine's day ideas for school will thrill them. Boys and girls alike will love these cute toys, along with their very own card from you — the best teacher ever!
Sweet Valentine Goody Bag Ideas
26. Coloring Books
We love a good coloring book! These ones are just the thing for a rainy afternoon stuck inside, or for when they have some free time after finishing their school work early.
Great for tons of ages, too — just add a big box of crayons or colored pencils! Instant fridge art is coming your way! These fun books are fantastic valentine's day ideas for school.
Related: Valentine's Day Gifts for Kids
27. Valentine Suncatchers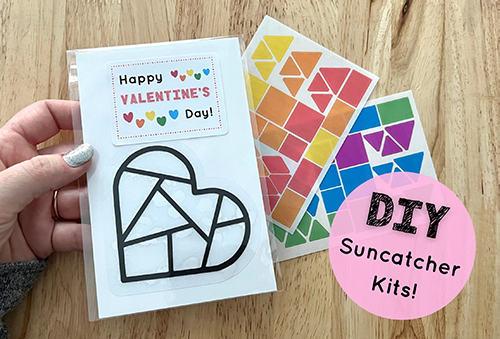 Arts and crafts that the youngsters will love! These Valentine suncatchers will be their new favorite thing to do. Easy and so impressive when finished, the kids won't be able to get enough. Maybe order extra!
28. Stationary Goodie Set
These great packs take all the stress of shopping, and do it for you! The kids will love tearing into these little, delightful bags of treasures and finding all sorts of things. From pencils to erasers to stickers — they'll be set for the rest of the school year.
29. Silly Toys
Silly toys are the best toys! We think your kids will go bananas over these fun and whimsical toys. Better to watch these fun playthings climb the wall (instead of your students) after all that Valentine's Day candy, right? We really think this set is a winner!
30. Personalized Bracelet Kit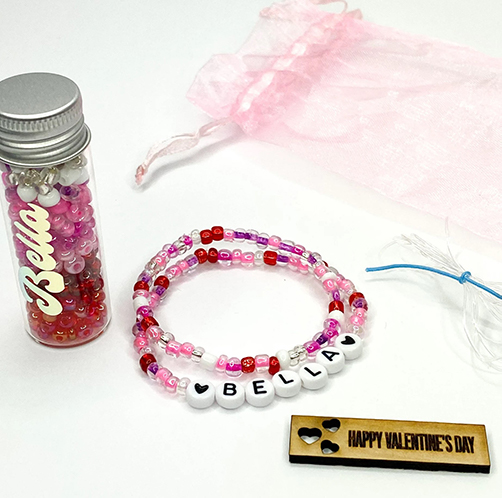 These personalized bracelet kits are so pretty, and we heart the Valentine's colors of pinks and reds! The kids will love having their very own name on their bead set, and making bracelets is always so fun. They'll have fun swapping and gifting them to one another, as well.
Read Next: Best Valentine's Day Gifts for Kids