You've got the fireworks (hide the dog), you've planned the neighborhood block party, you're already anticipating the afternoon nap so you can (gasp) make it to midnight: now you need some epically all-American items for your 4th of July bash!
We've got you covered, so scroll on, you all-American party animal, you!
Everything You Need to Make Your 4th of July Party Explode
Our website is supported by our users. We sometimes earn a commission when you click through the affiliate links on our website. See our privacy policy & disclosures for more information.
1. Monogrammed Chair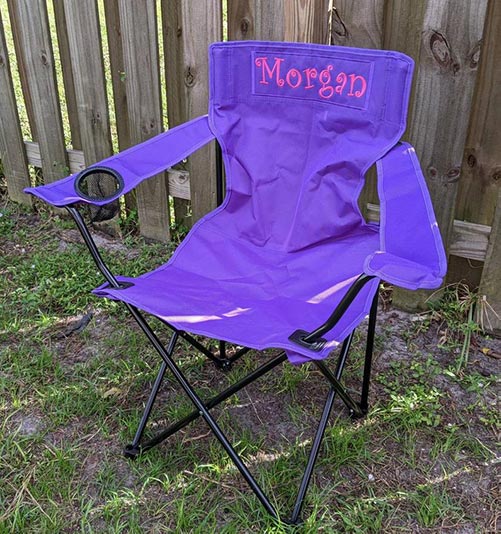 With a variety of red, white, and blue chairs, you can get one for each family member! These chairs are sturdy, comfy, adorable, and did we mention they're personalized with your name? That way Bruce from across the street won't "accidentally" take home your favorite camp chair like he does every year.
Get your own, Bruce!
2. Family Tumblers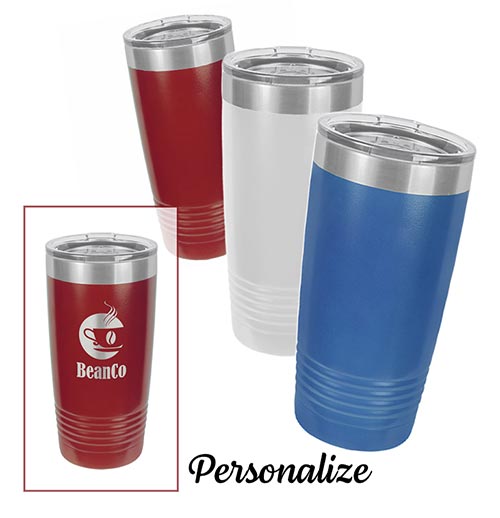 Matching tumbler souvenirs for the whole group! Not only will it keep your drinks cool, but it will be a cool way to remember "The Smith Family 4th of July 2022." In fact, that would be a great engraving for them! Whether it's keeping your lemonade frosty cold all day, or your hot mocha piping warm, these are soooo much better than a red Solo cup.
3. Dinosaur Yard Sprinkler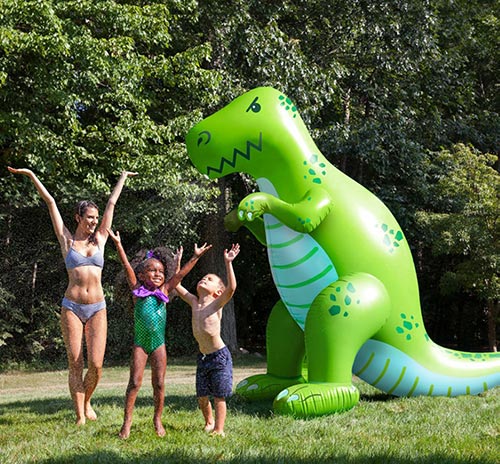 Keeping the kiddos entertained all day into evening (and past their bedtime, yikes) just got a whole lot easier, with this totally rad blow-up dinosaur! The fact that it doubles as a sprinkler for hot summer days is just a bonus.
Every kid in the neighborhood is going to be headed your way with this great dino. You're definitely the coolest parent on the block.
4. Turkish Blankets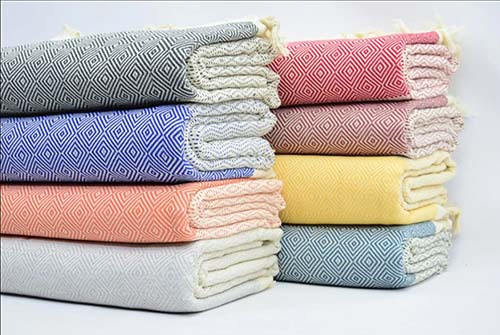 Sure, July is hot, but once the sun goes down, there's a chill in the air. Keep the goosebumps at bay with a great Turkish throw. Perfect for snuggling up with your favorite snuggler, and watching the fireworks show. Or for wrapping up the toddler that just couldn't quite make it to sundown without a nap.
5. Amazing Beer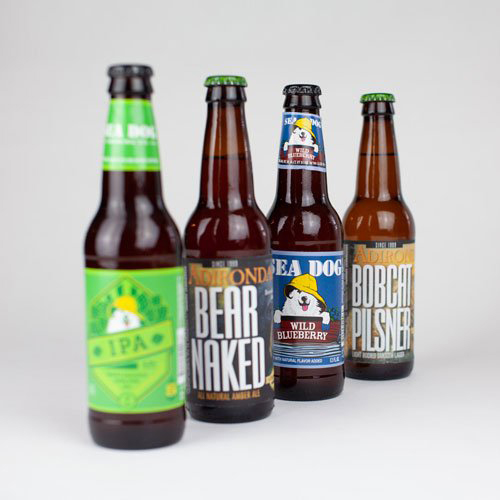 A good beer is a must-have for a 4th of July bash! You can grab a case of Bud, but why? Go outside the box with something more amazing, like these!
Interested? Check out our review!
6. 'Merica Cups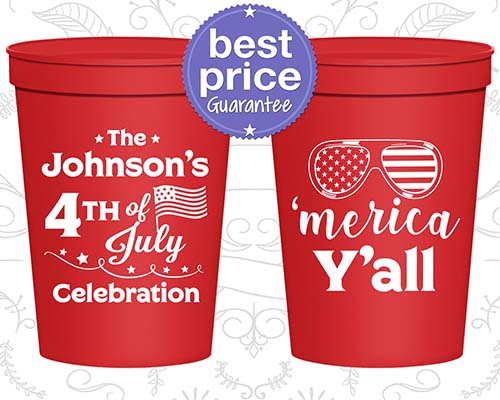 Cuz it's 'Merica, that's why! These funny, but totally practical cups, are just the thing for when the neighbors and all their kids are in and out of your house and yard all day. The best part is, you'll be able to use them year after year!
7. Flag Gear
'Tis the season to be red, white, and blue! We're talking from your socks to your shirt, from your fanny pack to your swim trunks! That's right, nothing is off limits when it comes to your patriotism. That's why you NEED this set.
It'll keep all your necessities close and will give you a place to put your soda or beer while you help the youngsters with their sparklers.
8. Custom Coasters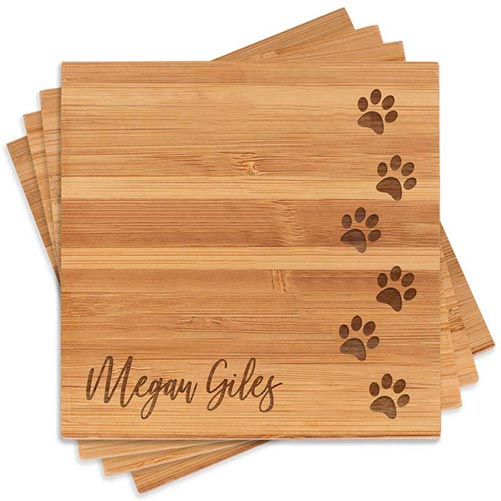 If your party is more of the swanky and sophisticated type, you need a good set of coasters for all of your guests to rest their beverages on, like these ones! They're made of bamboo and come in a set of four (so why not get two sets?). You can have them engraved with your moniker, and the cheery little paw prints just make them even cuter.
9. Serving Trays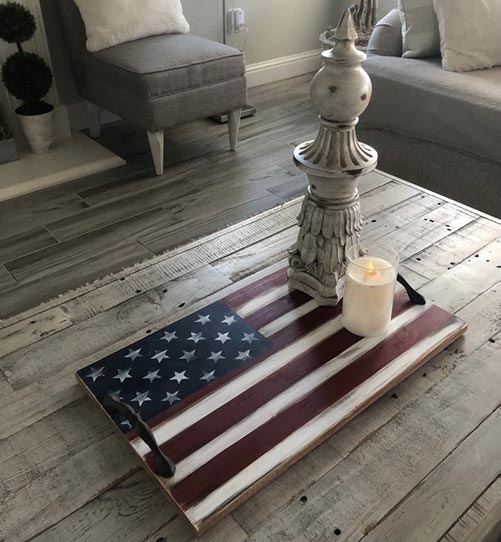 This 4th of July serving tray is way too pretty to only use once a year! Its rustic look will fit in beautifully all year around and goes really well with farm or Americana décor. It will be charming on your coffee table, or to serve appetizers on.
10. BBQ Grill Accessories
Grilling on the 4th of July is simply a must! And you don't want to be realizing how bad your grilling utensils are right in the midst of a rack of ribs or mid-burger flip. Get yourself these fabulous accessories: you won't be sorry!
Related: 15 Personalized Father's Day Gifts for an Awesome Dad
11. 4th of July Macarons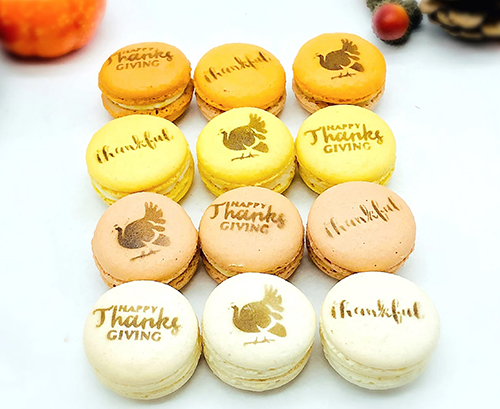 They may be French, but that doesn't mean they can't be patriotic! Afterall, Lady Liberty herself is from France. These delicious and colorful 4th of July macarons will make an excellent addition to any festive holiday spread.
12. Citronella Candles
Ugh, nothing ruins an outdoor experience like mosquitoes, right? Keep them at bay with a great Citronella candle like this one! They add a nice glow of ambiance to your backyard, AND detour those pesky flying critters, all with the strike of a match.
13. Glow Sticks
Glow sticks are an easy way to keep an eye on your kiddos while they frolic merrily around the cul-de-sac. Plus, they're oodles of fun! Cracking them and turning them into fun necklaces or headbands is just a part of childhood. Also good for adults who need to find their way back home after the fireworks in the dark.
14. Sunscreen
Keep the sun off your back with a quality sunscreen. This sunscreen not only contains no oxybenzone or octinoxate (those ingredients kill the coral reefs) but the bottle also turns blue when exposed to harmful UV rays, so you know when to use it. How super neat is that?!
Related: 15 Best Eco-Friendly Gifts
15. Makes Me Want a Hotdog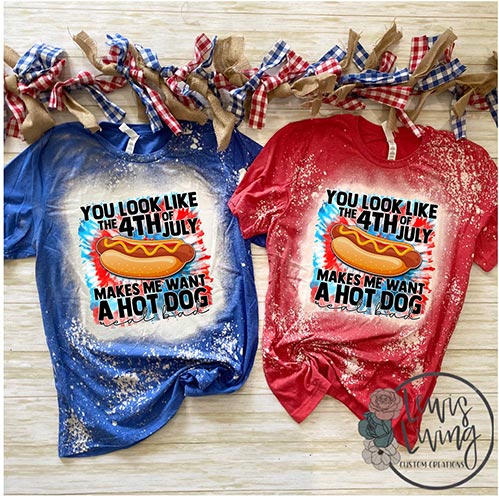 Any Legally Blonde fans? These funny shirts come in red and blue and are just the thing for your 4th of July bash! Get one for every family member and you'll have an instant Kodak memory – click!
Related: Proudly Patriotic Gifts for Every American
More of the Best 4th of July Party Ideas (other than a BBQ)
Create a Photo Booth with These 4th of July Themed Props!
3. Uncle Sam Door Photo Banner
Enjoy Some Sparklers!
Sparklers are a classic! This Rolling Thunder pack is full of sparklers, firecrackers, and other small fireworks that will make it a night to remember for both kids and adults.
Try Out These Recipes!
Appetizer – This patriotic dip is the perfect finger food for your red, white, & blue event
Main Dish – You can't go wrong with BBQ, especially when it's a delicious Carolina-Style Barbecue Chicken
Dessert – Take your favorite cake mix and add a twist with these patriotic cupcake icing tips
Mixed Drink – I can't think of a better drink to enjoy the firework show with than these Bomb Pop Shots
4th of July Themed Kids Crafting Corner
Keeping the kids busy until the firework show will be easy when you have a crafting corner for them. Try using 4th of July themed crafts like this DIY Popsicle Stick American Flag!
It's fun and kids will love to wave them when that firework show starts up. Start at the Dollar General in June: you'll be amazed at how many fun crafts and decorations you'll find.
Back Yard Movie Night
Outdoor movies and fireworks just sounds magical, doesn't it? Choose between classic patriotic movies for adults or a family friendly classic that every age will love!
Night Time Bonfire While Enjoying the Fireworks! Don't Forget the S'mores
Fireworks and s'mores, need I say more?
Go Out with a Bang!
Now it's time for the finale! Out-do the neighborhood with a huge bang, we recommend the Crackling Brocade.
Read Next: 4th of July Gift Guide
Pin It