Searching for cool gifts for men? While "cool" can mean so many different things to different guys, you're shopping for one guy in particular. And you know just what kind of "cool" he's into.
If the kind of cool he's into is classic, carefree, 1950's-style cool, this gift list is for you.
From blue suede shoes to industrial style decor to a pair of shades even James Dean would have approved of, we've got the coolest gifts for men below.
Let's look!
Top 21 Cool Gifts for Men
Our website is supported by our users. We sometimes earn a commission when you click through the affiliate links on our website. Learn more here.
1. Polarized Semi-Rimless Sunglasses
First up on our list of cool gifts for men is this pair of always-stylish, semi-rimless sunglasses. These shades are polarized (meaning sun glare is reduced), and they also block 100% of UV rays.
A microfiber cleaning cloth, protection pouch, and polarization test card are all included. Available in a variety of lens and frame colors, so you can pick the style your loved one would most enjoy.
James himself might be caught wearing these.
Related: 15 Classy Gifts For Men That Will Always Be In Style
2. Black Hunter Archery Bow
So maybe this gift idea is something James Dean would've used as an actor rather than in real life, but it's a cool idea nonetheless.
With this black hunter archery bow, your loved one can improve his aiming and coordination skills while still having a ton of fun.
This archery bow is for right-handed dudes and has an overall measurement of 60″. Includes bowstring, bolts, and hex key.
He'll also need a few accessories to be able to go out and start shooting:
3. Wooden Guitar Cuff Links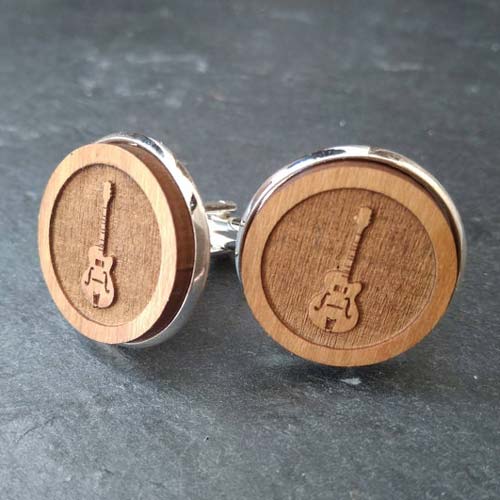 Cuff links have always been hip and they always will be. Throw a guitar (or two) into the mix and you've got a great gift idea.
These wooden and stainless steel cuff links, which have been laser-cut to perfection by Etsy shop LillyDillys, are the perfect gift for the cool musician in your life.
4. Personalized Motorcycle Walnut Wood Bottle Opener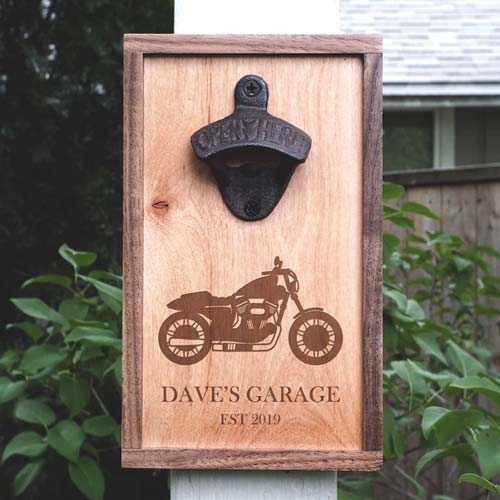 Everyone knows that the coolest gifts for guys are the ones that come personalized.
Take this walnut wood bottle opener, for instance. Handmade right here in the USA, this opener is the perfect gift for the cool guy who is also into motorcycles.
Made with two types of wood, this bottle opener measures 8.75″ x 5.25″ and features a laser-engraved motorcycle. The opener itself is cast iron.
Personalize it to read the name of your loved one, their garage or shop name and establishment date, or anything else you'd like it to say.
It can be mounted to a wall (screw is included), or used as a portable opener.
Related: 21 Best Motorcycle Gifts for Bikers
5. Railroad Track Bookends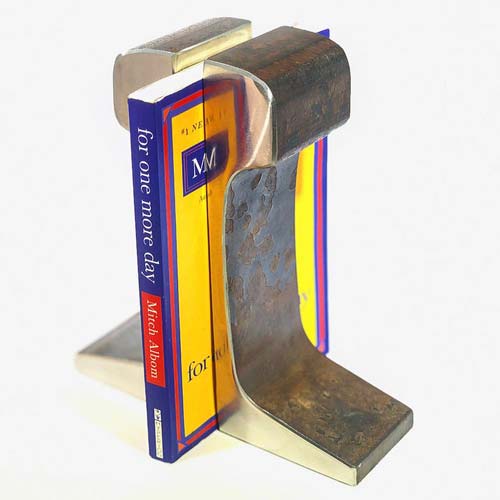 If the special guy in your life enjoys reading, he probably has a whole shelf full of his favorite books.
But does he have the bookends to match his super-cool personality? Bet not! Get him this set of bookends, though, and he sure will.
These bookends are real reclaimed railroad tracks, rust effects included. Yep, you read that right. Finished with polish, these bookends weigh a hefty 8 pounds put together.
Related: 17 Exciting Train Gifts for Ferroequinologists
6. State Beer Cap Map
Collections are cool. Beer is cool. Beer cap collections are uber cool.
If your loved one has a vast collections of beer caps, but nowhere worthy to display them, consider surprising him with this wooden state beer cap map.
Whether he collects caps only from the state he's from, or owns several different ones from places all over the globe, he's really going to appreciate this gift.
Choose the state you want! The cap map pictured above (in the shape of Oregon) holds up to 84 beer caps, which can easily be snapped into place. This particular map measures an impressive 20″ x 15″ and comes with nails for easy wall mounting.
If you like this gift idea, you may be interested in one of these cork catchers for wine enthusiasts.
7. Katana Handmade Sword
In a similar vein as the archery bow (gift #2 above), we present to you this handmade Katana.
We'll admit that this sword is more samurai than James Dean, but you have to admit that it's the total opposite of Spock*, which means it's a super cool gift idea for your man.
*Apologies to all our Spock-loving Trekkie friends.
This handmade, Japanese-style sword is the real deal. The full-length blade measures approximately 28.5″, with the overall sword length being about 40.9″. Choose from a variety of hilt designs and styles.
8. Cabinet Dart Board
Dart boards are another one of those things that have always been cool and always will be.
From smoky gangster lairs and pool halls to the modern-day man cave, dart boards possess a timeless affiliation with all things fun and hip.
So you can bet he's going to love this Viper dart board cabinet. Regardless of whether he puts it in his own man cave or even his home office, this is a cool gift.
In addition to the board and steel tip darts, he'll also get a dry erase scoreboard, marker, and wall mounting equipment.
9. Man Crates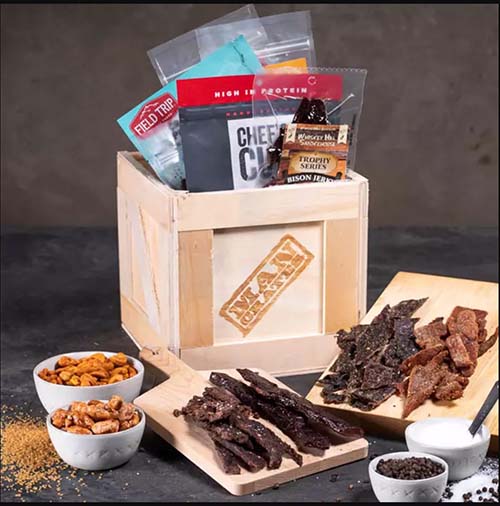 No wimpy gift bags or baskets for your special guy. What a man needs is a crate. A crate full of man stuff. In other words, a Man Crate.
These Man Crate Gift Boxes come in a nailed-shut crate that he has to open (with the included crowbar) to reveal… well, anything you choose. They have tons of options, including jerky or bacon, beer or whiskey, hot sauce making kits, "make your own knife" kits, and lots more.
You can hear his grunt of approval already, can't you?
10. Personalized Rosewood Cigar Humidor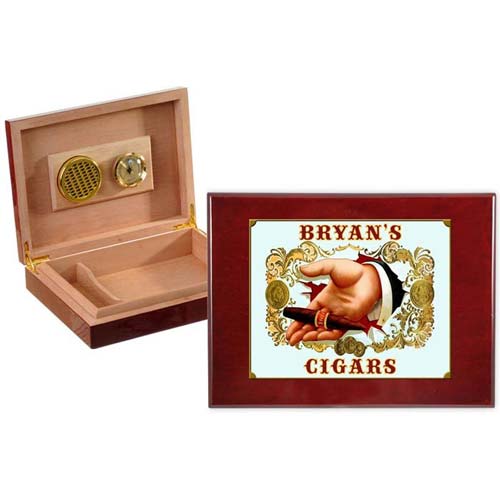 Is your special guy into all those old gangster films? Then to go right along with the dart board (gift #8) mentioned above, we've got this personalized rosewood cigar humidor for you to consider.
That's something you might find in a classic gangster movie, right?!
But this is no movie prop. The premium "Gentleman's Agreement" cigar humidor is not only beautiful but 100% functional. In addition to the built-in humidifier it also contains a hygrometer, which measures the amount of humidity contained inside.
With these tools your loved one will be able to keep his prized cigars in tip-top shape.
Oh, and did we mention it comes personalized?
11. Premium Pear Wood Pipe
Boy, we're on a role here. Next up in our list of cool gifts for guys is this premium pear wood pipe.
Dubbed "The Sherlock" for obvious reasons, we're here to say that it may have also been enjoyed by the likes of Steve McQueen, Clark Gable, Rock Hudson, Cary Grant, and of course, James Dean.
This pipe set comes complete with knocking cork, and charcoal filter, pipe stand and pipe tool. A velvet gift bag is also included- so sans tobacco, it's all there and ready to give to your loved one.
12. Personalized Chess Board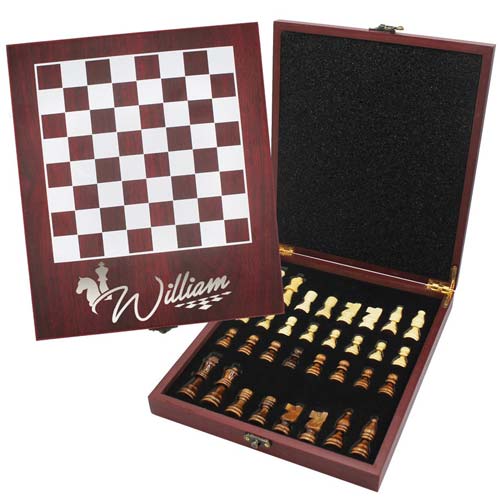 Chess boards are cool, in a way that conveys both smarts and class.
But perhaps you're thinking, "My guy already has a favorite chess board!" Well, does he have a personalized set? I thought not.
Get ready to surprise him with his new favorite chess accessory, because that's what this one is soon going to be.
This hinged chess board is perfect for playing/displaying at home, or for taking on trips. The best part? It comes personalized with his name. Measures 9.25″ x 10.75″.
13. Blue Suede Shoes
Blue suede shoes may be more associated with Elvis than James Dean, but we both know that's just a different way of saying that they're cool.
So long as you know you're loved one's shoe size (obviously), this pair would make a super cool gift.
These lace-up Bruno Marc Oxfords come with soft, premium suede leather lining, detailed stitching, a cushioned foot bed for maximum comfort, and a non-skid sole.
Besides navy blue, you also have several other color choices to pick from. Perfect for both casual and formal wear.
14. Hair Craft Pomade
Pomade is another one of those cool gifts for men that has always been in style. Personally, when I think of pomade, I think of circa 1950's Elvis Presley (or that one scene in Grease when Danny and Kenickie are slicking back their hair while performing "Grease Lightning").
That's just me, but it goes to show just how timeless this simple hair product really is!
The Boss-Scented Hair Craft Co. Pomade is meant to hold your man's style all day long. It's water-soluble, too, meaning he won't have to work to wash it all out at the end of the day. Great for all hair types.
15. Custom Engraved Sandalwood Beard Comb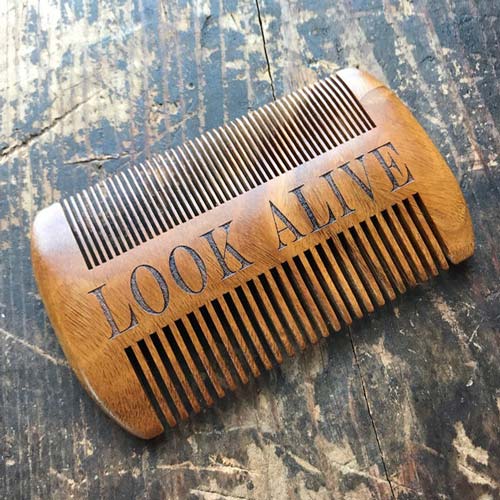 If your man has a beard, he's going to need a cool comb to help keep it maintained. When it comes to cool combs, this one is king.
This sturdy sandalwood beard comb features thin teeth on one side and thick teeth on the other. It also comes engraved (on both sides if you like) with your guy's name or anything else you'd like it to say. You pick the font, too.
16. Personalized Garage Clock Sign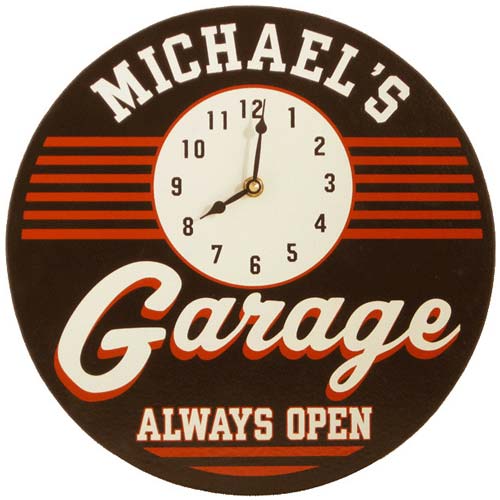 Doesn't this clock look like it came right out of a '50's garage? If your loved one has a real appreciation for this kind of retro style, you already know that he'd love to see it hanging in his own garage, work shop, game room or man cave.
Made from furniture grade wood, this vintage-style garage clock features a keyhole on the back for quick and easy wall mounting. Personalization is included.
17. Personalized Motorcycle Decanter Set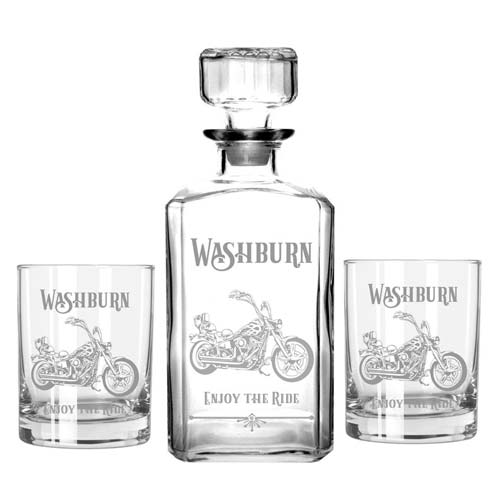 Ever since motorcycles as we know them first began to grow in popularity in the early 20th century, their cool factor has also only continued to flourish.
By the 1950's, famous faces (like Dean's) were doing their part to heighten public enthusiasm for these so-called "choppers."
Show your favorite biker how much you love that side of him by gifting him this fine motorcycle decanter set.
The gift set includes decanter and two whiskey glasses, and also comes personalized with his name or surname, and/or anything else you'd like it to say.
18. Roman Numerals Pocket Watch
Only lit cats wear pocket watches, as everyone knows.
Okay, so maybe not everyone would agree with that statement. But if you know for a fact that your guy would, you've got nothing to lose in surprising him with this gorgeous time piece.
This Mudder vintage-style pocket watch, complete with Roman numeral scale, is crafted from alloy metal and made to resemble something straight out of the Victorian era. Arrives already in a gift box, and also includes a cleaning cloth.
19. Custom Sound Wave Art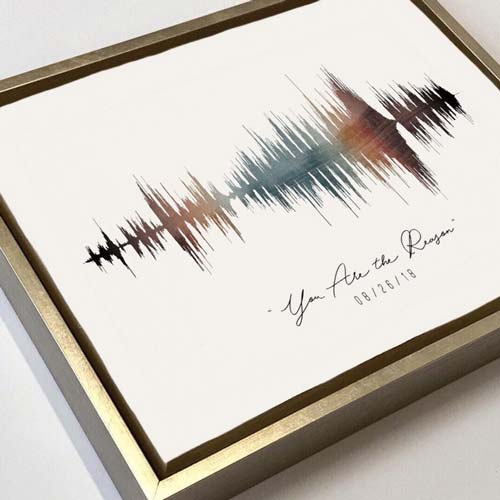 Talk about supermurgitroid! The style of this custom sound wave art may be more modern than the other gifts presented in this list, but it's just as cool.
A tune from your man's favorite song, a favorite line from a movie you both love, or even the sound of your own voice saying "I love you" can be illustrated with this unique gift idea.
Simply send the artist the audio file of the sound you want depicted, and choose the colors/textures you want, and they'll print it on your choice of paper or canvas.
20. Custom Car Digital Painting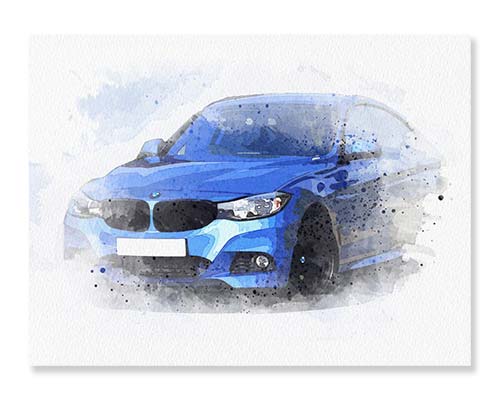 Cars have always fallen within the realm of cool gifts for men. If your man is a car person, he more than likely has a favorite car, or at least takes very good care of his own vehicle.
Maybe he already owns his favorite make and model, and you just know that he'd love something like this custom car digital painting to showcase his pride and joy.
If you go with this gift, you have the option of choosing a paper print OR a digital download that the seller can send to you once the piece is complete.
All you have to do to get the process started is send the seller a photo of the car you'd like "painted," choose your background color and any text you'd like to include, and they'll handle the rest.
Related: 21 Unique Gifts for Car Lovers
21. Industrial Style Table Lamp
Vintage decor is making a modern comeback. If you don't believe me by now, one look at this industrial style table lamp will change your mind real quick.
With just a touch of steampunk to give it that edgy coolness, this iron water pipe lamp would look good in any dude's living space or office.
Though it may look like something Edison and Bell would have collaborated on, it's totally modern in its functionality… it can literally plug into a phone or computer. That's the power of USB – high-key lit!
From top to base, this table lamp stands just over 23″ tall. Features include a built-in touch dimmer and a swanky resin base. Retro style light bulb is included.
More Cool Gifts for Him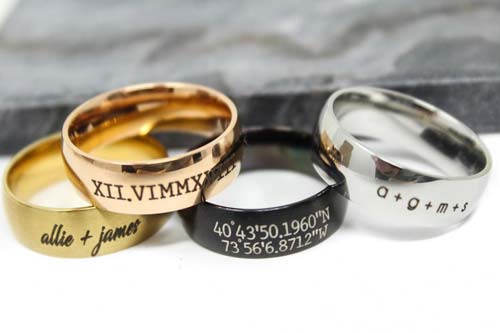 Since we're on the topic of cool things, let's talk about rings. After all, classy and timeless rings ain't just for the ladies. A shiny, high-quality ring can really kick up the cool factor on even the already coolest of guys, granted it's the right one.
These custom-engraved men's rings can be extra special with the personalization that you choose. Think his name, a favorite quote, coordinates to a place special to him, Roman numerals or an important date… Whatever you go with, he's going to love it.
We think that personalized gifts are the way to go when you're looking for the coolest gifts for him. So be sure to check out everything that can be customized for your special guy over at the store on our parent site, Northwest Gifts.
Did this list end too soon for you? If you want to keep browsing even more cool gifts for men (and we mean waaaay more), click here.
Pin It