Mother's Day is just around the corner, and you know what that means: your annual search for the best Mother's Day gifts commences!
Because you want to find your mom the very best gift… after all, she means the world to you.
If you had things your way, every day would be Mother's Day. But since there is one sweet day set aside for moms everywhere to enjoy (and for kids everywhere to show their appreciation), why not take this once-a-year opportunity to get yours a little something special she's sure to love?
Or maybe you have a family member or friend who's about to be celebrating her first Mother's Day ever. (Or second, or third…) You can commemorate this special occasion for her with an unforgettable gift she's sure to treasure.
So without further ado, today we'll be sharing with you 21 of the best Mother's Day gifts we could find. Even if your mom can be a bit difficult to shop for, we're confident that in our collection of creative and meaningful ideas, you'll find just what you're looking for.
Let's take a look!
Top 21 Best Mother's Day Gifts
Our website is supported by our users. We sometimes earn a commission when you click through the affiliate links on our website. See our privacy policy & disclosures for more information.
1. "Best Mom Ever" Custom Engraved Bird Feeder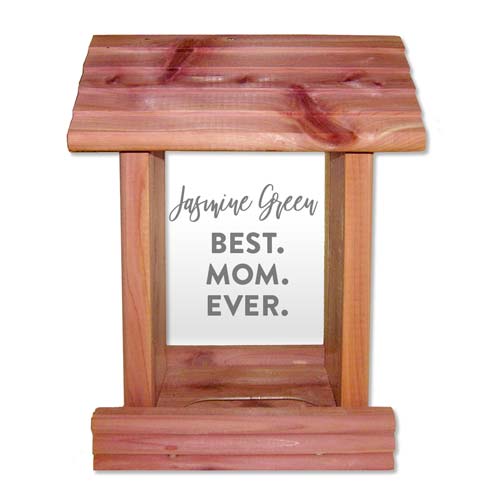 Your mother is sure to appreciate the first gift on our list. It's one of our most popular gifts ever over at Northwest Gifts.
This "Best Mom Ever" custom engraved bird feeder is constructed of solid cedar wood and includes two acrylic panels, the front one coming with free personalization.
With this long-lasting outdoor gift, your mom can feed the birds, get close to nature, and enjoy a special message from you. All without cluttering up the house with useless trinkets!
So go ahead and have your mom's name custom engraved onto it, along with any other text or quote you'd like. She's going to love it!
2. Personalized Photo Keepsake Box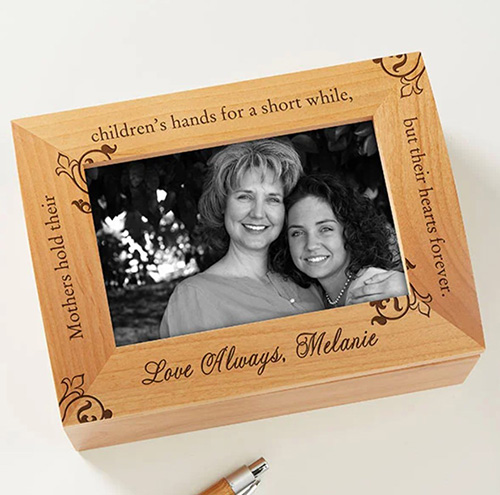 She'll absolutely adore one of these super sweet and sentimental photo boxes. Beautifully crafted from the highest quality oak wood, each box can be customized with one of seven inscriptions, or you can write your own.
Don't forget to put your favorite photo of the two of you in the top before you wrap it up!
3. Personalized Bamboo Cutting Board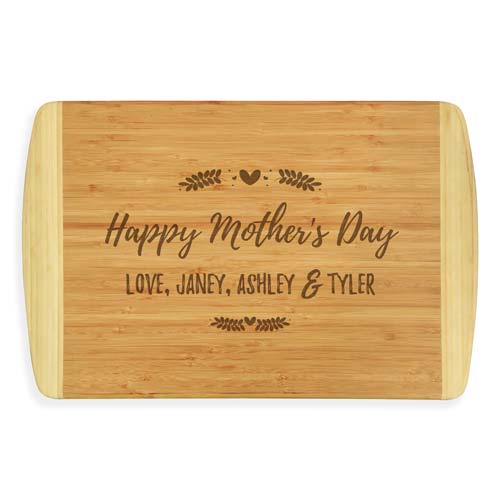 Does your mom like to cook? If she finds happiness in the kitchen, chopping away cheerfully with her favorite cooking show on the TV in background, she's going to love an attractively personalized cutting board.
It's made from sustainable bamboo wood and designed to last for years to come. This 12″ x 18″ cutting board comes laser-engraved with a special Mother's Day message to your mom in attractive fonts.
4. Commissioned Portrait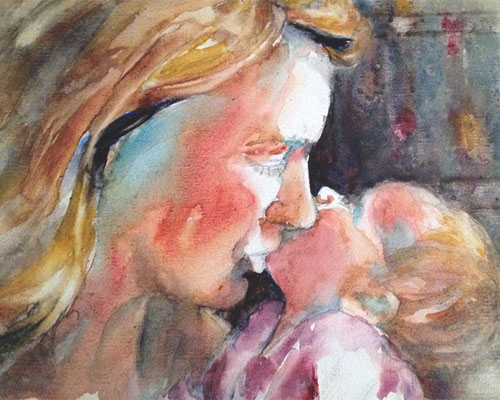 For the new mother in your life, a custom painting (like the one pictured above by artist Mary Ann) would make a precious keepsake gift.
This Mother's Day, surprise your friend, sister, cousin, or your own mom with a commissioned watercolor painting. It's a true heirloom gift!
All the artist needs is a photo likeness of the painting you'd like to give, and she will create a one-of-a-kind piece that is sure to be treasured for a lifetime.
5. Memory Journal for Mom
Here is another great gift idea for a new mom, your own mom, or even yourself if you are a mom as well.
This journal provides a prompt on each page; a memory question for Mom to answer and for her children to cherish once they're older.
The book is filled with thoughtful questions that get into the details of mom's thoughts during meaningful moments as well as treasured beliefs and traditions to pass down to her children.
As she fills it, this memory journal will become an honored heirloom for a mother's heritage and legacy.
6. Raw Birthstones Necklace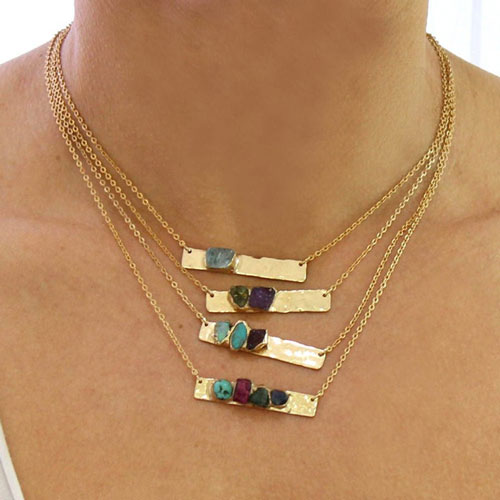 When it comes to Mother's Day gifts, you simply can't go wrong with a birthstone necklace.
This custom-made necklace from Inbal Mishan takes the classic birthstone necklace up a notch by including real, raw stones in your choice of either brass, silver, gold or rose gold setting.
7. Mother and Son Willow Tree Figure
The love between a mother and son is strong, eternal and unparalleled. This Willow Tree figure, cast from the original by artist Susan Lordi, represents that love perfectly.
Show your mom how much you appreciate her, and just how much she means to you, with this stunning piece of art measuring 8″ tall.
For girls, here's the mother-daughter version.
8. Mama Bear Floral T-Shirt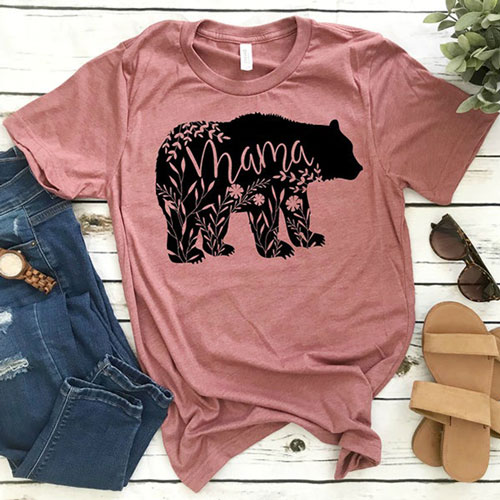 There's a little bit of "mama bear" in every mom (and sometimes a lot!). So this cute Mama Bear T-Shirt will make a lovely Mother's Day gift for any matriarch.
The shirt is made of soft cotton and comes in sixteen different colors, so you can pick her favorite!
9. Infinity Roses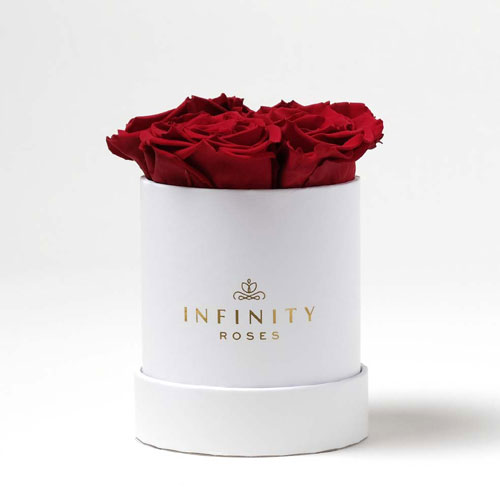 A bouquet of flowers – especially roses! – never fails to make a nice gift for Mom. This Mother's Day, surprise her with a special bouquet that she can simply set on her counter and enjoy for not just a week or two, but for an entire year.
Infinity Roses are specially treated with a plant-based preservation method, allowing them to bloom perpetually for up to twelve months. It's a long lasting version of the traditional Mother's Day gift that will warm her heart for months to come.
10. Funny Pair of Socks
Mother's Day gifts can include funny gift ideas, too! Take these adorable socks, which say "If you can read this, bring me some wine" on the bottom.
If you know a mom who loves to relax after a long day with her feet kicked up and a glass of wine in hand, these fuzzy socks are for her. They come ready for gifting in a cupcake-style wrap.
11. Appreciation Gift Box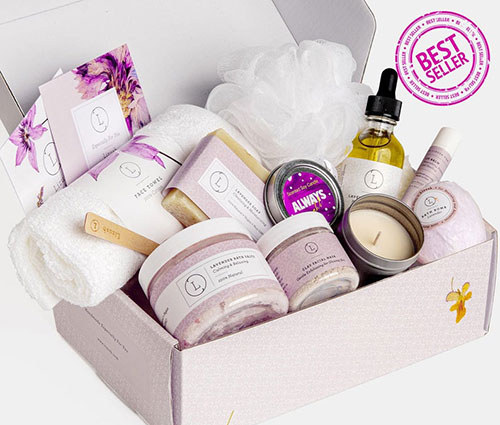 Saying "Happy Mother's Day" is really just a way to say "Thank you, Mom, for all you do."
Show your gratitude for all your mother has done for you this year by surprising her with a gift she can really use.
This mom's appreciation gift box from Lizush on Etsy includes all the items she'll need to take a spa day all for herself (bath bomb, candle, scented body oil, lip balm, and more).
12. Funny Mug for Mom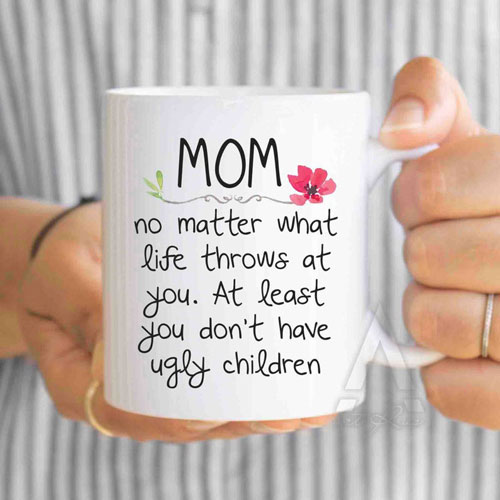 Mugs are a welcome gift for any holiday or occasion, especially when they're funny.
This one says,
Mom – no matter what life throws at you, at least you don't have ugly children.
If your mom favors a cup o' joe in the morning, she'll enjoy sipping it out of s cute mug that'll remind her of you in the most hilarious way.
13. Personalized Family Tree Plaque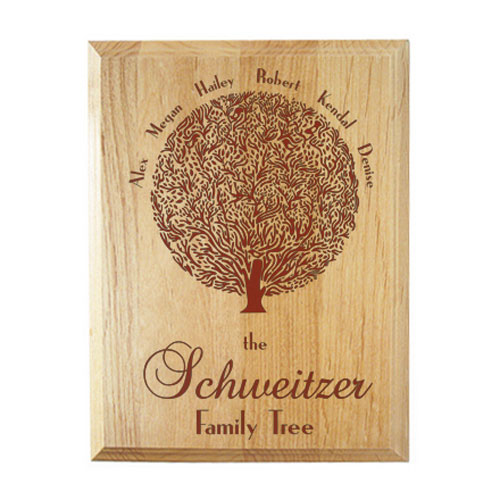 For a gift for Mom that's more on the sentimental side, you can't go wrong with this personalized family tree plaque from Northwest Gifts.
Your stunning new Alder wood plaque comes laser-engraved with the family members' names surrounding a beautifully engraved tree. For added convenience, choose between four different sizes.
14. Floral Gardening Tool Set
This cute gardening tool set is the ideal gift for the mom with the green thumb. Decorated with a pretty floral design, the garden set comes with tools, gloves, a water spray bottle, and a machine-washable tote bag.
15. Long Distance Touch Lamp
Do you live in a different city, or even state or country than you mom?
If that's the case, then more likely than not Mother's Day is a bit hard for you. That's because
a) your mom's not close by, and
b) it makes giving her a great Mother's Day gift that much more difficult to do.
If this is the situation you find yourself in, we've got the perfect pick for both of you.
This set of two touch lamps (one for your mom and one for you) uses a WiFi connection to link the two of you. No matter where either of you are located, you can show her you're thinking of her anytime you want.
Since the lamps are connected, simply touch your lamp and it will light up on her end. And likewise, if she's thinking of you, she can tap hers and yours will light up.
Sweet, right?
16. "Best Mom Ever" Custom Engraved Tumbler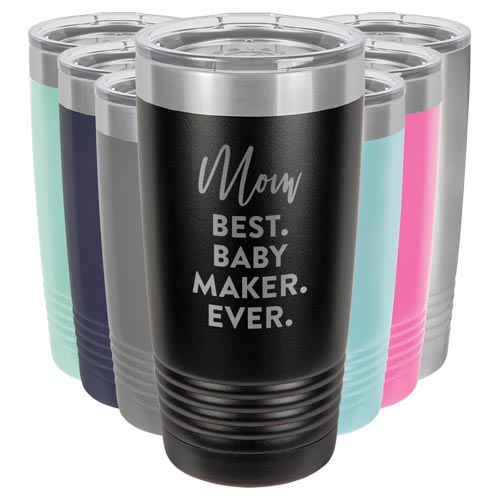 If your mom is more of the practical type, she'll enjoy receiving this personalized "Best Mom Ever" tumbler from Northwest Gifts.
Her new tumbler comes double-walled and is also vacuum-sealed, meaning it will keep hot drinks steaming and cold drinks chilled. It's comparable in performance to the high-end name brand tumblers, but at a fraction of the cost.
Best yet, it can be personalized! Go with your mom's name or just "Mom." You can have it say "best mom ever," make a fun joke ("best baby maker ever"), celebrate her profession ("best RN ever") or create your own special phrase. Be sure to choose her favorite color, too!
17. Pioneer Woman Kitchen Utensil Set
When you're a busy mom working around the clock to ensure that your family is well cared for, you can never have too many kitchen supplies to make the job easier.
So kitchen accessories are always a thoughtful idea for mom. Bonus points if they're cute!
These Pioneer Woman kitchen utensils are both practical and pretty, making them a choice gift idea for Mother's Day.
18. Essential Oils Diffuser Gift Set
It's a known fact that moms don't really ever get a day off. Even when it's Mother's Day!
So a gift that's relaxing, like this soothing essential oils set, should be a no-brainer. If you choose to go with this gift idea, included in your order will be a color-lit diffuser plus 20 potent and fragrant essential oils.
19. Custom Music Box for Mom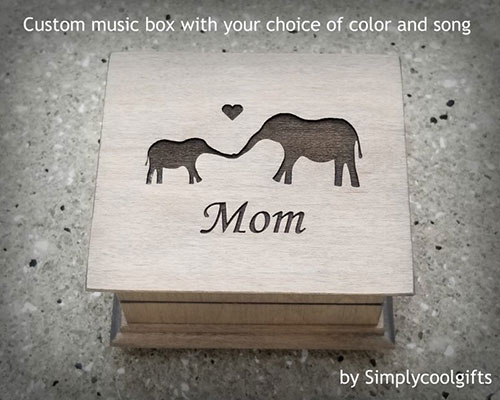 There's something sweetly nostalgic about a little music box. When you can choose the song it plays (pick from 85 different tunes!) it makes it that much more special.
This music box comes engraved with a mother and baby elephant design on the top, as well as the word "Mom." You can also have it personalized with additional custom text.
The winding key is conveniently located on the bottom of the box. When fully wound, will play the tune for one to two minutes.
20. Magnolia Table Cookbook
Cook books are also a great gift idea for moms who love to bake or cook.
This one from Texas reality star and designer Joanna Gaines features comfort food favorites not only from her popular Waco-based restaurant Magnolia Table, but also from her family's own kitchen.
21. Personalized Photo Bookmark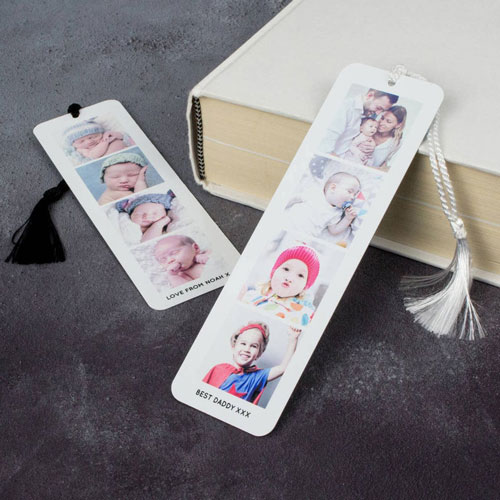 Last but not least on our list of Mother's Day gifts is this keepsake photo bookmark from We Love To Create.
A thoughtful gift idea for the mom who loves to read, your metal bookmark is made to order, personalized in photo booth style with the faces of all her beloved children.
Custom colored text is included in the order. You also get to choose the background and tassel color, making this a fully customized gift.
---
That concludes this list of our top 21 gift ideas for Mother's Day. We hope you enjoyed the read and maybe even found the perfect gift(s) to surprise your mom with this year.
In case you're still in search mode, head on over to Northwest Gifts. We have a wide array of amazing gifts for every holiday and special occasion, including Mother's Day. Most of our gift selections are completely customizable as well, making them that much more fun and special.
View our Mother's Day shop for thoughtful cards and fun activities!
Read Next: Lavishly Personalized Mother's Day Gifts