The holidays are officially upon us, and it's time to start thinking about your annual hunt for the best Christmas gifts for men. You have your husband to shop for, your dad, your brother, your friends, that one cousin who already has everything… and so many more!
Can anyone say, "'Tis the season (to be stressed out)!?"
This time of year can be particularly overwhelming, especially when you don't know where to even begin your gift search for the men in your life. Unfortunately, it's too easy to take your mind off the true meaning of giving when you've got a long list of friends and family to shop for.
Hopefully we can take a little bit of that stress away with this list featuring 21 of the best Christmas gifts for men.
Looking for the perfect gift for a gamer? Check. For the music lover? Got it. For the man who just needs to relax and unwind after a long day at work? We've got you covered, and then some.
Let's get started!
21 Best Christmas Gifts for Men
Please note that this post contains affiliate links. Read our full disclosure here.
1. Personalized Pocket Knife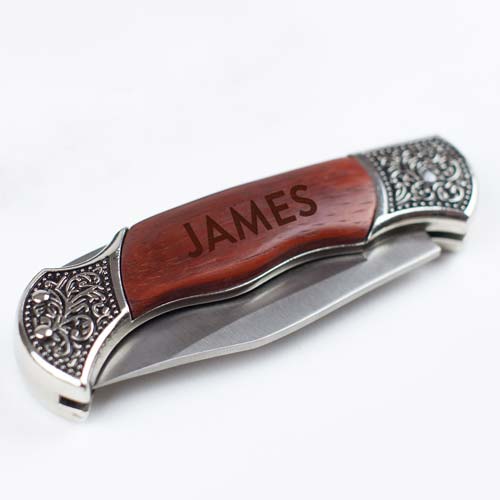 For the practical guy on your list, nothing says "Merry Christmas" like an old-fashioned pocket knife.
This beautiful piece, custom laser etched by Northwest Gifts, would be the perfect addition to his stocking. This classy pocket knife includes personalization, so you can add your loved one's name, initials, or any other text you know he'd love.
2. LEGO Architecture- San Francisco
For years, LEGO kits have made fun Christmas gifts for kids of all ages. Now, those same kids can continue their passion for LEGO as adults with the brand's Architecture series.
Make the special guy in your life feel like a kid again with this LEGO Architecture model of the San Francisco skyline. This kit consists of 565 bricks and when complete, will stand 6″ high and 11″ wide.
Related: The Complete List of Every LEGO Architecture Set Ever Made
3. Blue Agate Geode Coasters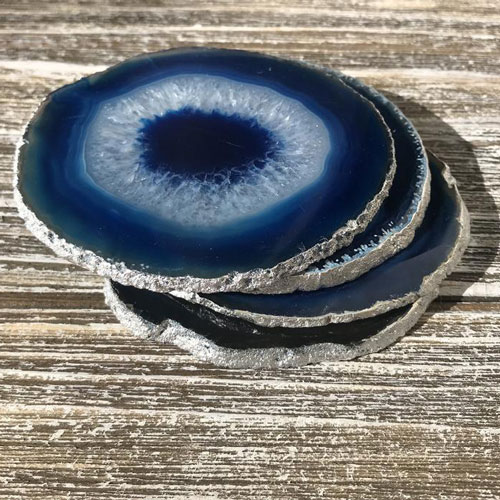 This stunning geode coaster set would make a wonderful stocking stuffer or stand-alone gift. The set consists of four Brazilian blue agate coasters that have been hand-painted with silver leafing on the edges. Each coaster also includes bumpers on the bottom to protect furniture from the natural stone.
If you want something a little more personal, check out these custom laser etched wooden coasters which include personalization.
4. Smartphone Sanitizer and Charger
In this day and age, our cell phones are a necessity. But they collect so many germs throughout the day, and it's hard to remember to wipe them down as much as we should.
Because health is also a necessity, this holiday season, help your loved one stay feeling great with this ultra-cool UV smartphone sanitizer from PhoneSoap. Not only will this device sanitize his phone using germicidal UV-C light, it will also charge it during the process. Pretty sweet!
5. Indoor S'mores Fire Pit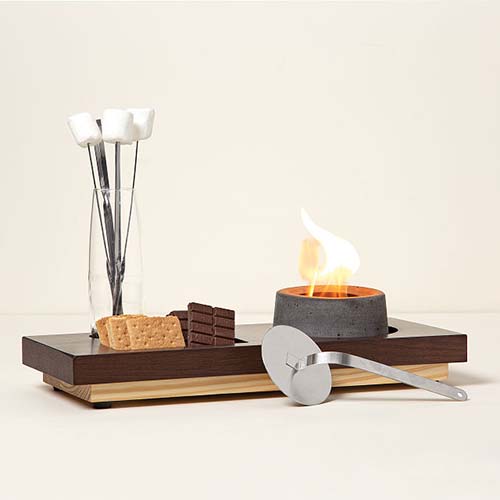 If the man in your life loves gathering around the fire and roasting things (and really, what guy doesn't love that?!), he'll adore this Indoor S'mores Fire Pit. Whether you live in a 12th floor apartment or want to enjoy S'mores during a 102-degree heat wave, there's plenty of ways to utilize this specialty fire pit any day of the year.
6. Personalized Wood Bottle Opener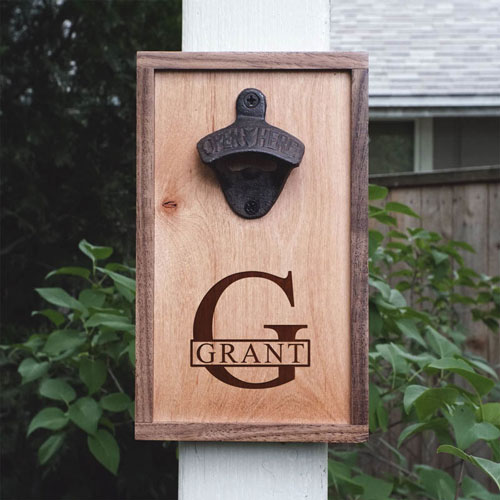 Looking for a Christmas gift he's sure to enjoy the whole year round? Northwest Gifts has you taken care of with this handcrafted wood bottle opener. And it includes personalization!
Because what could be more relaxing after a long, hard day on the job than coming home and popping the top on a cold one? This bottle opener does just that, and is the perfect addition to any patio, garage, kitchen or man cave.
Each one comes personalized with his name and initial, along with two screws for easy wall-mounting.
7. Custom Leather Bible Case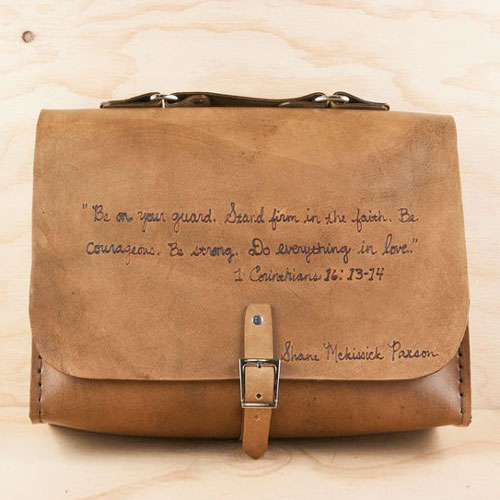 Celebrating the birth of Christ is one of the great joys we have as His followers. The reason we give gifts to one another on Christmas is in celebration of Him, Who was and is the greatest Gift of all.
If the special guy in your life cherishes his Bible more than any other possession, this year on Christ's birthday consider giving him a beautiful case in which to protect it. This particular personalized leather Bible case is 100% customizable to whatever text you choose, whether it be a verse, song lyrics, or a poem you wrote yourself.
The best part is, the seller will apply the text in your own hand-writing to give it that extra-special meaning.
8. Sony Noise Canceling Headphones
Whether he puts in hundreds of miles flying for work, works out in a noisy gym, or simply likes to listen to a podcast or music in peace, these noise-cancelling headphones may be all he wants for Christmas this year.
Each pair comes enabled with Bluetooth and Alexa, as well as three degrees of noise cancellation. Choose between black, silver, and rose gold.
9. Portable Campfire
Does your man love to go camping? Probably. And if he especially loves camping in cooler weather, this reusable portable campfire would make a lovely, practical Christmas gift for him.
Compact enough for easy travel, but large enough to keep warm by, the Radiate Portable Campfire is made from soy wax and contains at least three hours of burn time.
10. SNES Nintendo Classic Mini
Did your man love Nintendo growing up? Is he an avid gamer or simply love to reminisce about the good ol' days? Then give him the gift of nostalgia this Christmas with this brilliant "throwback" gaming system of the SNES.
The device is much smaller and has been modernized for today (HDMI and USB), but is still designed to look and feel like the original Nintendo beloved by countless kids of the '90s. It comes with two controllers and is already preloaded with 21 classic games.
11. Industrial-Style Wine Rack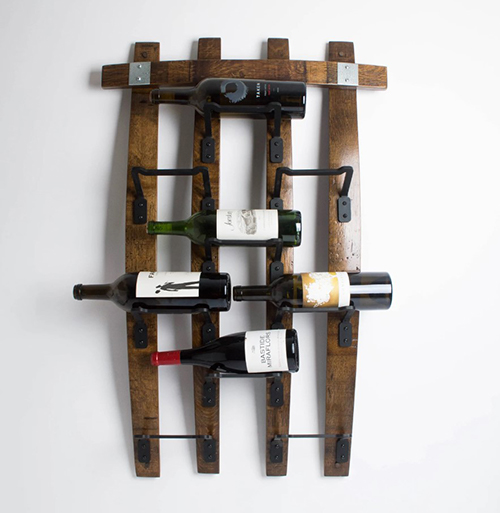 Maybe your man is a wine lover. Maybe he loves nothing more than to relax in the evening with a glass of his favorite spirit. If this sounds familiar, this one-of-a-kind handcrafted wine rack may be his favorite Christmas gift this year.
This super cool wine rack gets and A+ in our book for unique design and functionality! Made from repurposed barrel staves and industrial iron brackets, it's both rustic and chic. He'll love showing it off to his buddies and hanging it in a place that everyone can see.
12. Custom Engraved Poker Set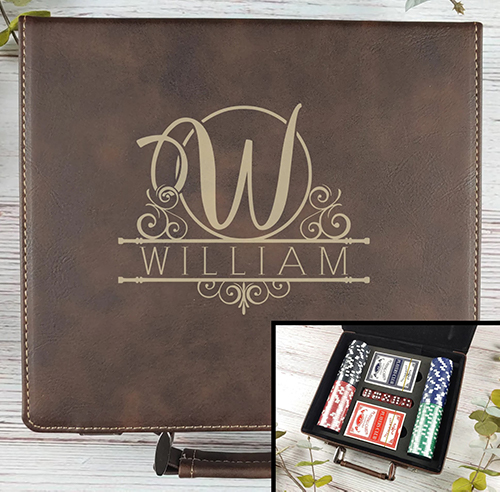 Poker is a classic gambler's game that has been enjoyed for years. If the special man in your life enjoys the game, this personalized poker gift set is sure to bring a smile to his face when he opens it on Christmas morning.
Related: 21 All-In Poker Gifts for the Card Shark in Your Life
13. Ember Smart Mug
Sophisticated design meets top-notch functionality with this awesome, heated coffee cup from Ember. Pair this smart mug with the Ember app on your phone and you can control your brew temp down to the last degree! Now that's some pretty cool tech.
Related: 150 Best Men's Stocking Stuffers for Christmas
14. Themed Monopoly Board Game
For the Pokemon enthusiast who also enjoys the classic game Monopoly, this fun Pokemon-themed board game will make a great Christmas gift.
This version adopts the same concept as the original Monopoly game; however, the Pokemon edition uses its own themed properties and pieces. It includes speed rules for fast play, and also comes with instructions detailing all the differences between it and the original Monopoly board game.
Pokemon is just one of many themes and styles you can choose for Monopoly. Here are some more fun versions:
15. Stainless Steel Grilling Kit
A grilling kit may seem like the stereotypical Christmas gift for men. But there's absolutely nothing wrong with giving him one if grilling is his thing!
This stellar stainless steel BBQ set comes complete with 23 pieces, including a meat thermometer, basting brushes, corn holders, and more. All of the implements come set snugly in a durable storage case, and all are dishwasher-safe for easy clean-up.
16. Personalized Garage Clock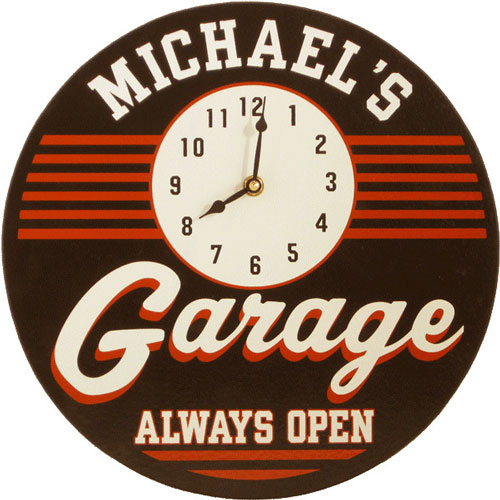 Does your man enjoy spending hours working away on his car in the garage? Or maybe he even owns his own garage, and spends hours working on other people's cars!
Either way, he's sure to like this custom 1950's-style garage clock to help him stay on task. Before you surprise him with it on Christmas morning, make his clock especially unique by personalizing it with his name.
Browse more personalized vintage signs & plaques
17. Picnic Time Brand Caddy
Keep your favorite six pack brew chilled to perfection with this sweet cooler caddy. Whether it's picnic time, game day, or fun at the beach, this versatile cooler is both fashionable and functional.
Made from sturdy canvas and a removable insulated liner, your brew stays cool for hours.
18. WOD Balm Muscle Rub Gift Bag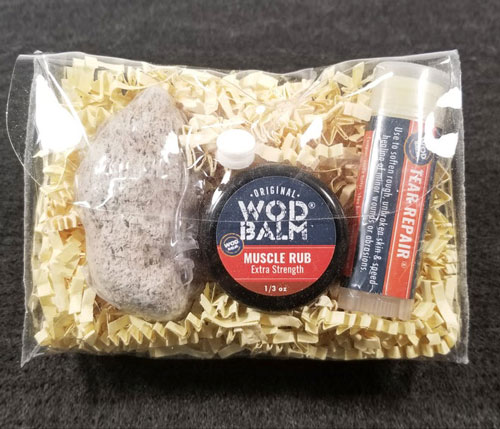 Sometimes, the best gifts come in small packages. Take this WOD Balm gift bag, for example. Small enough to be a stocking stuffer, this gift bag for him contains three all-natural "body repair" products: the WOD signature muscle rub in travel size, a tube of WODBalm Tear Repair (for scrapes and bruises), and a Mt. Shasta pumice stone to sand down calluses.
19. Car Diagnostic Scanner
Cars…most of us can't live without them. Some people actually enjoy working on them, even when they go kaput!
If your husband, dad, brother or boyfriend can often be found under the hood of a car trying to figure something out, make their holiday with the gift of this handy Foxwell diagnostic scanner. It is mechanic-recommended and can be trusted to diagnose causes of check engine lights among other data.
Related: Car-themed gifts he'll go crazy for
20. Enjoy the Wood Wall Art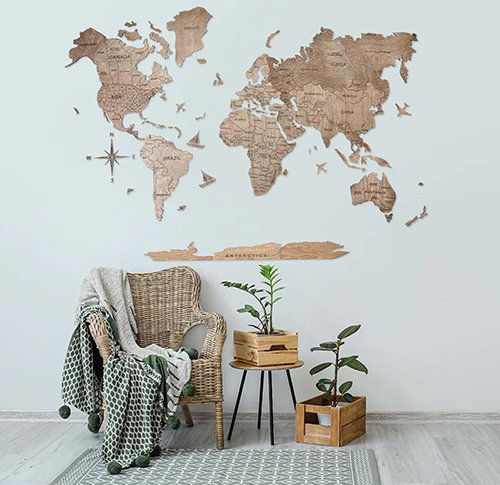 The incredible, 3D wooden world maps from Enjoy the Wood make such incredible focal pieces for the home or office. Meticulously crafted for accuracy, quality and beauty, they make perfect gifts for the man who has *almost* everything.
21. Custom Tavern Sign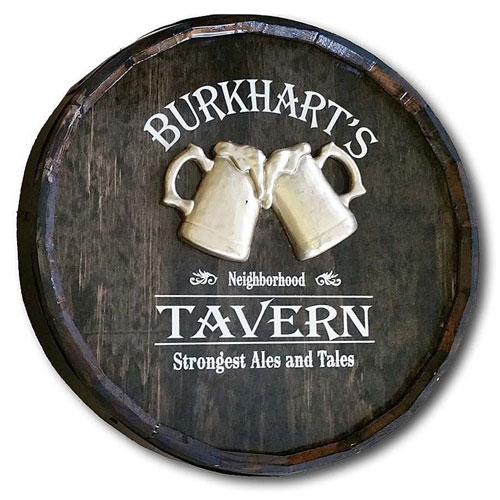 Last on our list of our 21 favorite Christmas gifts for men is this custom vintage-style tavern sign. The perfect addition to the kitchen, man cave, pub, or home bar, this sign is sure to make him smile every time he sees it.
It's crafted from sturdy white oak, features a hand-carved relief of beer mugs, and is designed to look like the top part of a real oak barrel. For an added touch, it comes personalized with your man's name or surname.
Bonus Ideas!
At All Gifts Considered, we are very aware that everyone is operating within different budget ranges. And more often than not, the greatest, most heartfelt gifts simply cannot be bought.
If you're the DIY type interested in homemade Christmas gifts for men, or simply want to avoid breaking the bank this holiday season, consider these gift ideas:
Gift basket. Gift baskets can be as economical as you need them to be, and are also 100% customizable. Get your creative juices flowing by creating a special gift basket just for him, filled with things he loves. Add his favorite snacks or candy, a pair of mittens, a scarf, a book he's been wanting to read, a bottle of something delicious. Throw in some red and green tissue paper, tie it all up with a bow, and viola! The possibilities are endless.
Framed photo of the two of you. What could be more special than being reminded of a wonderful memory you share together? If you can't choose just one picture, take this idea a step further and create him a scrapbook.
DIY. Do you know how to knit or crochet? Make him something that he can really use during this cold weather. Using his favorite colors of thread or yarn, make him a beanie, a scarf, a pair of mittens, even some warm socks! He is sure to appreciate the time and effort you take to make them.
Gift card. When all else fails, this is still a thoughtful go-to idea. With a gift card he can buy himself something he really wants.
Homemade meal. If you enjoy cooking or baking, whip him up his favorite meal as a Christmas gift. Go all the way and make it a three-course special, or just present him with his favorite yummy dessert.
Homemade Christmas card. Or better yet, a Christmas newsletter…relive with him all of this year's special memories through stories and photos.
Even More Christmas Gifts for Men
That's it for our list of the 21 best Christmas gifts for men! We sincerely hope you were able to find the perfect gift(s) for the special men in your life.
However, if you're needing further inspiration, we've put together a comprehensive list of the best gifts for him right here. We have something there for every type of guy, and for every occasion.
And we always will encourage you to check out Northwest Gifts for the best in creative, unique, and personalized gift ideas.
Merry Christmas to you and yours, and happy gift hunting!
Read Next: 21 Best Gifts for Your Husband