20 Great Gift Ideas for Coworkers
Giving gifts and presents in the work environment can be difficult to navigate. While some gift giving is regulated by company policies, sometimes giving can fall into grey areas. Unless you have a personal assistant to take care of these tasks, corralling gift ideas for coworkers, leads, clients, employer or employees – you need to take a few minutes and thread the needle.
Check company policies first – a well written policy can help lay the framework for do's and dont's.
Ask around – If your new to the company ask a co-worker about whats typical. And ask a few, as you may get that one co-worker who doesn't enjoy the process.
Be thoughtful – Even if your buying the same token gift for the whole office, take some time. If it's a Christmas gift, ask what people thought about last years gift. If its a client or lead, bounce some ideas off others in the department. Don't be afraid to do some research and make it a little more personal – but not too personal.
Show some discretion – It's nice to be able to give a gift that hits the target, but not creepily close to home – keep it professional. And nothing too intimate, gifts that are too personal can give confusing signals.
We have a large selection of gifts for both the whole office or an individual, here are a few that may get you on the right path.
— NWG
1) 

Mood Mugs

These fun unique gift mugs would be perfect for a deskmate or colleague. They are double walled so as to eliminate the need for a handle and are available in 5 moods –  Horribly Hungover, Cheeky Chappie, Severely Stressed,  Happy as Larry, Monstrously Moody & Seriously Sleepy.
2) A Personalized Pen Set

A classic office gift, a personalized pen set is great as an office warming gift for that colleague that made it to the next level, or nailed that last project. Don't be afraid to get creative with the personalization. Maybe just their name, but how about a phrase they are often heard saying around the office.
3) A Personalized Game Gift Set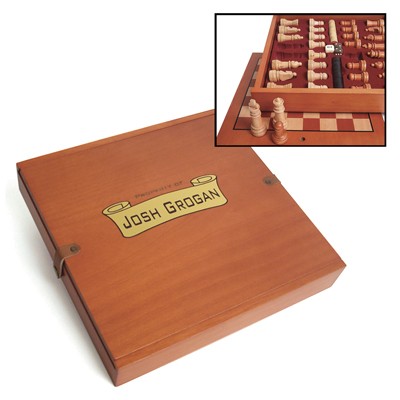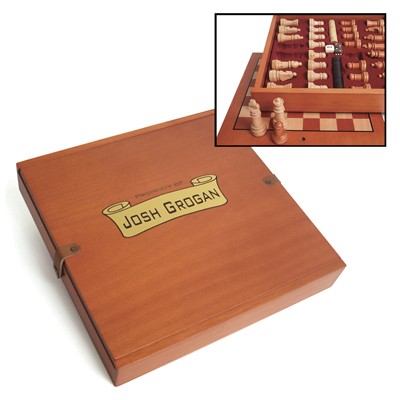 Give a gift that will beautifully accent any office. A personalized Chess, Checker and Backgammon Set. You can have the birch box engraved with your co-workers name, company logo or a custom design. Play a quick game over lunch or set a table up and stragtegize and exchange moves throughout the week.
4) 

Re-vamped Clue Board Game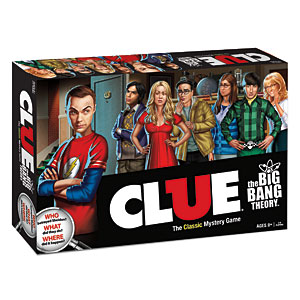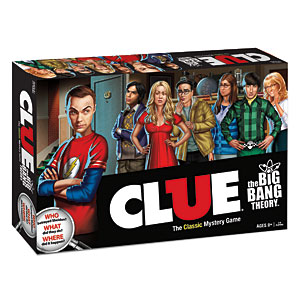 The classic board game, Clue has been themed to the popular tv show The Big Bang Theory.
5) Keepsake Box with Etched Glass

This impressive gift box is made in the USA of solid walnut and is very customizable. There are options to etch the glass with a logo, photo, or phrase. You can add a foam insert to protect a keepsake or other gift. The plaque on the outside can also be laser engraved. The gift applications for this keepsake box are outstanding. Customize a box today.
6) Laser Engraved Metal Bookmarks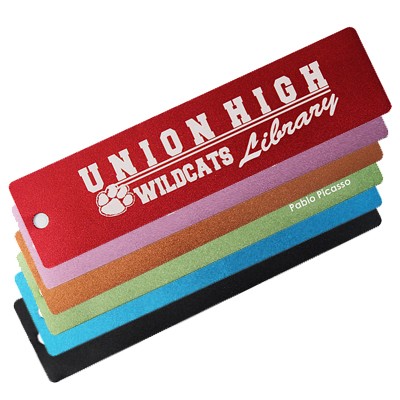 Available in 6 different colors, these aluminum book marks are anodized all the way around to protect your favorite novel or book. These premium book marks make a great achievement award or gift pack add-on. Have a logo or phrase laser engraved across the front of the book mark to commemorate the gift.
7) Custom Engraved Key Chain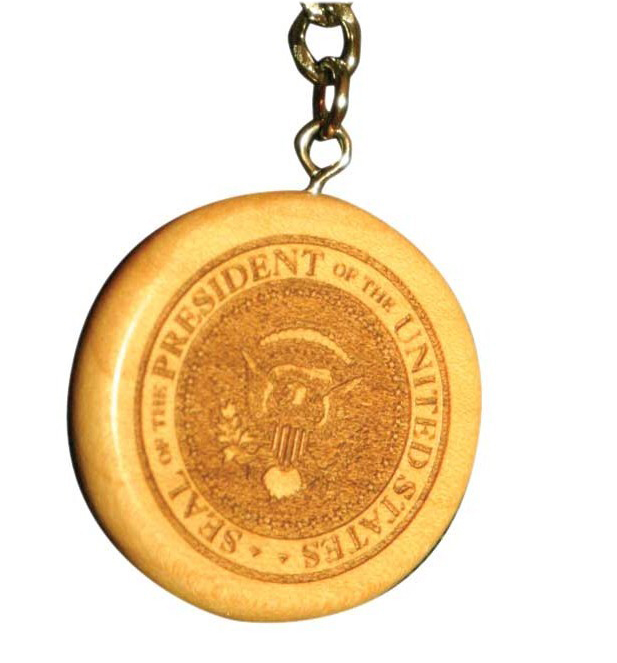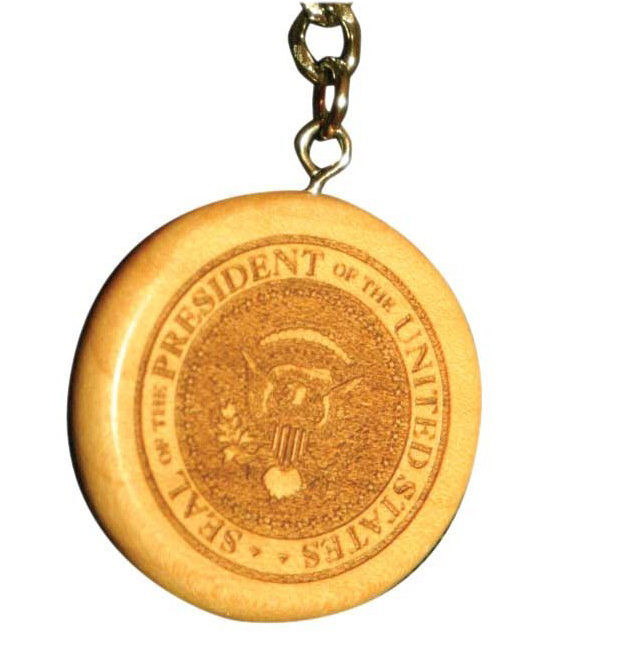 Beautifully engraved in either maple or rosewood.These classy little key chains are simple, elegant and sturdy. These custom key chains come in either a round or rectangular shape and can be laser engraved with just about any logo or design. And the bulk pricing rates are fantastic.
8)

 Watches that make a statement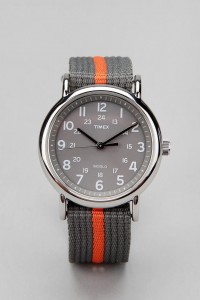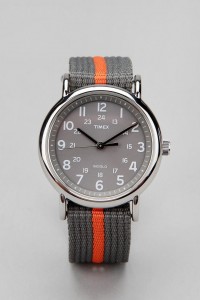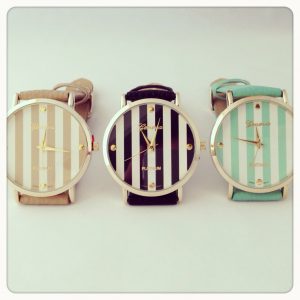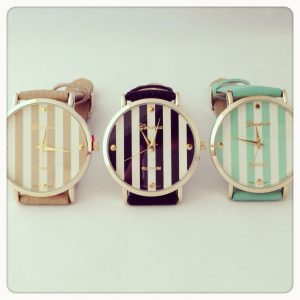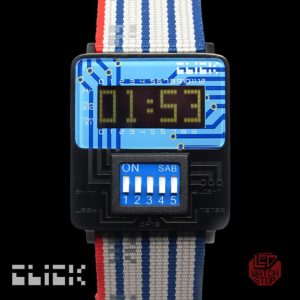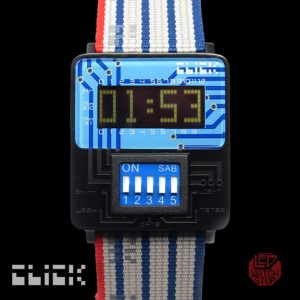 Watches use to be an intensely practical item, but with the proliferation of cellphones the wrist watch has become somewhat passe. They are, however making a comeback as a fashion accessory that make a statement. They make a great gift that says, " I get your style."
9) Personalized Flask Gift Set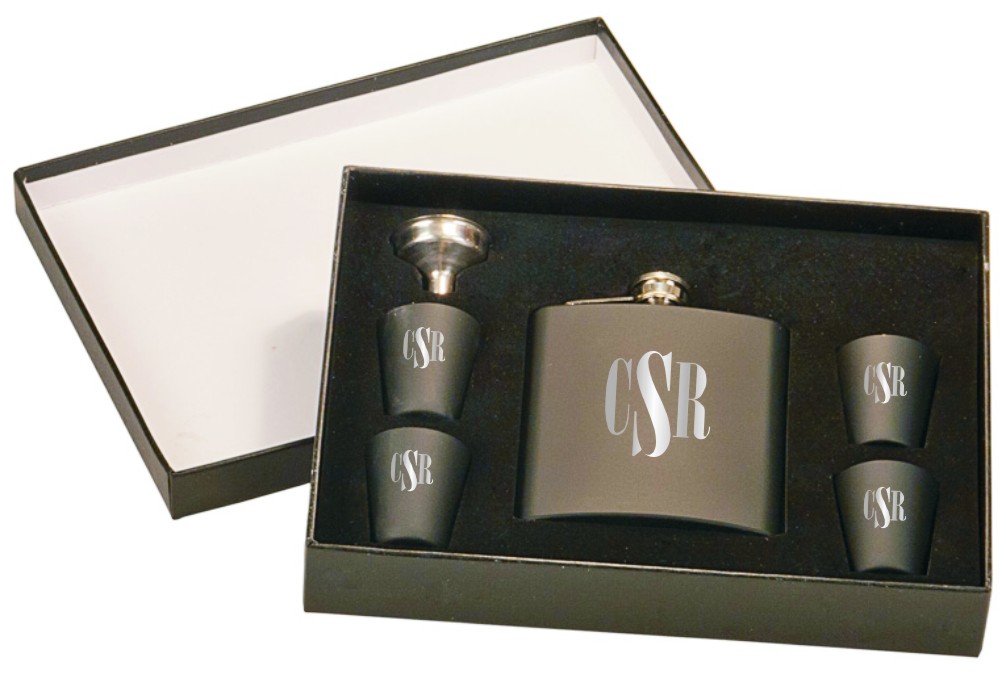 A custom engraved Stainless Steel Flask Set, that comes with a funnel and 4 shot glasses that can also be engraved all in one tidy gift box.
10)

 Key Board Reminders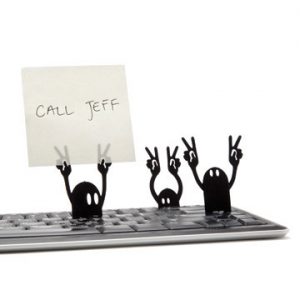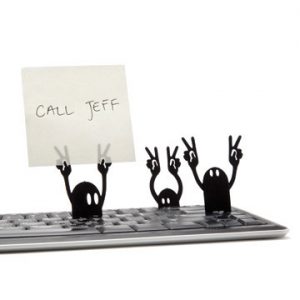 They always forget to return phone calls, miss scheduled appointments or sales calls. Even with all the touted apps on our desktop and cellphones, sometimes a physical desktop reminder is what works the best. These cute guys park between the keys on the keyboard to hold the notes in plane site. 
11) Custom Marble Coaster Set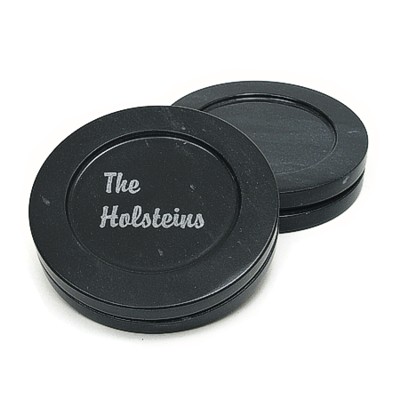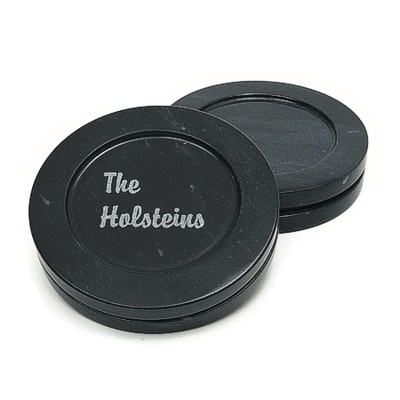 Tired of seeing those lame worn-out coasters on the desk. These jet black marble coasters can dress up anybodies office or cubicle. Made from sturdy marble these coasters can be laser engraved in several classy fonts. Also available in a caddy.
12) Bunny Desk Set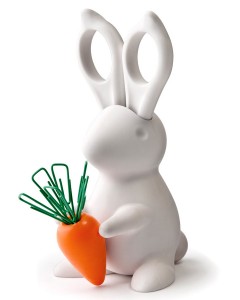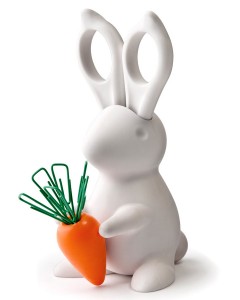 It makes a statement to have a wild hare at your desk. This cute little guy has a pair of scissors disguised as his ears and the carrot is a magnet that holds paperclips. Available in White, Pink and Black.
13) Post-it Watch Band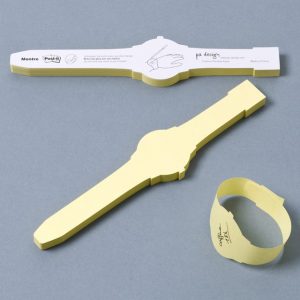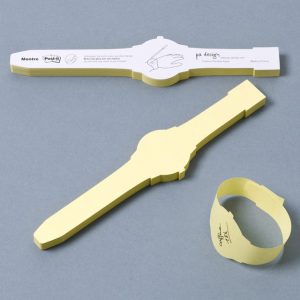 For that coworker who can never seem to remember where they left the note, the Post-It watch shaped stickies are a fun little gift idea that may become an indispensable item around the office.
14) 

Personalized Christmas Bulb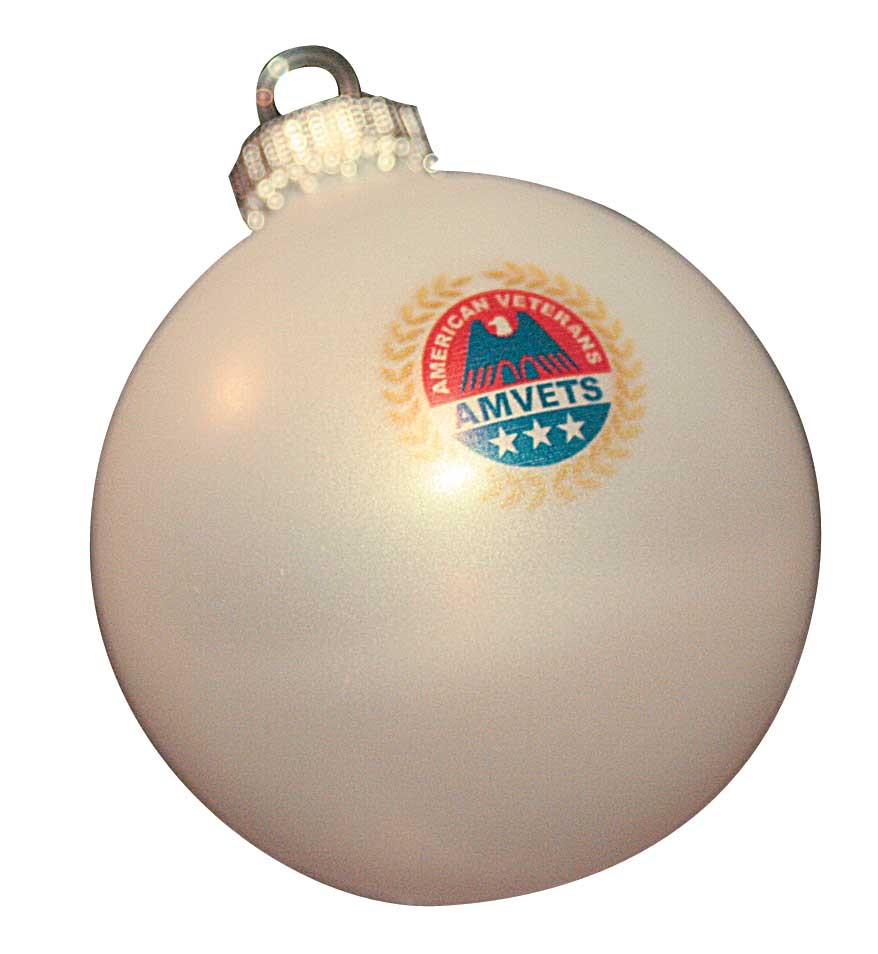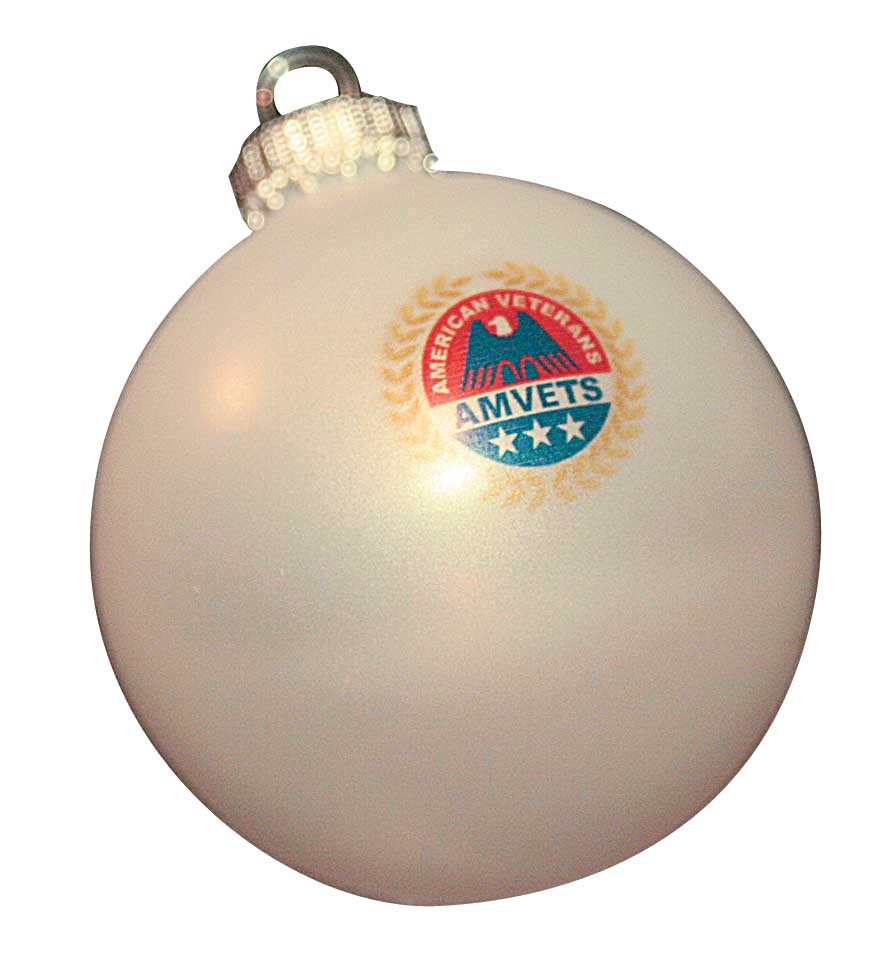 A classy white christmas bulb, this customizable gift can have your company logo, endearing phrase or a full color photo printed on it. Mark the annual Christmas Party, or memorialize an inside joke amongst co-workers. As always, bulk discounts are available
15) Desk Cup Holder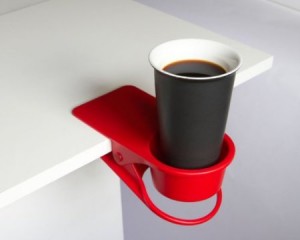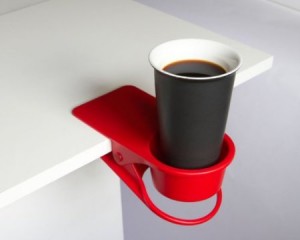 Never allow your coworker to have a homeless coffee cup again. These great little gadgets clip on to a desk or table and keep your beverage snug and secure. They can also be used as a catch-all for your desk.
16) 

A Custom Box Knife Gift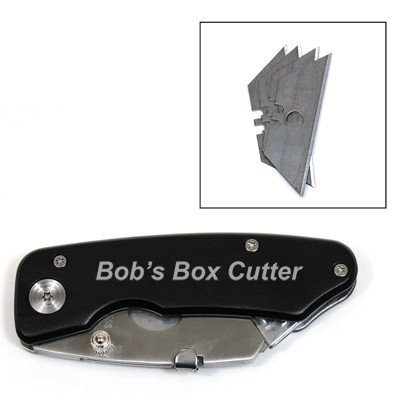 Whether you work in a warehouse or in an office, there are always boxes that need to be opened. And these personalized box cutters are always sharp and ready to go. Give your co-workers one of these with these with their name blazoned across the handle or maybe buy a batch for the whole crew, we give bulk discounts. They are perfect everyday use practical gift idea for a coworker.
17) Geeky Cuff Links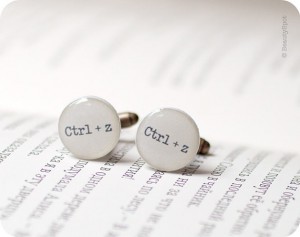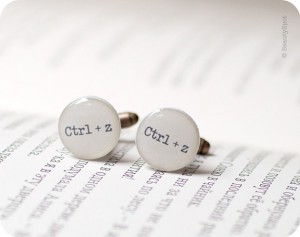 A classy and slightly subtle accessory to any suite, these handsome brass cufflinks would be a true prize to any coworker with even the slightest geek streek.
18) Retro Espresso Set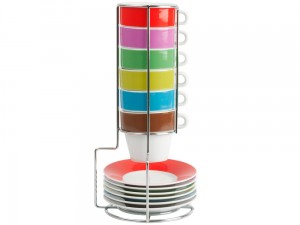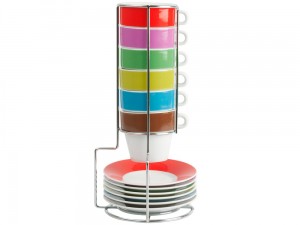 This cute blast from the past would make a tidy addition to any kitchen. The recipient of this gift will always be reminded of your classy taste in kitchenware and fine coffee. Available in several prints.
19) Hard Wood Photo Album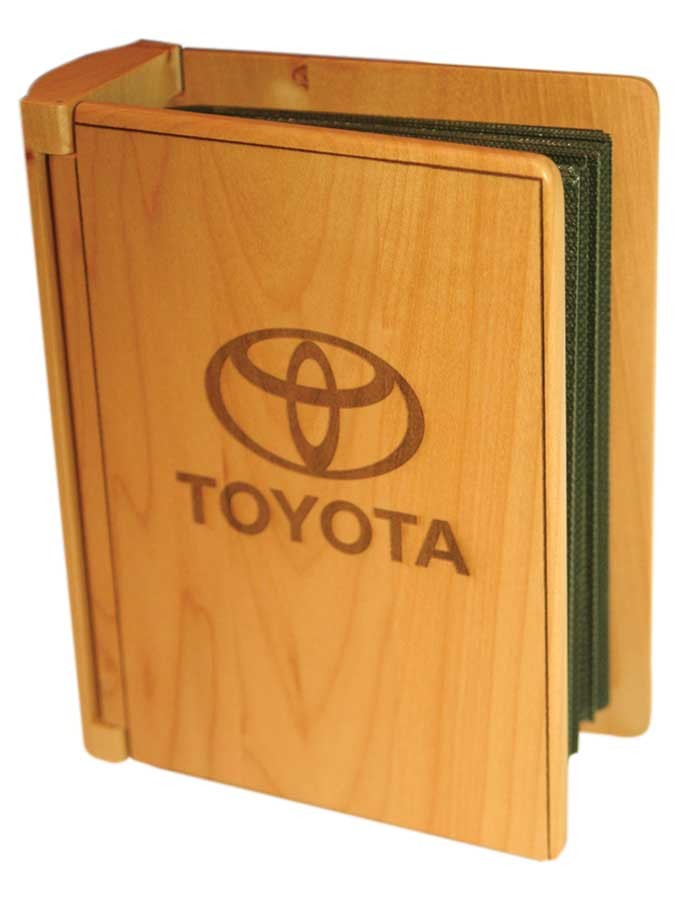 Your co-worker will no doubt fill this amazing little album with memories. Or, may be use this album as a portfolio to display projects they have worked on.  Have your companies logo or a message laser engraved on the cover and an optional special message inscribed on the inside cover. Holds up to 100 4×6 photos.
20) Coffee Cup Lens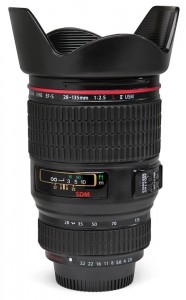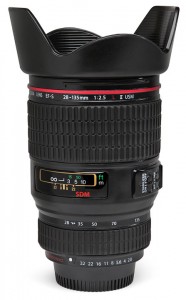 This cleverly disguised coffee mug looks like a genuine camera lens. If anybody in the workplace has a case of the shutter big, this might be just the gift for them this year.
(Visited 286 times, 1 visits today)